Steem Summit Cebu 2018: My Most Unforgettable Experience
---
Hello dearest steemians! It's really been a while since i posted here since i've been on a vacation for a week after my graduation. I only had one week to enjoy the summer season coz i will take my review for the upcoming board examination. Today i'm gonna share one of my most memorable experience in steemit, The First Cebu Steem Summit Meet-up 2018. To me it was really a blast. Thanks to allof the persons behind the success of the @steemsummit event, @ybanezkim26 @thegaillery @jassennessaj @morken @maefe30 @donkeypong @themanualbot and to all the person behind the Successful event.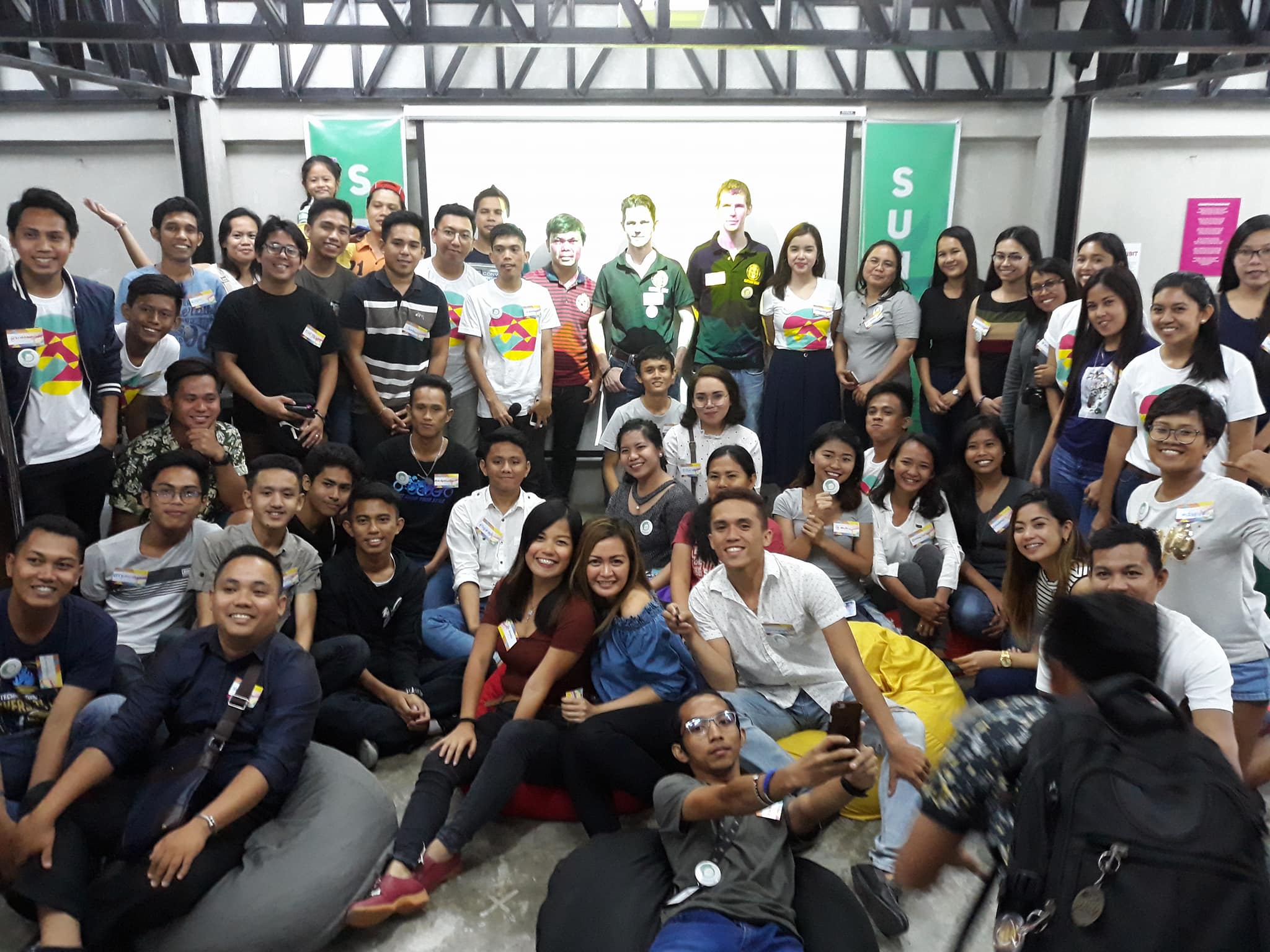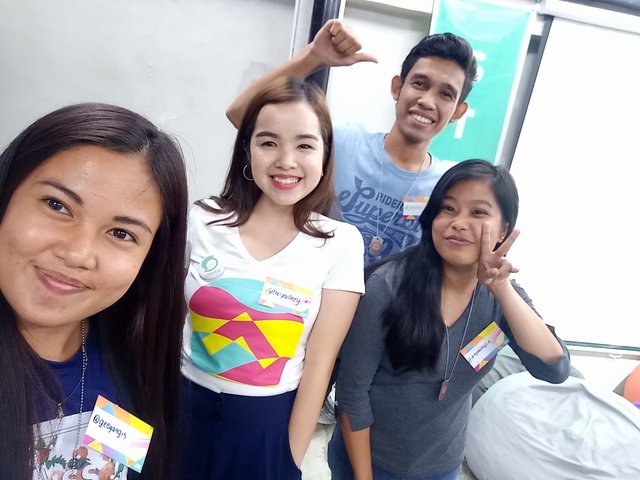 The event was hosted by The beautiful Ms. Gail Abad @thegaillery
One of the most fulfilling event happened in the history of steemit was conducted last sunday, April 22, the first ever Steem Summit Cebu Meet-up 2018. The event was held at Aspace Crossroads, Banilad Cebu City. As a steemian, It was my very first time to attend an event that was organized by the steemit community specifically here in Cebu.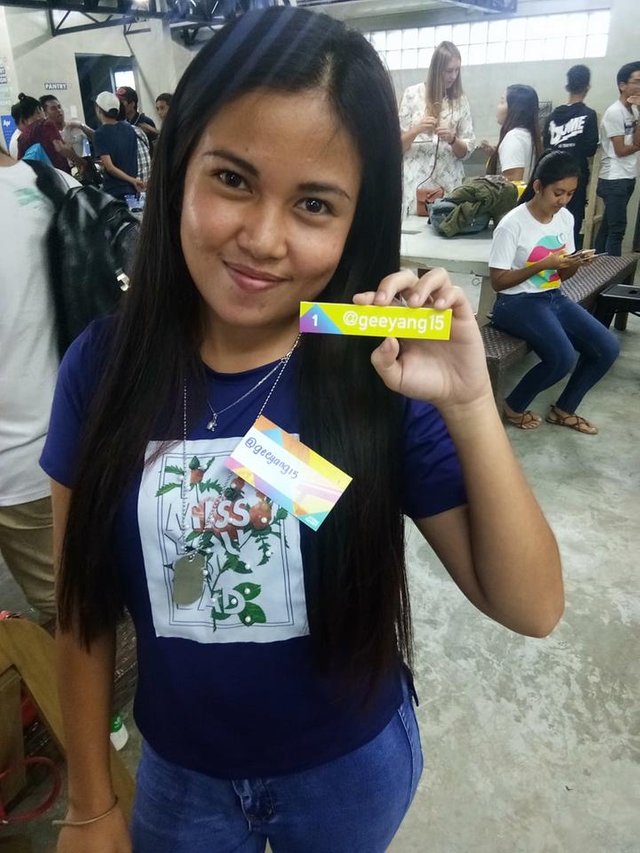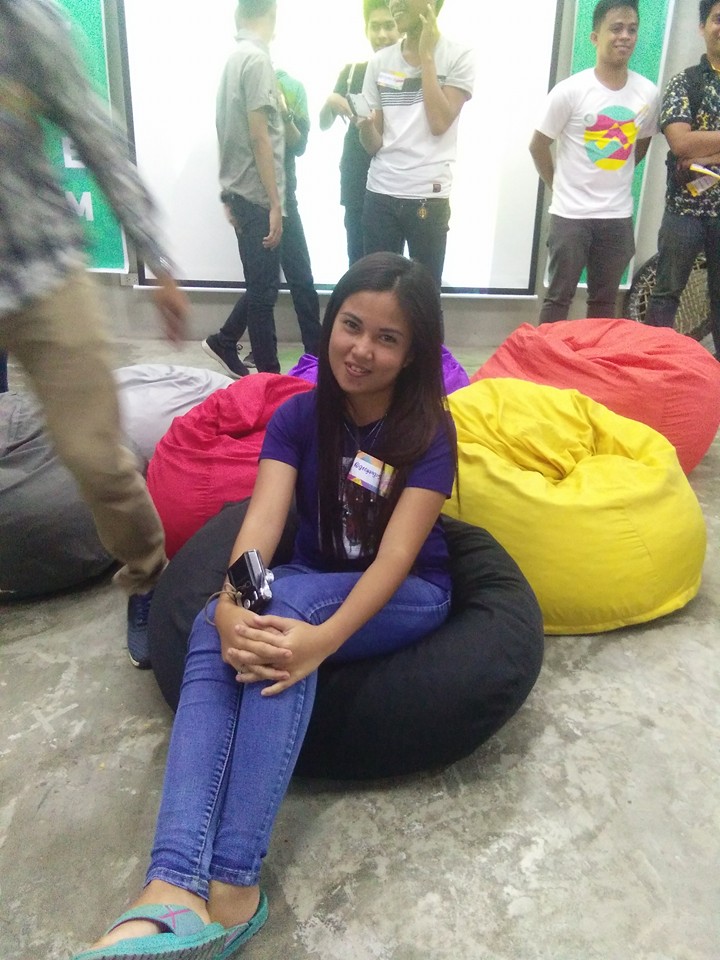 I came there together with my friends @dapmonylia @daisydelta and @jayniel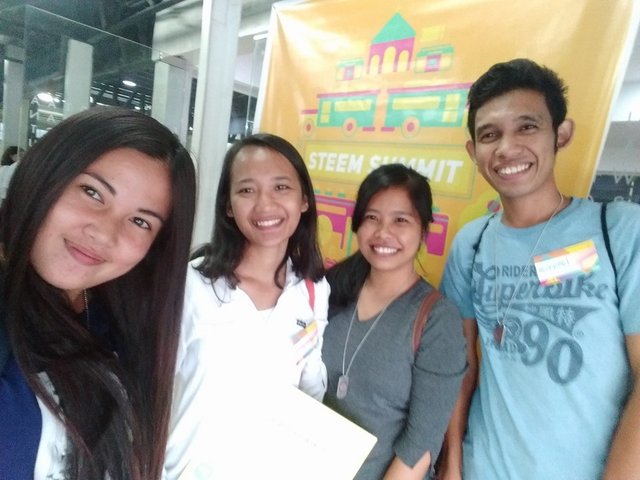 ---
Steem Summit is an event where all the Cebuano steemians are invited to come and join the different activities that the officials of Steemph.cebu have organized. During the preparation of the event, They conducted different contests that are specially dedicated to @steemsummit. Some of the contests are the following: Poetry, Photography, Arts, Smartphone photography Contest, and curried posts. And the lucky winners of the different contests will have the chance to display their entries at the exhibit during the main event.
I joined one of the contest in @steemsummit, it was for Art category. As i have submitted it at the last minute due to my busy schedule, I never expected much about it. I just enjoyed making it and also i made with purpose of promoting my advocacy of understanding the needs of our youths and the society today. You see my entry Here.
Luckily i was awarded as the Champion in Arts Category. God knows how grateful i am for this opportunity to be able to showcase my talent and at the same time indulge something for the community. I am also thankful that they included my artwork in the exhibit and for the recognition they have given to me.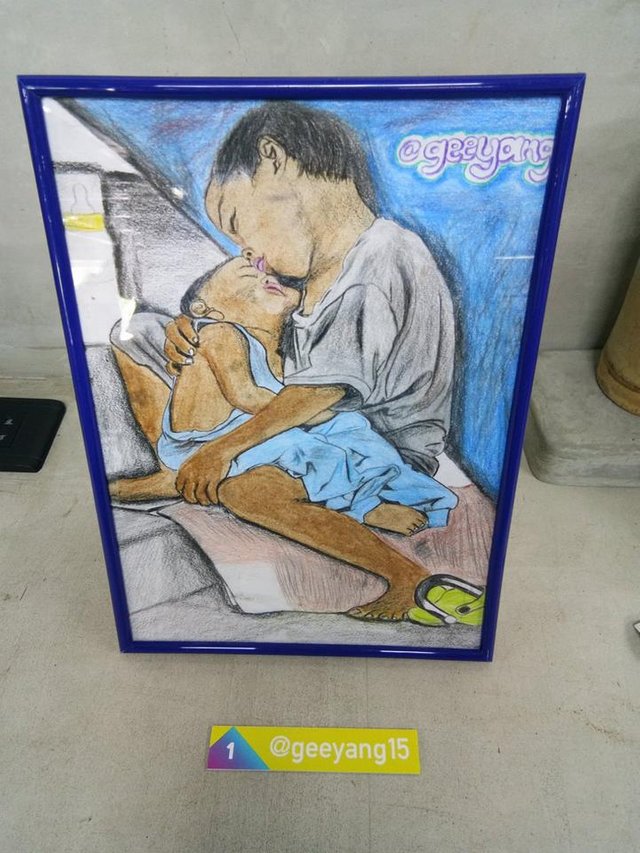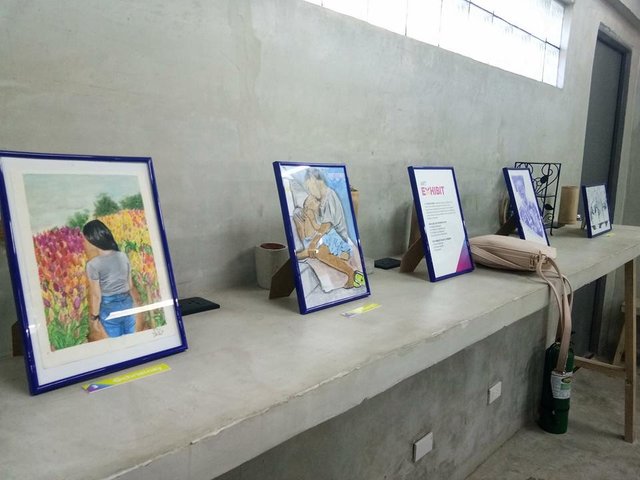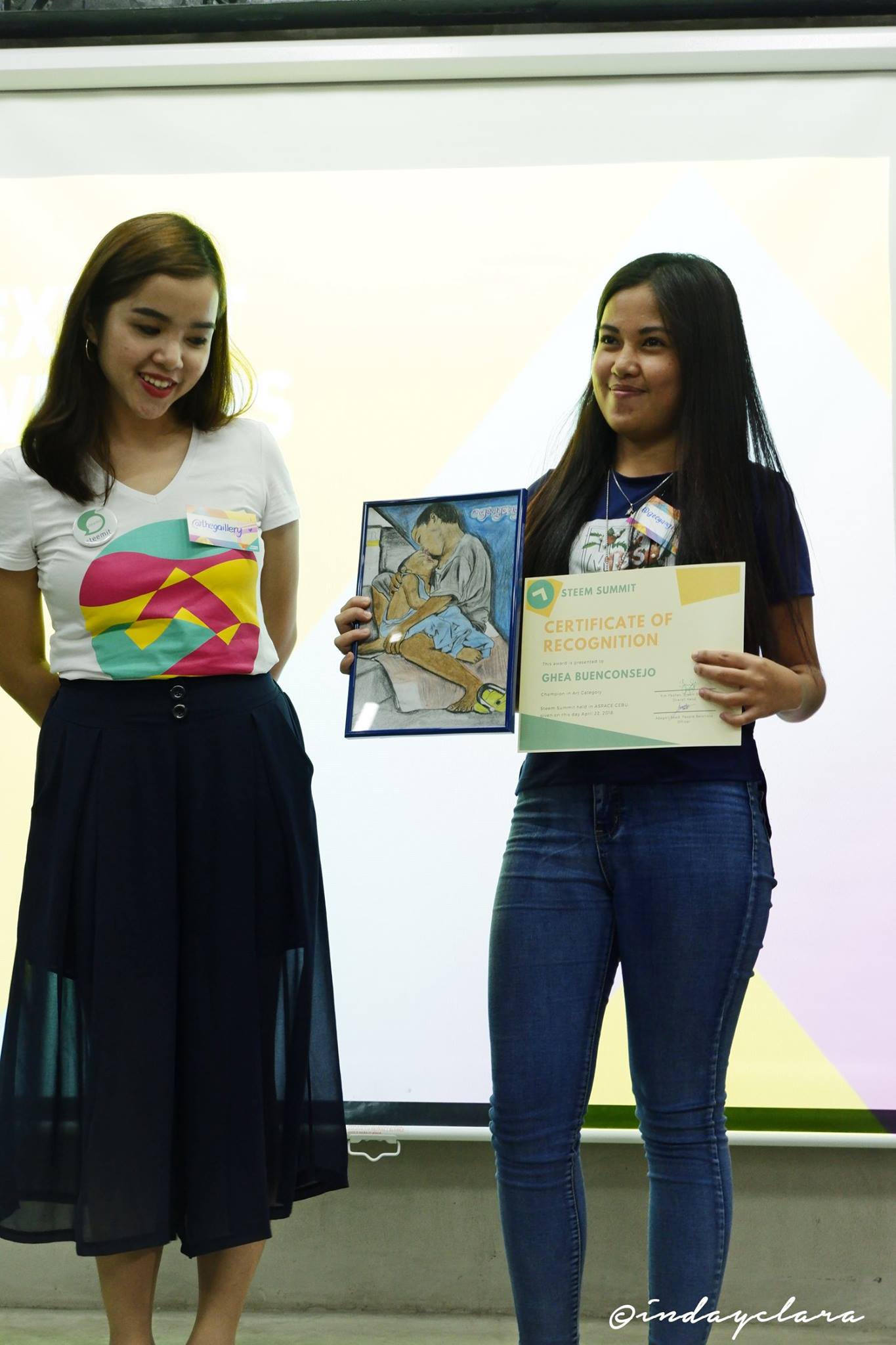 Photo Courtesy of @indayclara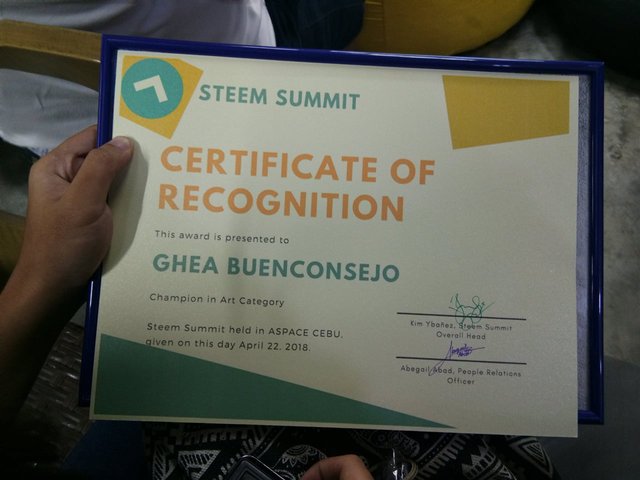 Congratulations to all winners as well who i have met during the event.
@davids-tales @ligarayk @christney And to all the contestants who have submitted their outstanding entries..
Thank you so much also to our dear panelists @reewritesthings @brokemancode @josejirafa who have given their time and effort in rating each entries.
Along with these, the entries of the winners at different categories were also displayed at the exhibit.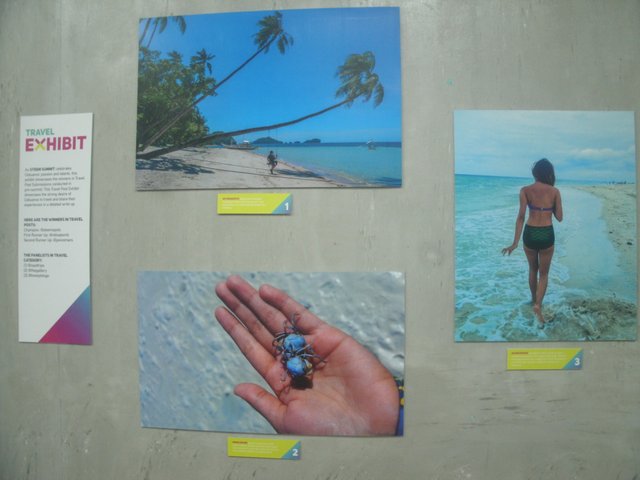 The Travel Exhibit
---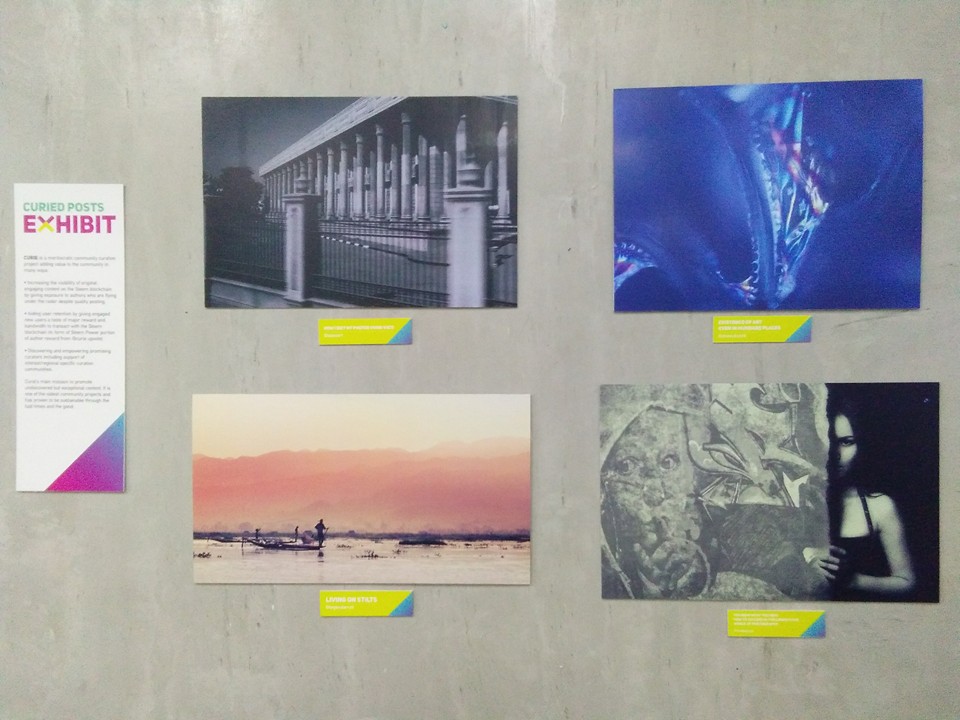 The Curied Posts Exhibit
---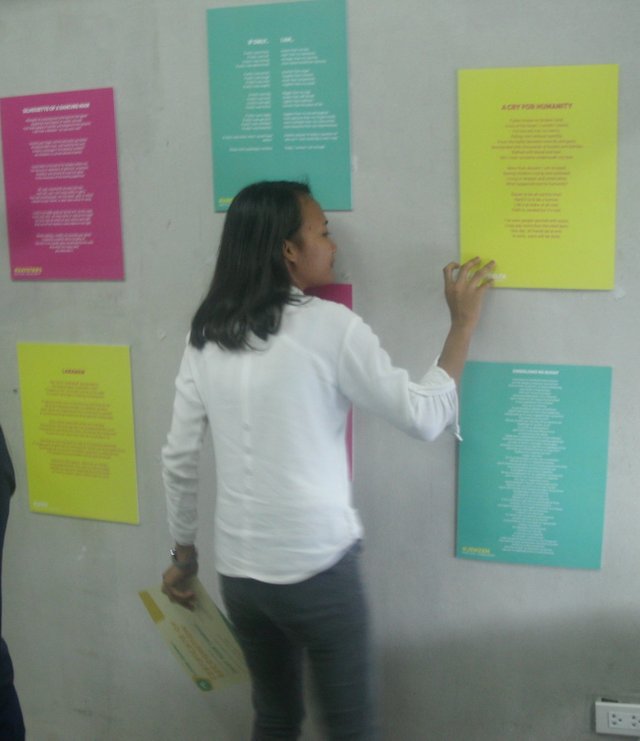 The Poetry Exhibit
---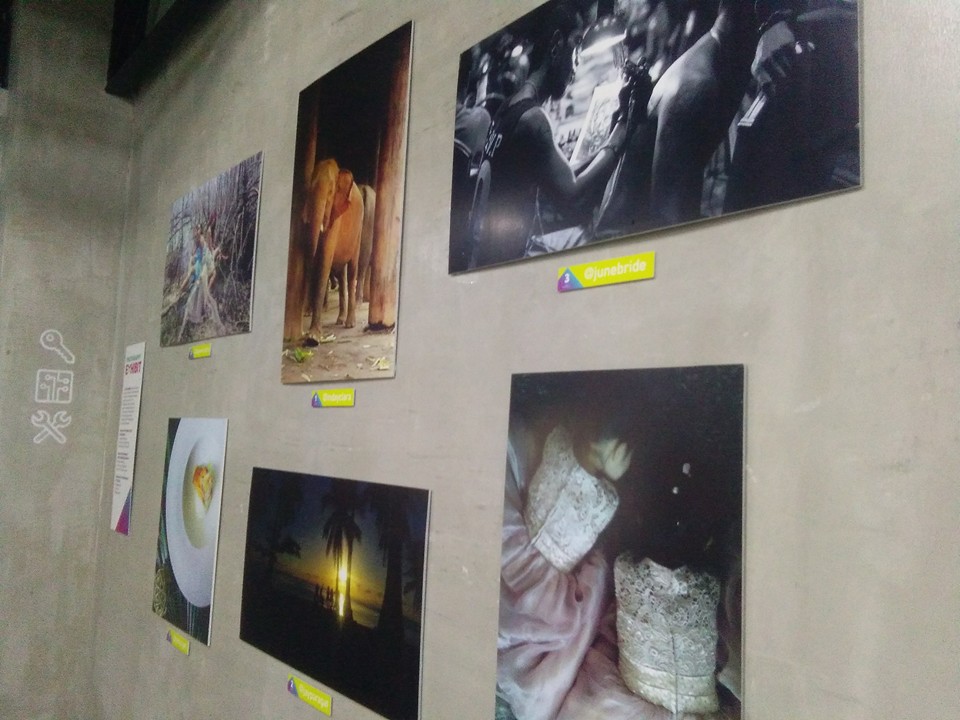 The Photography Exhibit
---
---
The Speakers
Discussion About Kryptonia, Blockchain and Superiorcoin by Senn Brothers
Aside from the amazing display of entries at the exhibit by my fellow steemians, @steemsummit also invited different speakers to come and share their knowledge to us. Some of the international speakers were the Senn brothers, Micheal and Nathan Senn who came all the way here in Cebu to share their knowledge regarding @kryptonia @blockchain and @superiorcoin. They explained how it works, how to join and how to earn more profit by just doing some tasks and give referral link to invite other people to join and earn as well.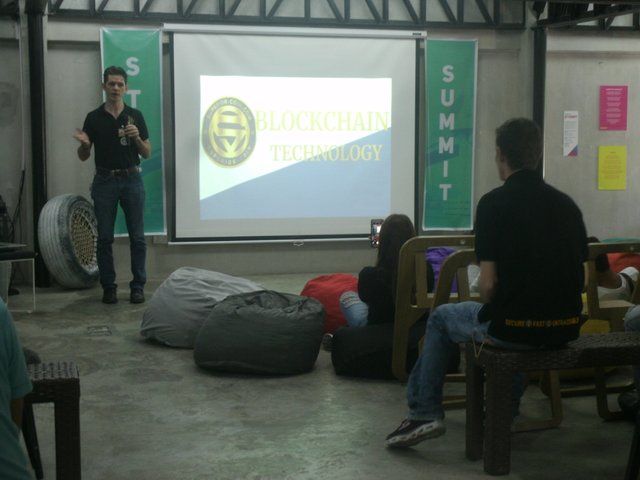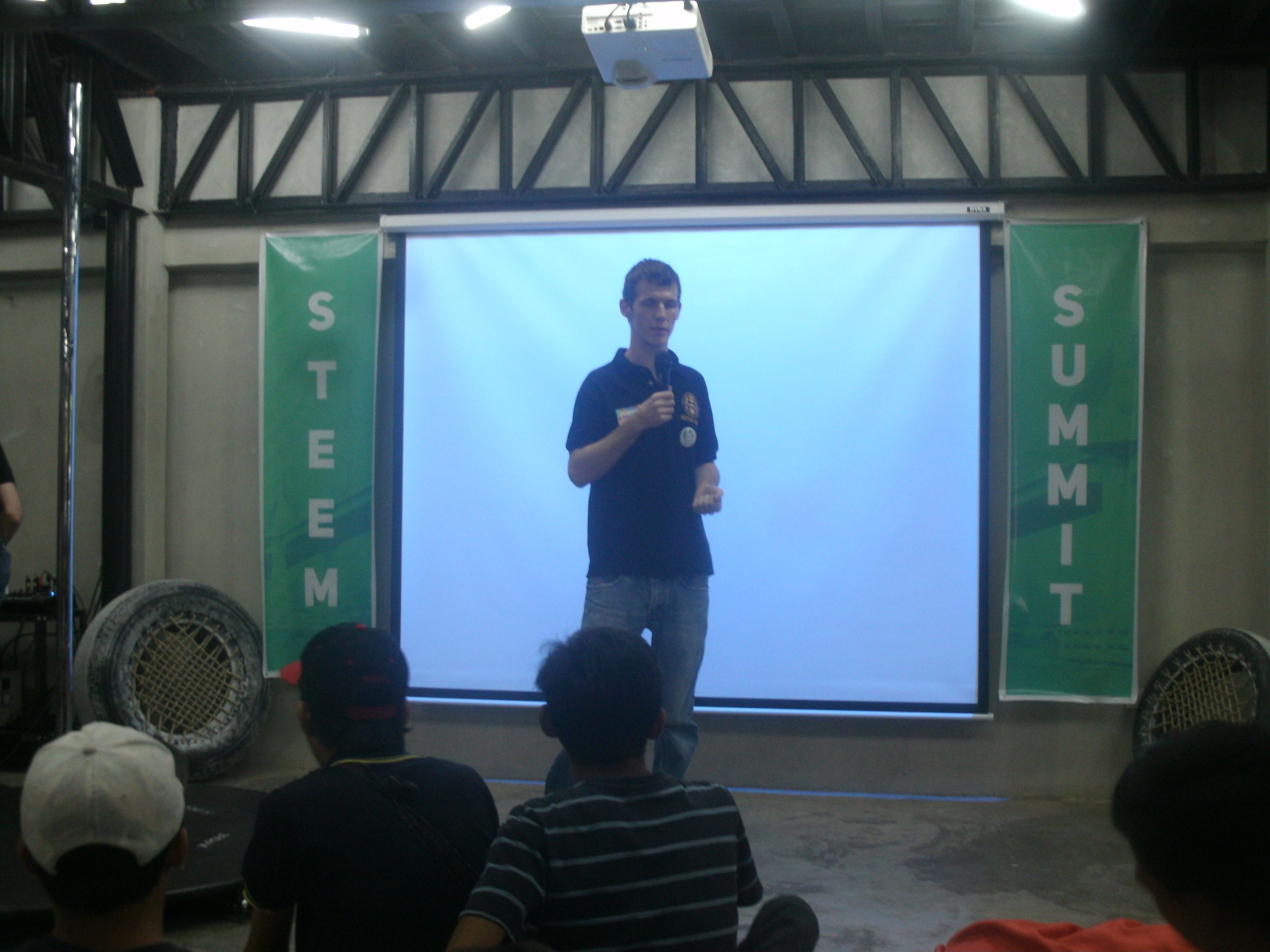 @ybanezkim26 and @sorenkierkegaard also shared their experiences when they joined @kryptonia ..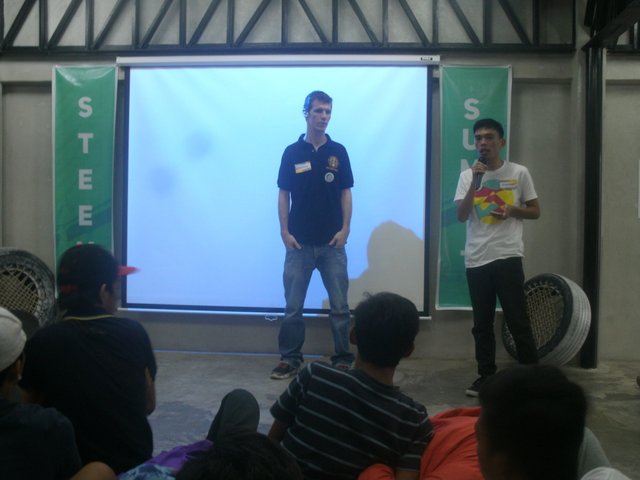 State of Cebu Community by @jassennessaj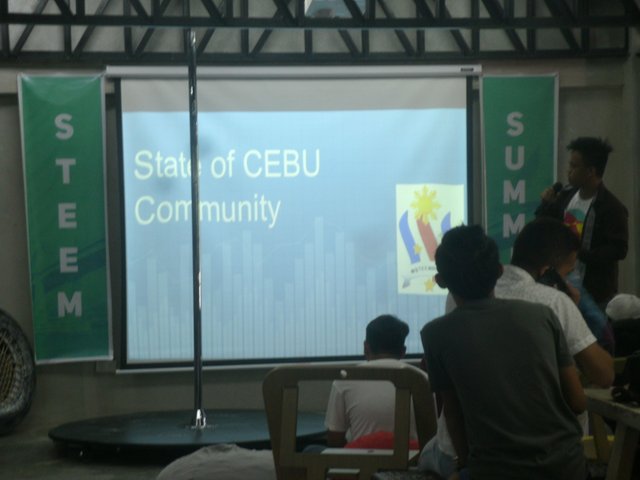 @jassennessaj discussed about the @steemph.cebu and explained the advantages of joining the @steemph.cebu Curation Trail which is exclusive for cebuano steemians. It helps the steemians especially the minnows who are just starting their journey on steemit, it also helps in promoting the works of the cebuano steemians and to gain more upvotes.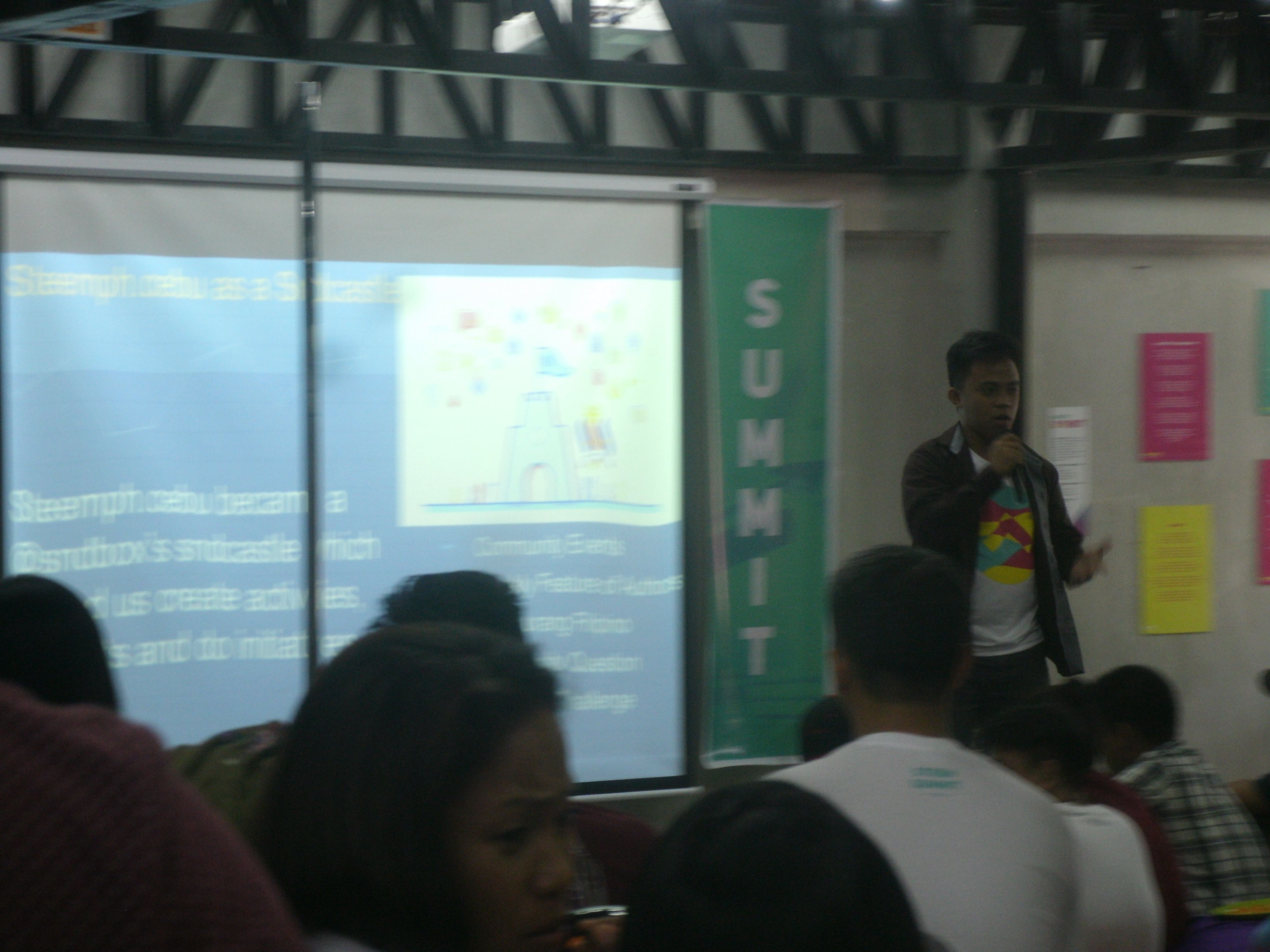 ---
An inspirational Sharing of experience by @stewart-suarez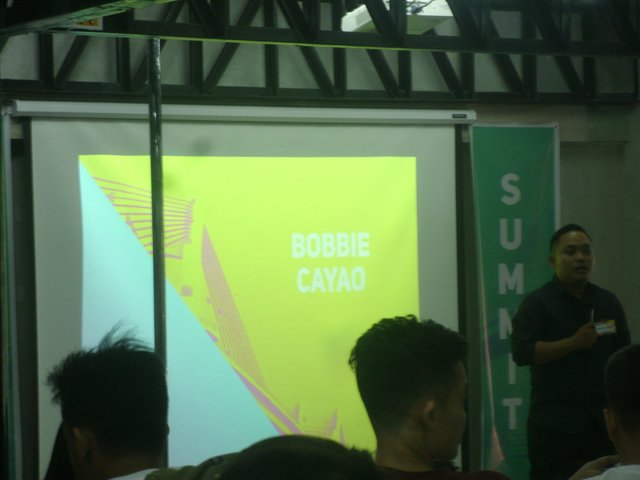 @stewart-suarez is from @steemph.negros community where he shares his experiences and steemit journey to all of us..
---
#Motivational Sharing: Steemit as an Opportunity By @morken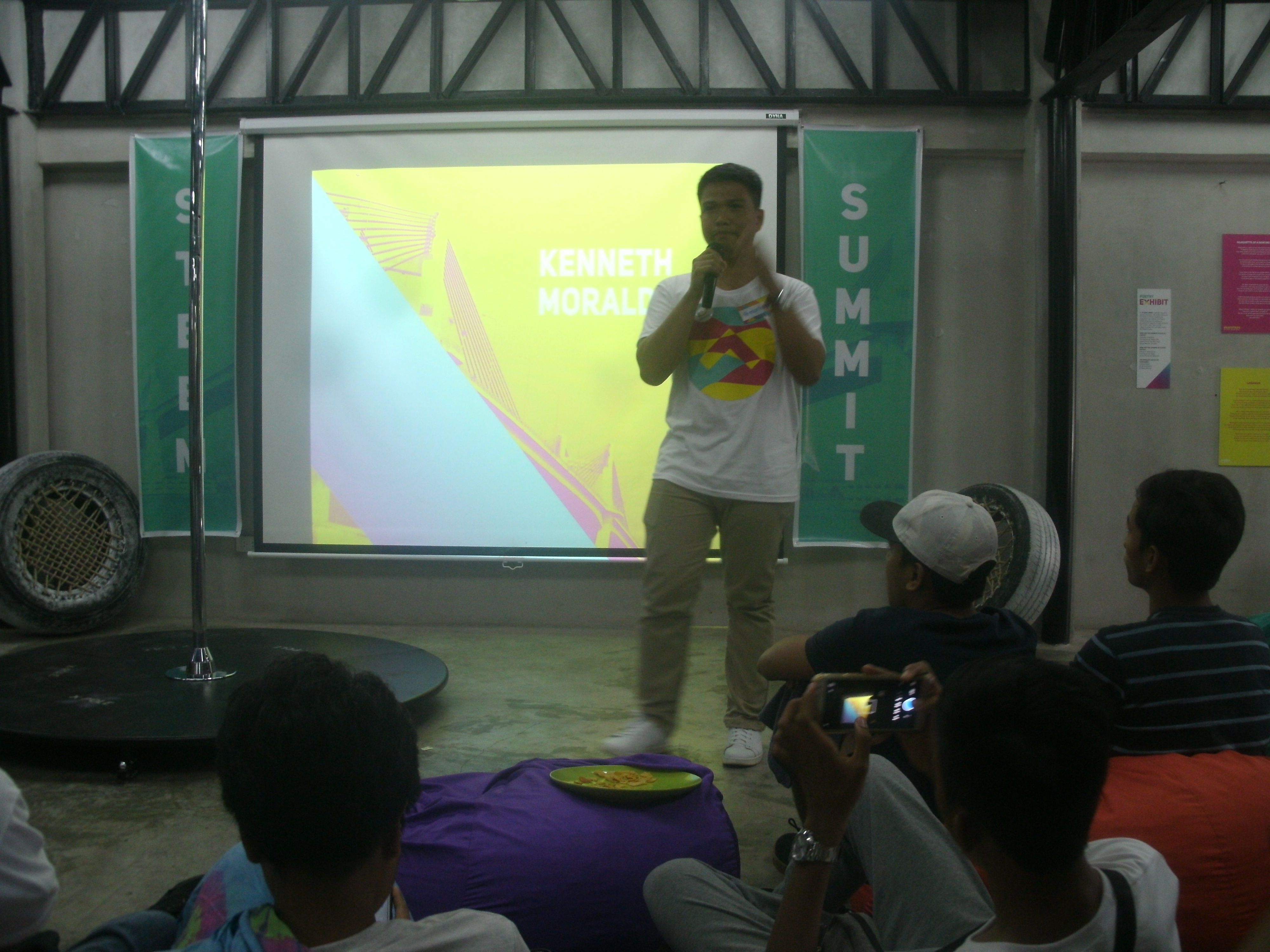 @morken also shared his experience, dreams and ambitions for steemit cebu community. He shared his perceptions towards the reality of life and how he see steemit as a true opportunity for each and everyone who also have that goal of achieving more than what life can guarantee.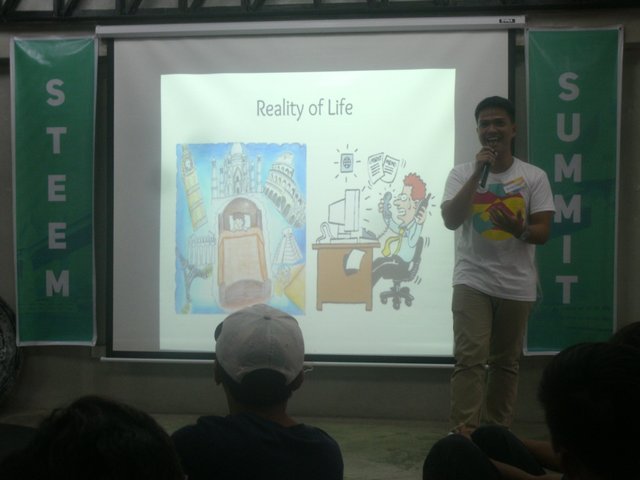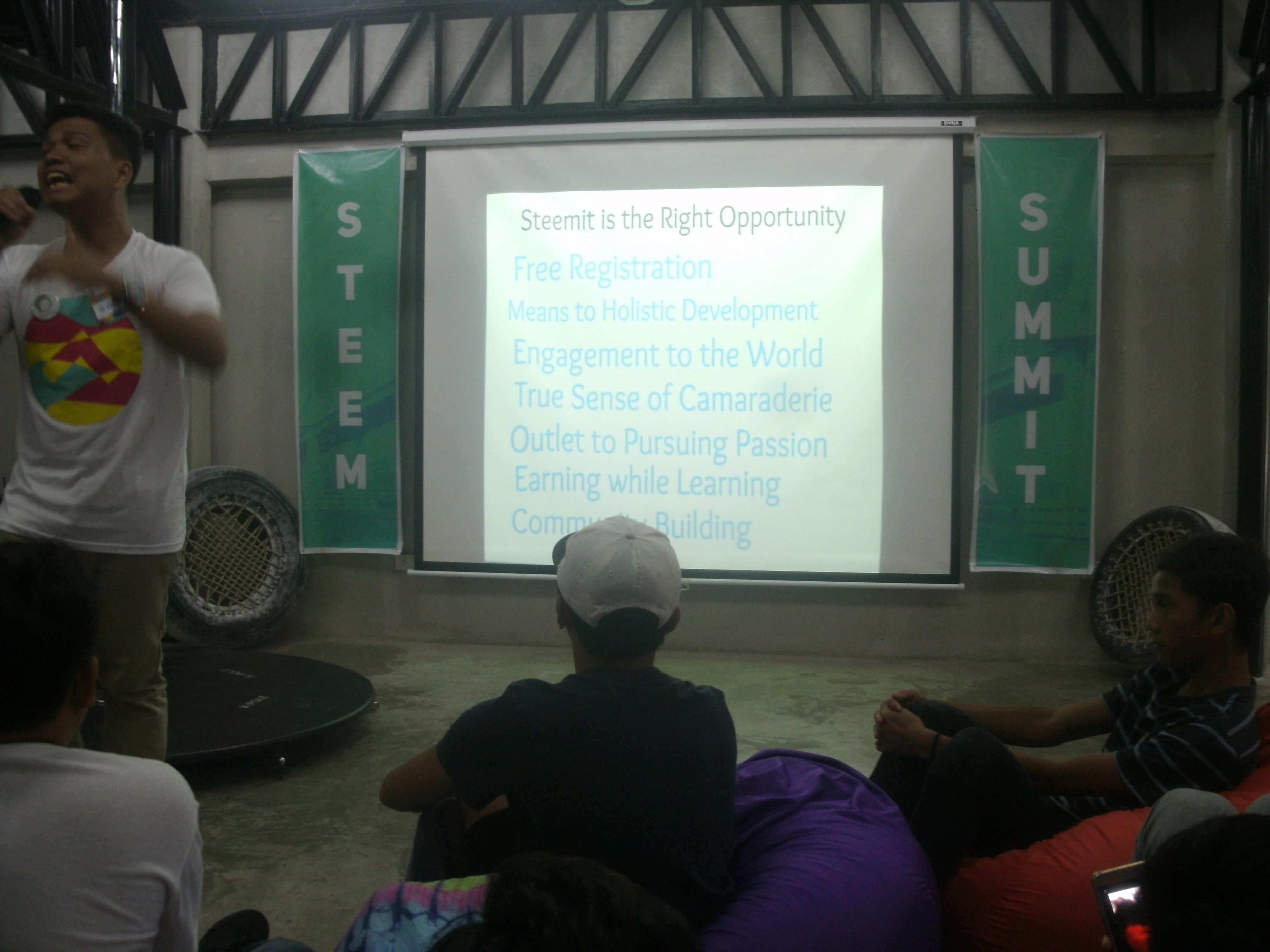 ---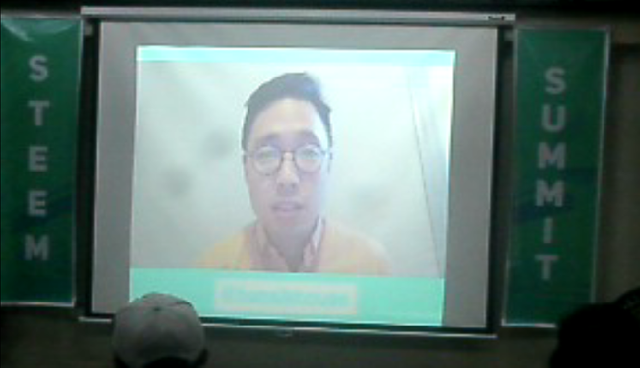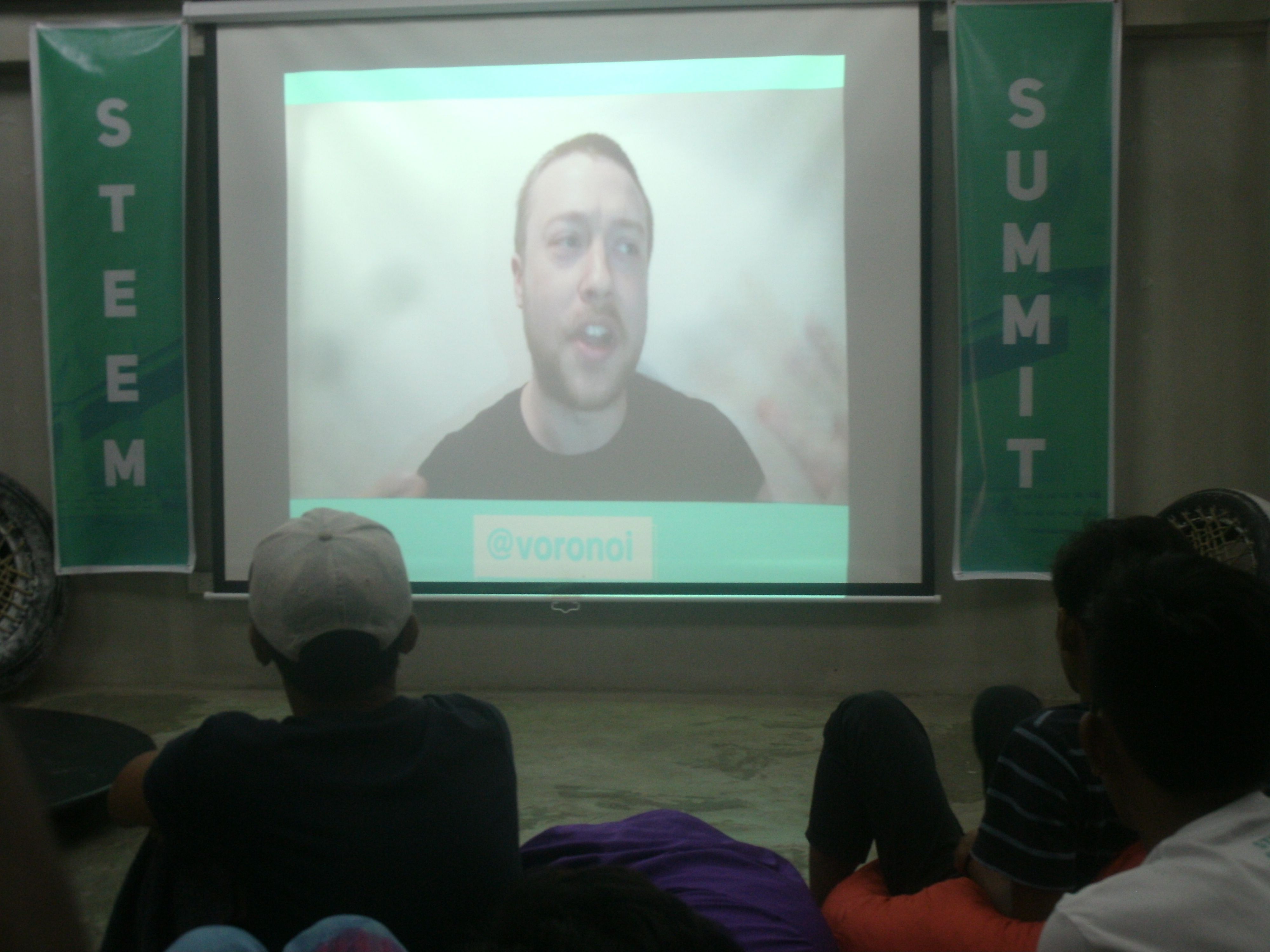 They are the developers of @sndbox which is a steem incubator for Creatives and Communities. They were invited to come to @steemsummit event but weren't able to come due to some time conflicts of schedules but they made an inspiring video message for us instead.
---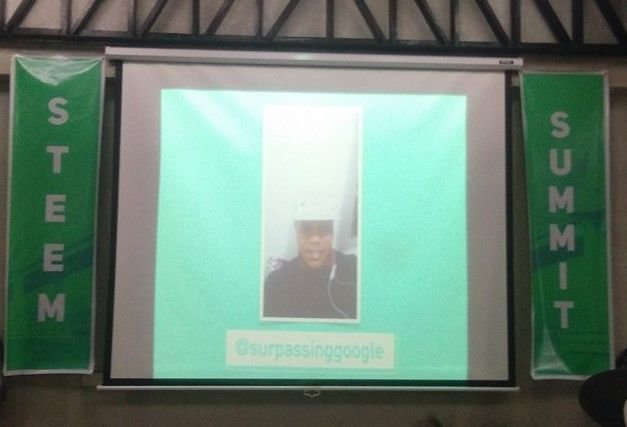 @steemsummit also invited one of the most inspiring person in steemit, no other than, our very own @surpassinggoogle.. They said that @surpassinggoogle cannot attend to the event due to some time conflicts also, but he also sent us a video message saying that he can't come and he also left us with his inspiring words of wisdom. His humble words brought us satisfaction and gratitude as we already felt his presence on that video he made for us.
But the most memorable part of that day was, Terry, Our very own @surpassinggoogle, Surprised everybody when he suddenly came to the venue without telling anyone there. Unfortunately when he came, the event was already done. He really wants to surprise us but he didn't expect that the event will be finished ealier. So Many steemians went home immediately after the event. And when he came to the venue, only some of the steemians were left there. And they were all surprised and happy when they finally got to see @surpassinggoogle in person..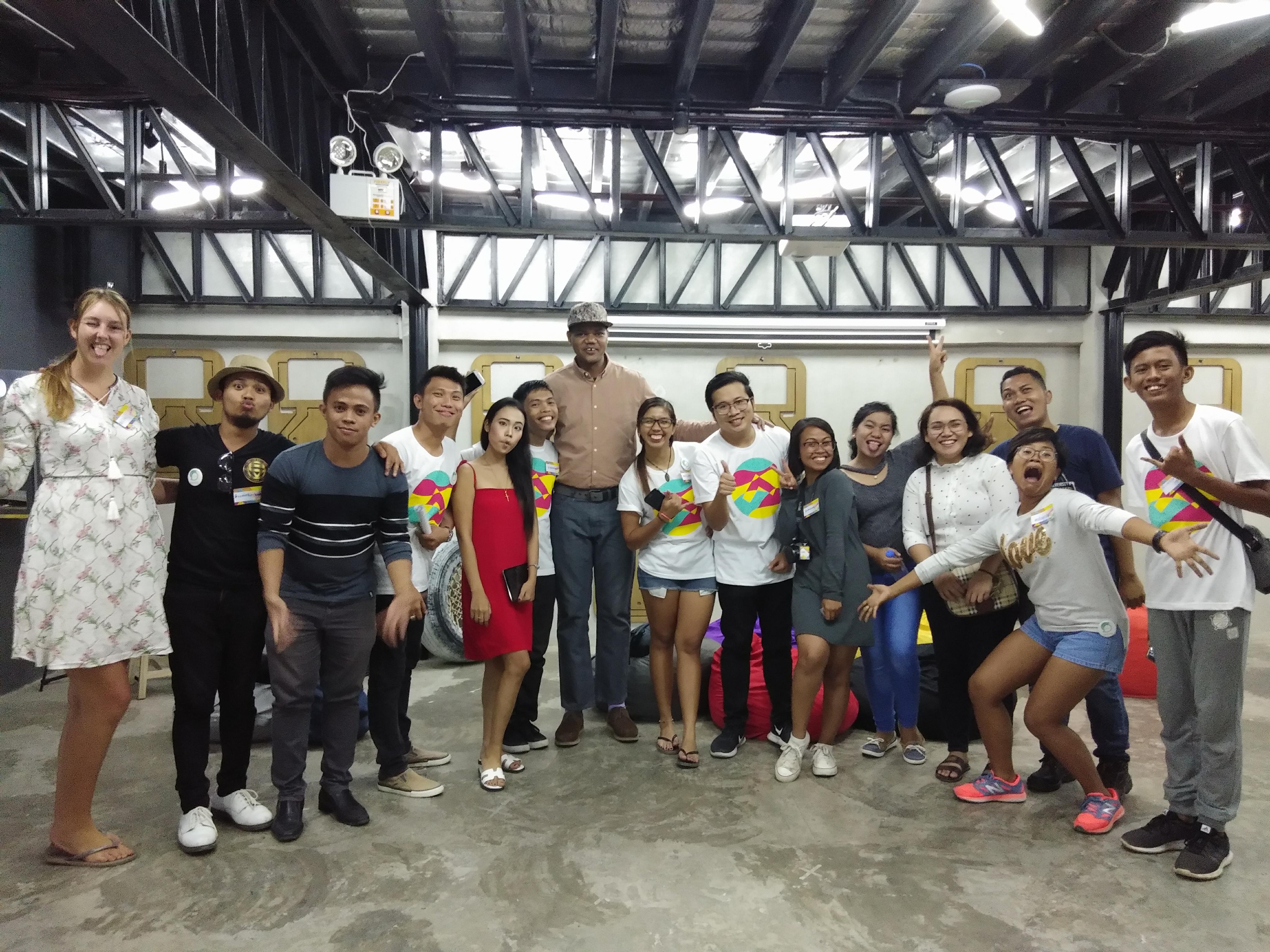 Image Courtesy of Ms. Akire Erika Muchizuki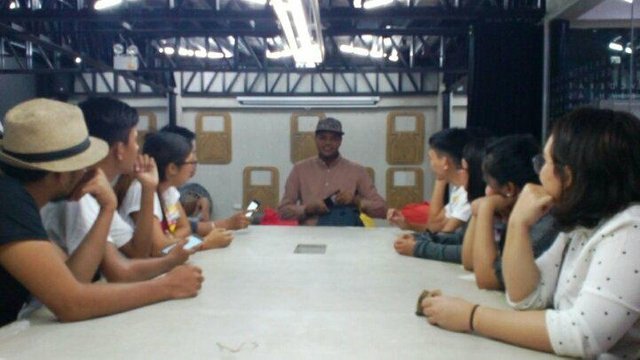 I was already on my way home when they sent pictures on the group chat and saying that @surpassinggoogle suddenly arrived at the venue. And then i was like "Whhaaaaat? Seriously? T_T" If i could only fly or do teleportation i've already done that. Gosh, How i wish i could go back all the way there but its too complicated coz our house was really way too far from the venue. Oh gosh, i only stayed a little bit longer. I really missed the chance to finally get to see him in person . :(
But overall, i was still thankful that he really came all the way here in Cebu. I admire him as he really showed his great love to all steemians and he really never failed to surprise us when he himself went to Cebu.. I was really touched, I never expected that he would really come. Even though some of us weren't able to meet him there, we are all grateful, always grateful to him, He always show his undying love and support to us.. I believe that this will not be the last time he will be visiting Cebu. There will be next time, and in that next time i'll really make sure that i won't missed it again. See you soon @surpassinggoogle.. :)
---
Steemians Got Talent!
Along with the event, there are steemians who showed their talents and performance at the event. These only shows that being Steemian does not only have rely on writings and creating valuable contents but they also got what it takes of being a perfomer.
Pole Dancing Performance by @anneporter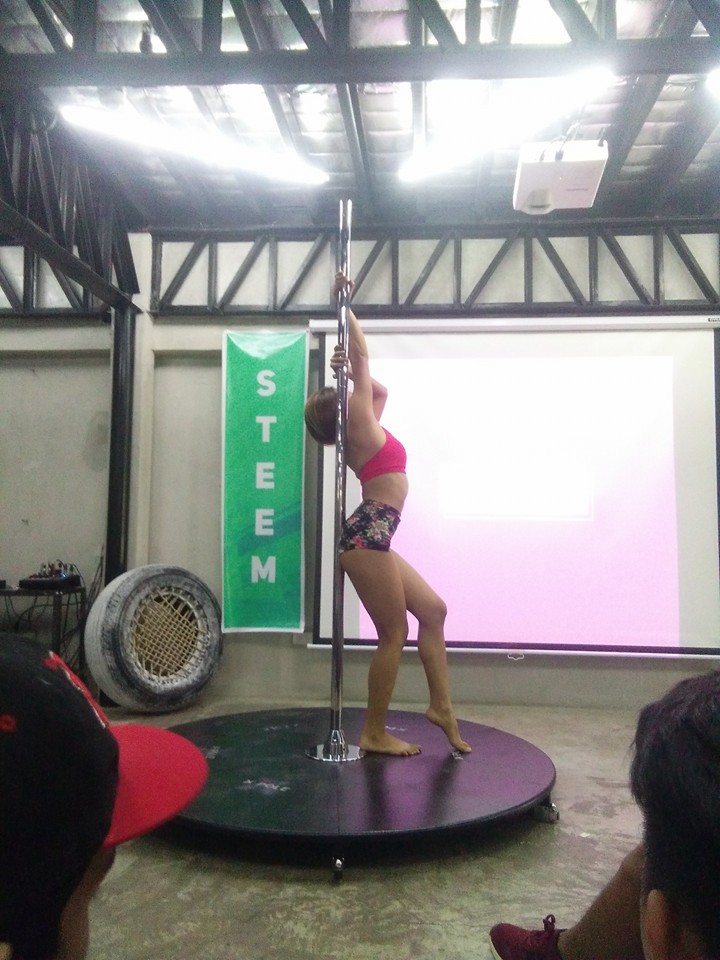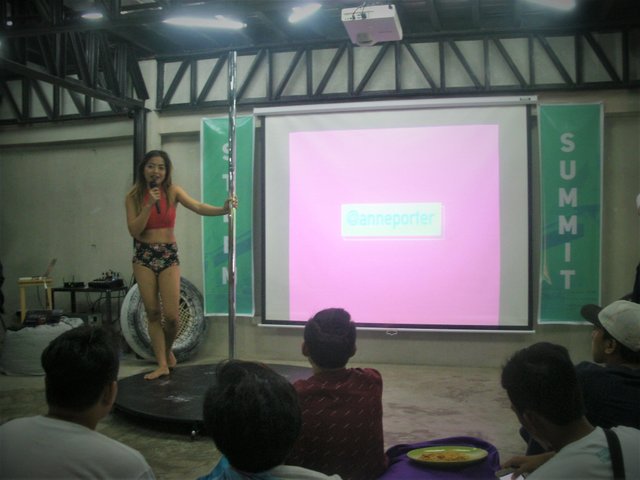 During the event, Miss @anneporter performed an extremely amazing Pole dancing performace in front of us. I was really stunned by her. She also performs different kinds of dance. Not only she does dancing, She is also a licensed Chemical Engineeer who shares a lot of knowledge about her specialization and beauty.. All i can say is a big WOW. I admire her. <3
Outstanding Beatbox Performance by @steemitbeatbox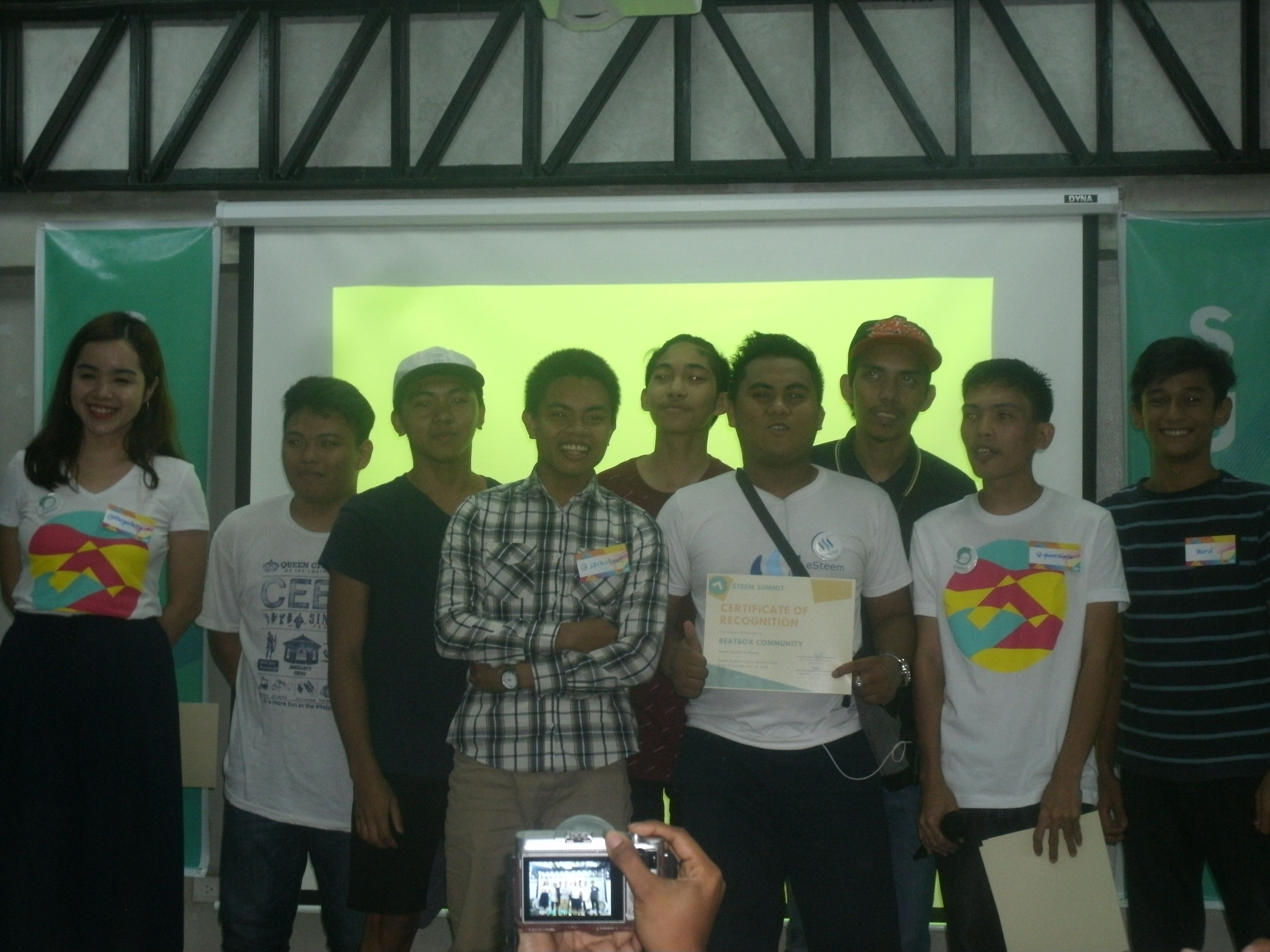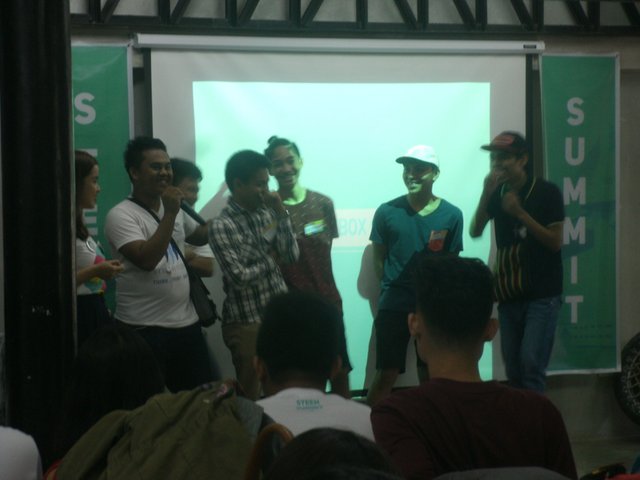 Everyone was absolutely astonished when the @steemitbeatbox community performs a jaw-dropping Beatbox performance. The team was lead by @jaderpogi and @jackobeat where both have a great passion and experience beatboxing industry. I wonder if their throat was ever dry? haha. So fantastic, I love it..
Heart-melting Song Performance By @queenlyka and @jembee..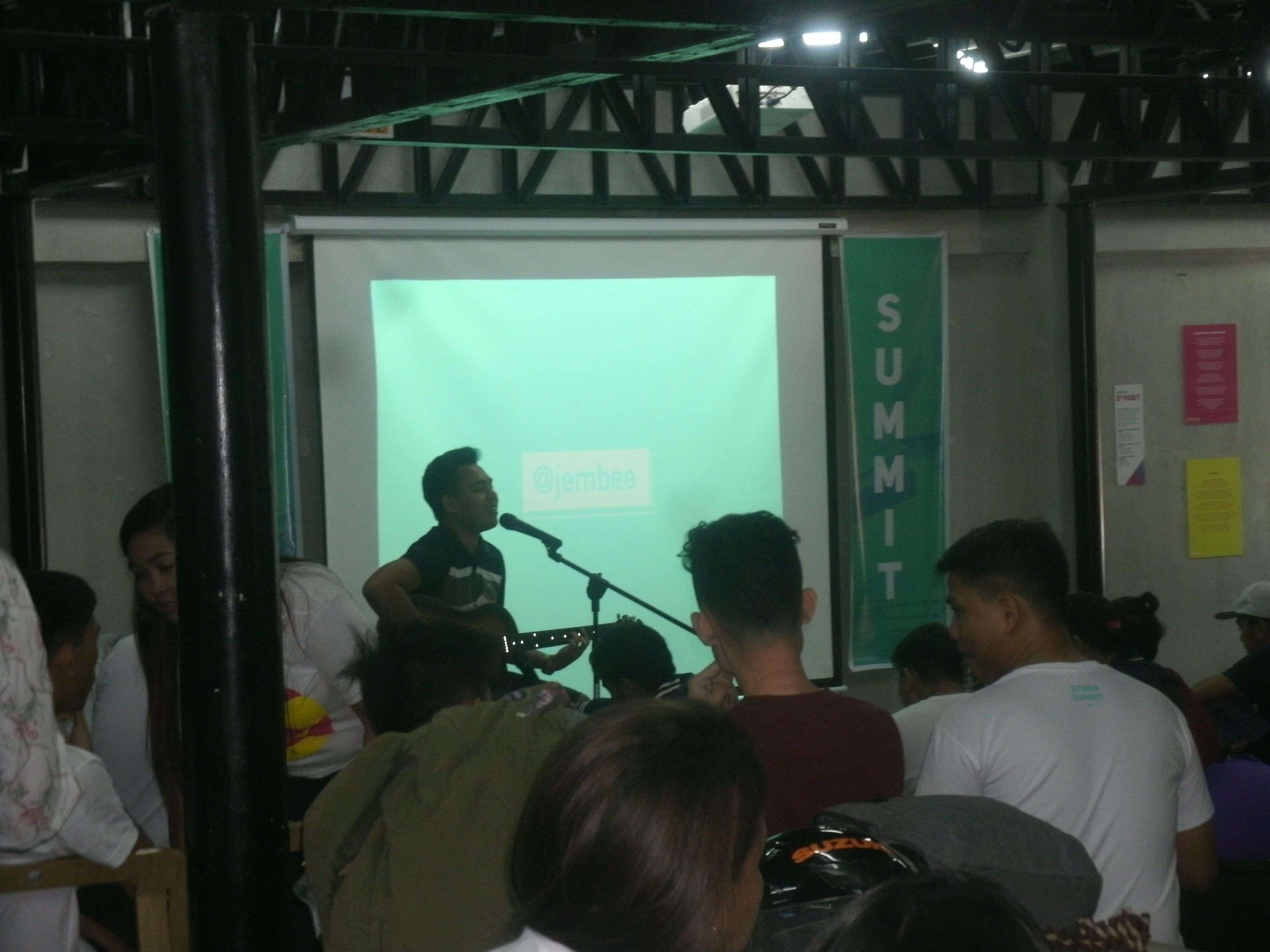 A heart-melting song performance done @queenlyka and @jembee keeps the crowd cool and alive. They both gohave beautiful voice. No wonder, Steemians got talent!
---
Steemians Meet-up and bonding
As i have said, t'was the very first time i attended a steemit meet-up. As i arrived at the venue, I was so shy at other steemians that i just remained quite and sit at the corner together with my friends. I really don't know how to interact since i just knew some of them online. It was the first time meeting them in person. I was like, "Gosh, is this real? am i really here?" haha.
And then later on, They started talking to me, and they're like, "oh It's you geeyang15" .. "Yes I am.. (with matchin killer smile.. joke) ":D Seriously, I've met alot of steemians there, But i didn't took a picture with them each. Still im glad that we finally met each other in person..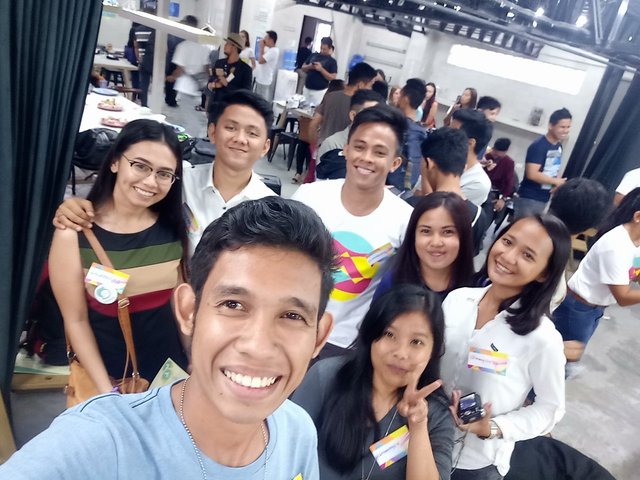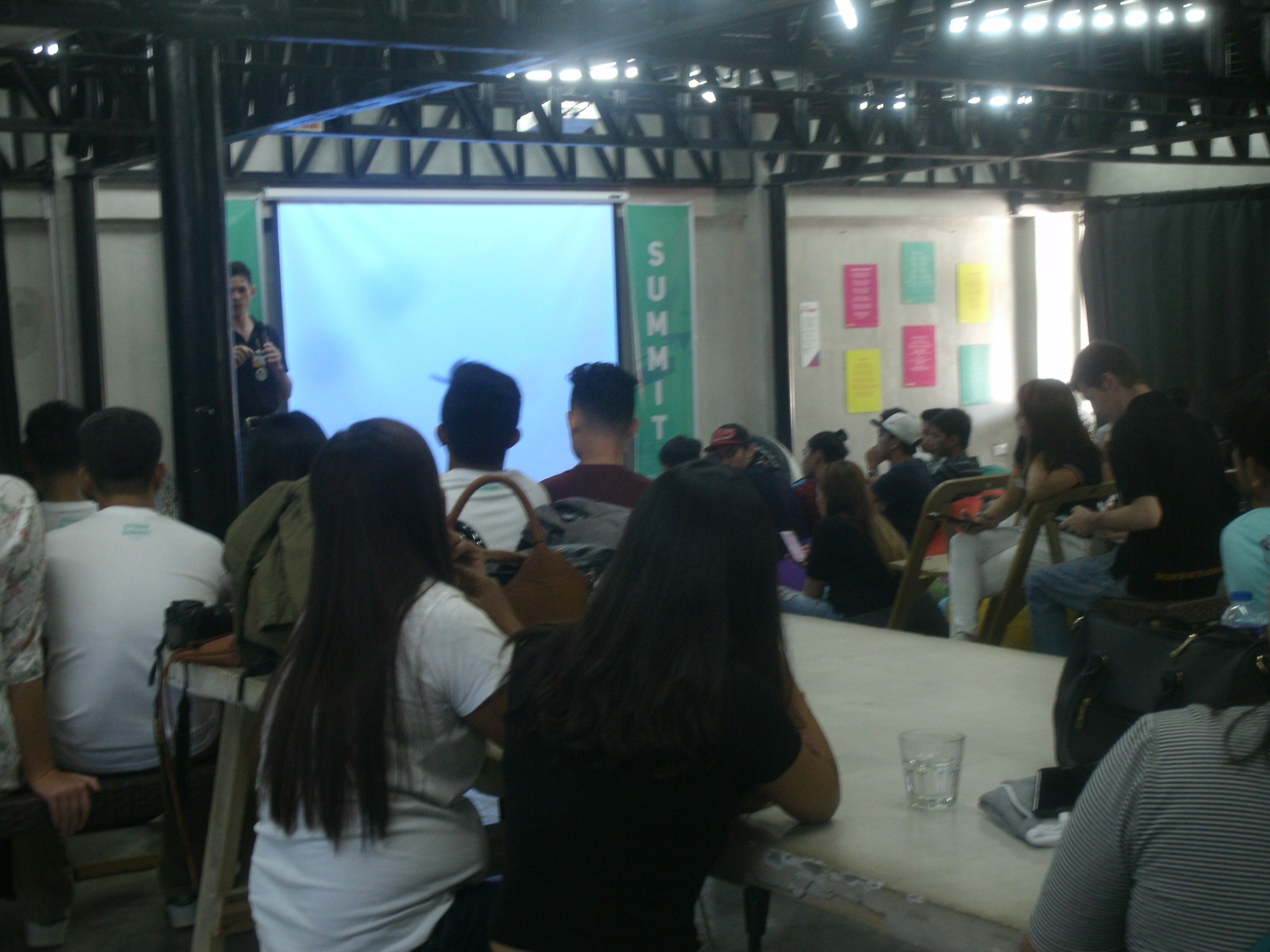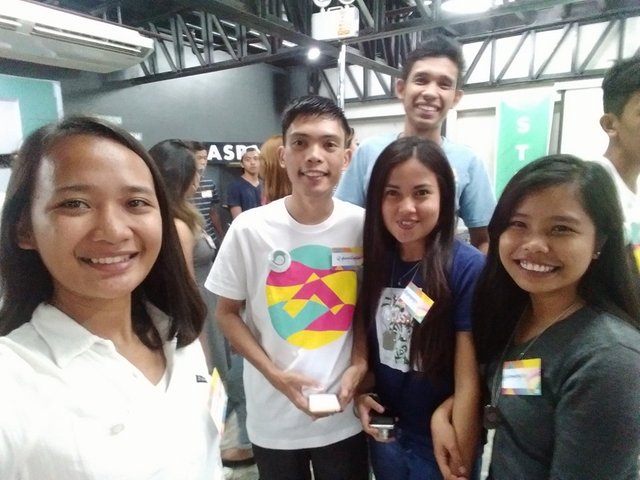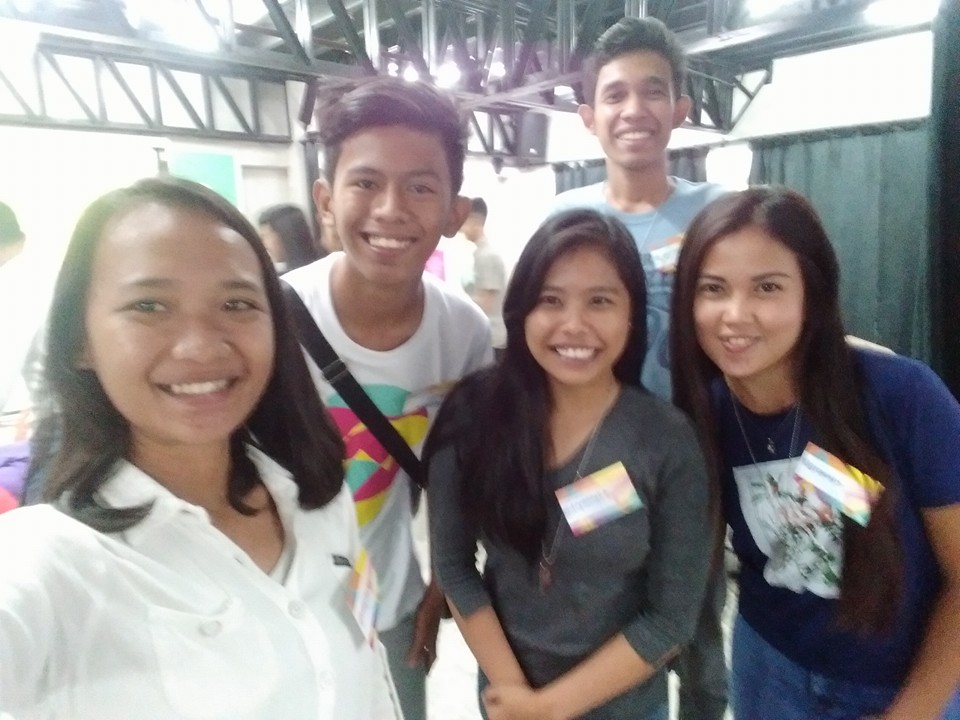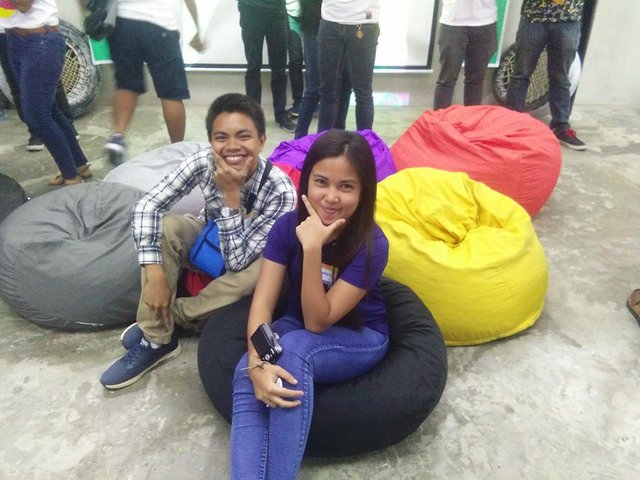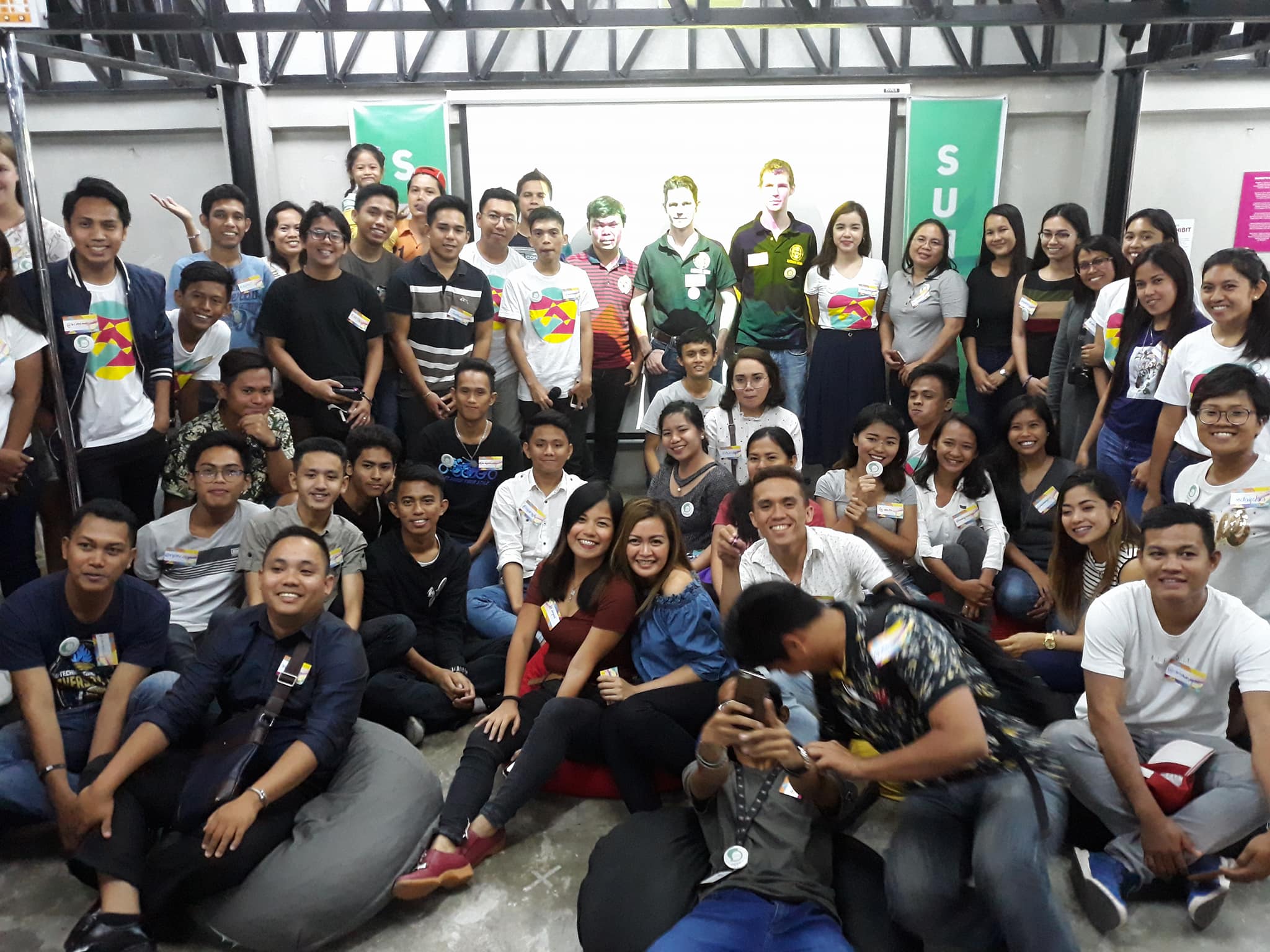 Its a pleasure to meet you guys! Thank you so much @steemsummit for a very warm welcome.. You are a family to me.. <3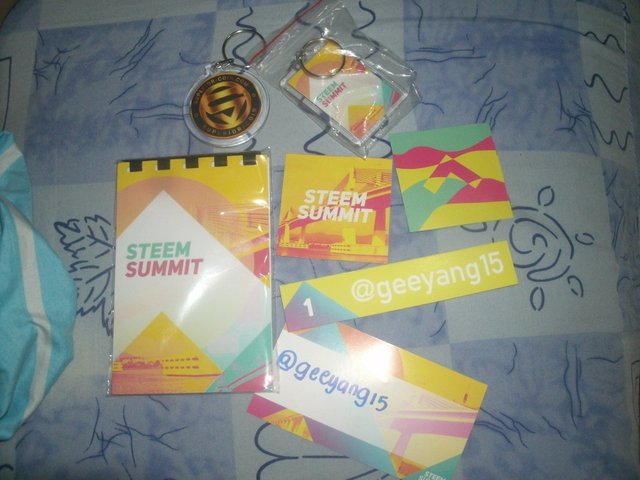 Thank you also for these lovely souvenirs for @steemsummit.. :)
---
Yours Truly,
@geeyang15