STEEMFEST 2019 Limited Shirt!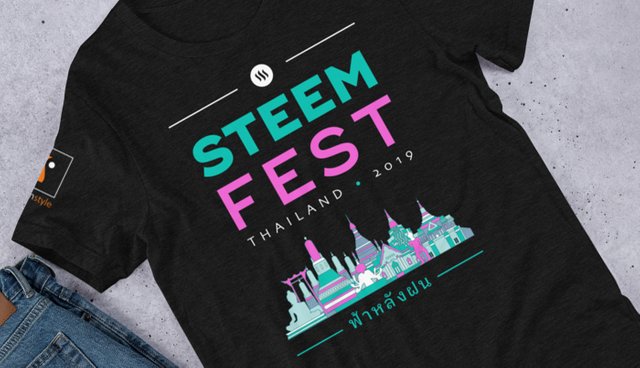 The ultimate apparel for the ultimate event!
If you're attending SteemFest, you've gotta do it in style. Steemstyle.
We connected with @roelandp to produce a Limited Edition SteemFest shirt that would channel the sooper awesomeness of Steem, Thailand, and the famous event known as SteemFest.

If you're looking to experience the event properly, we suggest this premium, high quality unisex shirt that displays the colors of SteemFest, including a Thai inscription that reads "Sky After Rain", an inspirational proverb that reflects the spirit of Steemians everywhere.
We're exploring the possibility of seeing if it's possible to have a 2-color version of the shirt screen printed in Thailand for pickup upon arrival, but I'll be honest...it's a hail mary. There's no guarantee that shirts will be available. It's hard to say whether or not that will happen.
So to be on the safe side, it's probably a good idea to order ahead of time so you can pack it in your bags.
This shirt is only available for a Limited Time! And time is running out if you want to receive it in time for SteemFest (which is only weeks away!).
SO HURRY!!!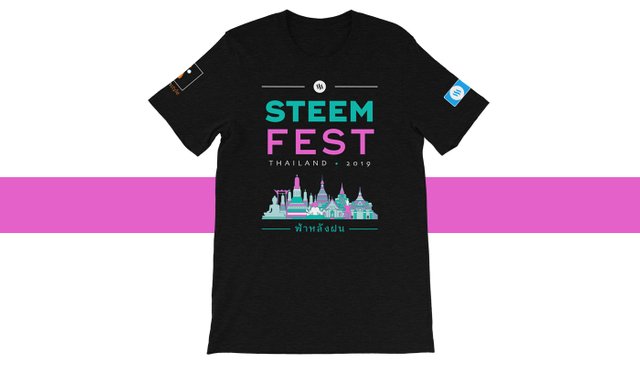 Check out the shirt at:
https://steemstyle.io/products/steemfest-2019-short-sleeve-unisex-t-shirt?variant=30470153830493
For more information on SteemFest, visit:
https://steemfest.com/