Steemstem.io (Beta)!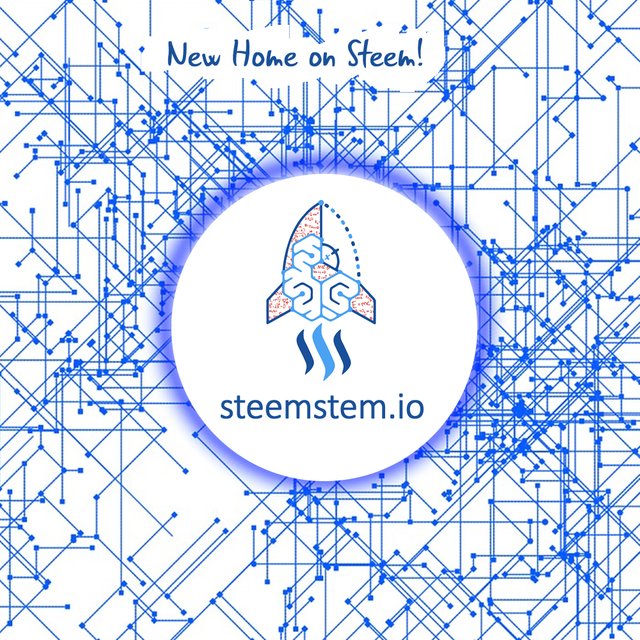 For a long time, steemSTEM has been on a path of growth. Once a small group of friends curating on the old Steem chat, we are now a thriving community spread all around the world and one of the most trusted teams on the Steem blockchain.
With our ambitions set high, we have grown to include our trusted curators and honor members, allowing the management team to take SteemSTEM another step forward. The road has been long, but we are here now to present you with our brand new, dedicated-to-STEM Steem App: steemstem.io.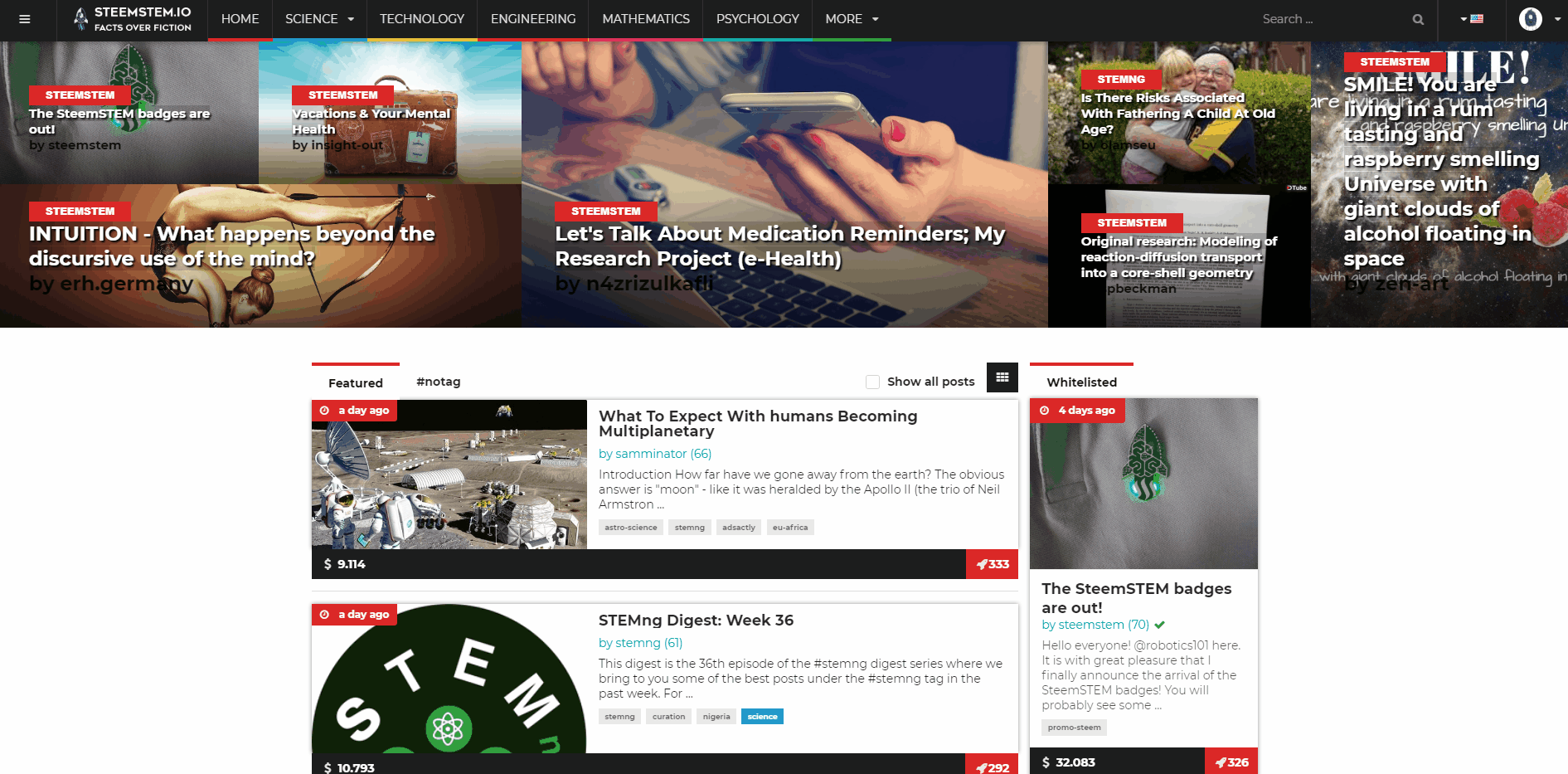 SteemSTEM began under the premise that somebody needed to clear out the science feeds on Steem. However, we started to realise that there was a niche that needed filling around the world: Science communication, without the middlemen. A direct line from dedicated scientists or passionate bloggers, to you - one in which standard blogging sites are unequipped to support.
What is steemstem.io for?
Though the open nature of the Steem blockchain offers many advantages to society, it can, in and of itself, be a hindrance to the nature of STEM subjects when one individual can have equal or more authority than any other based on their personal stake. This automatically allows misinformation to spread unhindered alongside legitimate reports, and it becomes impossible to distinguish which is which.
But the scientific method is one of the greatest tools humans have at their disposal, and its that innately skeptical nature and the rigorous self-righting mechanisms that we apply to information available on Steem; in our App, only posts approved by our team of curators will be featured.
However, as we still value censorship resistance built into the Steem blockchain, there is an option to show all posts under the related tags allowing all STEM, supported by us or not, to be visible:

Quality Control
Steemstem.io also comes with a significant feature that has long been built into the SteemSTEM ecosystem. We, as a curation initiative, operate with three layers of review and scrutiny:
An experienced curator reads and verifies if a post is legitimate, searches for plagiarism and decides on the value of the post according to set parameters.

A second curator then double checks before the vote can go through.

Our fantastic team of honor members, as well as the public at large, can view our voting history, and act as a final barrier of legitimacy. Should they find something we missed, they can submit for vote removal and the user to be blacklisted, with evidence provided.
All these functions exist alongside the App to ensure that the most original and validated content is promoted, without the risk of any biased third party cutting in line. The result is a reliable, high-quality space for academics and enthusiasts alike to communicate all the discoveries of the Universe on Steem and to be rewarded for their efforts.
Be Promoted on steemstem.io
As you may have noticed, there is a header bar with 7 slots for posts on steemstem.io. This consists in 7 place holders for posts to be promoted. The way to get there is easy:
Write an excellent post following SteemSTEM guidelines.

After getting a @steemstem upvote, send a 3 STEEM/day promotion fee to @steemstem-io, with the link as a memo. This will book one of these place holders for the relevant amount of days. Note that the fee can vary (please verify on the @steemstem-io profile).

Reimbursements are possible only (and only) if there is no place holder left.
We hope this could get you some extra exposure, especially when steemstem.io will become one of the most visited places on the Internet.
Main features of steemstem.io
Steemstem.io comes with other features. On the front page, you'll find a permanent space for whitelisted users; well-known, trusted and high quality authors recognized for their hard work.
We could not have grown to what we are today without the growth of an international community. To date, we have self-sufficient communities working in 5 languages, all of which are available filters on our App: English, French, German, Italian and Spanish, with more to come!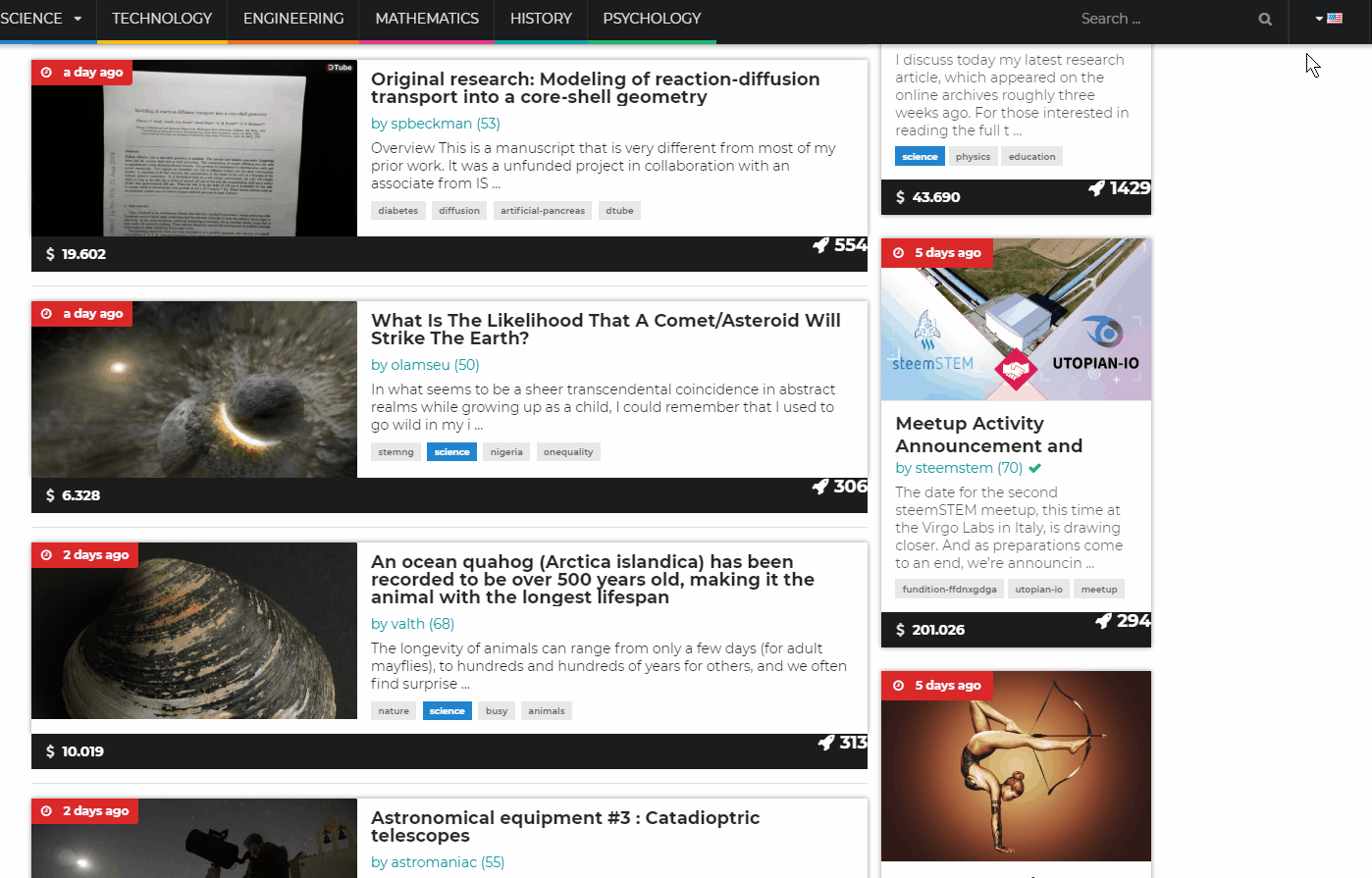 This allows each of our foreign language communities to have their own unique, hand picked trending sections, subdivided by topic, allowing for better recruitment of STEM experts and enthusiasts who don't feel as enthusiastic about English to share their knowledge and improve science literacy around the world.
Steemstem.io can do everything you expect a front-end on STEEM should do. Users can login via SteemConnect, vote, comment, follow, resteem & share to other social media. Users can also manage their wallet contents as well as send and receive STEEM, power up/power down etc...
You can see suggested posts and recent activity of users as well as their wallet history and more.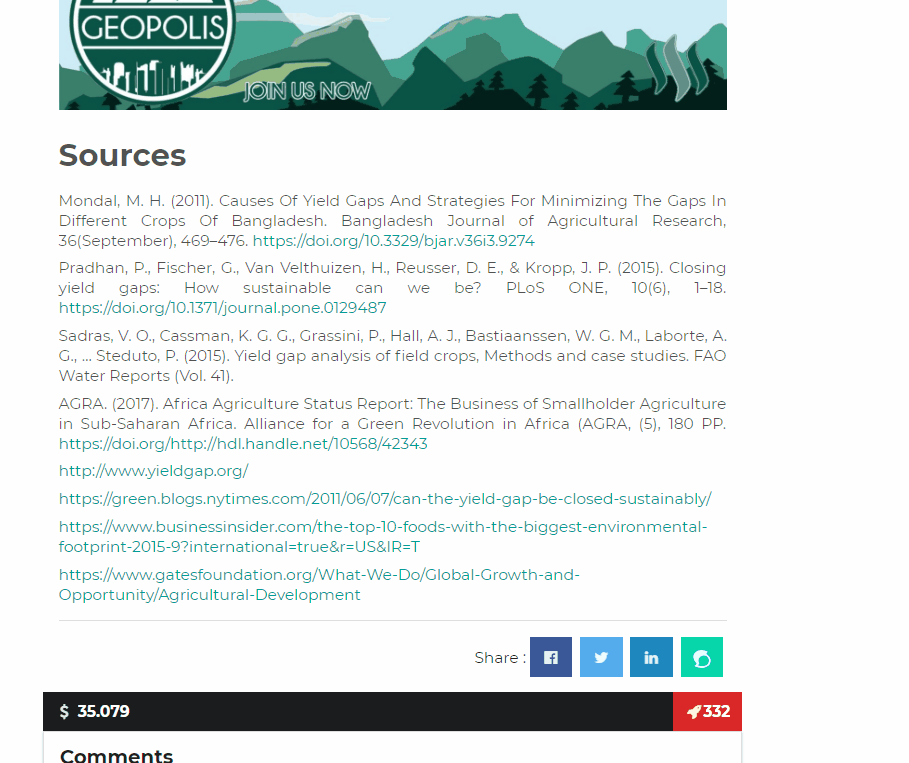 The Future?
We will continue developing our App, having in mind the following main items:
A SteemSTEM Store. The store will hold all manner of related merchandise, including Hand-made LED badges, hoodies & t-shirts, books and compilations from popular authors and more.
The introduction of a SteemSTEM reputation mechanism
Delegator/Investor rewards (our supporters should get a ROI.)
Guest comments without the need of an account on Steem.
For now, feel free to explore the app, join us on discord and become a part of a growing Steem community - There's so much more to come!