Science is fun contest - science parody songs.
I love science and I love music. And I am feeling kind of crazy to add science on top of the music.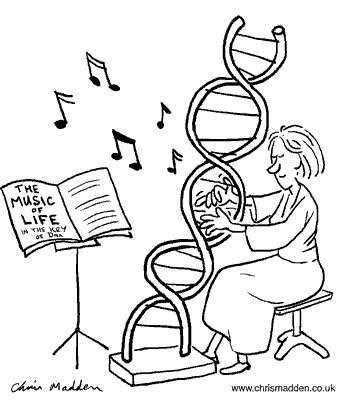 Let's play the chords of science
Image by redondoself | CC BY 2.0

So I was sitting here in my boring lab,
Just doing another analysis on Matlab
I wanted to read
I wanted some science
But something light,
Something with rhyme
But nothing I could find, and I wondered
What if I make a contest post?
Contest for fun
With musical notes
I like to hear a sciencey song
I am feeling bored
I would be counting on you
So let's make it happen, and wonder
Let's wonder how, wonder why
How would you give music to science
And all I would love to see
Is a fun parody!
Hear the original lemon tree song by Fool's Garden
What is the contest about?
So it's pretty simple. Take any famous song which you like, take a scientific concept that you like and create a mash between the two. Basically, make a parody that talks about science.
How to participate?
Once, you have made your parody you can make your own post with a tag - #scienceisfun along with any other tag that you use. Then drop the link below in the comments. You can even post the parody song in comments, but I suggest you go for your own post. You can pen it down, or you can sing it and upload a video if you are a good singer.
Contest duration and winner selection
I will give two weeks of time for all submissions starting from the day of this post. After submission time is over, I will pick the best of the parody based on how well it rhymes and how cool it is in covering the topic. Plus I will also take into consideration the interaction and likes you get. But, if your parody is good despite having no interaction or likes it can still win. So focus on making it good.
Prizes
The prizes would be given in liquid steem and sbi shares.
1st prize - 40 % of liquid steem earned by this post + 2 sbi shares.
2nd prize - 20% of liquid steem earned by this post + 2 sbi shares
3rd prize - 10% of liquid steem earned by this post + 1 sbi share.
So if the post makes say 40 steem in total, and 30 steem is author payout, and 15 steem is liquid steem, then 1st winner will get 6 steem, 2nd winner will get 3 steem and 3rd winner will get 1.5 steem. So don't forget to vote to increase the reward pool.
Some important rules
If you use images, make sure you use copyright-free images and cite the source and license properly.
Other than that feel free to be creative and use your imagination to make an original parody.
Final remarks
Since this is the first contest I am hosting feel free to make suggestions if you have any. Also, it would be kind of you to support this post and make this contest a success. I will be hosting more fun science contests if this succeeds.
Examples
This is a parody I just wrote from top of my head. Nothing special but just to give you an example.
Adaptive immune system - a parody of Zombie by Cranberries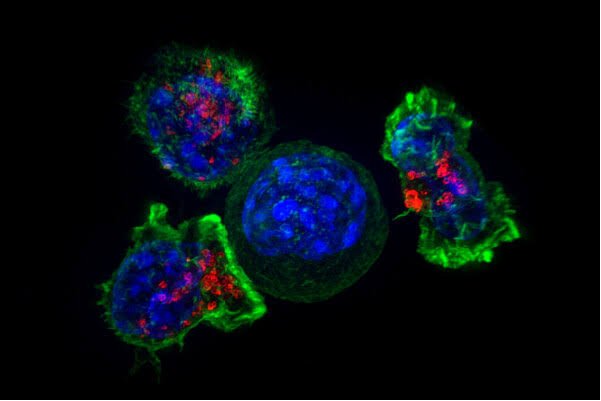 Image of Killer T cells surrounding a cancer cell before killing it. By Alex Ritter, Jennifer Lippincott Schwartz and Gillian Griffiths, National Institutes of Health | Public Domain
Another cell dies slowly,
Debris is slowly eaten
And the molecules, hang on the membrane,
Identity can't be mistaken
But if it sees, it's not me
It's not my MHC
In your lymph, in your blood, they are fighting
With complement, and cytokines
their cytokines, and their enzymes
In your lymph, in your blood, they are fighting
In your lymph, in your blood
T cells, B cells, T cells -ells-ls
In your lymph, in your blood
T cells, B cells, T cells -ells-ls
Another pathogen breaks in,
A macrophage is taking over.
Microbial sensing, antigen-presenting
Makes the more efficient
They see the germs
And they learn
In your lymph, in your blood, they're still fighting.
With complement, and cytokines
their cytokines, and their enzymes
In your lymph, in your blood, they are dying
In your lymph, in your blood
T cells, B cells, T cells -ells-ls
In your lymph, in your blood
T cells, B cells, T cells -ells-ls-ls-eh
Other professional examples of sciencey song parodies