A few things about Saturn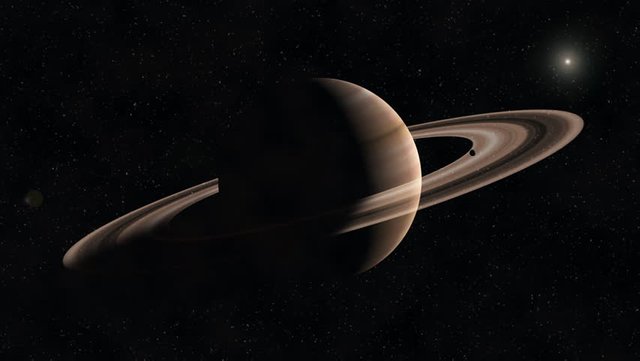 The Lord of the Rings is not only a well-known movie and book series but also one of the most impressive planets in our solar system.
Saturn is the 6th planet in our solar system to be seen from our sun. It orbits the sun in 29 earth years and 166 earth days. Its orbit is almost circular and its distance to the Sun is between 9.04 and 10.12 astronomical units. It rotates around its own axis in 10 hours and 33 minutes. After Jupiter, Saturn is the second largest planet in our solar system. Its diameter is 120.000km, of course without its rings.
Saturn is much heavier than our earth and can bind a large number of moons around it due to its massive gravity. In the last decades we have discovered more and more new moons and now there are 62 of them. On some of these moons there is something you wouldn't expect so far back in such a system, namely water. One of them is Enceladus. These moons have a huge layer of ice and although it is actually much too cold back there in the back of our solar system because the sun is so far away, this ice is kneaded by the gravity of Saturn and the other moons, the water melts and splashes out as hot water on the surface. This phenomenon is called cryovolcanism. But Saturn's largest moon is Titan. After Ganymede, Titan is the second largest moon in our solar system.
Most people know Saturn because of its imposing rings that surround it at a huge distance. That is why Saturn is also called "The Lord of the Rings". By now we know that Saturn has more than 100,000 individual rings, some of which have a diameter of several million kilometres, a huge structure. But very few people know that these rings are incredibly thin. At their thinnest points they are only 20 meters thick. If you take a closer look at the rings, you will see that they are not a solid structure, but that they consist only of super many small stones, ice chunks and dust, so actually a huge collection of different material. The ring system of Saturn was discovered in 1610 by Galileo Galilei, who interpreted it as a "handle". Christiaan Huygens correctly described the rings as a ring system 45 years later.
Saturn's atmosphere consists mainly of gaseous hydrogen and helium, just like our sun. Its external temperature is -189°C and the deeper you enter the atmosphere the higher the pressure and the higher the temperature gets. This high pressure causes the gases to liquefy. The result is helium rain. Saturn is gigantic but not very dense. In it you can see that the density does not always match the size of a planet. You can easily imagine an elephant made of cotton candy, which is quite big but not very heavy and also not very dense. Saturn's density is lower than that of water, which means that if we threw it into a gigantic bathtub, Saturn would not sink. It is one of the giant gas planets in our solar system.
Saturn could be described as a small independent system, and many astronomers regard it as such. But besides this fact Saturn is also very impressive because of its blue hexagon at the North Pole. But scientists have discovered that this hexagon is not the only one, because above the blue hexagon there is a second one - while the blue one in the stratosphere draws its vortex, the second one in the cloud layer draws its rounds - and both are independent of each other. This is probably due to the fact that Saturn is a gas planet where different phenomena take place in different regions.
In ancient Mesopotamia, Saturn was one of the most important heavenly objects. The old Sumerians called it "Udu idim sag us" which means the star of the sun. The Babylonians called it "Kayamanu" which can be translated as the constant. This name probably comes from the fact that Saturn moves very slowly in the sky. In Latin it is called "Saturnus" and is the god of sowing and planting. The ancient romans had more or less adopted this and added wealth to the list of meanings. And in the ancient Greek Saturn can be equated with Kronos, who is also the God of time.