Technology To Produce Bricks From Bacteria To Reduce Carbon Footprint Worldwide.
Producing Biocement and Bricks from sand is reducing the carbon footprint globally as to produce cement in traditional technologies produced 8% of total CO2 Production worldwide.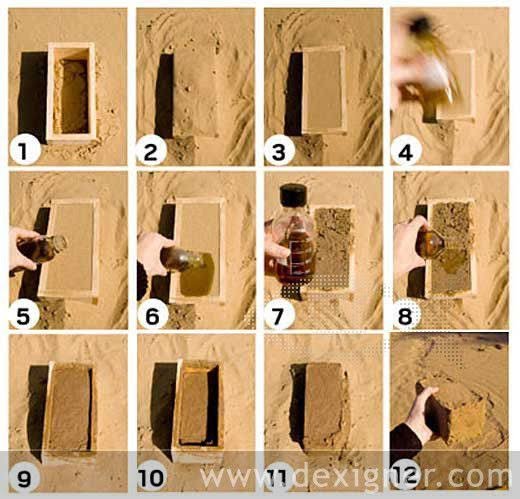 Image credit : https://www.popsci.com/environment/article/2010-05/new-bio-manufactured-bricks-made-bacteria-sand-and-urine/
 In traditional cement making we need Kilns where materials have to heated about 2000*celcius and which produced enormous amount of CO2 into the atmosphere .
But a North Carolina based Company BioMason started producing Bricks from sand with the help of Bacteria .
BioMason injected Microorganisms one type of Bacteria in sand which transform sand into solid crystal just like coral. 
In this technology Engineer packing sand into molds of bricks and then injected  bacteria into the mold.  "The bacteria wrap themeselves around grains of sand and each grains act likes a nucleaus and calcium carbonate crystal form around it". 
In next step these bricks were showered with a special type of nutrients rich water by water sprayer used in agriculture to feed those bacteria to increase the bacterial production which increases the protection of calcium carbonate. After four days we get harder and durable bricks. 
In this technology we can make bricks easily without need of massive amount manpower in construction site. 
US Air Force is trying this technology to make their Airbase in area where shortage of manpower and other facilities. 
Today Biomasonary technique used to produce all types building materials like tiles and other designer architecture. 
Source: https://www.designindaba.com/articles/creative-work/biomason-grows-bricks-without-using-any-heat
.