Despite what we could think, knives can also be considered as high-tech gadgets! At least, they were high-tech gadgets back in the days, i.e. 2.5 millions year ago (according to Wikipedia, as indicated here).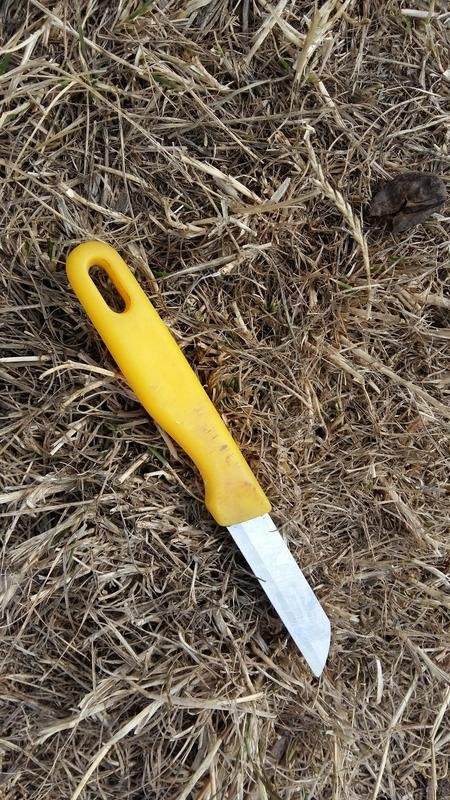 [image credits: homemade ]
For this reason, they definitely consist in proper objects to enter the STEM gadget contest announced by @themarkymark. After all, the rules specified that the gadgets could have been used in the past, but did not properly define what past exactly meant….

As said above, knives are used since the early days of mankind.

At this time, they were made of some of the rocks or pieces of bone that could have been gathered around by the first men. Without 4G and with only basic technology (i.e. arms and legs), life was very different.

Today, knives are made of a blade and a handle (although some rarer specimen may be exception to this rule), which contrasts with the early-day versions.

Over the centuries, improvements came, in particular thanks to metallurgy. In particular, more modern knives are made of steel or other composite materials. A modern specimen can be admired in the above picture, with its super-hype yellowish plastic handle.

In terms of usage, we can do many things with a knife, the spectrum ranging from hunting and combat to getting some food. This last point, very relevant for the last part of this post, is illustrated on the picture below.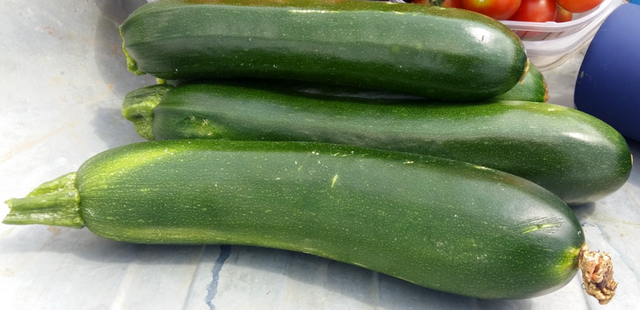 [image credits: homemade ]
Without a knife, it could indeed be complicated to pick the zucchinis from the zucchini plant without destroying the plant. I tried that out this morning (the yellow knife was mine, as are those zucchinis… for now, until they will get eaten).

The same holds for eggplants or any other type of food one could particularly enjoy in this season (although not in the Southern hemisphere where melted cheese may be more in order).
---
From the stone age to high-tech knife
Today, much more high-tech knives exist. For instance, every single good chef in the world should own a NASA Chef Knife. That is definitely a cool gadget to possess (note: my 3rd Steem anniversary was a couple of days ago; please think about me!).


[image credits: M (CC BY-SA 4.0) ]
This knife is patented as the sharpest and most durable knife. It looks like the one in the picture, although for an exact image, please follow this link (where plenty of copyrighted images can be found).

This knife has been made out of the very same metal alloy developed by the NASA engineers. Thanks to its amorphous atomic structure, it overcomes all the issues known from steel or ceramic knives (breaking, getting quickly dull, etc.). It is for instance twice a strong as titanium, self-sharpening (yes this is a thing!) and corrosion-resistant (so that food will not damage it).
In other words, this is a true gadget that should be available at any home for a successful cooking time (note: please do not try to cook the knife itself…).

A small step for a man, a giant leap for my stomach!