The life of a particle physicist may be full of various tasks, as the job goes well beyond just doing research. The amount of work that ended on me reached levels such that I have been mostly invisible on Steem for the last three weeks. This happens… The situation is slightly better now, although not optimal yet.

After having resumed my SteemSTEM activities (new developments on steemstem.io, curation activities, visible presence on our discord server, etc.), it is now time to start writing about physics again.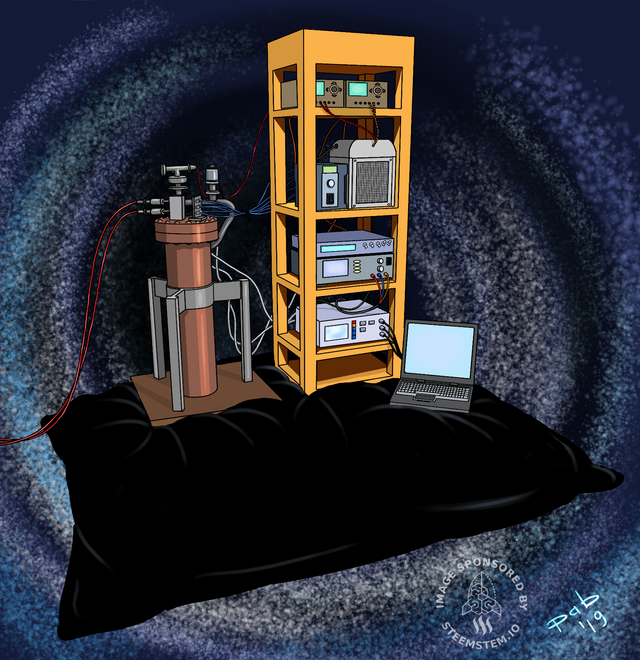 [image credits: @pab.ink]
The topic today concerns dark matter and the Sensei experiment, that consists in a new type of experiments targeting the nature of dark matter.

Whilst a direct dark matter observation consists in one of the major goals of (astro)particle physics today, dark matter managed to stay elusive so far.

The reason could actually be simple. All dark matter direct detection experiments target heavyish dark matter, with a mass in the same ballpark as those of the heavy Standard Model particles.

But what if dark matter is lighter? This is where Sensei comes into the game! And this post…
---
Dark matter detection on Earth
Dark matter is evidenced by numerous measurements ans observations.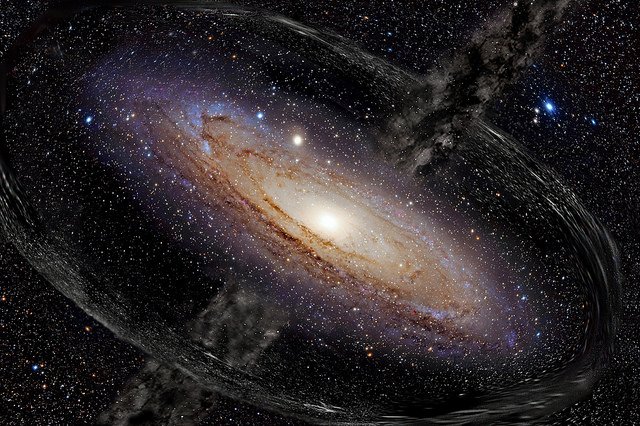 [image credits: Maxwell Hamilton (CC BY 2.0)]
For instance, one can analyze the the fossil radiation left over for the Big Bang and see that the universe actually contains a lot of dark matter (5 times more than matter).

One could similarly try to explain the motion of stars or the bending of light in space. This can easily been done with dark matter.

And even more… But let's stop here.

These many hints for dark matter triggered a huge experimental effort to try to directly detect dark matter on Earth with the aim of unravelling its properties. The principle behind these experiments is simple.

Dark matter is said to be dark for a good reason: it is very weakly interacting with anything around. This means, it is non-sensitive to the strong and electromagnetic interactions, that are the strongest forces we know about. However, weakly-interacting does not mean non-interacting. If we wait long enough and use a big enough detector, we may actually observe a dark matter interaction with normal matter.

This is the key point behind by all experiments targeting dark matter direct detection.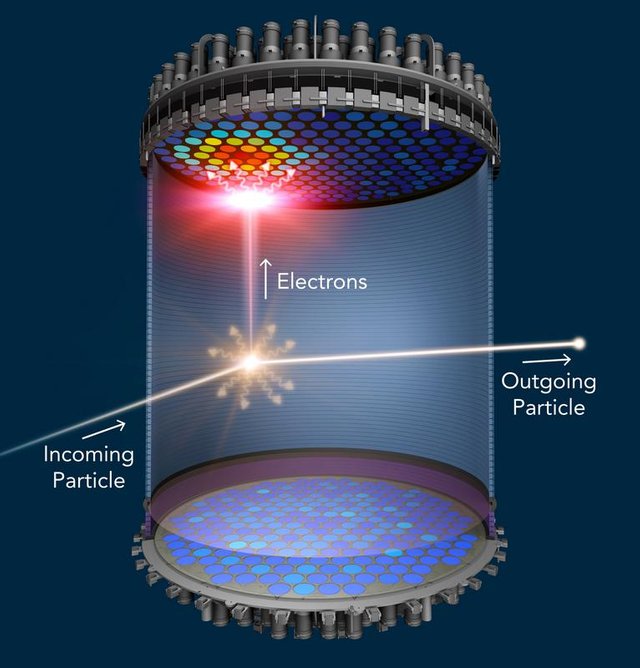 [image credits: SLAC]
We start with a large detector full of material, and we wait until a dark matter particle gets into the detector and hits one of the atomic nuclei of the detector.

We may however to wait for a long moment, as the probability of such an event is small (as dark matter is dark, as said above). This probability is however non-zero, so that the event may actually happen at some point, if we wait long enough.

Consequently to the choc, the hit nucleus recoils a little bit. As the detector is surrounded by sensors and cameras, this recoil is observed and analyzed.

This allows us to go back to what initiated the choc: dark matter.

All those experiments are so far returning null results, so that dark matter models are more and more constrained. But we still have room before claiming there is no hope.
---
Detecting dark matter detection with Sensei
Dark matter direct detection experiments are however not sensitive to light dark matter that cannot generate any observable hit in the detector material. As light dark matter is not energetic enough for nuclear recoils (that are employed in traditional dark matter direct search experiments), the next idea was to focus on electronic recoils.

Direct detection experiments have therefore started to be tuned to be sensitive to such electronic recoils. However, this turned out to be quite limited. And here is Sensei for closing the gap!

Unlike for nuclear-recoil-based apparatuses that rely on noble liquids as detector materials, Sensei relies on a solid-state detector. Furthermore, it was demonstrated a couple of years ago that such a detector could be used to observe single electrons using special techniques (high-voltage cryogenics and signal amplifiers).

This is all what was needed to build a Sensei prototype (called protoSENSEI) that is active and already delivers results. An example is shown below.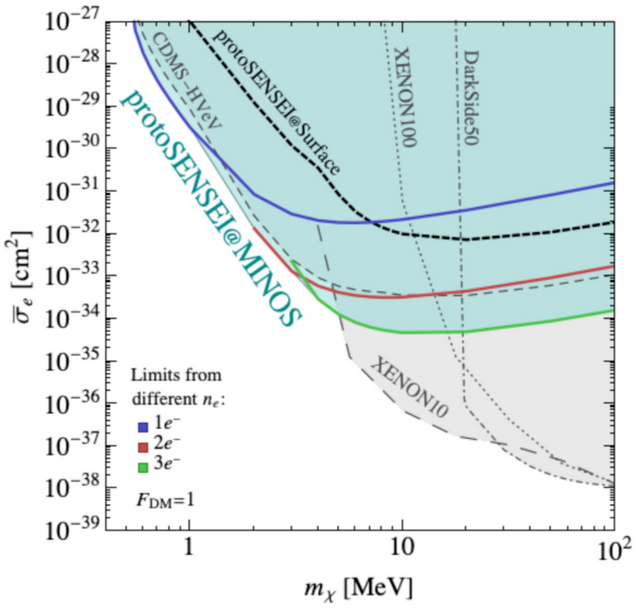 [image credits: arXiv]
In this figure, the x-axis corresponds to the dark matter mass and the y-axis represents the interaction rate of dark matter with electrons. The colored areas are those excluded by the nuclear-recoil-based experiments like Xenon or DarkSide and by Sensei.

Whilst electronic recoils can be measured in experiments like Xenon10 or Xenon100, as said above, they do not do as good as what does protoSENSEI. ProtoSENSEI is indeed sensitive to quite light dark matter (the green area extents to the left), that was unobservable in these type of experiments until very recently. In passing, CDMS-HVeV, a new apparatus that also targets electronic recoils, also does quite well.
---
Take-home message
Dark matter direct detection usually relies on the nuclear recoil generated by the interaction of a dark matter particle going through Earth with a noble-liquid detector. However, nuclear recoils necessitate some energy that is not available for light dark matter.

For this reason, physicists have moved on with electronic recoils. However, experiments based on noble liquid detectors have been found to be not greatly sensitive to that. Sensei is a novel type of experiment relying on a solid-state detector. This different technology has opened the door to light dark matter, and the prototype of this experiment is currently delivering impressive results.

The dark matter outlook is therefore very bright: if dark matter is light and can excite electrons, we may find it in the next decades!
---
SteemSTEM
SteemSTEM aims to make Steem a better place for Science, Technology, Engineering and Mathematics (STEM) and to build a science communication platform on Steem.
Make sure to follow SteemSTEM on steemstem.io, Steemit, Facebook, Twitter and Instagram to always be up-to-date on our latest news and ideas. Please also consider to support the project by supporting our witness (@stem.witness) or by delegating to @steemstem for a ROI of 65% of our curation rewards (quick delegation links: 50SP | 100SP | 500SP | 1000SP | 5000SP | 10000SP).