This post is a French adaptation of an earlier post of mine about the hunt for a fifth force at the CERN Large Hadron Collider. In this old post, I discussed possibilities about having extra fundamental interactions, and the way in which they could be to discovered in the LHC experiments. For the English version, please click here.
Les particules élémentaires interagissent via trois interactions fondamentales, à savoir l'interaction forte, l'interaction faible et l'électromagnétisme. Bien sûr, une quatrième force existe, la gravité, mais elle est totalement négligeable au niveau microscopique (et elle est donc négligée).
Les physiciens ont de fortes raisons de croire que le Modèle Standard de la physique des particules n'est qu'une version à basse énergie d'une théorie plus fondamentale qu'il nous reste à découvrir. Ces théories plus générales peuvent par exemple inclure une cinquième force.
Dans cet article, je vais détailler les méthodes permettant de rechercher une telle cinquième force au Grand Collisionneur de Hadrons (le LHC) du CERN.
La raison pour laquelle nous n'aurions uniquement que quatre interactions est inconnue.
Nous pourrions en effet très bien avoir plus de quatre interactions fondamentales, les forces supplémentaires étant juste suffisamment spéciales pour être cachées.
Oui je sais, les forces spéciales… ça pue comme blague.
Mais bref… Les physiciens essaient par conséquent d'observer les effets d'une nouvelle interaction fondamentale, et de conclure ainsi à son existence. Pour le moment, toutes les recherches indiquent que nous n'avons pas de nouvelle force.
Mais même si l'existence d'une nouvelle force potentielle devient très contrainte, la chasse est loin d'être finie. Je vais expliquer ci-dessous comment cette 'chasse' est mise en pratique au LHC.
---
PARTICULES ELEMENTAIRES EN QUELQUES MOTS
Nous avons un petit nombre de particules élémentaires qui sont classées en trois catégories, à savoir les particules qui appartiennent au secteur de la matière, les particules responsables de la médiation des interactions fondamentales et le boson de Higgs (lui, je vais l'ignorer totalement aujourd'hui).
Pour les détails, je ne peux que recommender la lecture de ce cours de physique des particules, en anglais, que j'ai posté dans le passé. Ici, je vais me contenter de résumer.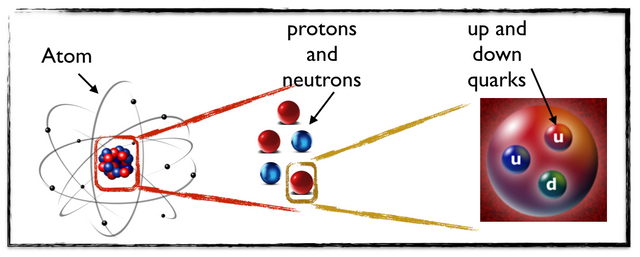 [image credits: fait maison (d'ingrédients disponibles partout)]
Par le secteur de la matière, j'entends les particules qui consistent en les briques de base de toute la matière qui nous entoure. Nous en avons trois: les quarks up et down et les électrons.
Si on prend la figure ci-dessus et qu'on la parcourt de droite à gauche, les quarks up et down sont les constituents des protons et des neutrons, qui forment eux-mêmes le noyau des atomes autour duquel orbitent quelques électrons (les taches noires sur la gauche de la figure).
Le secteur de la matière contient en plus les neutrinos qui ont un rôle clé pour l'interaction faible.
Nous avons donc quatre bestioles différentes, qui viennent chacune avec une antiparticules, et nous allons multiplier le tout par 3 (un prix Nobel pour celui qui trouve pourquoi). Ce qui nous donne 24 particules élémentaires.
---
LES INTERACTIONS FONDAMENTALES
Nous avons donc 12 particules et 12 antiparticules qui interagissent via trois interactions fondamentales. Ces interactions reposent sur le concept des symétries de jauge que je ne vais pas expliciter (voir ici pour les détails).
Ce qui est bon à savoir est que lorsque deux particules interagissent l'une avec l'autre, elles le font par l'échange d'un boson de jauge. Ces bosons de jauge sont, dans le monde microscopique, ce qui permet d'implémenter toutes nos interactions fondamentales (en tous cas les trois qui nous intéressent).
Dans le Modèle Standard, nous avons un petit nombre de ces bosons de jauges, qui sont le photon (permettant de véhiculer les interactions électromagnétiques), les bosons W et Z (pour les interactions faibles) et les gluons (pour l'interaction forte).
Par exemple, on dit qu'un électron et un positron interagissent électromagnétiquement par l'échange d'un photon.
Pour ajouter au Modèle Standard une cinquième force, on aura du coup un nouveau boson (on garde ce concept de symétrie de jauge car ça marche de façon impeccable).
---
A LA RECHERCHE DES NOUVELLES FORCES
Résumons tout ce que j'ai dit à date.
Les particules élémentaires interagissent par l'échange de bosons qui véhiculent les interactions fondamentales. C'est vrai pour les trois forces connues (électromagnétisme, forces faibles et fortes), mais aussi pour toute nouvelle force que l'on voudrait greffer à la théorie.
Du coup, pour découvrir une nouvelle force, il suffit de découvrir le boson correspondant. Il existe par conséquent de nombreuses recherches de bosons supplémentaires au LHC, au CERN.
L'hypothèse de base est qu'à la fois les quarks et les leptons (un terme générique désignant les électrons, muons, taus et neutrinos) interagissent via la nouvelle force. Cette hypothèse implique deux conséquences dramatiques.
Tout d'abord, le boson vecteur de la nouvelle force peut être produit au LHC. Le LHC collisionne des protons qui sont faits de quarks. Et lors d'une collision à haute énergie, ce sont alors les constituents des protons qui vont se collisionner. On peut donc produire des nouveaux bosons par l'annihilation des quarks se trouvant à l'intérieur des protons.
Deuxièmement, notre nouveau boson va pouvoir se désintégrer en quarks ou leptons. En scrutant la production de quarks et leptons au LHC, on peut donc potentiellement remonter à notre boson et conclure quant à son existence.
---
DISCUSSION: UN EXEMPLE PRATIQUE
Ici, pour simplifier, je vais me concentrer sur un signal de force supplémentaire qui serait associé à la production d'une paire de muon-antimuon.
Dans le cadre du Modèle Standard, une paire de de muon-antimuon peut-être produite soit via des interactions électromagnétiques, soit par interaction faible. Dans les deux cas, l'un des quarks d'un des protons qui sont collisionnés au LHC interagit avec l'un des antiquarks de l'autre proton.
Cela donne lieu à une production de muon-antimuon via les effets soit d'un boson Z (interactions faibles), soit d'un photon (électromagnétisme).
Sachant cela, les physiciens vont supposer que la paire de muon-antimuon trouve son origine dans la désintégration d'une particule plus massive, et vont reconstruire la masse M de cette dernière.
En supposant qu'il n'y a rien de neuf sous le soleil, la probabilité d'obtenir une masse M importante décroit avec la valeur de M. C'est ce que l'on peut voir sur la figure.
Sur l'axe des x, on a la masse de cette particule lourde et sur l'axe des y, le nombre de collisions ayant donné lieu à une masse donnée.
On voit bien le comportement attendu: le nombre de collisions correspondant à une masse donnée décroit avec la valeur de M.
A peu près. En effet, au milieu de la figure, on peut voir un énorme pic. Cela correspond au cas où une particule intermédiaire a été produite pour de vrai. Dans notre cas, le boson Z de l'interaction faible. La position du pic nous donne alors exactement sa masse, qui est ainsi lue de l'axe x.
Partout en dehors du pic, nous avons bien une contribution à la fois du photon et du boson Z, mais ces dernières particles sont toutes les deux virtuelles. L'état intermédiaire (photon ou Z) n'existe pas réellement en tant que tel, mais l'existence de ces particules rend cependant le processus possible. C'est juste de la théorie quantique des champs. Et qu'on ne me parle pas une nouvelle fois d'agriculture s'il-vous-plaît.
Et donc la cinquième force dans tout ça? Et bien, au cas où une cinquième interaction fondamentale existe, nous devrions avoir un pic supplémentaire à haute masse.
Voilà comment les interactions fondamentales additionnelles sont recherchées au LHC: au travers de pics dans des spectres de masse de diverses particules.
Pour le moment, aucun pic nulle part. Cela signifie que soit nous n'avons pas d'interactions supplémentaires, soit le boson responsable de sa médiation est trop lourd pour que le LHC puisse le voir, ou nous avons affaire à un boson furtif. Ce dernier point sera l'objet de mon prochain post, si cela vous intéresse.
---
STEEMSTEM
SteemSTEM est un projet communautaire sur la blockhain Steem qui vit depuis plus d'un an et demi. Nous cherchons à développer une communauté visant à promouvoir le contenu STEM (Science, Technologie, Ingénierie et Mathématiques) et à rendre ainsi Steem plus accueillant pour ce qui touche aux champs STEM.
Plus d'informations peuvent être obtenues sur le blog de @steemstem ou de sa branche francophone @francostem, dans notre dernier rapport d'activités et également ici pour en ce qui consiste le développement de notre communuauté.
Dans tous les cas, n'hésitez pas à nous rendre visite sur notre serveur discord!