Did the title make you think I am a jerk? Maybe it would if you thought it was something that I think, or that I have even said (it's not), I'm far too self deprecating for that sort of thing. Rather, it represents the thoughts of many, maybe even you (and it may even be true... or not!). In fact I am sure that most of you have, at one point or another, heard that most people think they are smarter than average. Of course that isnt possible, due to the very nature of what an average is. Still, have you ever seen any hard numbers looking at just how many people think that?
Well, I was reading a new publication from the journal PLoS One where psychologists did just that, through two separate surveys of Americans (N=2821), in which people were asked whether they agreed with the statement "I am more intelligent than the average person."
---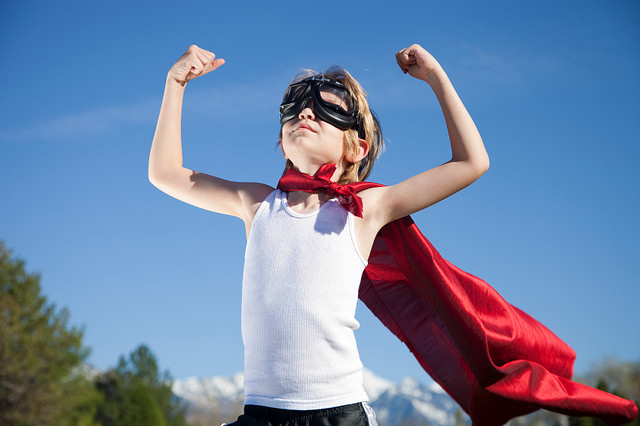 Overconfidence/Pixabay
---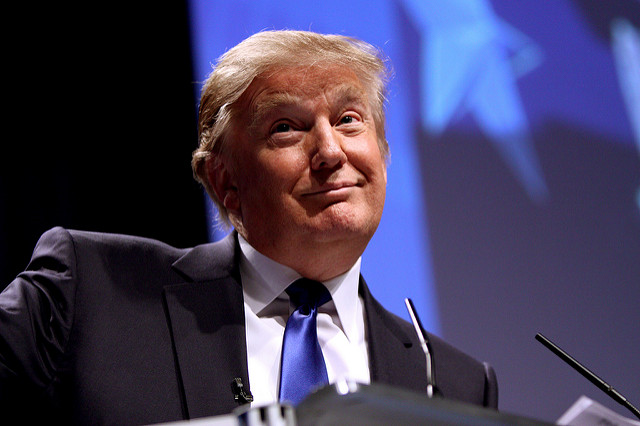 Exibit A: Someone who thinks they are "smarter than average"
Overconfidence is just a part of being human, that I think we can all agree. The world has a way of beating you down, unless you believe in yourself strongly enough to tell it to piss off! The result of all that back patting and constant self reassurance of our wonderfulness, may be a skewed view of just how great, our greatness really is! Our overconfidence may be reinforced by the grades we get in school [2], or with specifically which attributes about a person we each consider to be desirable (or great) in the first place [3]. For which ever underlying reason, strong beliefs in ourselves likely play a role in how many people feel they are "smarter than average."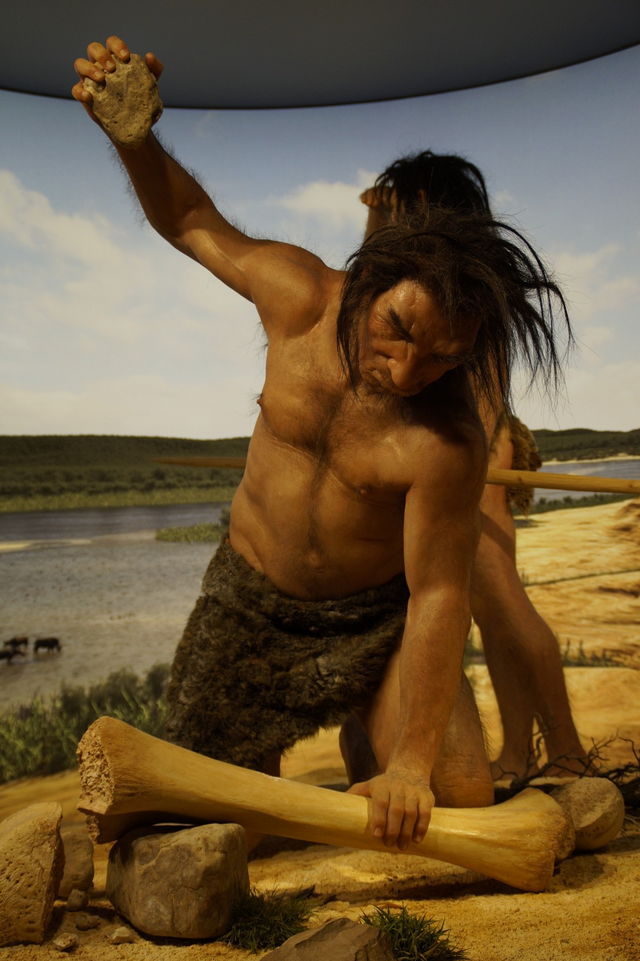 One difficulty in generating good data on this subject, is in getting a sample which actually representative of society as a whole. You could poll college students, but that biases your study to young, more educated people... you could do a poll on the phone, but that biases things to people who still have a land line.. so I guess, people who live in caves and hunt wild life with clubs. The researchers here wanted to use a better methodology to ensure that the sample of people polled would encompass the variety of the sexes, ages, races, incomes etc... of people in american society.
To accomplish this the combination of both a telephone and online based surveys were employed, as this allowed them to hit the broadest swath of the various groups of people in society. Additionally, as I mentioned above, they focused these surveys around the question of whether people identified with the statement "I am more intelligent than the average person." As intelligence follows an actual normal "Gaussian" distribution and is inherent to who we are. It's not a learned characteristic, it just is. Half of the population will be above average in intelligence, and the other half below. No more, no less. Finally, the authors weighted the responses from the different groups of people to actual population data from the US census, to allow for direct comparison between the two (the phone and internet surveys).
What Percentage of Americans Think They Are Smarter Than Average?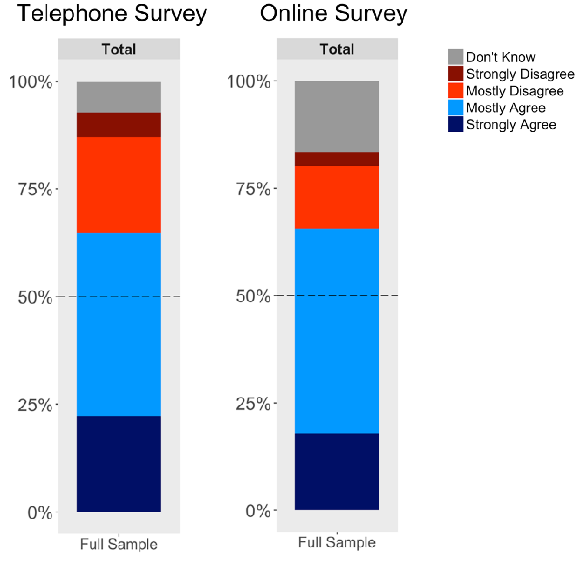 Reproduced From [1] Figure 1
65%
With pretty good agreement on the positive side between the phone and internet surveys. However it looks like people on the internet are a little bit more likely to be afraid to make a decision ("I don't know"), than those on the phone. Or maybe people on the phone are a little bit harder on themselves?
Still, that is not the only interesting information that can be pulled out of this study... what else can we see?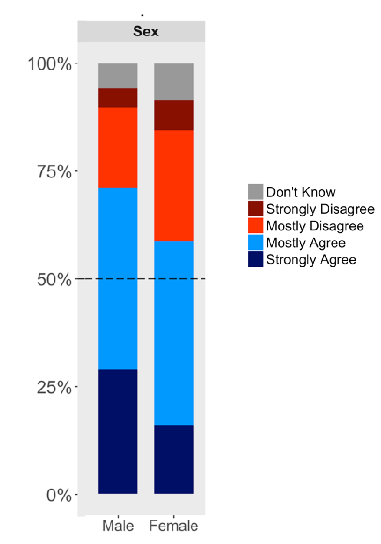 Reproduced from [1] Figure 1
Well, for instance, men are more likely than women to think they are smarter than average (p < 0.001, data to the left is from the phone survey, the internet survey mirrors the data as shown previously). Also, young people (younger than 44) are more likely than older people to think they are smarter than average (p < 0.001). The survey also revealed that race was not a major contributor to these thoughts, with both white and non-white people having similar levels of intellect inflating tendencies.
Do More Educated People Think They Are Smarter Than Less Educated People?
While it is not always the case, statistically, people who pursue more education are (on average) more intelligent than those who do not (perhaps intelligent people are drawn to more academic pursuits?). One question the authors of this study were trying to parse out of their data was whether or not they actually provided responses indicating that that population of people actually thinks its smarter than average (matching reality).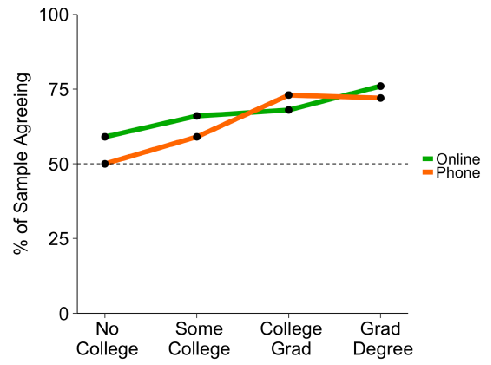 Reproduced from [1] Figure 2
As you can see above, where the percentage of respondents stating that they agree with the statement "I am more intelligent than the average person" skyrockets with increasing education. Where people with graduate degrees are among the MOST likely to think they are more intelligent than average. Ironically, studies looking at IQ levels have found that college graduates historically are 84% more likely to be more intelligent than average (though that study is a bit outdated). [4] This would indicate that in classic self deprecating fashion, educated people actually underestimated their intelligence.
In the opposite direction, people lacking a college education are known to be more likely on the less intelligent side of the distribution (the authors report the number should be 47% for those with only a high school education are above average) meaning that the less educated population (no college/some college), actually overestimated their intelligence (for the "some college" group, they overestimated by a large margin).
In all, an interesting little poll study, putting some hard numbers to the idea that a lot of people think they are smarter than average. It's true!
Well, how about it...Are YOU more intelligent than the average person?
Other Image Citations
Re-Hashed Intext Citations