SteemSTEM Promotional Sticker Fund Raiser!!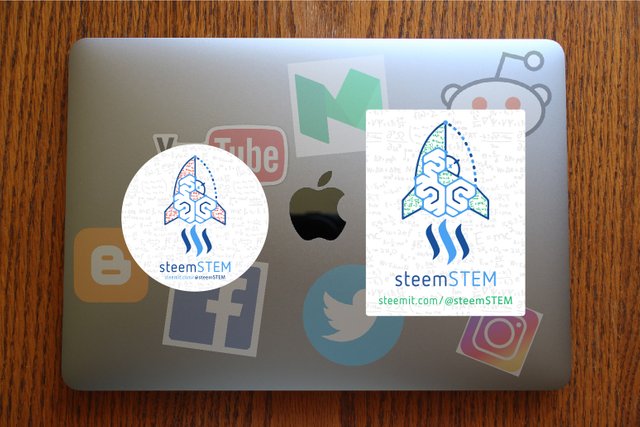 Update: I should have thought to include this initially.. If you would like a sticker(s) I will of course need an address to send it to. Please contact me either on steemit.chat (@foundation) or via email: [email protected] I will confirm that you are added to my list. I will place the the order next Wednesday, September 20th.
I've recently created a logo for the @steemSTEM project, and want to get some promotional stickers made! I'm creating this post to raise funds - any SBD earnings here will go toward the sticker purchase - so upvote and resteem! (You're also welcome to donate SBD if you'd like - just mention steemSTEM or stickers in the memo.)
For those who haven't yet heard of steemSTEM, @justtryme90 has a great description which you'll find at the bottom of his posts!
SteemSTEM is a community driven project which seeks to promote well written/informative Science Technology Engineering and Mathematics postings on Steemit. The project not only curates STEM posts on the platform through both voting and resteeming, but also re-distributes curation rewards as STEEM Power, to members of Steemit's growing scientific/tech community. To learn more about the project please join us on steemit.chat (https://steemit.chat/channel/steemSTEM), we are always looking for people who want to help in our quest to increase the quality of STEM (and health) posts on our growing platform, and would love to hear from you!
As of now, I plan to use uprinting.com as they're not only the cheapest, but I've purchased from them before and they are of good quality. I've had one on my laptop and one on a metal telephone pole for about a year now and they still look great! There are two shape options and a few colors to choose from: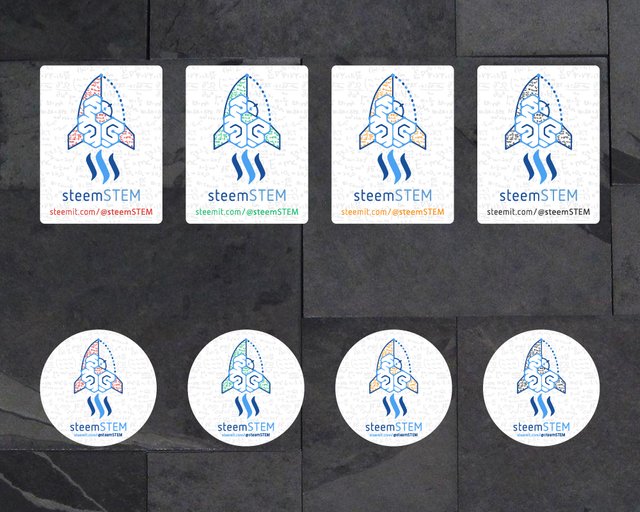 1. Rectangle: 4.25" x 5.5", 4 mil high gloss vinyl. The cost for 25, 50, 75, and 100 stickers is $30, $43, $55, and $66 respectively. (plus $11 shipping to me.)
2. Circle: 4", 4 mil high gloss vinyl. The cost for 25, 50, 75, and 100 stickers is $49, $76, $99, and $122 respectively. (plus $11 shipping to me.)
There will then be shipping costs from me to whomever wants them, which for 1-5 stickers should be around $1 per shipment. 
Please let me know in the comments which is your favorite shape and color! Most likely I will only have 1 color printed as it's most economical, but I suppose it will depend on funds raised.
Please bear with me through this process as how many stickers go out will depend on how much money is raised. I will be transparent throughout the process, but I can't guarantee that every upvote will recieve a sticker.. Feel free to comment any other suggestions you may have! You can also reach me on steemit.chat @foundation, or by email at [email protected] This is also where you can share your address to get your stickers! Oh, and I'll be posting source files (including this gif!) to the steemit.chat steemSTEM group so that everyone has access. I can send them out upon request as well :).