These posts are not for foraging. They are intended for entertainment and intellectual satisfaction only. These posts are not a field guide nor comprehensive in any way - their accuracy is not assured in any way. Do not eat wild mushrooms unless you are a professional, have substantial professional assistance or have a wealth of personal experience with a specific species. Do not make any foraging decisions based on these posts. To do so could be dangerous or life threatening.
---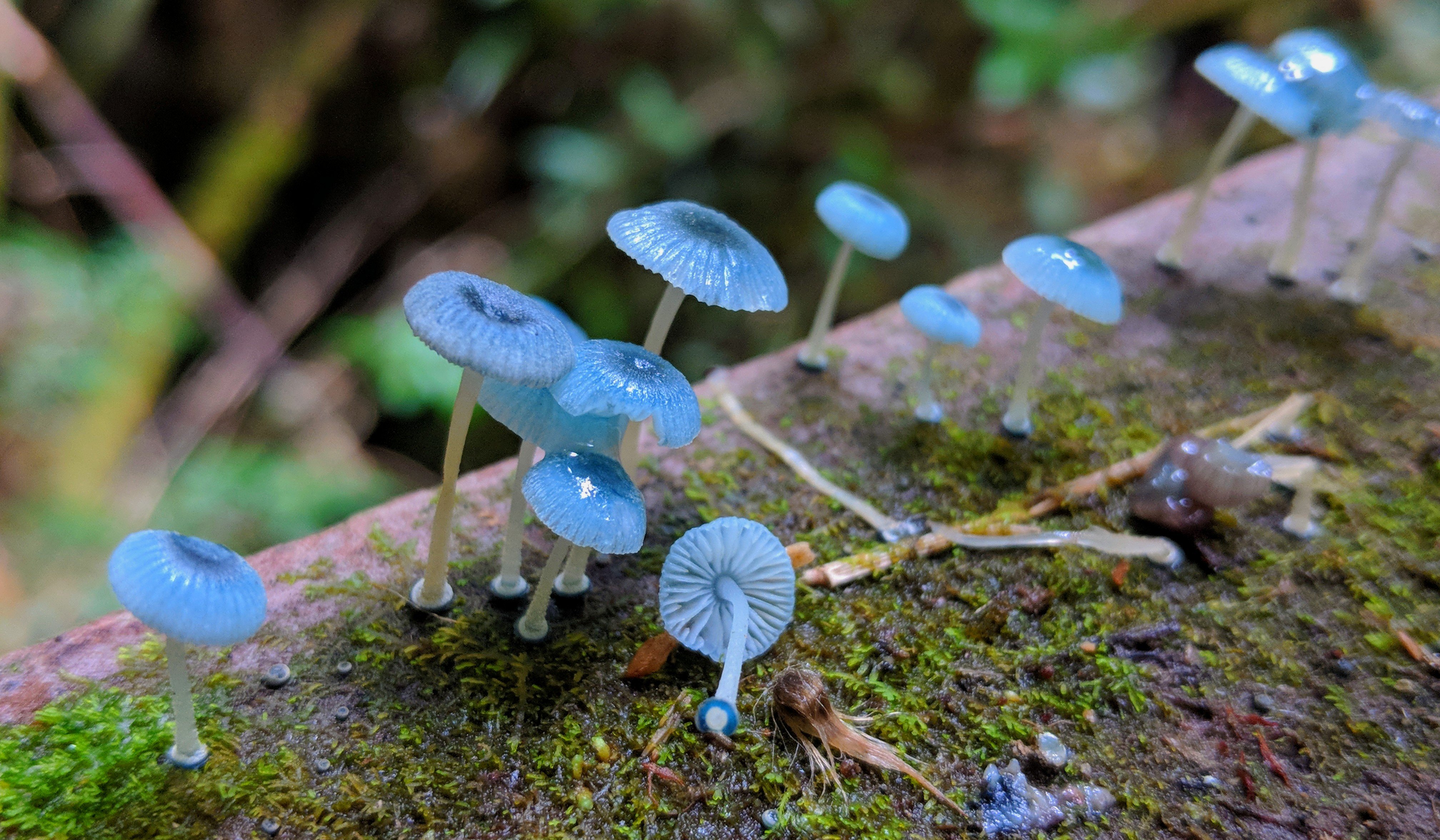 Mycena cyanocephala in Parque Oncol Chile
Up to this point in these Chile posts the fungi have not always taken center stage. But starting with our foray into Parque Oncol, the mushrooms really started to shine.
In considering the mycology of the southern hemisphere, and Chile in particular, there were two mushrooms everyone was excited from the beginning to see. The first were the famed Cytarria which we checked off our list quite early on.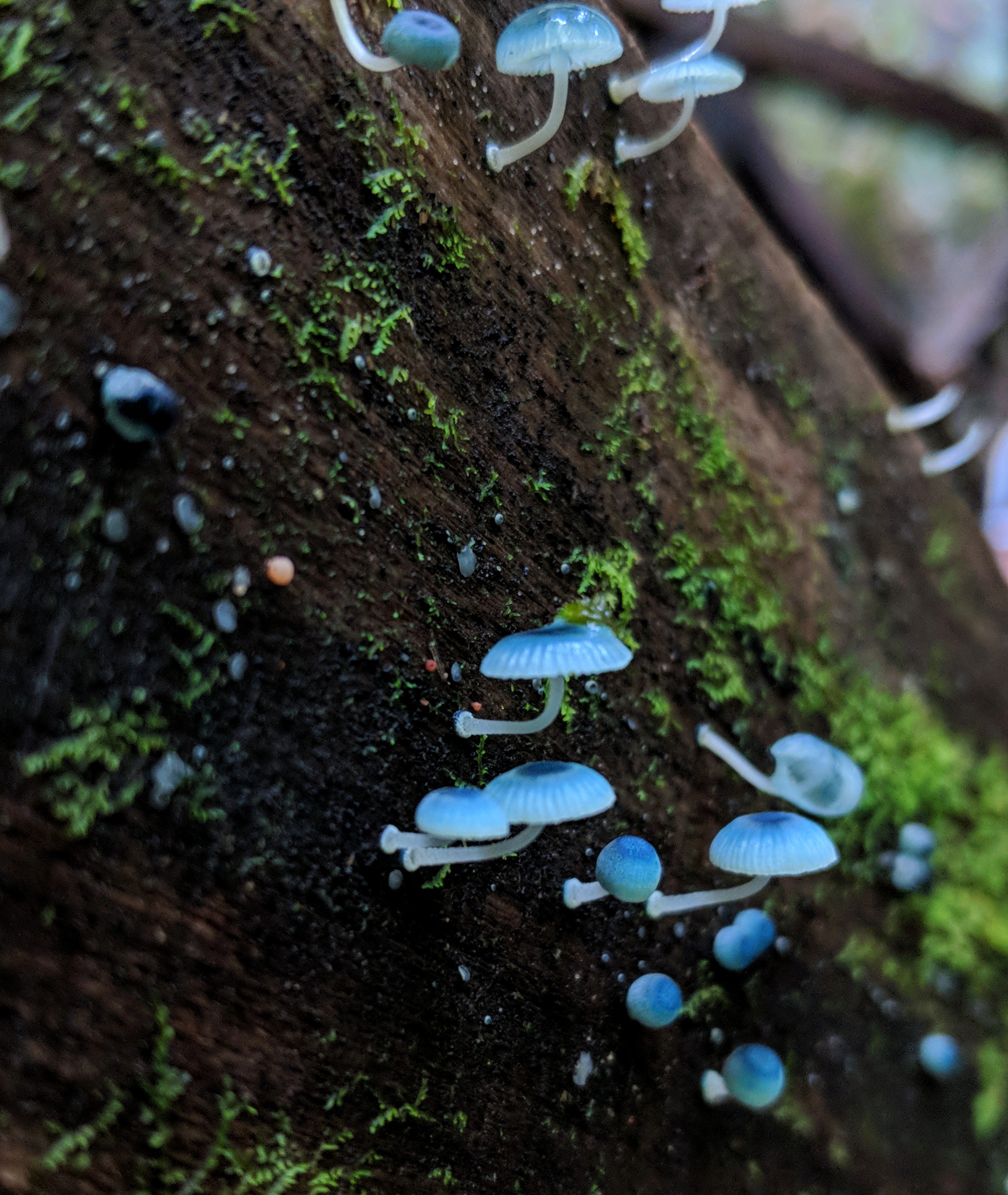 The second were the borderline mystical blue Mycena, in other parts of the southern hemisphere called Mycena interrupta, in the case of Chile called Mycena cyanocephala. We were not disappointed.
These mushrooms were all quite small, with stipes only a couple of CM long and caps that maxed out at about one CM in width, with most being far less than that size.
---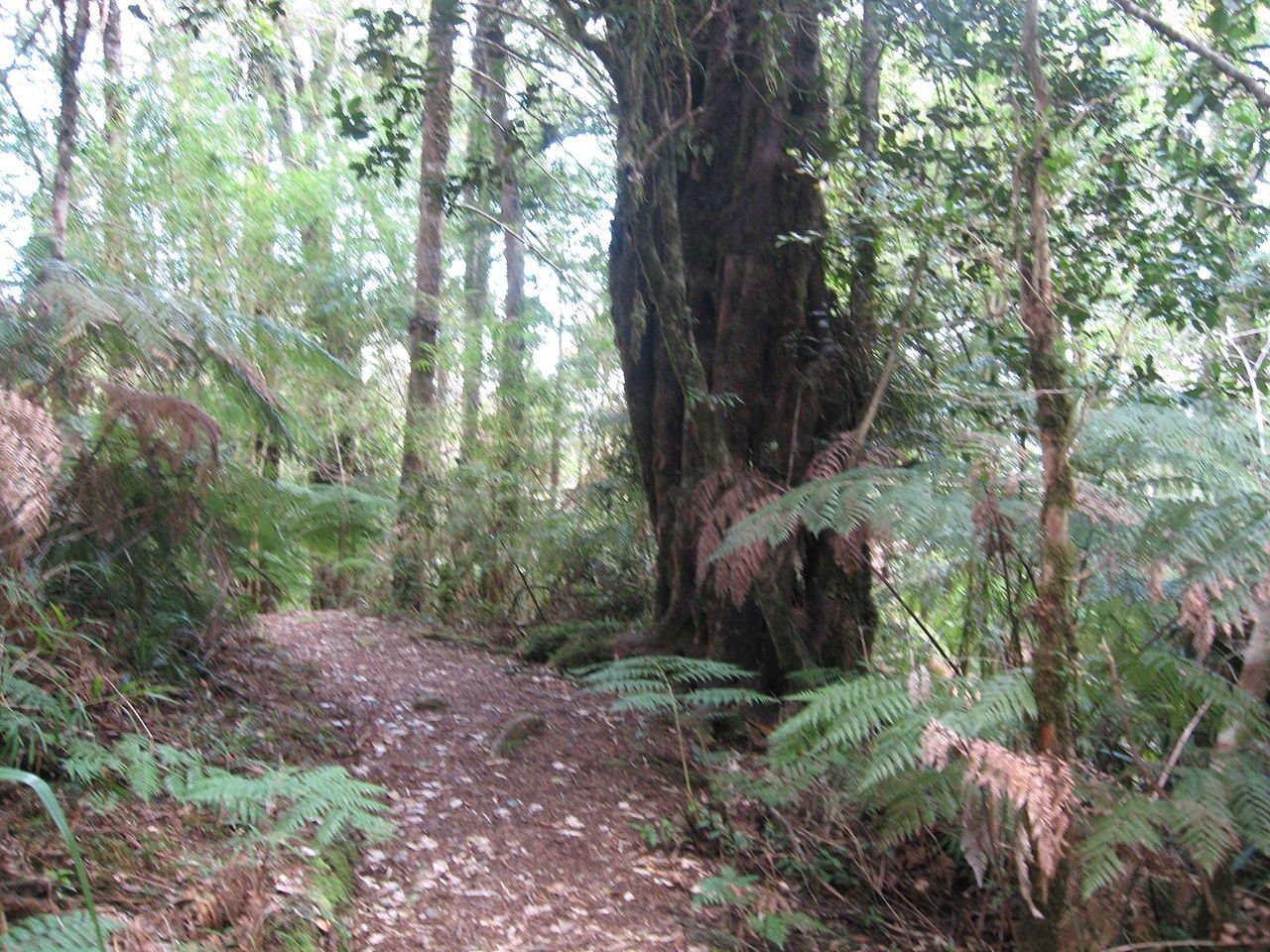 Parque Oncol is a dense, moist forest.
So dense, so moist and so overwhelmingly full of life that at first three of us, myself included, simply missed the blue Mycena altogether. We walked over a small, rickety bridge over a thin creek without a second thought. A minute later someone caught up to us and told us we skipped right by an amazing colony of blue Mycena.
It's worth noting here that no bridge worth its salt ought to be harboring large colonies of mushrooms. Anytime you see a mushroom growing on a piece of lumber that wood is losing structural integrity on some level. Needless to say, this little bridge was in really bad shape
But that didn't stop all twenty of us cramming onto it to take pictures of this incredible species.
The colony was very numerous and featured the mushroom at all points of its life cycle.
---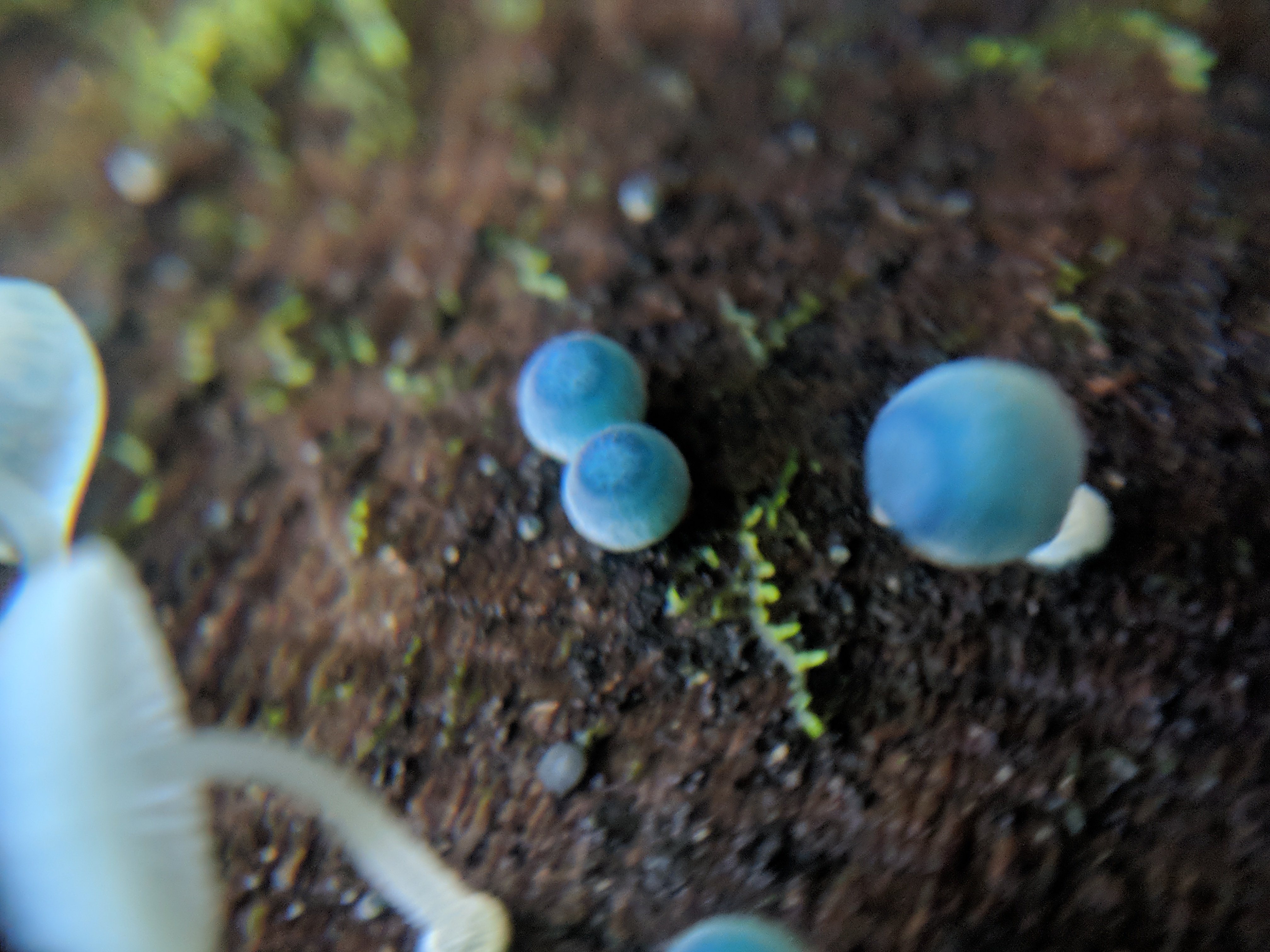 These mushrooms begin life as bright blue pin pricks on the surface of the wood, which blossom into the incipient bright blue caps you see above.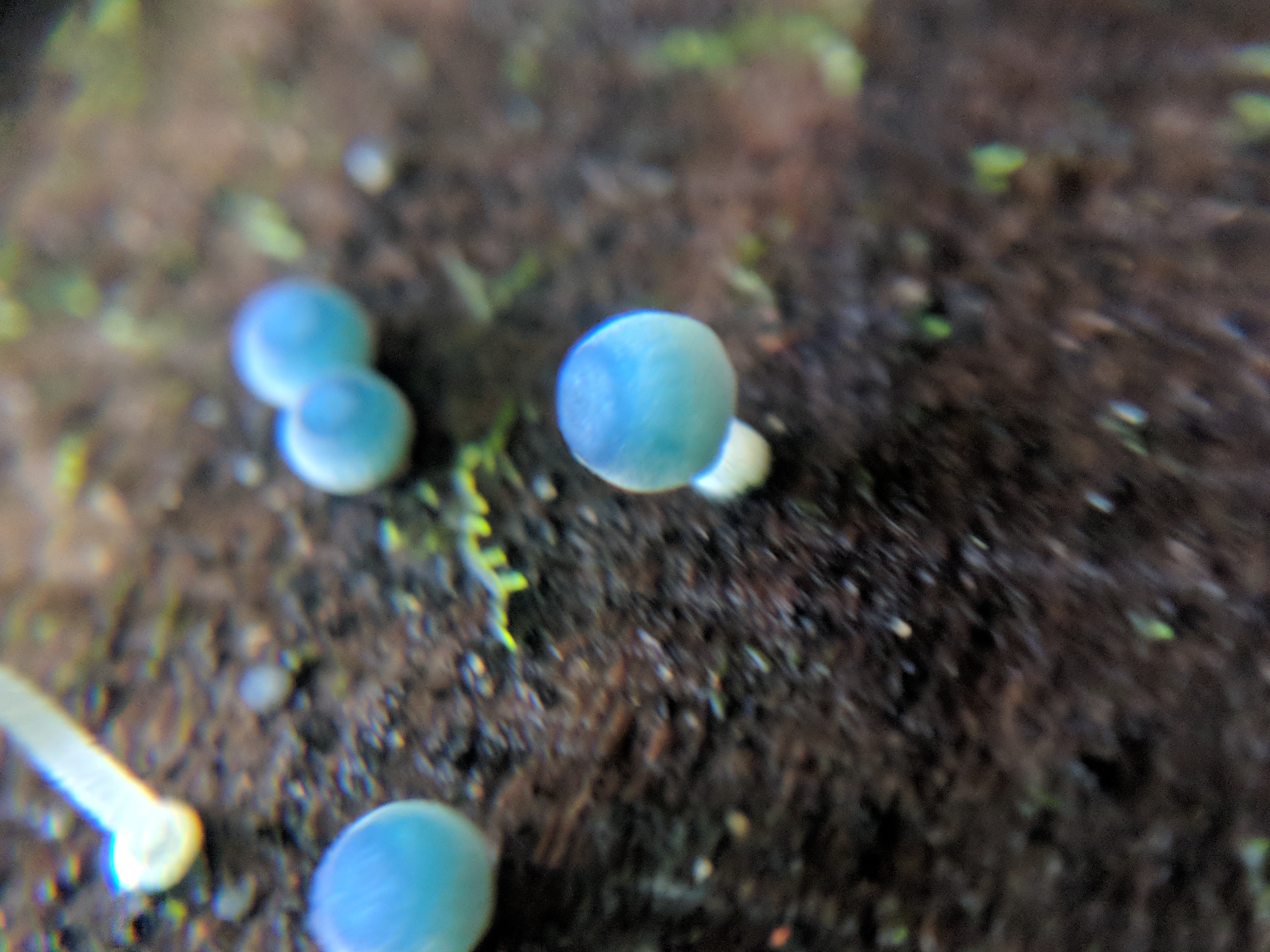 A stipe then develops under the button.
As with any fungus, the presence of these fruiting bodies indicates a strong and robust mycelium - the actual fungal organism - living interspersed inside the wood of the bridge. The presence of the mushrooms in such numbers means the mycelium is healthy and circumstances are environmentally ripe for reproduction.
From the stipeless blue cap stage the Mycena develops its stalk and exposes its gills.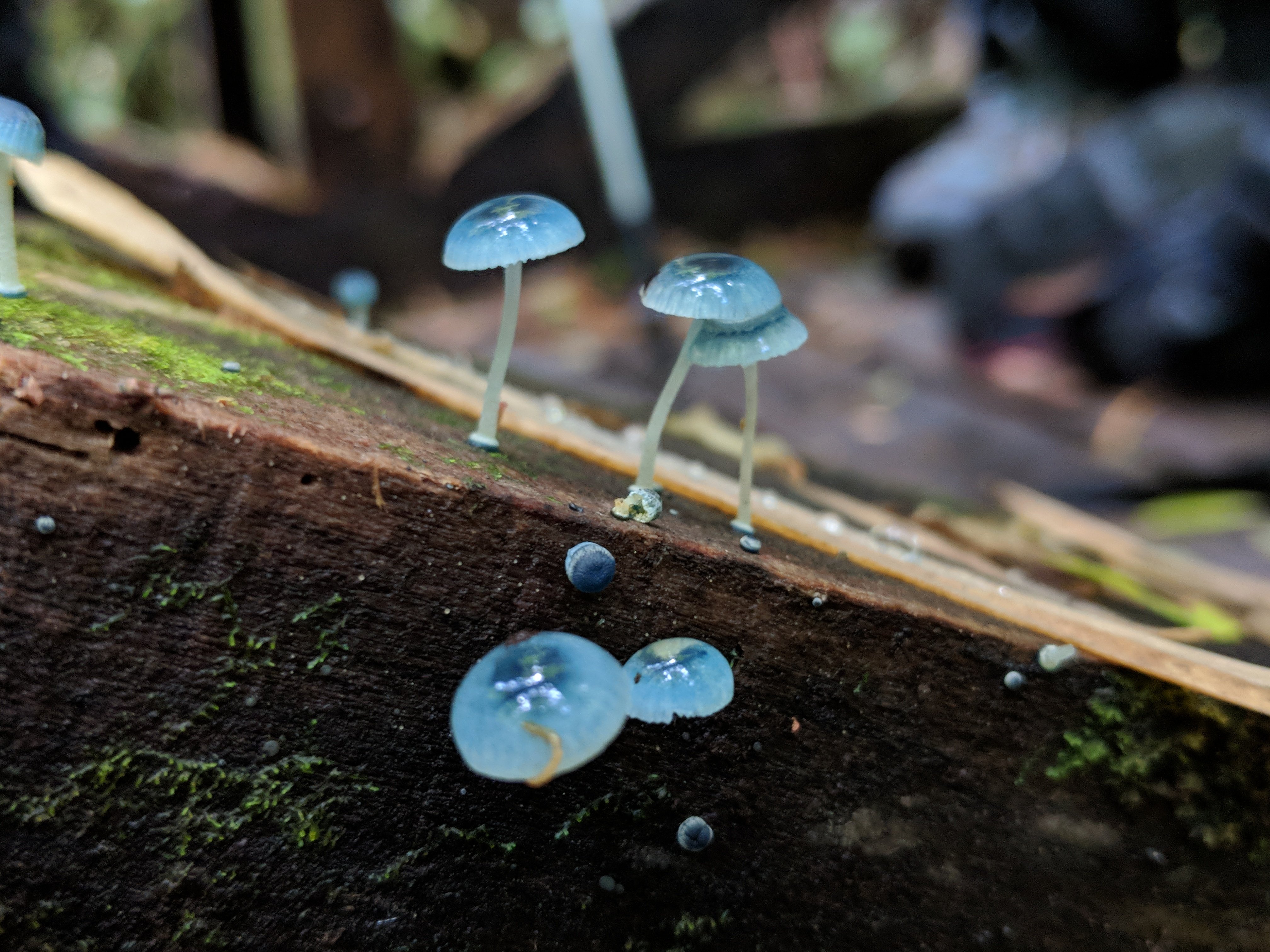 Like all Mycena species, M.cyanocephala is a white spore printed basiodomycete.
Even these tiny mushrooms expel millions of spores when mature in order to secure their future.
However, M.cyanocephala can be an elusive organism, not always readily fruiting unless the environment is just so. That is what made finding such a large, well developed colony, in such a wide open space, so amazing.
As we continued through the country we would find M.cyanocephala only twice more, and never again in a colony as well populated and photogenic as this one.
I want to focus on a cool macrocharacteristic of this species that you can see well in some of the photos - the bright blue basal disc on the very bottom of the stipe.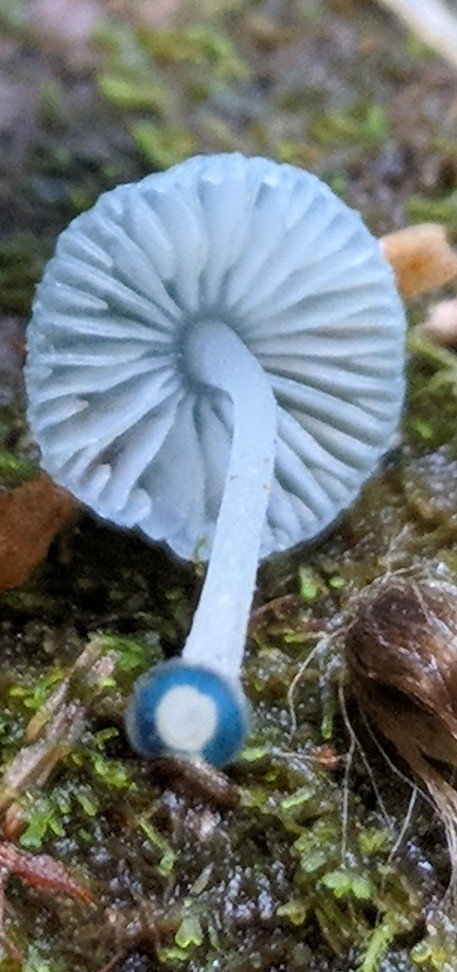 The basal disc, that dark blue perfect circle, is the point of attachment for the mushroom to the wood and, hence, to the mycelium.
The mushroom receives moisture and nutrients from the mycelium through the disk and is also adhered to the wooden substrate with the disk as its attachment point.
Not every Mycena has a basal disc, and most basal discs are not nearly as perfectly beautiful as M.cyanocephalas. I had to collect a number of these specimens with a small pocket knife and it was quite satisfying to scrape at the base and have the basal disc pop off the wood intact, like collecting some magic pixie food.
---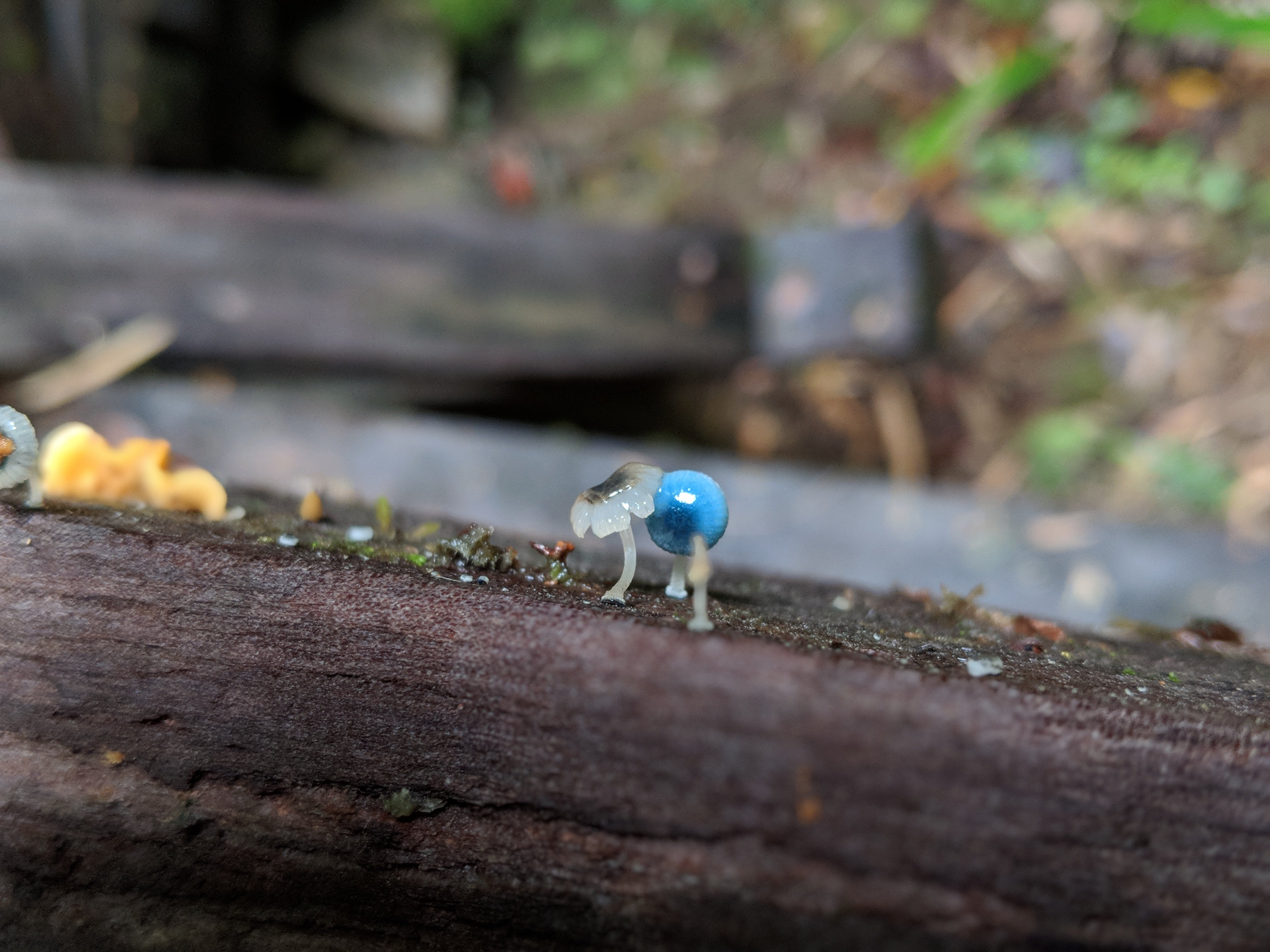 As the mushroon ages it will pale and lose its color.
This may also be a problem with individual spawning fruiting bodies, although i can't imagine there's anyway to know for certain.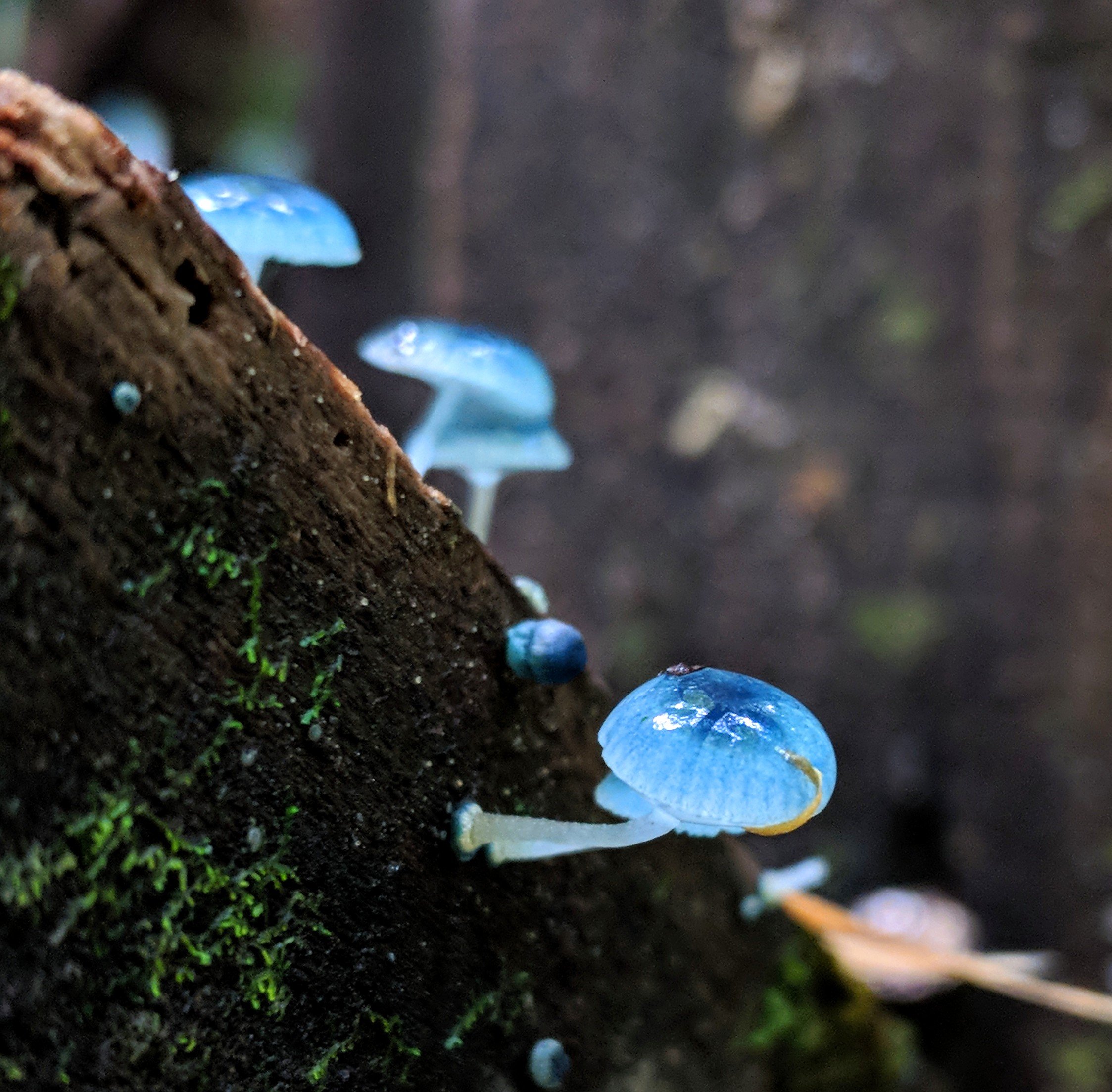 Without a doubt seeing Chile's blue Mycena was one of the mycological highlights of the trip - but really it was only the tip of the iceberg. Just on the same trail within Park Oncol where we found the Blue Mycenas we also found several other awesome things.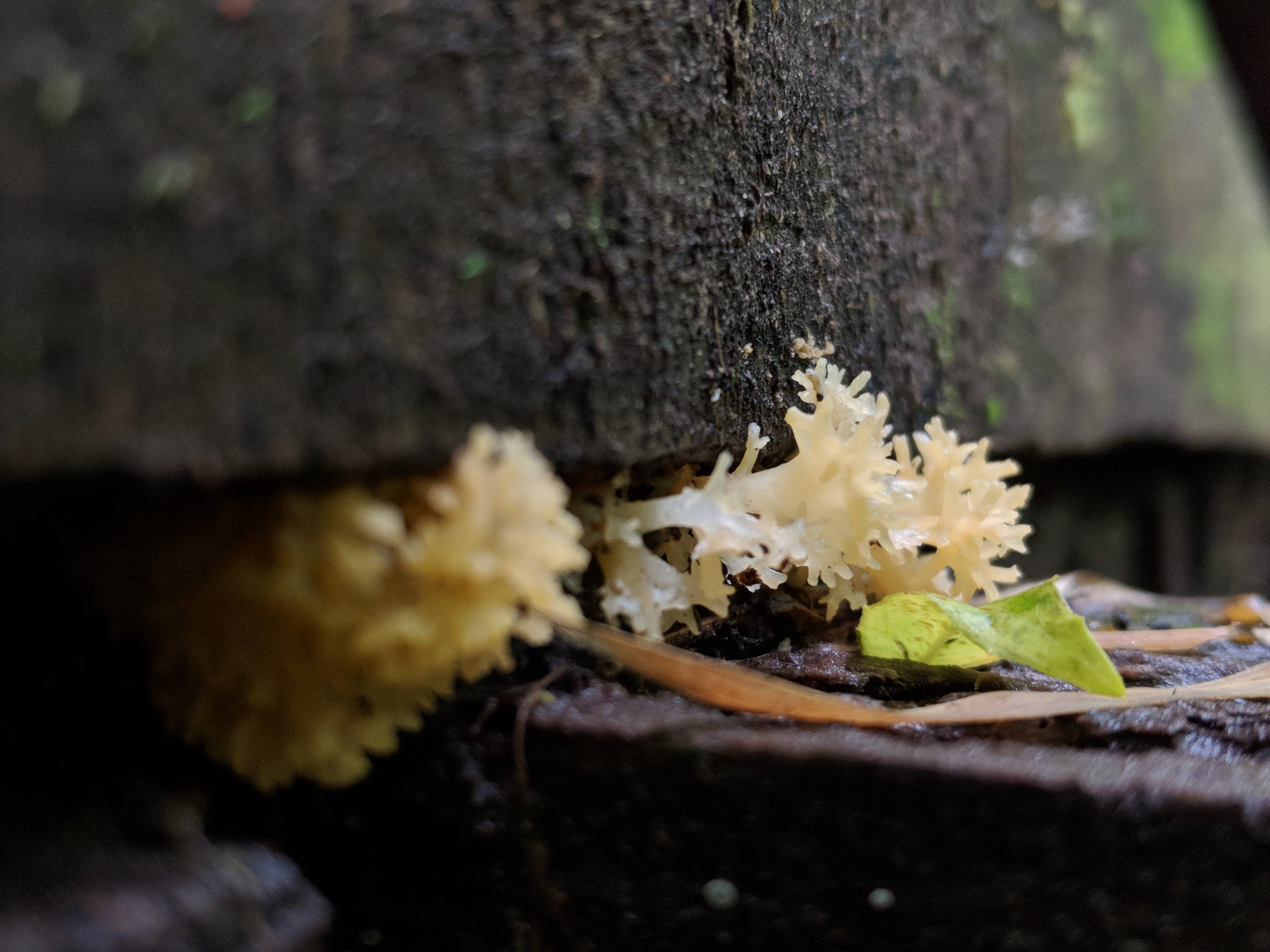 Miniature corals, maybe Hericinium, growing on the same bridge.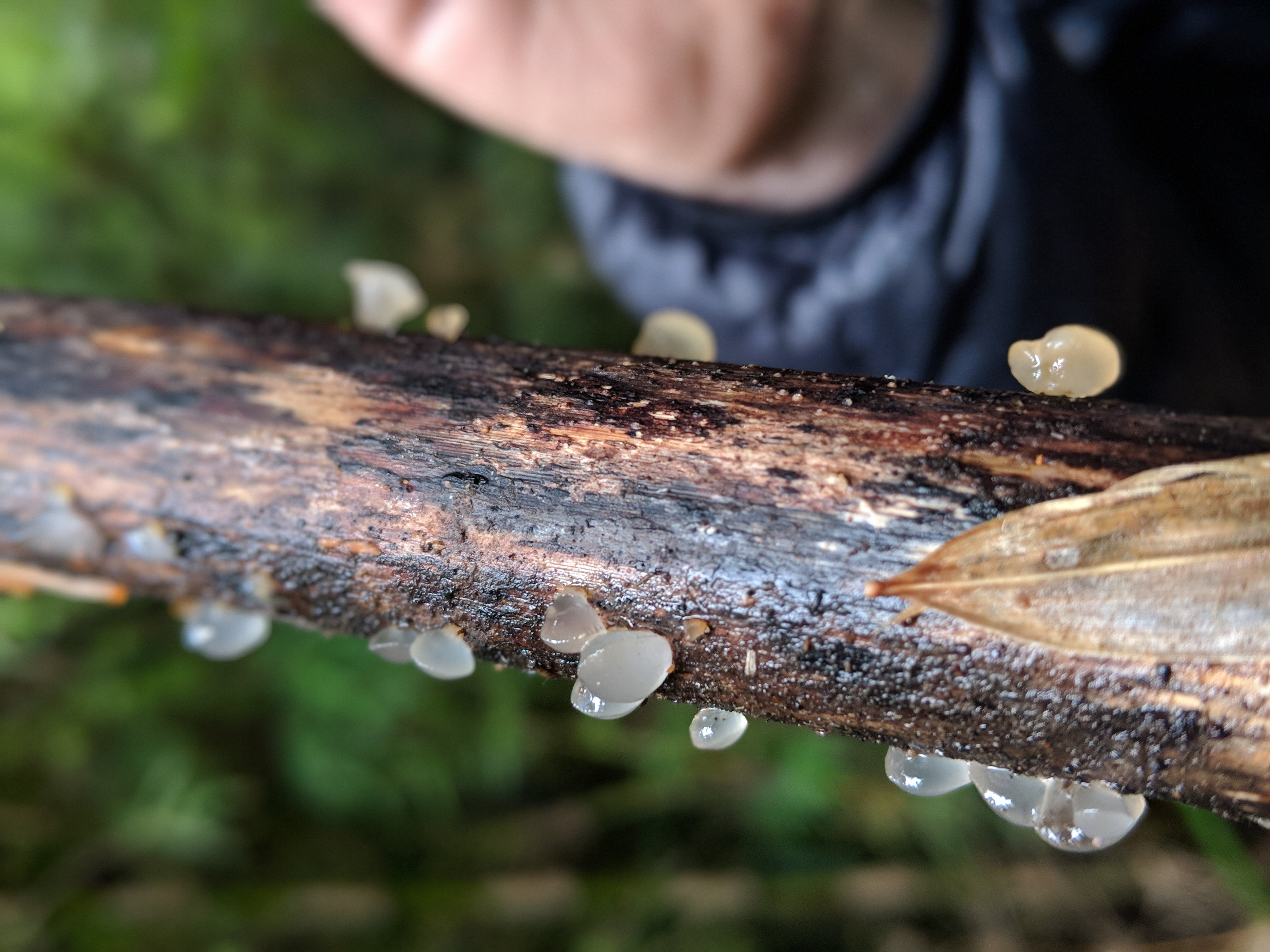 Clear jellies studding small branches.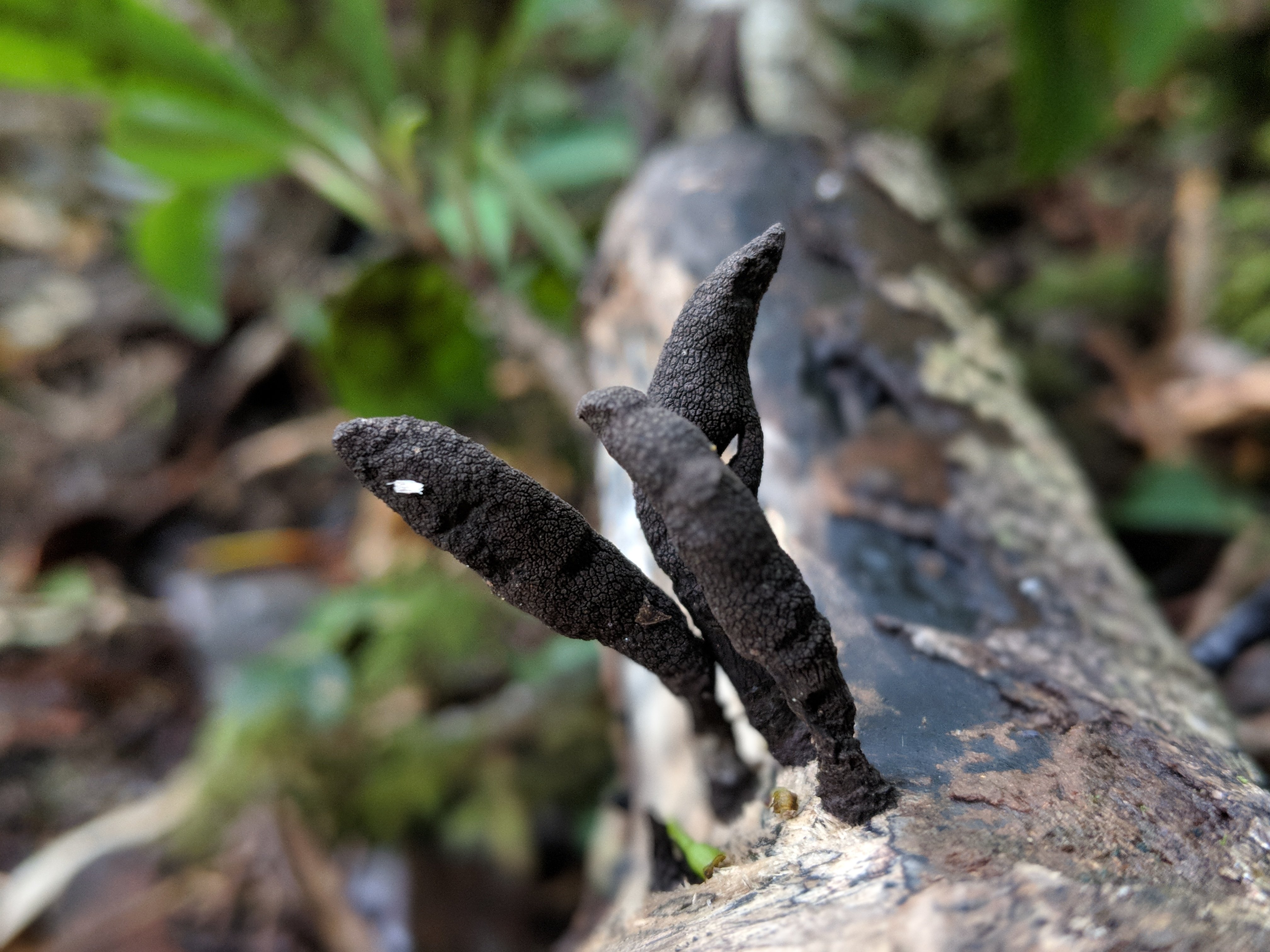 Photogenic Xylaria club fungus.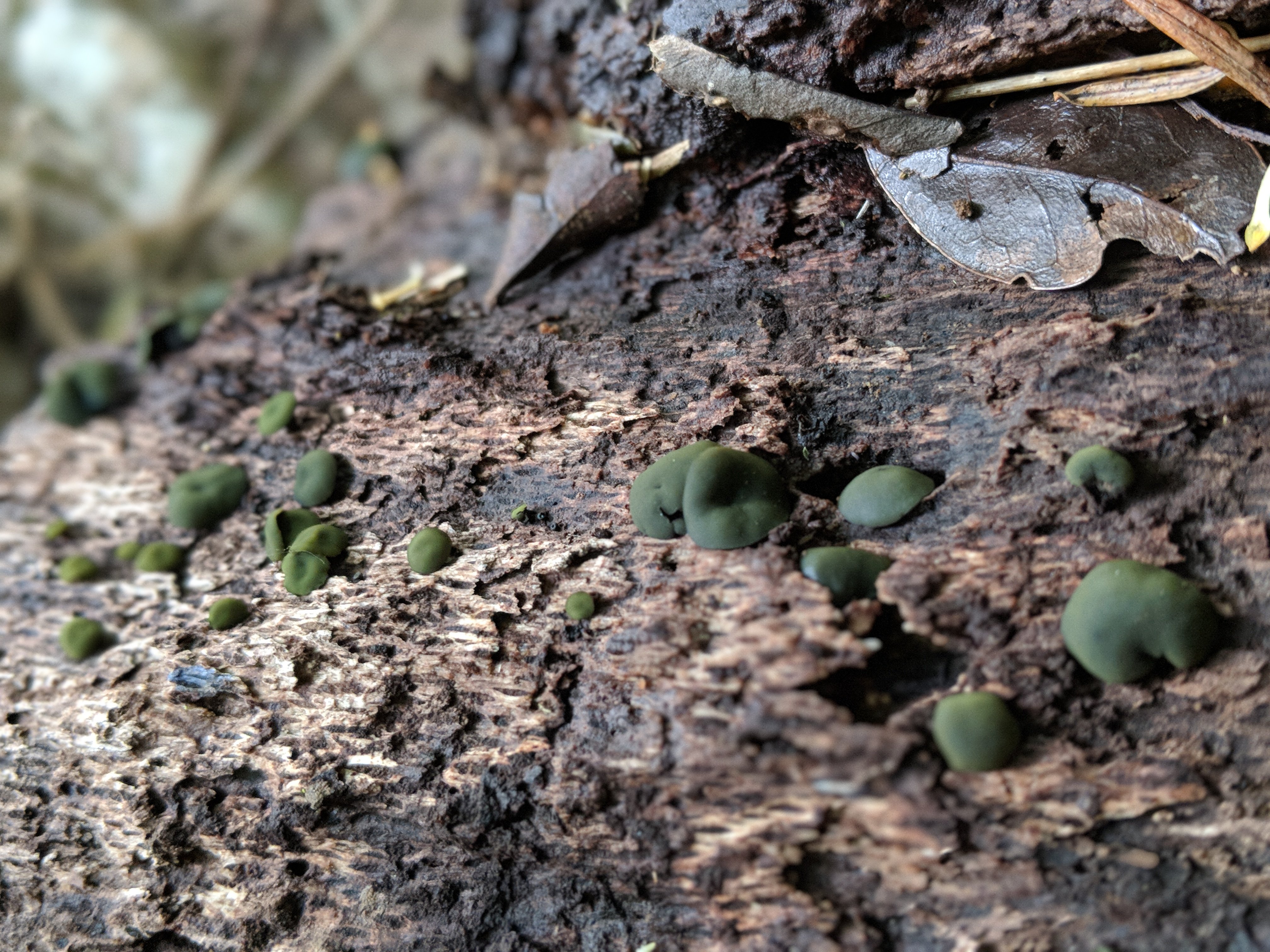 A strange, hard green lentil looking fungus in the genus Chlorencoelia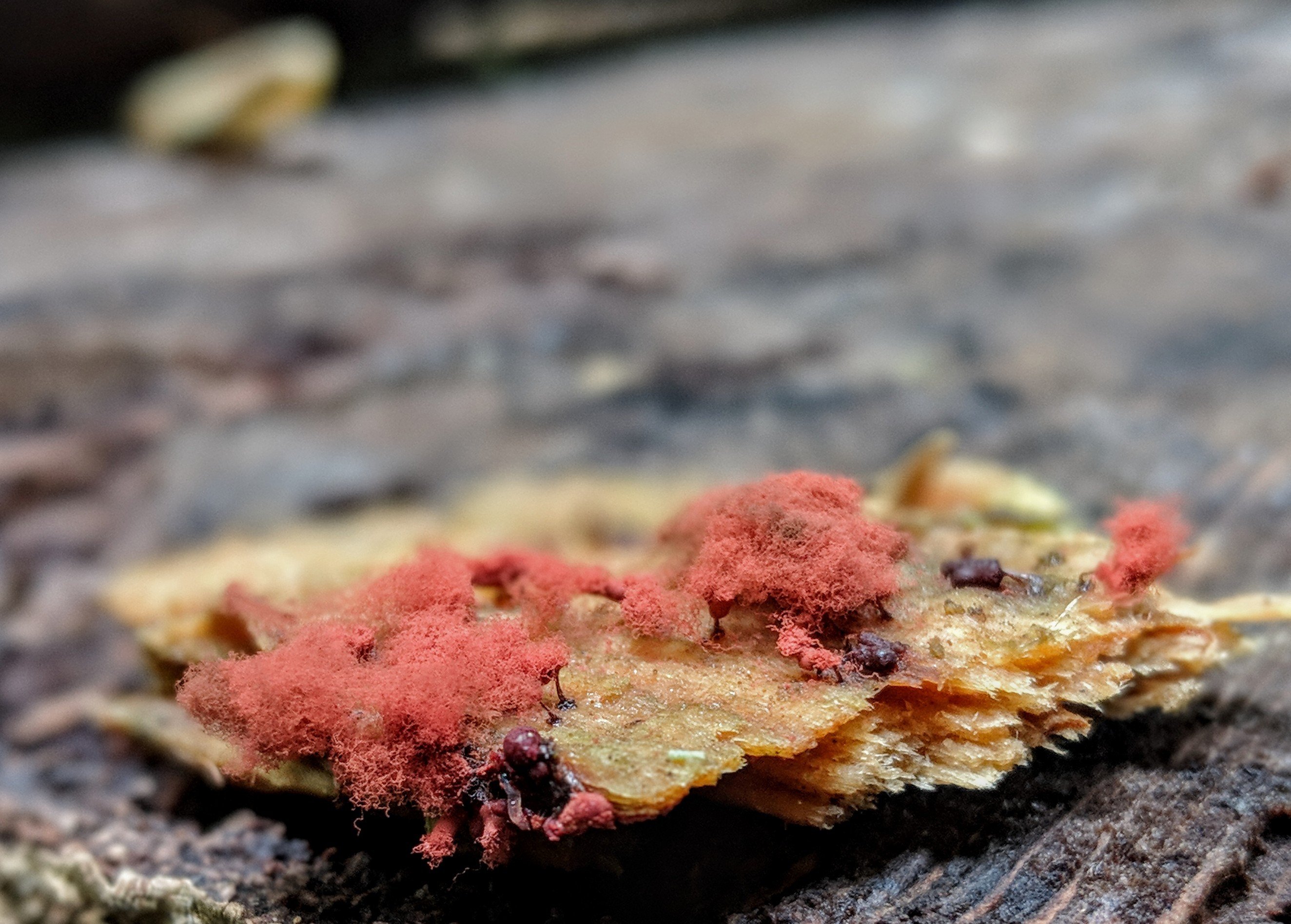 Sporified myxomycetes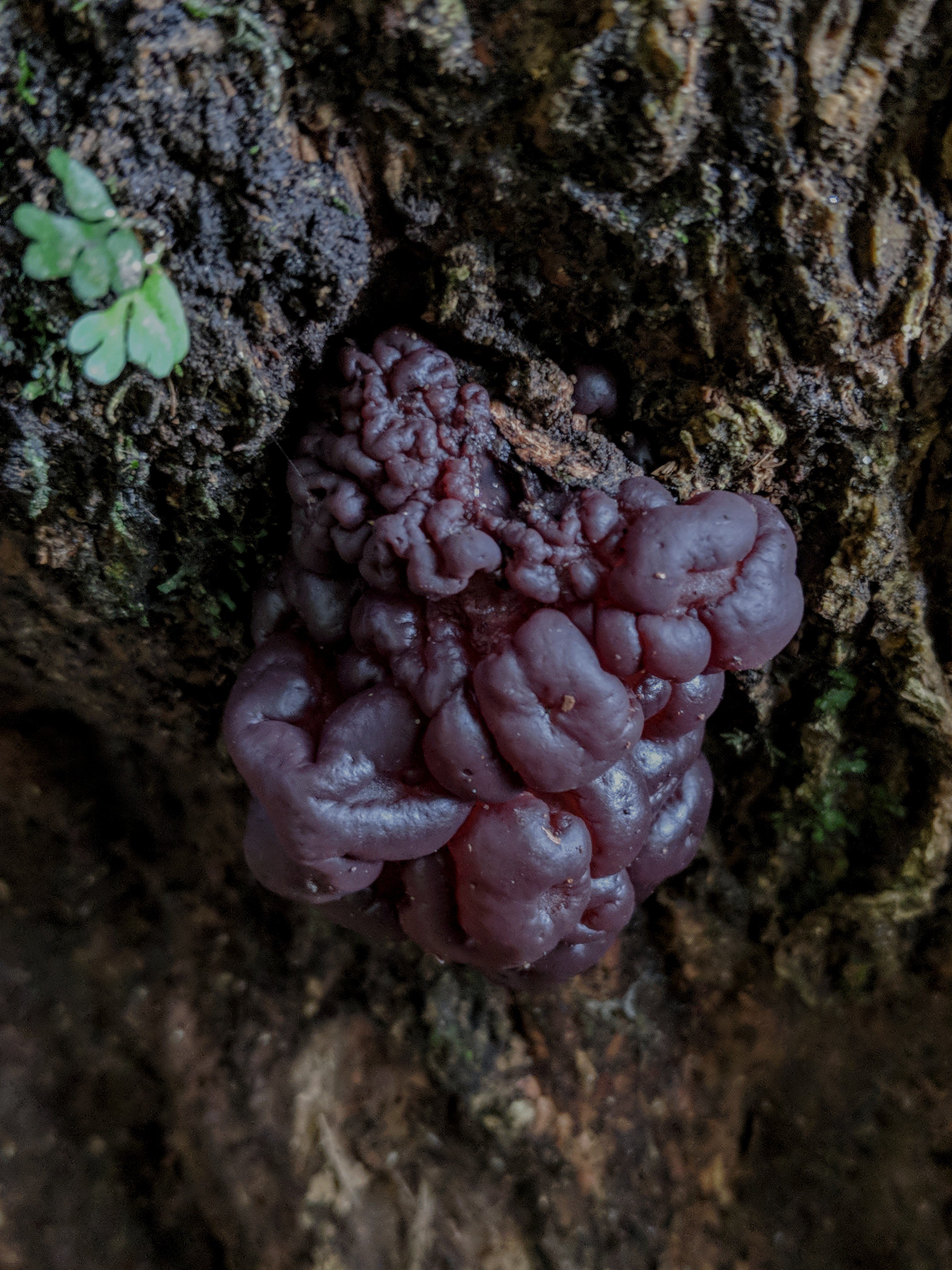 And a brain-like Tramella/Exidia species growing on the butt of a tree.
---
As was often the case, the species which most interested our host were two I might not have thought very much of.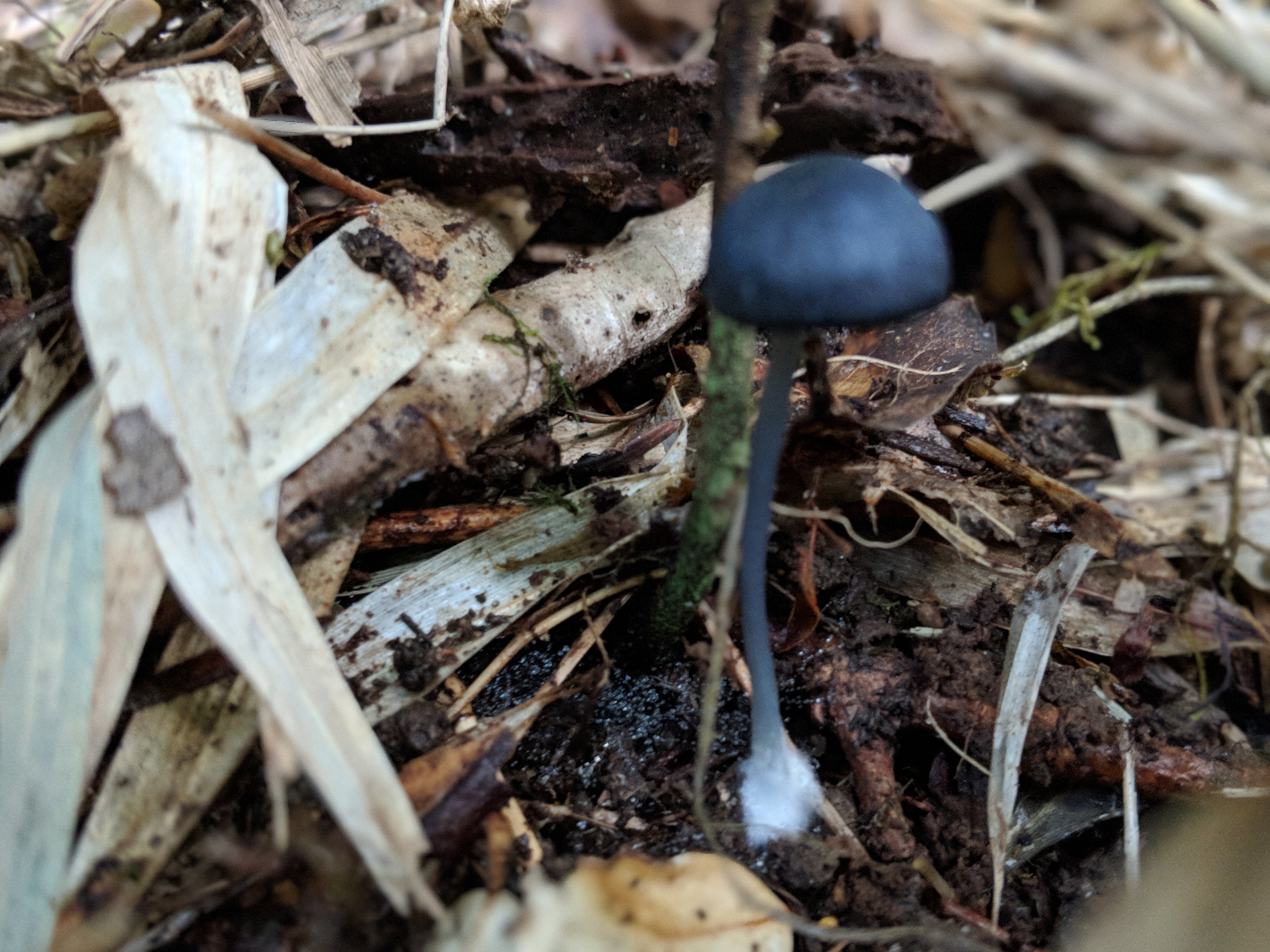 The first was this black entoloma - not the best photo sorry - which tends to grow as a singleton apparently and is fairly rare.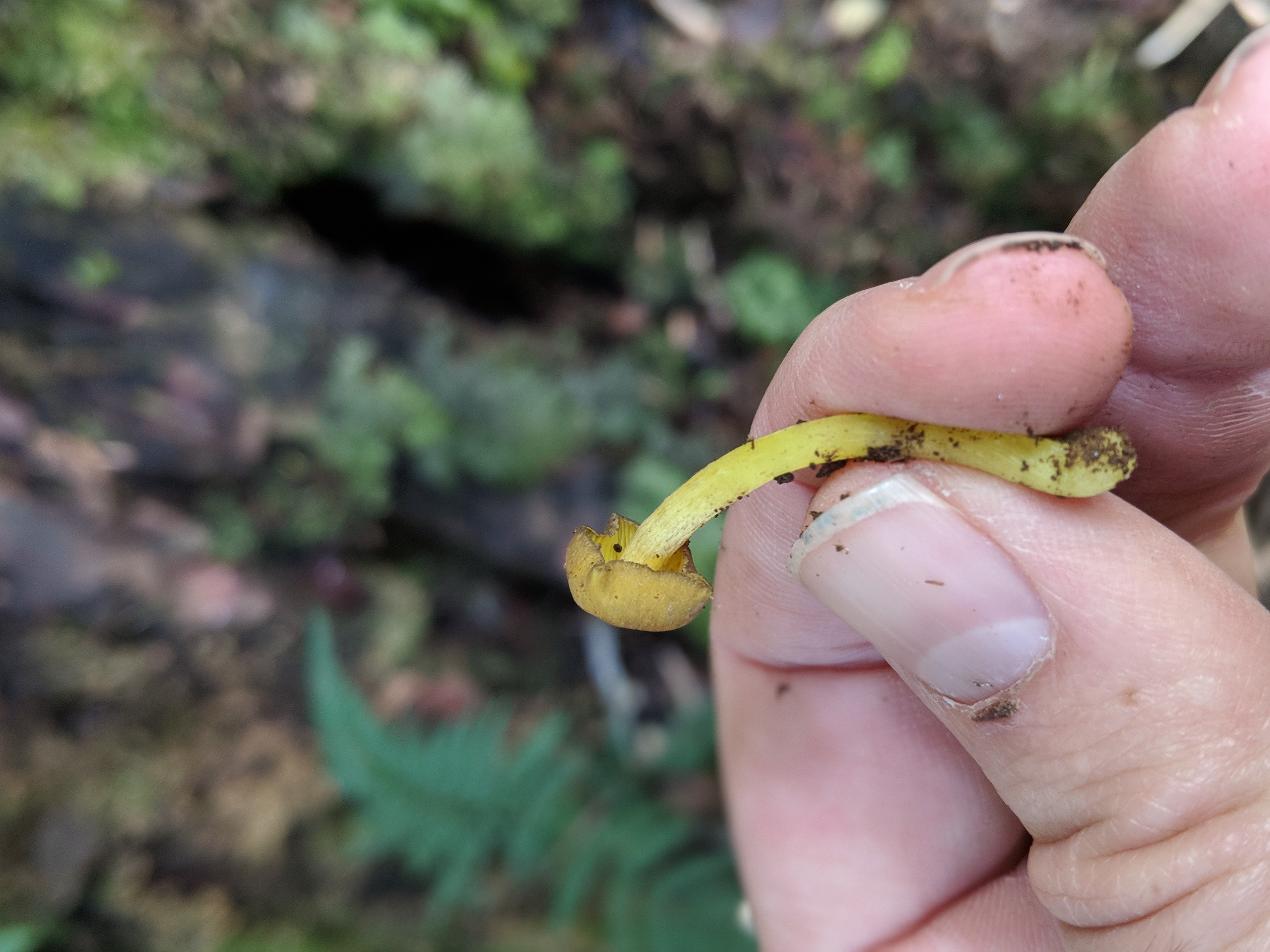 The second, and apparently the rarest one found on this Park Oncol trail, was the plain looking, by comparison, yellow guy above.
I don't know what it is, but Guliana was absolutely thrilled to find it because apparently she's only found it once before. This dynamic of the important and truly remarkable fungi not always being the most obvious was an issue throughout the trip. Several of the fungi Giuliana was most excited about were mushrooms I would have just walked right past.
Then again, I walked right past these astonishing beauties, so that's not saying much.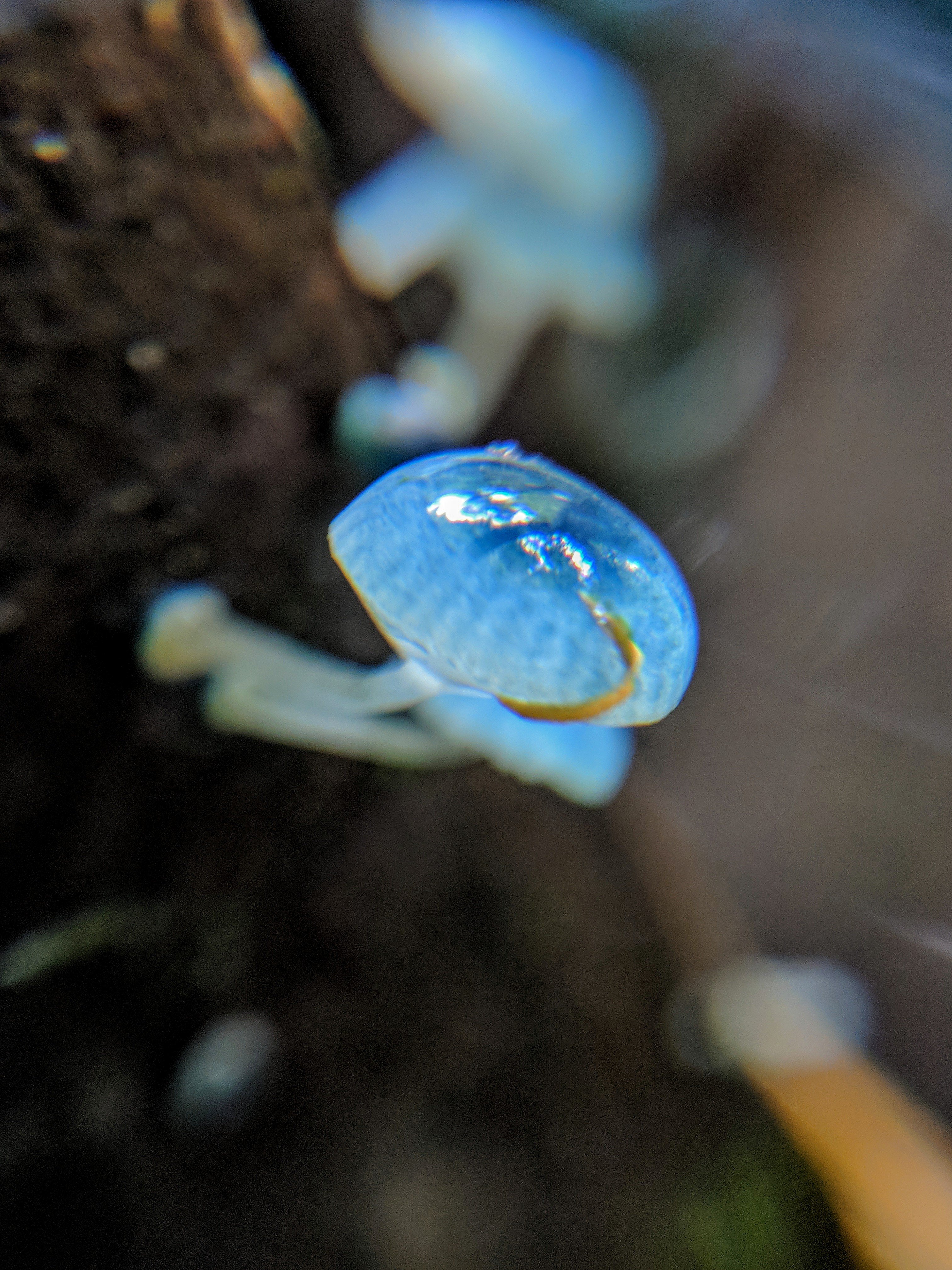 Next time we continue in Parque Oncol, on a different trail, and discover another, totally different but no less astonishingly gorgeous species.
---
All Photos Are My Own except:
[2]Bosque valdiviano en el parque Oncol, región de Los Ríos, Chile, 11 November 2007, 13:32:25, Own work, Lin linao, CC-SA-3.0, via wikimedia commons
Information Sources:
Primary sources were several of the mycologists I went on the trip on in this case, whose photos and identifications I had access to in preparing this post.
Giuliana Furci, Hongos De Chile, Volume I, Reimpresion corregida 2016
1 Kuo, M. (2008, October). Xylaria polymorpha (dead man's fingers). Retrieved from the MushroomExpert.Com Web site - illustrative but not necessarily dispositive as to species
Wikipedia on Genus Exidia - noy exactly on point but gives a sense why we believe this falls into the genus. No one seems sure what species this is.
---
---
Please support @Steemstem and the #Steemstem community, dedicated to bringing and supporting high quality STEM related content on Steemit.
Let me clarify what I mean by "support." There are a number of good options.
Head over to the steemstem discord channel and the #steemstem tag and start talking with the other users involved in the community, commenting and upvoting on their submissions.

If, like me, you can hardly find time to post your own material once a week, then consider joining the steemstem autovote trail, which you can inquire about on said discord channel.

Or, if, like me, time is very difficult to give to the community, then consider making a delegation. Presently, and for the last half year, I have delegated a third of my SP to the @steemstem account.
@steemstem consists of a very devoted and kind group of people working very hard to maitain a thriving community supporting quality content. They represent a positive force on the platform and I hope you'll reach out to help