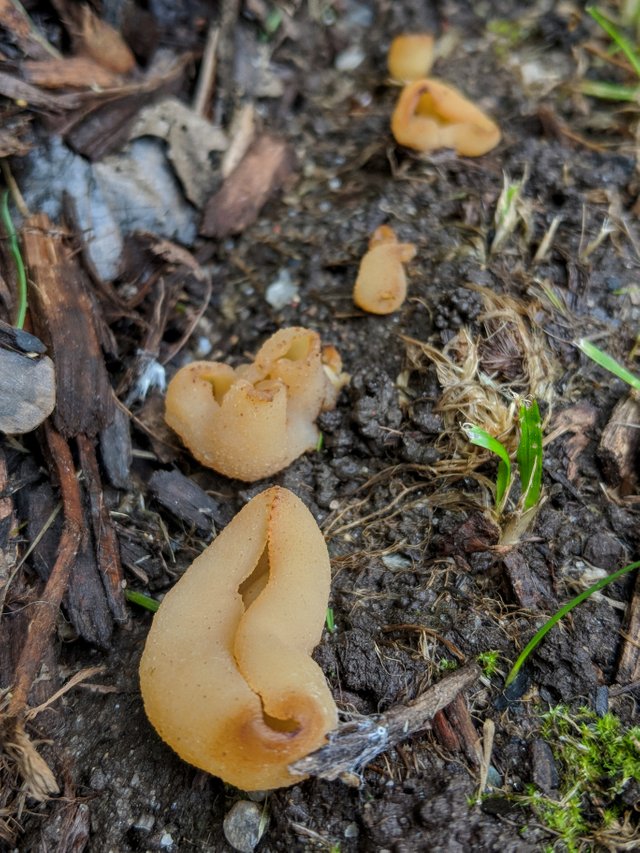 There isn't an overwhelming amount of biodiversity in the manicured woodchips in front of my apartment, but what does grow there grows consistently.
I have found these brown cup fungi all over the place recently, growing on the edge of where the lawn meets the wood chips. I haven't brought it upstairs yet, but after doing some research I definitely will be, because it is an ascomycete, which means it keeps its spores locked up in tube like asci and then extrudes them when they are mature.
This should make for some good looking microscopy, which might also shed some light on the exact species, although P.ampliata and young P.repanda are both strong possibilities.
Either way this genus is one you are likely to encounter in normal life, in places like the suburbs where human changes have wrought major shifts in local ecosystems. Look on rotting wood or, as here wood chips. Additionally you will sometimes find Peziza growing on housing matetials, literally eating your house. If you see that you may have sone serious moisture issues and should get it checked out by a professional.
I may do a full species post on this in the future if I can get enough samples.
---
Info Source:
Kuo, M. (2004, October). Peziza repanda. Retrieved from the MushroomExpert.Com Web site:
Wikipepdia on P.ampliata