You are viewing a single comment's thread from:
RE: Comets - A Brief Primer
Wow, you put a lot of work into this, too bad it is based entirely on antiquated theories that do not stand up to the observations. Nonetheless, I will still upvote it for the excellent effort. I stopped reading at the mention of ice because comets have no ice. None was discovered when they landed a probe on a comet. Which if one pays close attention to that landing there were some troubles, all of which were predicted by Wal Thornhill the day before the event. This slushy snowball theory does not work especially since comets have been observed with tails at a distance considered too far from the sun therefore too cold to melt any alleged ice.
When they landed the probe on the comet it was a rough landing as they expected a slushy snowball but found a rock. Prior to landing, they shot a charge at the comet to investigate its interior but before the charge made contact there was a flash and then the explosion which blinded the cameras because it was brighter than expected.
Rather than I explaining it pedantically, listen to Wal Thornhill's presentation with an open mind and if so inclined leave a comment. And lest I forget Karl Popper has something to say too.
![]
(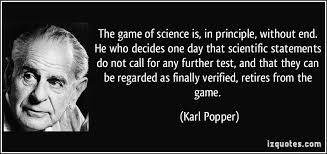 )
Peace
#daemon-nice