Depression: Mood Disorder (Reblog).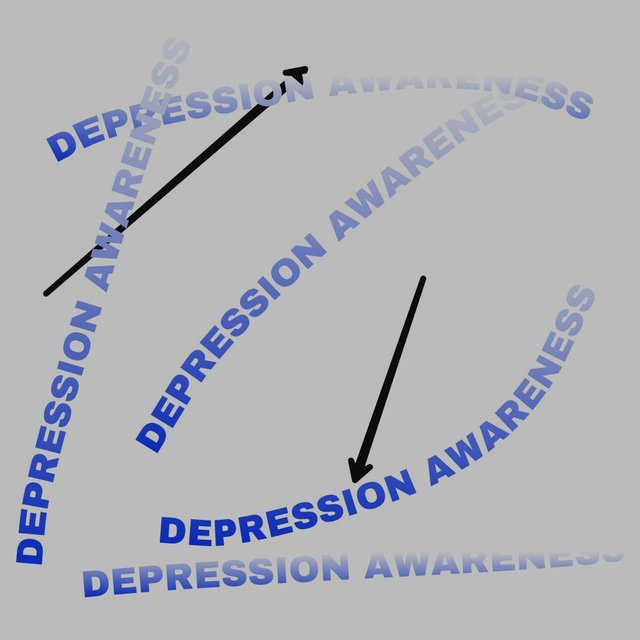 photo made with PicsArt

DEPRESSION is a feelings that we are all familiarized with, it includes, feeling of sadness, lack of joy, loss of interest in a formal pleasurable activity,and low mood, but if this feelings persist and affect our daily thought, activities, behaviour, tendencies feelings and sence of well-being, It may leads to depression.
DEPRESSION  is defined as a feeling of severe despondency and dejection. 'self doubt creeps in and that swiftly turns to depression  
•Causes of Depression .
There are many causes of Depression, some which includes; •Sexual and Emotional Abuse.
•Bereavement.
• Natural Disaster. Example, Fire outbreak.
• Parental Neglect. •Social Rejection.
• Social Isolation.
• Peer Pressure and Bullying.
•. Financial Difficulties.
• Loss of Employment.
•Stress.
• Menopause.
• Insomnia and Childbirth
TYPES OF DEPRESSION.
1• BIPOLAR DISORDER (BPD).
2•. DEPRESSIVE DISORDER (DPD)
3•. PERSISTENCE DEPRESSIVE DISORDER (PDD).
4•. POSTPARTUM AFFECTIVE DISOREDER (PPD).
BIPOLAR DISORDER
Bipolar disorder is also known as MANIC-DEPRESSION. This is an illness that involves brain and body disorder that can cause unusual shift in mood,in energy and activity levels, behaviour, thinking tendency that can affect the ability to carry out day to day activities.
DEPRESSIVE DISORDER
This is a persistence feeling of sadness, emptiness and worthlessness, that includes the lack of desire to engage in a formally pleasurable activities. This is not a passing blues, but rather a severe feeling of despondency and dejection.
PERSISTENCE DEPRESSIVE DISORDER
This is a severe feeling of sadness that occurs for most of day, or more days in a week, for atleast two(2)years, which involves fatigue, insomnia, low self esteem, and feeling of helplessness and sadness.
POSTPARTUM AFFECTIVE DISORDER
Postpartum disorder or POSTNATAL depression is a mood disorder associated with Childbirth, which can affect both sex. Symptoms includes, Extreme sadness, low energy, anxiety, crying episodes, irritability, change in eating and sleeping patterns.
Treatment for Depression.
**To Be Continue
-------------++++------+---------------+-+----------------
REFERENCES.
https://www.britannica.com/science/depression-psychology https://en.m.wikipedia.org/wiki/Depression_(mood) https://www.psychologytoday.com/us/conditions/depressive-disorders
https://www.nimh.nih.gov/health/topics/bipolar-disorder/index.shtml