Astronomical Observations #34: Markarian's Chain
Welcome to the next episode of an observation journey through the most beautiful objects of the night sky! This time something less known, but still within the reach of amateur observers. The Markarian's Chain is an amazing arrangement of galaxies, forming a series called a chain. This is the only galactic system visible in an amateur telescope.
---
Markarian's chain on an amateur photo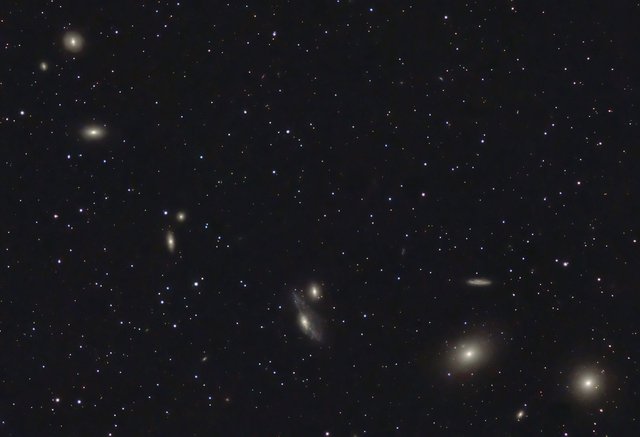 By Hewholooks link [CC BY-SA 3.0 license]
---
The name of the galaxy cluster refers to a view from the Earth that resembles a curved chain. It was named after an Armenian astrophysicist, Benjamin Markarian, who discovered the group in the early 1960s. The brightest galaxies in the chain are Messier 84 (NGC 4374), Messier 86 (NGC 4406), NGC 4477, NGC 4473, NGC 4461, NGC 4458, NGC 4438, and NGC 4435. The research of this galactic group shows that a minimum of seven galaxies is connected with each other in this formation. Others may be at different distances and only temporarily be part of the chain. Let's take a closer look at the more interesting objects of the Markarian's Chain, which is located in the constellation of the Virgo and is part of the large group of galaxies in Virgo.
---
Messier 84 is the lightest object of the entire chain. It is a lenticular galaxy discovered in 1781 by Charles Messier (creator of Messier's catalog). About 60 million light years divide us from this object. However, the object's diameter is about 87,000 light years. The galaxy has the brightness observed + 9 magnitude. So it is an object visible in binoculars under a good dark sky. The entire chain, on the other hand, requires a telescope and a large diameter, to see as many galaxies in the area as possible, instruments with diameters from 12 inches upwards are needed. In good observation conditions, the use of such a "light collector" will allow you to see a view similar to that from the first photo of the article in a small magnification eyepiece. The use of an eyepiece with a wide field of view is recommended. Otherwise, we will not be able to see the entire chain in one field without moving the telescope.
---
Greetings to lovers of Astronomy!
---
References:
Markarian's Chain
Messier 84
Messier 86
NGC 4438
NGC 4473
NGC 4477
NGC 4461
NGC 4435
NGC 4458
and my knowledge
---