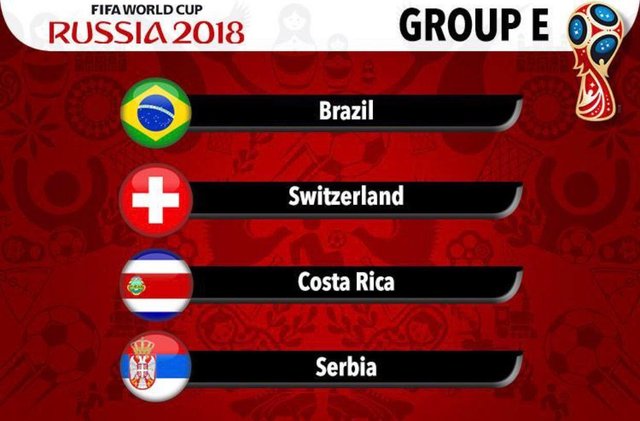 ---
SteemSports Presenter:
@thesportsguy
---
SteemSports Editor:
@scottybuckets
---
Group E features one of the hand-full or so of nations that are being given realistic expectations of winning this tournament in perennial power Brazil. The much-fancied Seleção will be attempting to regain glory, but it won't be a walk in the park with the likes of a very capable Costa Rica, who has surprised before and Serbia, who is no stranger to the World Cup either. Throw in a very highly-ranked Swiss side (6) and this group has the potential to provide some sparks. Whoever advances, it will have been hard-earned, and the opening match between Brazil and Switzerland should be a fantastic one. Look for fireworks from this group, and without further ado - here is the Group E preview:
---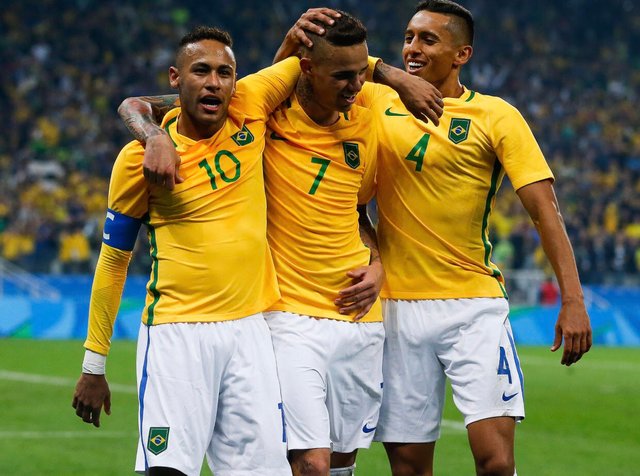 ---
BRAZIL
---
Appearances: 21st* (Have Participated in Every World Cup)
---
World Cup History: 1930, 1934, 1938, 1950 (hosts), 1954, 1958, 1962, 1966, 1970, 1974, 1978, 1982, 1986, 1990, 1994, 1998, 2002, 2006, 2010, 2014 (hosts)
---
Best Finish: Champions (1958, 1962, 1970, 1994, 2002)
---
World Cup Record: 70-17-17 (W-D-L)
---
Current World Rank: (2)
---
It certainly appears that Brazil is once-again well poised for a deep run in the World Cup. The Seleção have appeared in every edition of the tournament, and out of all of those appearances, have only failed to advance out of the group stage 3 times (1930, 1934, 1966). The Brazilians will once again be attempting to live up to the old adage in regards to futbol, "The English invented it, the Brazilians perfected it." The most successful nation in the history of world soccer with five World Cup Championships, they will once again have their sights set on lofty goals of a return to the Semi-Finals and possibly a sixth title. Neymar returns and has unfinished business after seeing his 2014 World Cup cut short due to injury. The once-again much fancied Seleção were extremely impressive in the very-difficult South American qualifying region (CONMOBEL) finishing atop the group - 10 pts clear of next-best Uruguay. Everyone knows the narrative of the last World Cup and the demoralizing defeat at the hands of the Germans in the semifinals, and then the route by the Dutch in the third place game, but those failures appear well in the rearview as Tite's squad appear ready for redemption and there is nothing to suggest that this edition won't advance through the group and perhaps all the way to the trophy.
---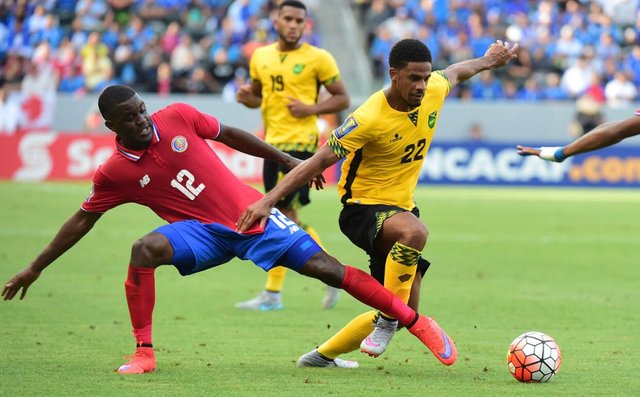 ---
COSTA RICA
---
Appearances: 5th
---
World Cup History: 1990, 2002, 2006, 2014
---
Best Finish: Quarterfinals (2014)
---
World Cup Record: 5-4-6 (W-D-L)
---
Current World Rank: (23)
---
Los Ticos will be attempting to pull-off quite the follow-up feat from their shocking 2014 World Cup run all the way to the Quarterfinals in Brazil. They are facing a tough task with Brazil, Switzerland, and Serbia all waiting. Despite the success in the last go-around of the tournament, not many are high on Costa Rica's chances of advancing. That being said, they were able to top a group in 2014 as massive underdogs featuring the likes of Italy, England, and Uruguay. No one gave them a shot then and the same seems to be true once again now. Real Madrid goalkeeper Keylor Navas is one of the finest in the world and has the experience and ability to be the difference-maker for the Costa Ricans. They will draw upon their existing experience as an underdog, and hope that they can bring their best form - which has not been on display as of late - they are just 3-2-7 in their previous 12 international matches including qualifiers and friendlies. Costa Rica will be ready to play, but their most recent form and overall difficulty of the group makes advancement extremely difficult in this year's edition.
---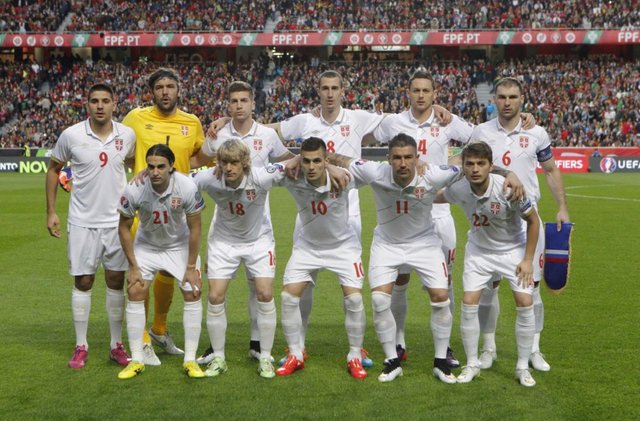 ---
SERBIA
---
Appearances: 12th
---
World Cup History: 1930, 1950, 1954, 1958, 1962, 1974, 1982, 1990, 1998 (as Yugoslavia) 2006 (as Serbia & Montenegro), 2010
---
Best Finish: 4th (1930, 1962)
---
World Cup Record: 17-8-18
---
Current World Rank: (34)
---
Serbia is back in the World Cup after missing out on Brazil 2014, and appear battle-tested and ready. After topping a qualifying group in Europe that featured Ireland and a very good Wales side, as well as an improved Austrian squad, the Eagles are battle-tested and looking to fly into the knockout stage - something they haven't done since 1998. They are coming off a 5-1 pasting of Bolivia in their final tune-up match before kicking off group action with Costa Rica. Mladen Krstajić side have the ability to score - 20 goals in 10 matches of European qualifying, but also concede at times as they did in a 3-2 loss to Austria this past October. Captain Aleksandar Kolarov's striking ability will be called upon to provide an offensive spark for the Serbians as well as the scoring prowess of 23-year old talented striker Aleksandar Mitrović. Look for Serbia to provide a tough test for all in Group E, and if they are in top form, could find themselves back in the knockout stage for the first time in 20 years.
---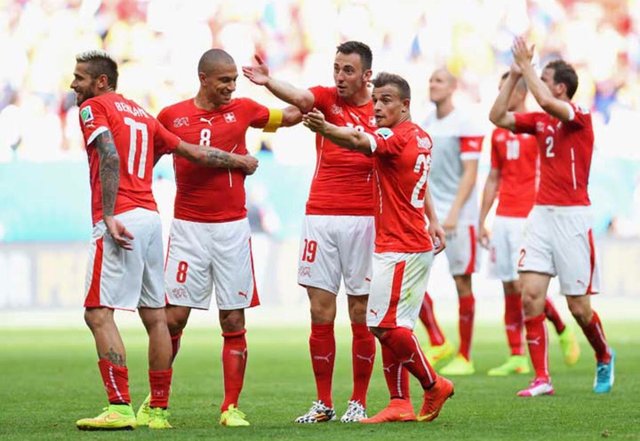 ---
SWITZERLAND
---
Appearances: 11th
---
World Cup History: 1934, 1938, 1950, 1954 (hosts), 1962, 1966, 1994, 2006, 2010, 2014
---
Best Finish: Quarterfinals (1934, 1938, 1954)
---
World Cup Record: 11-6-16 (W-D-L)
---
Current World Rank: (6)
---
The Swiss hosted the World Cup back in 1954, and while they have now qualified for their fourth consecutive tournament, they have yet to match a return to the Quarterfinals as they did that year as hosts. They have been able to progress out of the group stage in 3 of their past 4 trips to the World Cup, but they've bowed out in the Round of 16 each time. It was a 1-0 defeat at the hands of Argentina in that round that ended their Brazil 2014 tournament. Vladimir Petković's side are battled tested after an impressive qualifying campaign that saw them win 9 of 10 matches and finished tied with Portugal atop the group. The Swiss lost the tie-break on goal differential, but went through on aggregate 1-0 in a playoff with Northern Ireland. It was winger Xherdan Shaqiri who dropped a hat-trick on Honduras in the third group match at Brazil 2014 to ensure progression to the knockout stage, and he is back again, ready to help lead a talented - and balanced squad with youth and experience. Die Nati is highly ranked at # 6 in the world heading into the tournament, and they have realistic expectations of finally reaching the Quarterfinals once again.
---
PREDICTION: Brazil, Switzerland advance
---
Thank you for following
@steemsports
and you can find me
@thesportsguy
---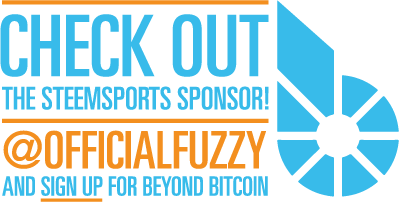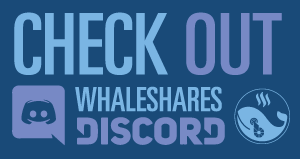 ---

---