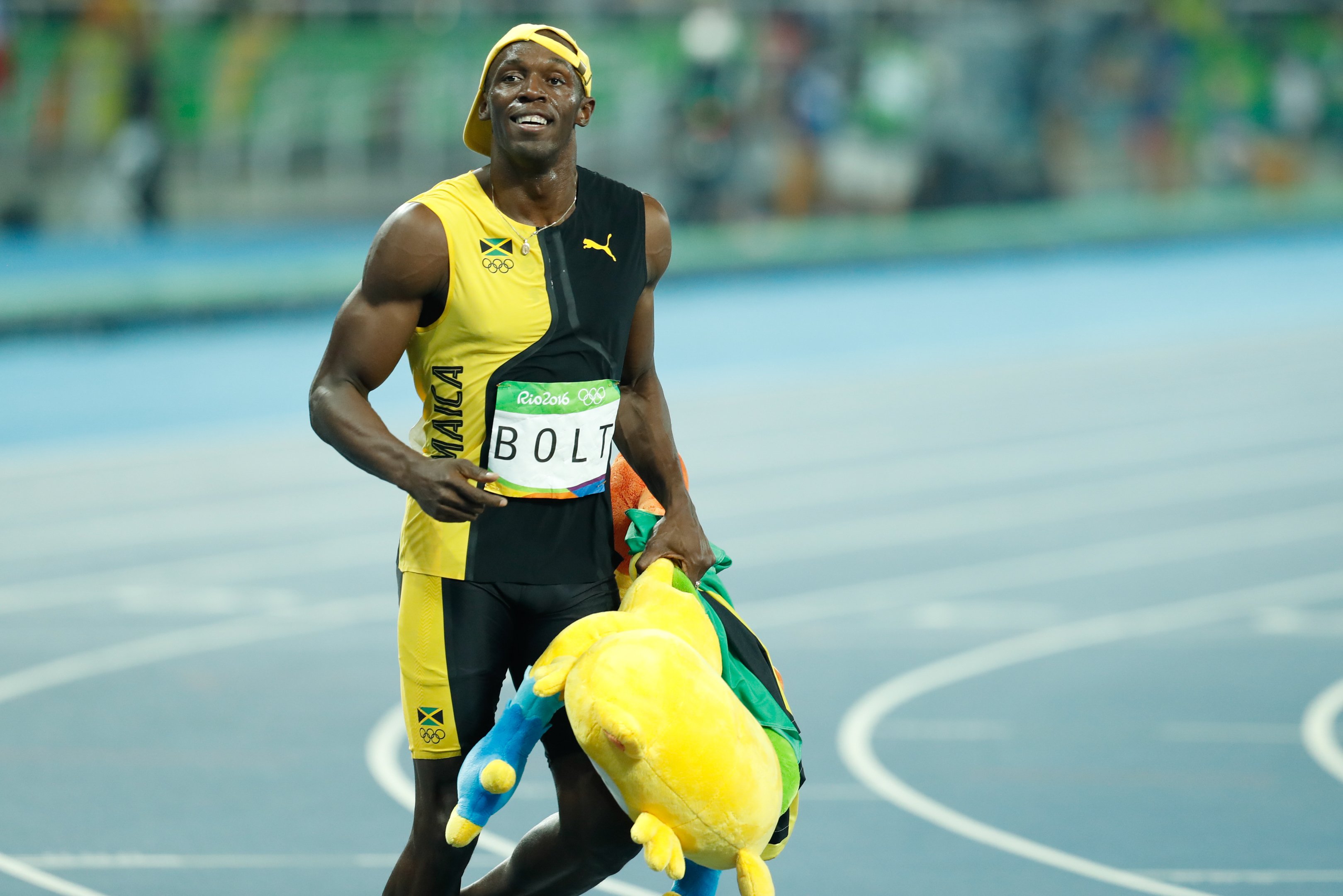 Source
---
SteemSports Presenter: @datageek
---
SteemSports Editor/Writer: @writingamigo
---
As Usain Bolt prepares to retire from active competitions. I take a look at his key career stats
---
He is the fastest Human alive
---
Usain Bolt gained world wide recognition when he stormed to two gold medals in the 100 and 200 meters events, achieving world record times in both events. Since then he has gone on to break both his 100 meters and 200 meters world records. He is currently the world record holder in both events with a record time of 9.58 seconds for the 100 meters event and 19.19s for the 200 meters event. See regression of world record time for 100 meters event below :
---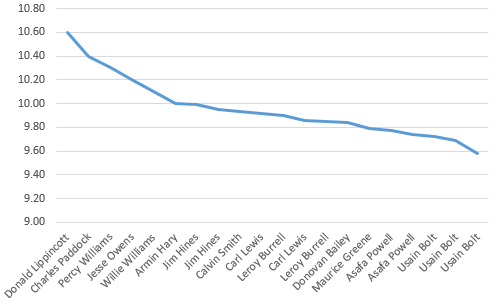 ---
Invincible Record since 2006
---
His winning record since the World Athletic Final in 2006 has been impeccable. He has run in a total of 27 races from 2006 till present, and he has never finished out of the top 3 in any of these races, though he was disqualified once at the world championship in 2011. Out of the 27 races, he was 1st on 20 occasions which amount to a win percentage of 74.07%
---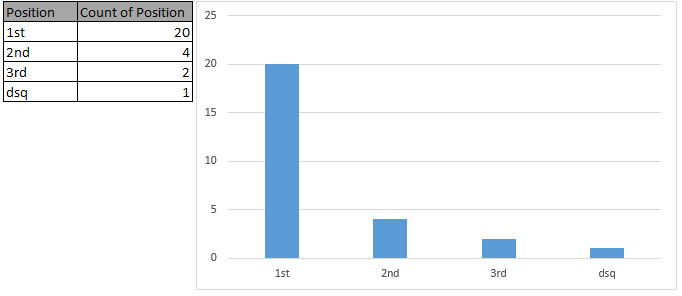 ---
Incredible Medal Haul
---
Usain has an astonishing total of 34 medals across various competitions and 25 of these medals are Gold Medals. See distribution below :
---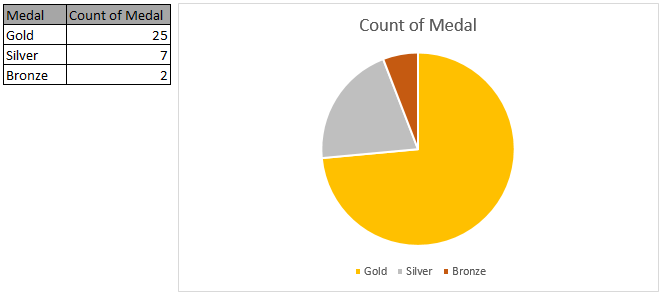 ---
Closest Competitor in International Competitions
---
Usain Bolt undoubtedly has dominated sprint events for the best part of 9 years but which other athlete has run him close and competed with him the most? To find this information, I took the data of all of Usain's Single races in international competitions. I extracted Gold, Silver and Bronze winners from all these races and assigned coefficients for each medal. Then, I assigned 5 for a Gold Medal, 3 for a Silver Medal and 1 for a Bronze Medal. These are the top 3 competitors I found to Usain Bolts Dominance :
---
---
As you can see from the chart above, Justin Gatlin has been the strongest competitor to Usain's throne over the duration of his dominance, this culminated in Gatlin getting the gold medal over bolt in the just concluded World Championships in London, United Kingdom
---
---
Forbes List
---
Usain is the only track athlete to make it to the 2017 Forbes list of highest earning Athletes. He is number 23 on the list with an estimated 34.2 million dollars in total earnings during the year in review. This is well deserved based on his achievements
---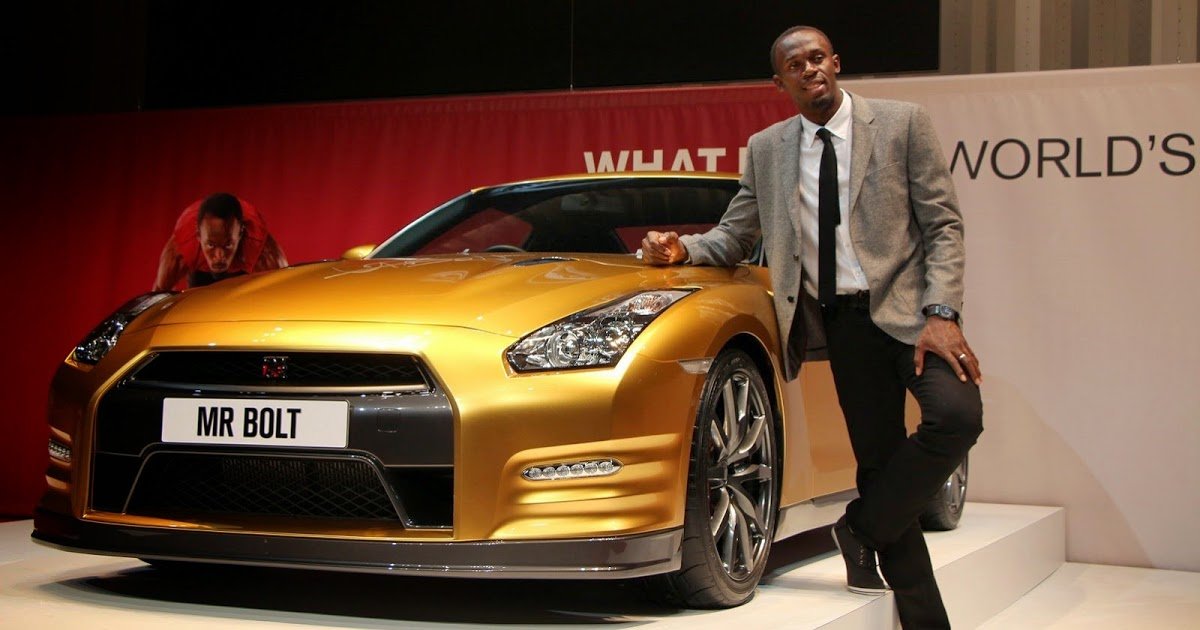 Source
---
The King of the sprint is retiring on a high. Who do you think are the contenders to that throne? Drop a comment.