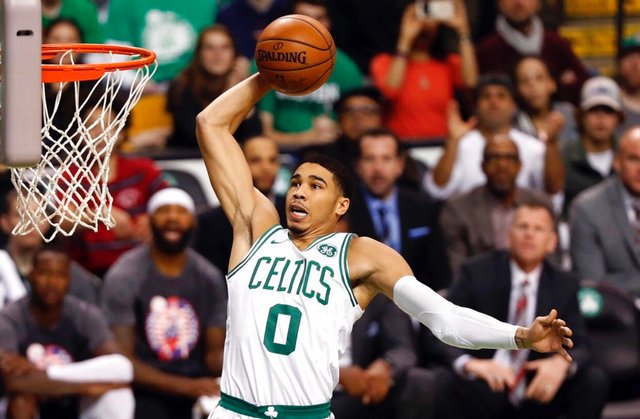 ---
SteemSports Presenter:
@dwin0603
---
SteemSports Editor:
@scottybuckets
---
The 2017-2018 Draft Class is composed of exceptional talents which exceeds expectations. The class before this one was a disappointment and nothing to be excited as a second-round pick Malcolm Brogdon went out to win Rookie of the year against Dario Saric. Good thing that the 2017-2018 class was a good bounce back after that year of disappointing class.
---
There are a lot of great players in the 2017-2018 draft and some of them stand out and made a mark for themselves. Some of them lead their team to the playoffs even as a rookie but the lack of experience results to their failures. But still, it's a good experience for those young stars because they were able to play in the playoffs where the competition is tougher. This season, those 2nd year players are still performing well and some of the. Became even better. Let's break down the top sophomores in the NBA today.
---
Josh Hart
---
Hart was a great pick by the Los Angeles Lakers but with a loaded L.A. Lakers team, Hart hasn't been noticed well. But despite that, he was still able to made a name for himself as a solid role player for the Lakers and sometimes a starter if there are injured key players. Hart has not been consistent because he doesn't get the right minutes for him but I think if he gets the correct playing time, he can step up and produce even more.
---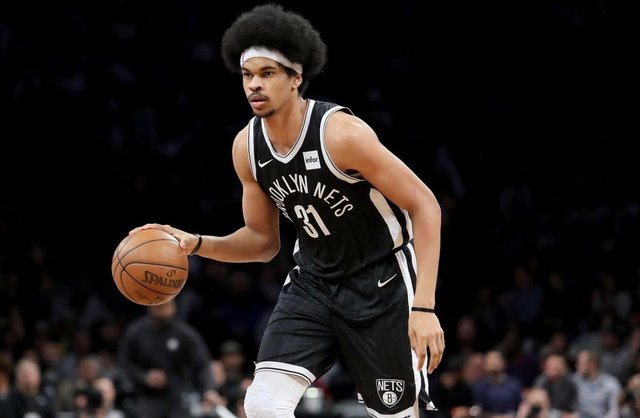 ---
Jarrett Allen
---
Jarrett Allen was a surprise. He was not projected as a top 10 draft pick but he played like he was one. At a very young age, Allen loves to bang bodies with the big boys and battle it out in the paint. He loves scoring inside and at the same time he is a tremendous shot blocker. His defense was the main factor why he was noticed and was now ranked in the top 10 for the sophomores. He's also very focus in improving his game unlike other young players who spends time in computer games and social media.
---
John Collins
---
John Collins is a solid force at the power forward position. The Atlanta Hawks made a great decision in drafting him and while they are tanking, Collins can develop his game and can be one of their main weapons in the future just like Trae Young. Collins is a solid scorer and rebounder who can give you big numbers night in and night out. He's also very athletic which makes him a fine defender. He's not too good in defense but it's okay because his consistency is what makes him valuable.
---
Dennis Smith Jr.
---
Dennis Smith Jr. is one of the most exciting players to watch in this draft class. He is a very athletic guard who can give you a dunk highlight every night. His production in points went down compared to last year and the main reason for that is the arrival of Luka Doncic. Luka has been Dallas' number 1 option since he came. But still, Dennis is a solid player and still a solid scorer when he is hot. He can also be reliable during clutch time and he has proven that several times.
---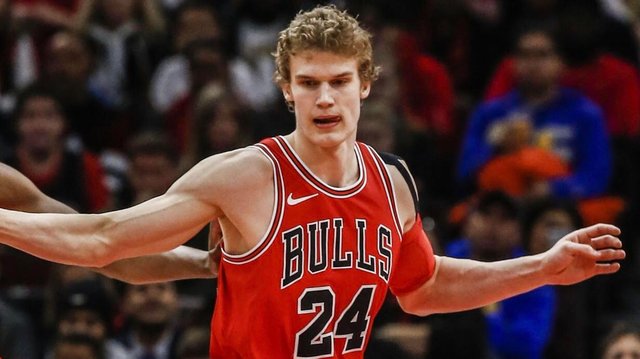 ---
Lauri Markkanen
---
Markkanen had a tremendous rookie season for Chicago last year. He was a stretch 4 who can also dribble drive to the rim despite being a 7-footer. He will be a nice franchise player for Chicago and can be their cornerstone for years instead of Zach Lavine. Markkanen is a rare type of player who can shoot the three, together with a high basketball IQ and sometimes his defense was slightly underrated. He has the potential to be a Dirk Nowitzki type of player.
---
Lonzo Ball
---
The 2nd overall draft pick for that draft was this guy Lonzo Ball. He was so hype before he was drafted because of an impressive college year. He was projected right in the position he was drafted. Ball had a rough rookie season having low percentages in his shots. He was one of the worst shooters in the NBA last season and his shooting stroke seems unlikely to be develop. It was early to say that and I think he still has a lot of room to improve. The good thing is, even if he has not developed as a great scorer his defense is at another level. He's one of the top defenders and I think he can be named as an all-NBA defensive 1st team. However, his high basketball IQ and his defensive skillset makes him so valuable for years to come.
---
De'Aaron Fox
---
Fox is also one of the most exciting players to watch in the league today. He's one of the fastest players in the NBA today or may I say he's arguably the fastest player in the league right now. That's a tough debate and Russell Westbrook would not love that idea. However, Fox use his unbelievable speed and quickness to torture defenders and be a solid scorer. Fox is taking the Kings one step forward and slowly making some noise in the Western Conference. Let's see if he can truly bring the Kings back to relevance.
---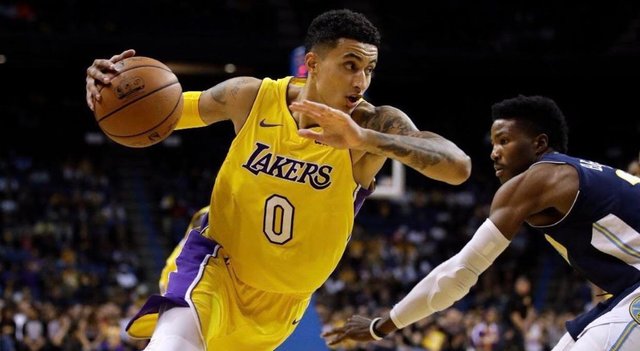 ---
Kyle Kuzma
---
Kuzma established himself to be L.A.'s second star next to LeBron James this season. He has been their 2nd most consistent scorer and he simply exceeds Brandon Ingram who is a much higher prospect than him. I think Kuzma is a better scorer than Ingram and his consistency is a huge factor why the Lakers are enjoying success this season. His percentages in long range shots are reliable and he is a great fit next to LeBron. Kuzma improved his all-around game and he is more aggressive in the paint. He is complementing well with LeBron as he has been LeBron's favorite targets of his flashy passes. He must improve at the defensive end of the floor but still I think Kuzma will surely be a star in the future.
---
Donovan Mitchell
---
The Utah Jazz are not in a good position right now and wasn't able to pick up where they left off last season. After making the playoffs last season they are now struggling to start the 2018-2019 season. Spida Donovan Mitchell showed that he can play at the big stage and he is not scared of the bright lights and the big moments. He was one of the main factors that gave impact to Utah's success last season. His three-point shooting is one problem and he should improve it but still his overall game is impressive. He battles it out against Ben Simmons for the Rookie of the Year award last season but he came up short. One thing I love about Mitchell is his competitiveness. He is not afraid of anyone and he always plays his heart out every time he steps on the court.
---
Jayson Tatum
---
I think Tatum is better than Mitchell. Tatum is a prospect that is one of a kind. His ceiling is so high and I don't even know how good he can be. In his rookie year, he played like a veteran and lead the Boston Celtics in the playoffs stepping up for their down superstars. Tatum can do everything and this season, he became more of a threat from mid-range and from the outside. He found a good trainer in Kobe Bryant and it looks like he is adapting to Kobe's mentoring as I saw some Mamba moves from him every game. I think last season Tatum is better because he got all the minutes, he wants but this season, now that Gordon Hayward is healthy, Tatum seemed to be slightly off because of limited minutes. Boston should solve this problem and they should prioritize developing Tatum's talent and unlocking his full potential.
---
Ben Simmons
---
Ben Simmons won Rookie of the Year with this star-studded class. Ben is not actually drafted in this class but he played his rookie season at the same year due to an injury. Ben is a triple-double threat every night and he can contribute huge numbers on both ends of the floor. His basketball IQ is so impressive and his skillset can be compared with LeBron James. The only problem with Ben is his shooting and if he develops this side of his game, I would say that he can be the next big thing in the NBA.
---
Thank you for following
@steemsports
and you can find me
@dwin0603
---

---

This is a
@steemvoter
subscription payment post. Thank you to Steemvoter customers for allowing us to use your Steem accounts to upvote this post by virtue of your free subscription to the
https://steemvoter.com
bot service.
@steemvoter
is proudly a
@buildteam
subsidiary and sister project to
@steemsports
,
@steemsports-es
,
@steemsports-ita
and
@minnowbooster
.