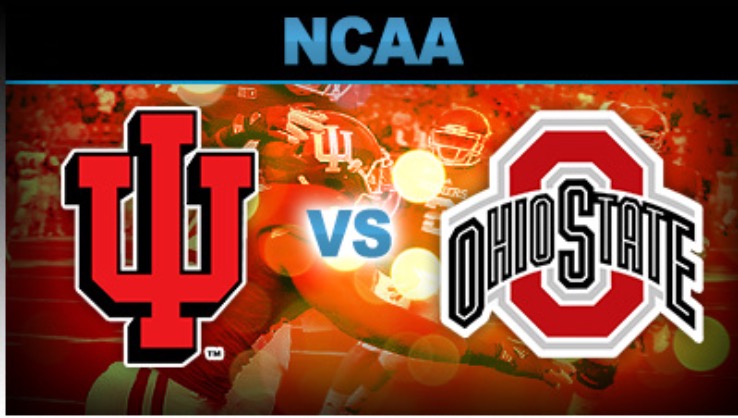 ---
SteemSports Presenter: Scott Frank,
@scottybuckets
---
The Ohio State Buckeyes open the season on Thursday night as the #2 ranked team in the country. They have National Championship hopes and the talent to back it up. Heisman Trophy contender, quarterback JT Barrett, is back and looking better than ever in the preseason practices and scrimmages.
---
They will travel to Bloomington, Indiana, to play against a Hoosier program that has shown some sparks over the last few years. Indiana has won 6 games for back to back seasons, which is a huge step in the right direction for a team that has been often at the bottom of the Big 10. They have a veteran team for 1st year Head Coach Tom Allen.
---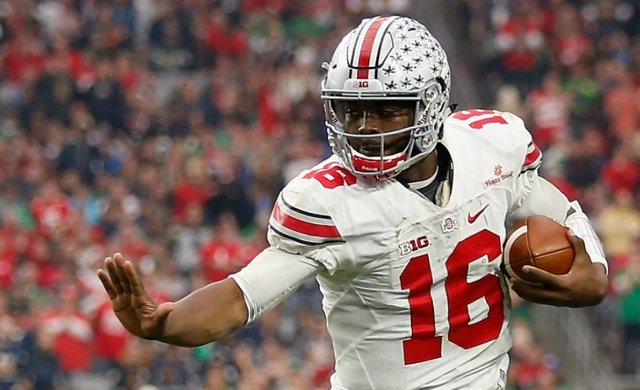 ---
What to watch when Ohio State has the ball:
---
It all starts with JT Barrett for the Buckeyes. Last year he threw for over 2,500 yards and 24 touchdowns. He also ran the ball for 845 yards and 9 touchdowns. Ohio State returns a great offensive line and tons of talent at running back, being led by Mike Weber. They did lose their top 3 receivers so it might take a little time for Barrett to get in sync in the passing game. After going 11-2 last year and a bitter loss that cost them a chance at the title, Urban Meyer will want his offense to make a statement right out of the gate.
---
Indiana has 9 returning starters on defense and although they will be an improved unit, this will be their biggest test of the year. They have been practicing with 5 defensive backs who did have a strong performance last year vs Ohio State. In fact, they held Barrett to 93 passing yards last season. They will have to keep the Buckeyes from making big plays down field in the air and hope to reasonably contain the running game.
---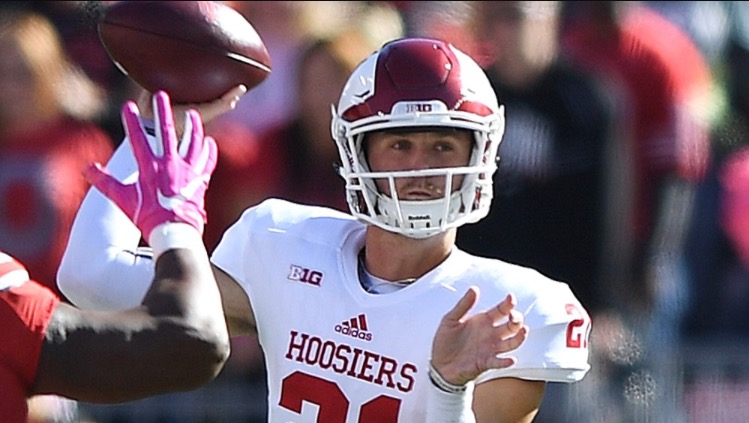 ---
What to watch when Indiana has the ball:
---
Richard Lagow is back at quarterback for the Indiana Hoosiers. He had a solid junior season and threw 19 touchdowns. His favorite target, Nick Westbrook, returns after nearly eclipsing the 1,000 yard receiving mark in 2016. They did lose stud running back, Devine Redding, and his 1,195 yards. Indiana will have to be a much more pass happy team and be creative with the play calling against Buckeyes.
---
The defensive line for Ohio State is the best in the country. They will have Lagow running for his life and that will not be a pretty picture as Lagow is not the quickest on his feet. But if the defensive line continues to over pursue, then the screen game can help Indiana get some chunks of yards. If Ohio State can force some early 3 and outs, then the floodgates will be opened.
---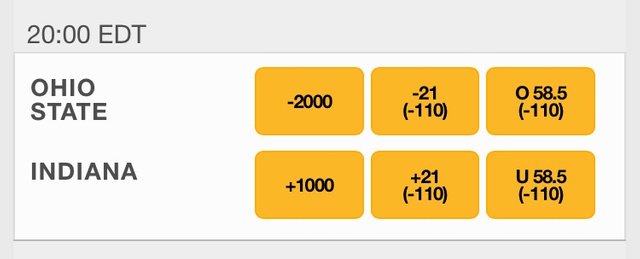 ---
Las Vegas has the current betting line of Ohio State by 3 touchdowns. The over/under sits at 58.5. I think Ohio State will cruise past the 40 point total and try to impress the country as the they host high powered Oklahoma on September 9th. If you think Indiana can get into the endzone more than once, then the over should be your play. If you think they the Buckeyes defense will have the Hoosiers on lock down, then you could see a score of 45-10. Cheers!
---