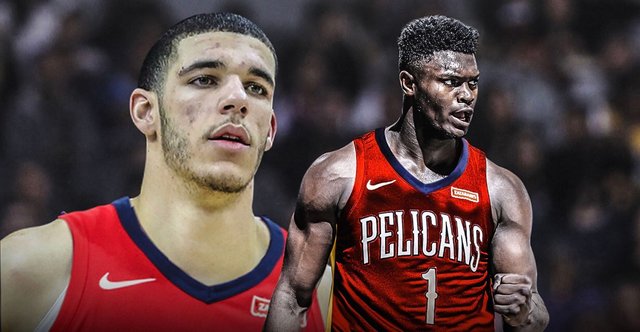 ---
SteemSports Presenter:
@dwin0603
---
SteemSports Editor:
@scottybuckets
---
The NBA season is almost here and the preseason games gives us more reasons to be excited. There are a lot of things to watch out. For now, let's take a look at the sensational rookie Zion Williamson and the new look New Orleans Pelicans with Lonzo Ball playing the point guard position.
---
Zion Williamson is one of the most exciting rookies heading into this season much like his new teammate Lonzo Ball was when the Lakers drafted him. We've seen Zion dominate in high school and again, in college but how would Zion look in the NBA where athletes are bigger, faster, and stronger? Lonzo balls first two years in league were mired by his bent jumper, injuries and dad drama. But how will Lonzo look in a new situation with an improved jumper?
---
Recently, we got a first-hand look when the Pelicans took on the Atlanta Hawks. Let's take a look at Zion and Lonzo in their first preseason game of the year. Let's break down our first look at Zion Williamson and Lonzo Ball on the New Orleans Pelicans. Immediately, Zions athleticism was on display early in his debut but that's something that should have been a given. But it's Zions explosiveness and physicality that are gonna translate really well to the NBA game.
---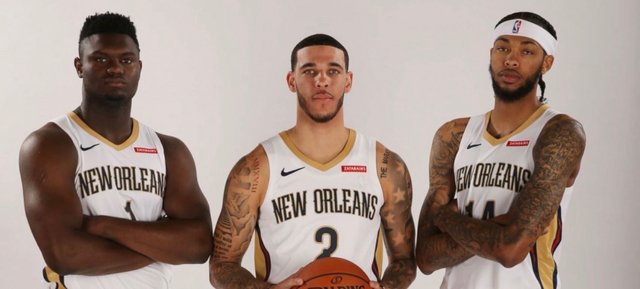 ---
Zion shot seven free throws in this game. He got fouled a lot more than the story that number tells. Zion is a kind of wing like version of Shaq. It seemed like anytime Shaq had the ball he was fouled immediately because he was just so big and Zion is the same way. Players just bounce off of him. I believe every game we're gonna see Zion do something that almost no one else in the world can do. Off the ball, Zion isn't gonna space the floor and get that same respect that a real catch and shoot threat would get so he'll have to get creative but we already saw a few examples of Zion cutting and teammates finding him.
---
Zion is a willing and able passer too. One of his best qualities is his love for a team and his teammates. He's gonna get a lot of attention on his drives where he can create for his team mate and make a nice pass. Where's Zion struggled in this game is when he drives without a clear path to the basket to dunk and he doesn't pass. The question he's gonna have to answer quickly is what else can he do to finish around the rim? He can't just go over someone to dunk it or around someone with his quickness. Several times in this game we saw him turned the ball over because he ran out of real state to make a move.
---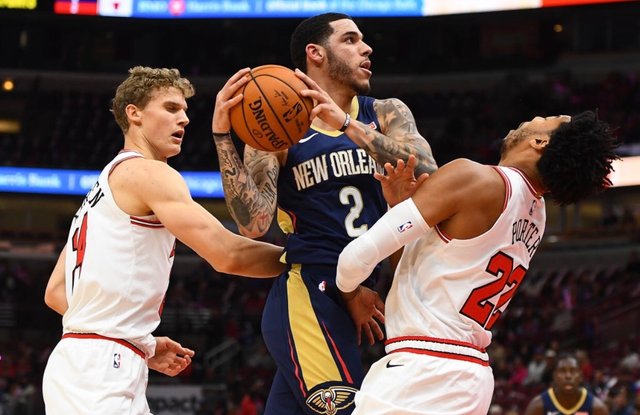 ---
For Lonzo Ball we got a good picture of what he is for the Pelicans. It looks like he's gonna be the starting point guard playing next to Jrue Holiday. Holiday is gonna take the scoring role and Lonzo is gonna set up the offense. Lonzo debuts his new look jumper in this game with some success too. You can tell that he worked hard to pull the Ball straight up instead of circling from the left side of his body. Then we saw something amazing that gives us a glimpse of Lonzo's true potential. Defensively, Lonzo and Jrue are gonna be a tough pair to score on consistently.
---
Zion and Lonzo played about 18 and a half minutes together in this game but we didn't see them play off of each other as much as they could. But early in the game we did see a nice pick and roll that turned into an and-one jumper for Zion. In late in the second quarter we saw this very solid play. The ball whipping around the perimeter and Zion dumping it off in the post. To sum it up, it was a really good first impression for Zion Williamson in the NBA and Lonzo on his new team. And this duo looks really promising with a great roster around them. Don't be surprise if the Pelicans make it to the playoffs.
---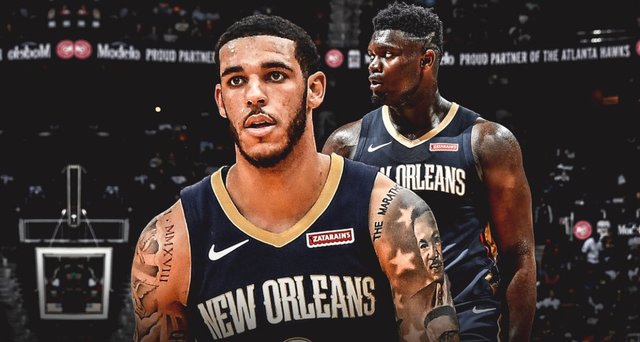 ---
Thank you for following
@steemsports
and you can find me
@dwin0603
---

---

---
**Disclaimer:**
This is a
@steemvoter
subscription payment post. Thank you to Steemvoter customers for allowing us to use your Steem accounts to upvote this post by virtue of your free subscription to the Steemvoter.com curation automation service.
@steemvoter
is proudly a
@buildteam
subsidiary and sister project to
@dlease
,
@tokenbb
,
@ginabot
,
@steemsports
.
@steemsports-es
and
@minnowbooster
.
---
**BURNPOST:**
This is a 20% Steem burnpost by setting
@null
as beneficiary.