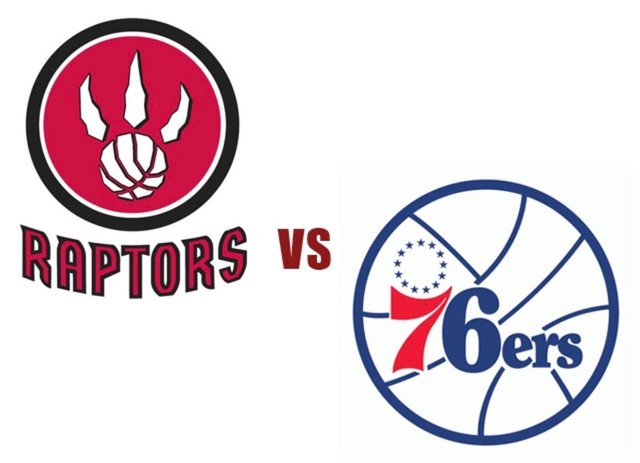 ---
SteemSports Presenter:
@mateonav53
---
SteemSports Editor:
@scottybuckets
---
Windmill dunks, gargantuan blocks, and WWE-esque crowd control emanating from the being that is Joel Embiid. Those are the images that'll come up when we look back on the Philadelphia 76ers 95-116 Game 3 victory over the visiting Toronto Raptors.
---
For a minute there, it felt like tonight was going to be Kawhi Leonard's night. The third was coming to a close, and Kawhi just cut it to under ten behind an individual showcase fit for his status as a top five player in the game. It started out with a driving lefty dunk down the middle where Leonard barely elevated but totally palmed the rock in his catcher's mitt hands for the awe-inspiring one-hand slam. The series was resting at a 1-1 tie and Kawhi was entering his groove heading into the fourth. It felt like we had a true game on our hands.
---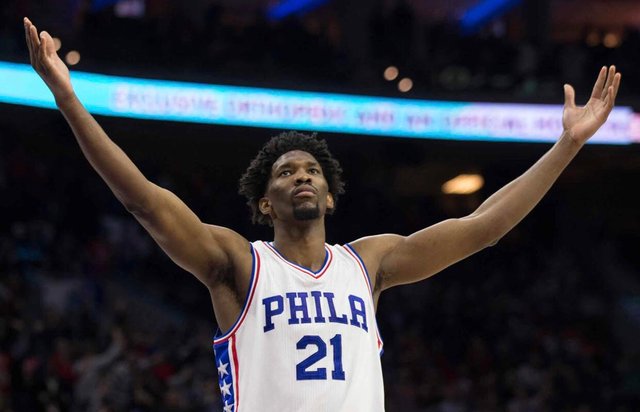 ---
To the delight of Philadelphia, Joel Embiid slapped our bubbling expectations upside the head with authority. Kawhi Leonard sat for all of two minutes and all basketball hell broke loose. Transition layups, three-balls and put back dunks were being doled out like nobody's business. Before we knew it, Philly was on an 11-0 run to push the lead to a game-high 18 points. Philly's crowd was rabid, practically salivating at the mouth at the prospect of going up 2-1 over the favored Raptors.
---
And what did Toronto do in response? They chucked up a bunch of flat rim-clangers. Each brick invigorated the crowd more and more, which culminated in the out-of-this-world Embiid windmill slam for the icer. There wasn't enough time to make a miraculous run, leaving the Raps with a sour L on this hectic Thursday night.
---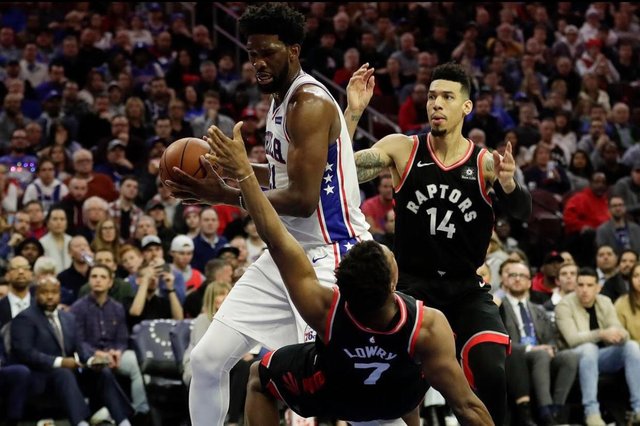 ---
Joel Embiid was the man of the hour with an imposing 33 point, 10 rebound, 5 block night. His fantastic highlight plays were what sealed the deal for good, but we can't overlook Jimmy Butler's midgame effectiveness. His stable shot creation served to tighten Philly's grip on the 10+ point advantage. Without that, Toronto could've recaptured the lead as early as the third. He ended his night with a solid 22 point, 9 rebound, 9 assist, 3 steal, 1 block line on 9/15 from the floor. Kudos to Philly's two best players on stepping up and acting as leaders should.
---
Kawhi Leonard had a great line of 33-4-3-0-1 on 13/22 shooting, while Pascal Siakam filled the secondary scorer role with 20-3-1-1-1 on 7/15. Kyle Lowry is taking a lot of heat for pouring in a measly 7-5-5-1 on 2/10 shooting, and honestly, it's fully deserved. The Raptors aren't going to win three more times in this series if Kyle doesn't string together effective games in the postseason.
---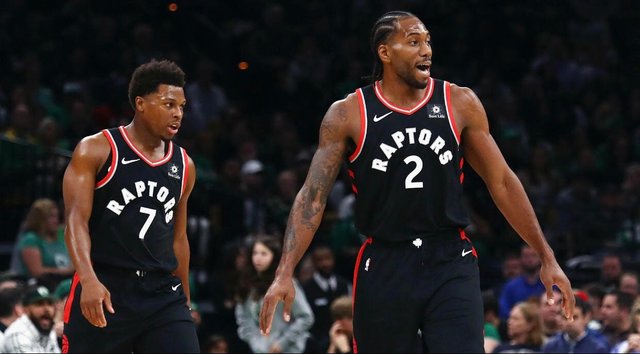 ---
The same goes for veteran midseason pickup Marc Gasol. Lowry and Gasol were a -28 and -26 respectively. A player's +/- score isn't totally indicative of their impact on the night, but if you use the eye test to see if a player is bringing his team down, the +/- score often follows suit. Someone else besides Kawhi is going to have to step up, or else it's going to be another embarrassing second round exit for the city of Toronto (and we all thought those were behind us!). Game 4 will take place on Sunday, May 5th at 12:30 PM PST / 3:30 PM EST in Philadelphia. Let's see if the North can still make this a series before they travel home to defend their turf.
---
Thank you for following
@steemsports
and you can find me
@mateonav53
---

---

This is a
@steemvoter
subscription payment post. Thank you to Steemvoter customers for allowing us to use your Steem accounts to upvote this post by virtue of your free subscription to the
https://steemvoter.com
bot service.
@steemvoter
is proudly a
@buildteam
subsidiary and sister project to
@steemsports
,
@steemsports-es
,
@steemsports-ita
and
@minnowbooster
.