Can Holly Holm Upset Another Legend?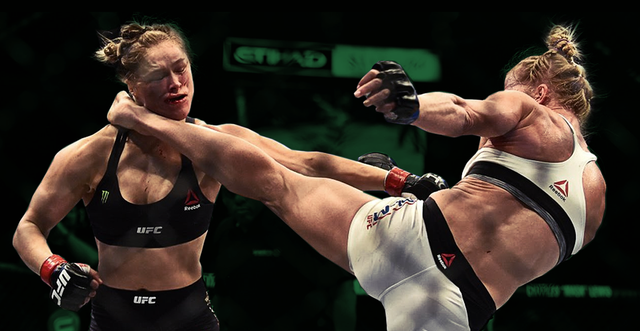 ---
SteemSports Presenter:
@brandonk
---
SteemSports Editor:
@scottybuckets
---
In the 4th quarter of 2015, a year that saw Conor McGregor dethrone Jose Aldo along with the downfall of Zuffa, Holly Holm was able to conquer the queen of bantamweight. Ronda Rousey was thought to be the greatest women's fighter of all time, but Holm wasn't having that.
---
At 37, Holm is still an athletic specimen. A valiant effort against the vicious Cyborg Justino actually impressed me, even in a wide loss on the judge's scorecards. Holly stuck and move quite well and was able to evade the heavy strikes being thrown her way for 25 minutes straight.
---
The Cyborg fight against Amanda Nunes ended spectacularly and very surprisingly. With Amanda viciously knocking Cyborg out (as the smaller woman and massive underdog), she became the double champion (holding belts at 135 and 145 pounds) all the while become a pound for pound legend.
---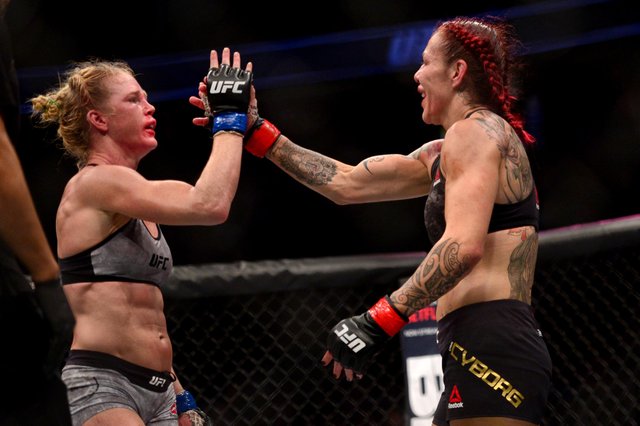 ---
Amanda stylistically will post a lot of problems for Holly: the tremendous grappling skill set along with durability, pressure, and the ability to deal damage at a heavy pace for over 25 minutes. Nunes will bring the fight undoubtedly, but will Holly rise to the ocassion once again?
---
That fateful day in Australia when Holly Holm dethroned Rousey showed how easily belts can change hands in the realm of combat sports. Holly hadn't ever looked as good as she did against Ronda, but she pulled out all the stops and was motivated to attain the belt once and for all.
---
Holly lost to Meisha Tate in early 2016, but she was dominating most of the rounds and would have won if she had only not given up one final takedown which led to the rear naked choke loss. Holly seems more motivated then ever to relive attaining the UFC championship belt...
---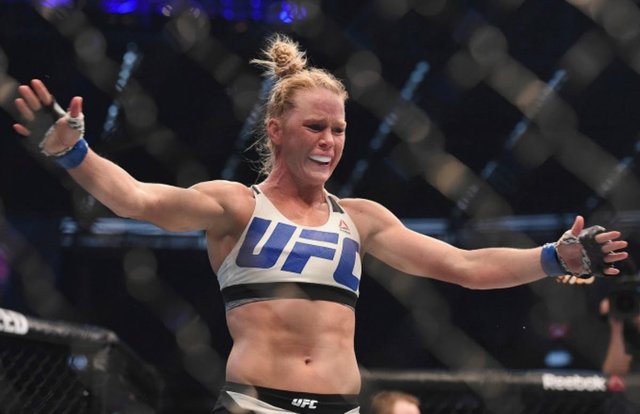 ---
...and with her team mate and good friend Jon Jones on the card, it can only be positive energy in both their directions.. and in the direction of two solid wins. Jon will go down as the greatest male fighter of all time, can Holly Holm conquer another giant and do the same?
---
Only time will tell how both Amanda and Holly perform on the night. It will be incredibly interesting to see the gameplan of both women as Holly is quite experienced at troubling aggressive opponents with her in and out movement.. Amanda is a lioness though and eager to once again prove her worth as champion.
---
If the one time boxing champion and former UFC champion in Holm can conquer Amanda Nunes, there is no doubt that she is the greatest of all time. It is so strange how in a single fight the greatest of an era can change hands.. but that is mixed martial arts in a nutshell. Enjoy Saturday and a brilliant night of fights!
---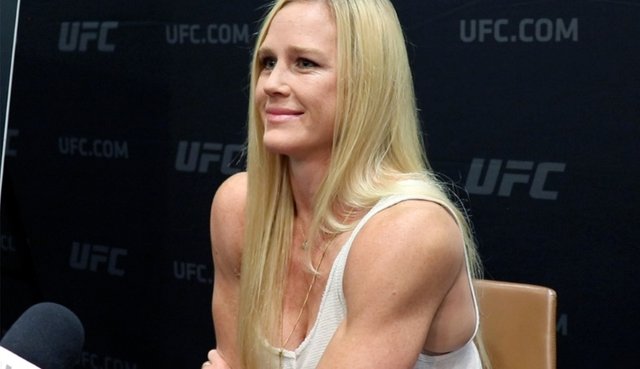 ---
Thank you for following
@steemsports
and you can find me
@brandonk
---

---

This is a
@steemvoter
subscription payment post. Thank you to Steemvoter customers for allowing us to use your Steem accounts to upvote this post by virtue of your free subscription to the
https://steemvoter.com
bot service.
@steemvoter
is proudly a
@buildteam
subsidiary and sister project to
@steemsports
,
@steemsports-es
,
@steemsports-ita
and
@minnowbooster
.