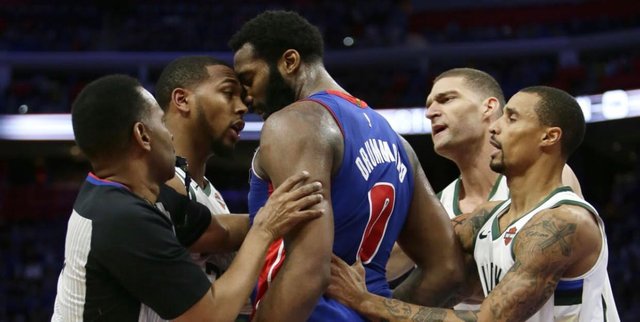 ---
SteemSports Presenter:
@mateonav53
---
SteemSports Editor:
@scottybuckets
---
Monday night's playoff results had us inching ever closer to the excitement that is the NBA's deep postseason. Two games were played tonight where the favorite was up 3-0 with a chance to sweep. Only one of those teams ended up sending their opponent home for the summer, while the other lived to fight another day in an exciting display of pride and aggression.
---
Giannis Antetokuompo and the Milwaukee Bucks advanced to the Eastern Conference semi-final behind a 23-point shellacking of the Detroit Pistons, 127-104. Giannis earned his first playoff series victory in style, serving up a 41-9-3 line to complete the 4-0 sweep over the hapless Pistons, who never really had a chance given Blake Griffin's nagging leg injury. Griffin missed the first two games of the series but returned for Games 3 and 4.
---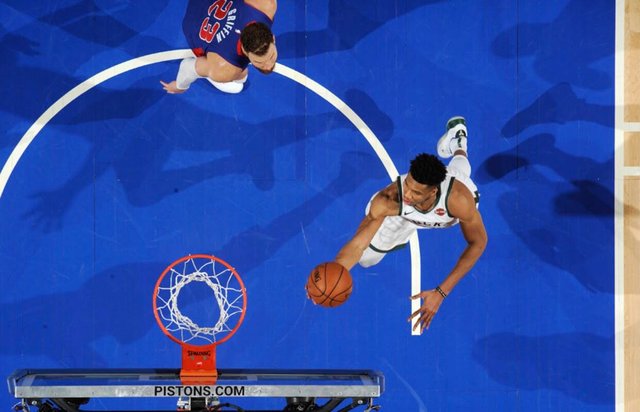 ---
It's a shame we didn't get to see a healthy Blake compete when the games were still susceptible to some drama. I don't think they would've won more than one game, but because of his health, the lack of competitiveness solidified this as the least entertaining series of the postseason. Still, the Detroit faithful recognized what they were up against and what Blake dealt with, so they treated their star to a standing ovation as he checked out for the final time this season.
---
Playoff series like these call into question whether there should be a best of 7 format in the first round at all. Did we really need to see the Bucks drop another 20-point victory for the fourth time in a row? Adam Silver is open to changing rules. Maybe he would consider a format where if a team goes up 3-0 on their opponent in the first round, then they'll wave that fourth game in an act of mercy. No team has ever come back from that deficit in the history of the NBA. Since we have hundreds of series to use as data, maybe it's worth considering whether it's necessary to play out that fourth game in the first round.
---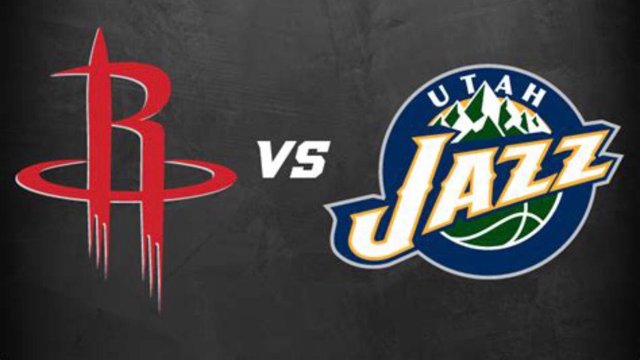 ---
While Bucks vs. Pistons had many people pondering that notion, the result of Rockets vs. Jazz ran counter to that line of thought. The Utah Jazz know that the odds of a series victory are not in their favor, but they came out and battled in front of their home crowd to the tune of a 91-107 victory.
---
Jae Crowder poured in 23-4-1, hitting big shot after big shot while Donovan Mitchell pitched in 31-7-4 with 17 points in the fourth quarter. Mitchell was the best guy on the floor in the final period. He was the man who rose above when the game was still locked in a game-deciding stalemate. This game may not mean much in the grand scheme of things, but it meant something to the Jazz faithful who just wouldn't quit either.
---
The Rockets kept brainlessly chucking threes as they tried climbing out of a sudden ten-point fourth-quarter hole, but just about every single shot found a way to rim out. It was reminiscent of their stubborn bricked three display in Game 7 of the Western Conference Finals, only this time they didn't miss 27 straight.
---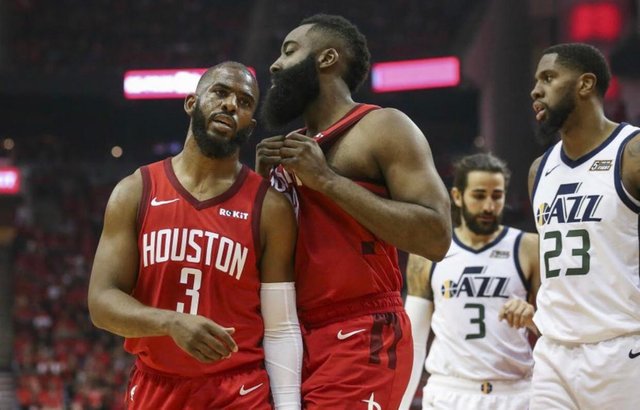 ---
Charles Barkley had an interesting remark during the TNT postgame. He said something to the effect of, "The Rockets don't make adjustments. Mike D'Antoni is a brilliant offensive mind, but they just never seem to make the necessary adjustments when things aren't working." A simple, matter of fact statement from the Chuckster that's applicable to yesterday's failures as well as Monday night's in Salt Lake City. I hope for the sake of entertainment, the Rockets learn to stray away from the math and adapt when the situation calls for it. Otherwise, it may another anti-climactic bump in the road in Golden State's path to a championship.
---
Thank you for following
@steemsports
and you can find me
@mateonav53
---

---

This is a
@steemvoter
subscription payment post. Thank you to Steemvoter customers for allowing us to use your Steem accounts to upvote this post by virtue of your free subscription to the
https://steemvoter.com
bot service.
@steemvoter
is proudly a
@buildteam
subsidiary and sister project to
@steemsports
,
@steemsports-es
,
@steemsports-ita
and
@minnowbooster
.