35th America's Cup Special Spotlight
White Knuckle Day
The second day of Challenger semifinal racing was spectacular, but not for the sight of breath-taking AC50 catamarans skimming over the beautiful blue waters of Bermuda's Great Sound at velocities approaching the speed of light. Rather, it was like racing had been transferred to the south coast of England in July. Conditions were grey, windy, with squally showers as the boats disappeared quickly into the mirk.
The main area of concern for all teams was the wind, approaching the agreed upper limit of 24 knots. These are boats that in ideal conditions can travel up to four times the prevailing wind speed, however there are limits as to how fast they can go without breaking up like space junk trying to return to earth. Travelling at 45 knots is like 90kph, with little safety or protection equipment. In sporting terms it could be compared to racing the Isle of Man in wet and icy conditions.
The course was extended by 2 legs just to add to the challenge and first away was Team Japan vs Artemis. It quickly became obvious match racing would be abandoned in favour of survival. Artemis suffered early damage in the extreme conditions and trailed Japan by some margin. Both boats appeared to be undergoing some type of reverse engineering as they unravelled and broke apart round the race course. Damage to Team Japan appeared only superficial as they successfully navigated the course to win easily. Artemis suffered more serious damage, unable to turn easily in one direction, and eventually withdrew on the second to last leg.
Next up was BAR vs Team NZ. The latter had suffered damage to their wing sail in the treacherous conditions during warmup and only managed to have their spare wing installed and back on the race course three minutes before the start of their race.
BAR won a close start and for the first time Team NZ looked initially quite unstable. Going down the first downwind leg, Team NZ skipper Burling was heard to say "we're out of control here boys, we're just going to hang on". One could argue the Brits on BAR were more at home in the rough and squally conditions and so it proved for the first 4 legs. However a sloppy tack early on leg five by BAR allowed the kiwis take the lead and eventually clear out for a very comfortable win to go 3-0 up. Despite the early instability, Team NZ recorded an outstanding fly time of 98.5% in these frightening conditions.
More drama in the next race saw Artemis unable to round the first mark and sail out of bounds. They then appeared to be stiffed by the chief judge who held the penalty on them for an inordinately long period of time while Team Japan sailed off into the Bermudan mirk. Team Japan held their boat together, looking composed for another comfortable win to go 3-1 up in the first to five series. Both boats left more bits of carbon fibre etc behind to add to the Great Sound's ecosystem.
The most dramatic however was saved for last. If the previous three races had been frightening, the rollercoaster was about to add another dimension.
Both Team NZ and BAR entered the start box early and received penalties. This was unique enough but paled in comparison to what was to follow. BAR did a great job boxing Team NZ in from the start line. BAR eventually beared away and as Team NZ got up on their foils to follow, their bows rose like the Hillary step, and almost immediately crashed back down, pitch-forking the boat into the water. Three members were "safely evacuated" from the boat as Team NZ skipper Burling dryly commented at a later press conference.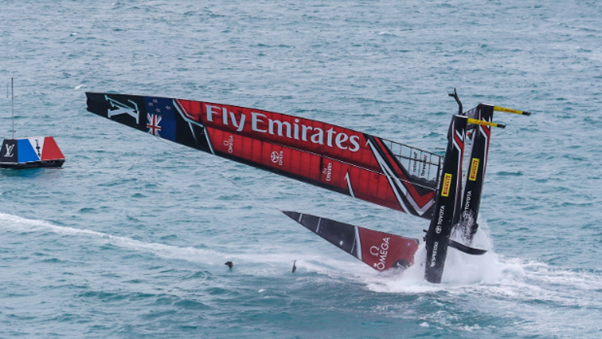 Photo: Courtesy of Stuff.co.nz GILLES MARTIN-RAGET/ ACEA 2017
It was drama at its best and Team NZ deserve a performance bonus from the broadcasters who now have millions more tuning into the event. BAR got their first win of the semifinals to trail 1-3.
This was the day America's Cup racing became an extreme sport.