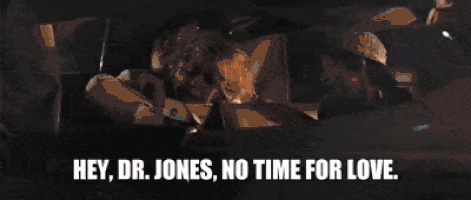 That's right Short round! No time for love, because Football is back, baby!!
For me that means THE Ohio State Buckeyes who began their 2018 campaign today with a big win over Oregon State.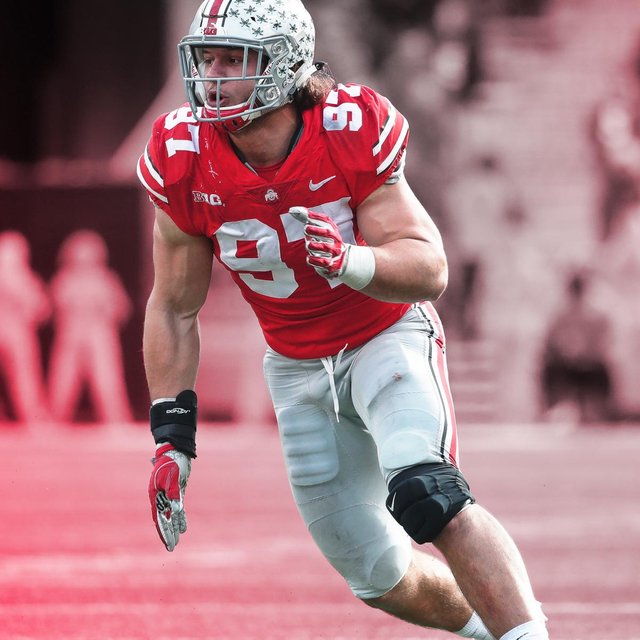 Nick Bosa - Picture from Bleacher Report
With a Defense led by Defensive End Nick Bosa, the Buckeyes are ranked fifth in the nation, and walked over Oregon State 77-31 this afternoon. The result was a little delayed when a thunderstorm ripped through Columbus, causing halftime to go about 90 minutes over schedule, but the result was already beyond doubt at 42-17.
The defense needs some work, having given up several BIG plays in the Secondary. But Bosa put forth his argument to being the best player in the nation playing a big role in several sacks, recovering two fumbles, one of which was in the endzone for a touchdown. The younger brother of Former Buckeye and current Chargers DE Joey Bosa is projected to be even better than his brother, and potentially the first overall pick in the 2019 NFL Draft.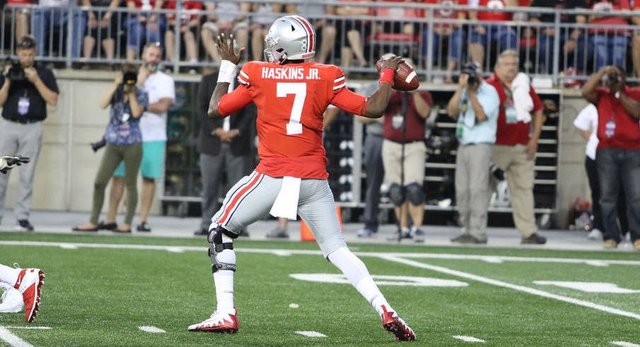 Dwayne Haskins JR - Photo from Eleven Warriors
There were question marks surrounding the offense after several big weapons headed for the NFL this off season. One such question mark was at Quarterback, where the talented J.T. Barrett had departed, making way for Redshirt Freshman Dwayne Haskins Jr. Haskins made the doubt disappear in a hurry showing off the type of arm that Barrett didn't have. He zipped passes in to small windows throughout the game, completing 22-30 passes with 5 touchdown throws and one interception.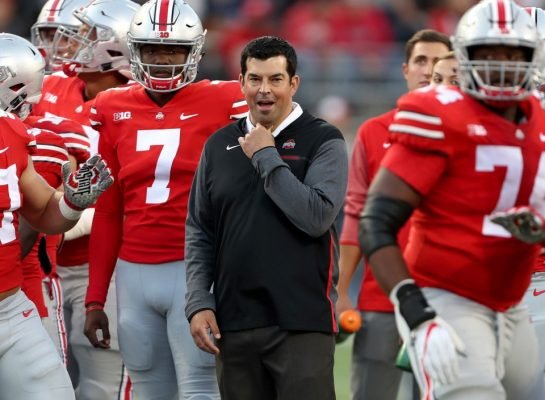 Interim Coach Ryan Day - Image from Waiting for Next Year
This off season has had some controversy, as coach Urban Meyer is serving a three game suspension for allegedly not being proactive enough in the handling of domestic violence charges against his former Wide Receiver coach Zach Smith. For those three games, the Buckeyes will be led by Offensive Coordinator and former Quarterback's coach Ryan Day. Day has an impressive resume with stops in the NFL and around the College landscape. He was even offered the OC position with the Tennessee Titans this year before opting to stay in Columbus. He was supposedly also offered a head coaching gig with an SEC school. There is little doubt he is a head coach in waiting, but how he handles three games at the helm of a team which is expected to compete for the National Title year in and year out will show if he is really ready to take the next step with a major team.
Opening day was not a terribly competitive competition except for the short time the score was 7-7 in the first quarter. Ohio State quickly put the pedal down and took control. And this was not some third rate school that could barely field a team like a lot of Universities schedule for their openers, Oregon State is a member of the Power Conference Pac 12.
So on we move to Rutgers next week, before facing off against a ranked opponent in TCU week 3. After that, Urban Meyer comes back and it is full speed ahead in pursuit of a national title!
Who is your team and how did they do with their opener?