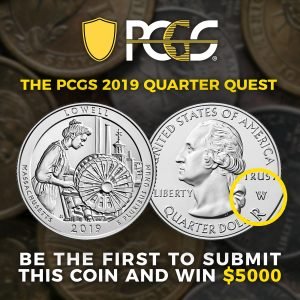 Especially if you are in and around the Tennessee area. So far I've heard of 2 people finding these Quarters and both are from Tennessee. PCGS was offering a $5000 bounty on the first one sent in to them to get slabbed. These coins are the 2019 "America the Beautiful" Lowell National Historical Park quarter.
Here is an excerpt from the PCGS article.
"By minting and then placing scarce West Point quarters into circulation, the United States Mint is allowing anyone the opportunity to collect rare coins from their pocket change. PCGS is happy to help collectors commemorate their early discoveries with special encapsulation labels and the chance for one lucky submitter to get a unique pedigree and $5,000 reward."
Do you know of any other pocket change gems like this to be found? Here is an article with a few fine examples. Top 10 Most Valuable U.S. Coins Found in Pocket Change
As @thedamus would say "Keep your Bananas Peeled!"
---
Proud member of #Steemsilvergold!