Gold / Silver ratio hints of a coming trend change
As the price of gold and silver continues to correct within their respective consolidation zones we are seeing a fall in the Gold / Silver ratio.
In a previous post (see below) we discussed how whenever the gold silver ration gets into the 80's it usually marks out a price bottom and precedes a large break out and price surge in both metals.
https://steemit.com/gold/@unclehermit/gold-silver-ratio-detailed-analysis
Let's take a look at where the ratio is today: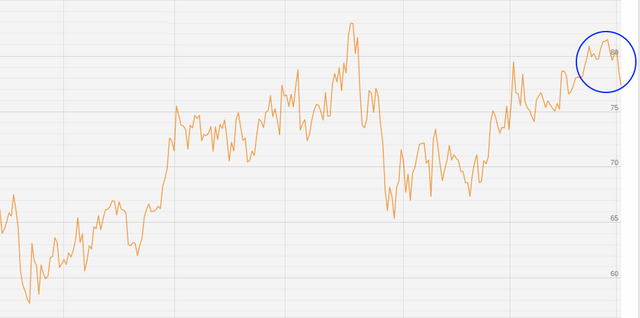 As you can see the ratio has turned down fairly aggressively over the past few weeks. At the moment this is primarily down to weakness in gold and resilience in silver. However, if the ratio continues to turn down it the likelihood is that strength in the metals will return. It would be highly unusual to see continued weakness in gold while silver remains resilient.
My view is that the consolidation that we have been seeing in both metals is going to come to an abrupt end in the very near future and almost certainly before September 2018. Given everything else that is occurring in the markets I think that the end of consolidation will result in a break out rather than a break down. In the short term however we may continue to see some choppiness.
For disclosure, I'm not a professional advisor and this is not investment advice, merely my own observations of the market and indexes, so do your own research.