Gold - An interesting technical observation
While we await some good news in the gold market I decided to take a slightly different look at the long term chart to see if there were any patterns emerging. I decided to look at the cup formation that started with the 2011 high to see if it was still valid. Although the price has broken down from the general up trend that started in 2015 there also appears to be a number of break downs and break outs that push up and down within the cup formation. Although this view does not rely on any theoretical technical analysis approach it is an interesting way to look at the chart. Using this analysis we might make an assumption that the cup formation will complete and the current break down is just a wave down which occurs to push the limits of the overall trend.
Gold cup formation: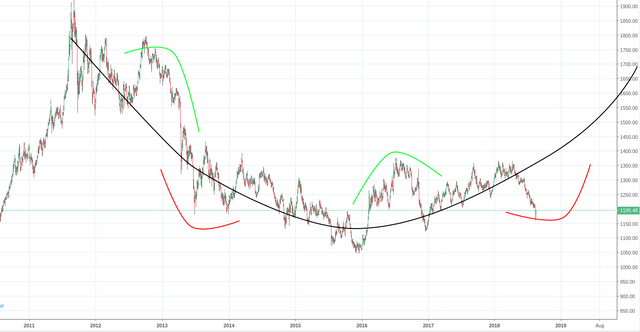 If this is the case, and the current break down is similar in nature to the previous break downs and break outs within the cup formation then we might also assume that it needs to resolve itself if it is to maintain the cup formation. To resolve itself it would require a powerful rally up to around the $1500 level.
It's an optimistic theory and there are no guarantees but in the current fundamental and geopolitical environment just doesn't seem to be supportive of a long and drawn out down trend in gold. It is my own belief that the price will bounce back at some point as the economic situation and debt problems escalate.
Dollar short term
Interestingly the dollar is breaking down to the bottom of it's up trend channel right now. Will there be some negative US news that pushes the dollar below the channel? If so we might expect a sustained break down in the dollar which would be supportive of a strong gold rally as suggested above.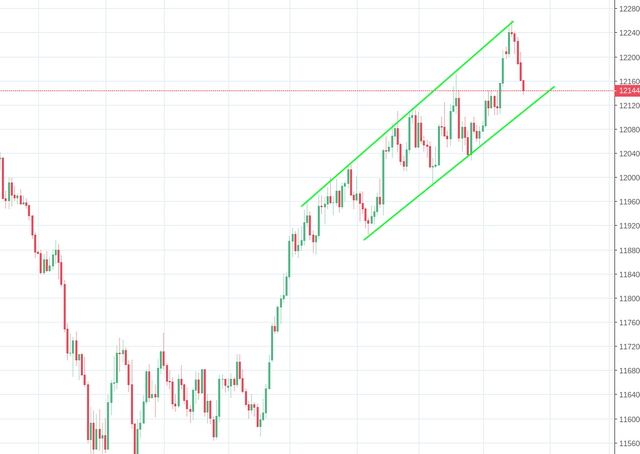 For disclosure, I'm not a professional advisor and this is not investment advice, merely my own observations of the market and indexes, so do your own research.