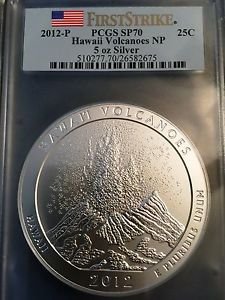 I started collecting bullion and coins about five years ago. I was looking for a way to ensure my families survival in case of an economic collapse or similar. it turned into a true passion. I had made some mistakes in my life and was finally back on my feet. After almost two years of religious weekly bullion purchases and graded coins when I could. I finally had a chance to get a real badass coin. I had gotten my taxes back and was watching an ebay auction for the pictured 2012P America the Beautiful Hawaii Volcanoes 5 oz SP70 coin. Mine was a Mercanti signed one though, the one pictured isn't. I won the auction with a last second bid of $875.00. I would receive the crown jewel of my collection in about a week. After this one I got the Denali, Yosemite, Yellowstone and white mountains 5oz coins of the same set. I was on my way to a serious collection. This collection was kept in a small safe in the bottom of my closet. During this time I also found a love for wheat and indian head pennies. I would buy rolls by the box and spend days searching through them. all this effort paid off with finds like a 1922 no D a 1931S and a 1909s indian head.
I came home from work one Friday afternoon to find my front door wide open, wheat pennies all over my driveway and my bathroom window smashed in. As I walked through my house (rental) my heart sank to the floor when I noticed all the items from the closet all over the bedroom floor and my little safe was GONE!!. I had thought about bolting it but didn't want to lose my security deposit for putting holes in the floor. later on id find that this wouldn't have mattered anyway. So just like that, two years of working ten hour days, side jobs on the weekend and scrapping any metal I could find was gone in a flash. Estimated value of over $30,000.00 . . . gone. They didn't get everything though. I had some 1950s and early 1960s proof sets and mint sets along with some good pennies and my crown jewels , the 5oz ATBs, in a shoebox on a shelf. Kind of a diversion safe.
The police were ZERO help. I wont get in to that now. Later that week I want out and bought a large gun safe and bolted it to the floor. I had done the math and $800 security deposit was less than $30,000 of gold silver and coins. I started rebuilding my stash. Within three months I had somewhat mentally and emotionally recovered. I had the beginnings of a decent collection again. I had returned home from visiting my parents around 8pm one night. I unlocked the door and saw my little terrier mutt looking at me from under the table, usually he is going crazy to see me. As I walked over to see him, something really hard hit me in the side of the face. with the taste of blood in my mouth I stumbled and saw a tall masked figure pointing a pistol at me. Without even thinking my combat training kicked in and I lunged for the weapon. From my blind side came another smash to the face followed by knees and elbows and fists. Another pistol wielding masked bad guy. Reality settled in and I knew my daughter was out with her mother but I didn't want to end up fatherless over some coins and silver. I was forced at gunpoint to open my safe. Once it was opened they threw a bed comforter over my head and knocked me to the ground. a knee with roughly 180 lbs behind it was buried in my lower back and the business end of the pistol dug into the back of my head while the other guy helped himself to all my hard earned loot.
This time I was wiped clean. Financially, physically, mentally and emotionally.One again the police were useless, threatening to arrest me for firearms they found in my house during the evidence collection. the guns were legal. I couldn't afford to fight a legal battle at this point, especially from jail. They said if I drop the charges then they can not persue the guns that were found in the house.  This incident really put me in a bad place. The post traumatic stress for my Marine Corps combat tours came back with a vengeance. I had gotten laid off from work  about a week before . This was my lowest point in a long time. After a short case of the poor me's, I was back at it again, finding a good lawyer to file my divorce. I had learned that it was my wife that had told people where to find the safe the first time and told them the second time when to be there to get me when her and my daughter wouldn't be home. what gave it away was the second robbery. I had to unlock the front door. there were no signs of forced entry. somehow they got a key. well, there is only one other person that had one other than me. She never admitted it but, she never denied it either.

I started buying silver again about a year ago. I don't keep it in my house anymore. Not much anyway. I never told anyone but her what I bought. Obviously I don't tell anyone anything now. I don't know why I wrote this. I didn't intend to tell this story when I started it. this is the first time ive really opened up about the whole drama saga even if it is to millions of total strangers. Its progress, it helps. even if no one reads it . Nothing in this story is dramatized or embellished. this is a true story of events that happened to me in my life.