Continuing yesterday's article we will show you the next three coins of the 2014 "O Canada" series.
Their nominal value is $10, with a 99.99% silver purity and weighting 15.87g each. They have a Matte Proof finish.
The first is "Down by the Old Maple Tree".
It celebrates one of the joys of a Canadian childhood. A young girl with pigtails holds merrily onto the two ropes holding her board swing, smiling gaily down at the viewer, who sees the scene from the point of view of someone looking up from below. The swing's ropes are tied to a thick, sturdy bough, leading the view upwards through the dense canopy of the iconic sugar maple. The scene is framed on the lower right side of the image by a group of maple leaves rooted close to the ground.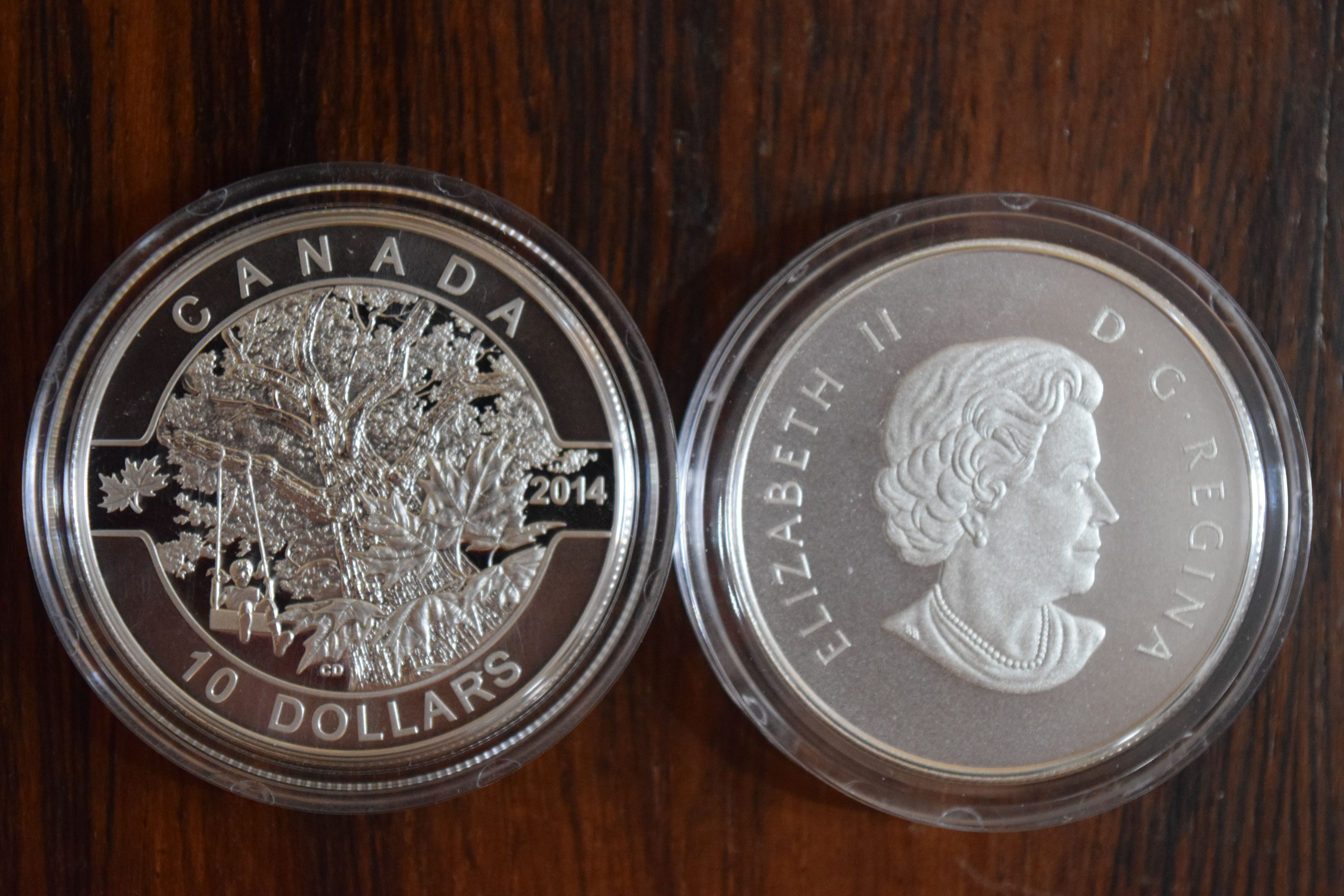 The second coin is the "Canada Goose".
It presents an image of a Canada Goose in its natural habitat, its wings outstretched in a stance expressing dominance or warning. Viewed from the back with its beautiful wings rendered in fine detail, the goose looks out across marshy waters, its long neck and graceful black head held high. It stands on its legs with its black-tipped white tail raised above the water. Marsh reeds dot the water on both sides of the goose and poke from the water's surface in the background.
The third coin is the "Canadian Cowboy".
It presents a Canadian cowboy on horseback surveying the land west of Okotoks, Alberta—in the Rocky Mountain foothills south of Calgary. The cowboy wears the characteristic cowboy hat and fringed suede breeches of his profession and sits high in the saddle. In the middle distance behind him and on the right of the image roam a few members of the herd of cattle he is carefully watching grazing on a flat, grassy plain. Far off in the distance, looking westward, we see rolling foothills leading to the sharp, snowy peaks of the Canadian Rockies.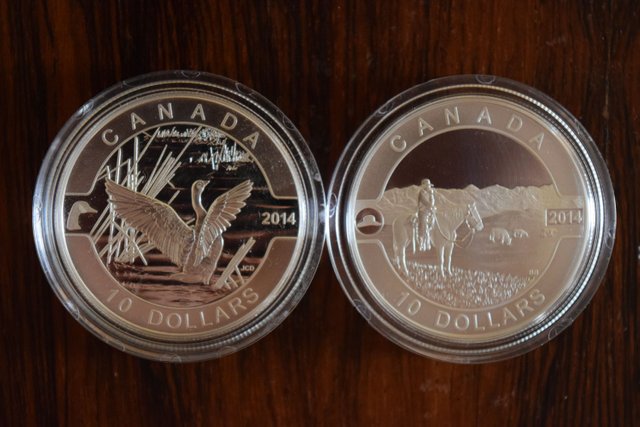 Tomorrow we will show you the last three coins of this series.
Thank you for reading. Please comment, upvote, resteem and advise me.