One Hundred to One, Reset...
My P.C. Theory isn't about "inflation' or "deflation"...
It's not about any Melt or Burn Value of Money...
It's about the Money-Tool we use to Measure Value...
I figured out a way to "remove and replace" all Federal Reserve Notes and Pay off the interest on the National Debt...
None of the Financial Guru's are aware of my Theory yet...
They're all pretty much speaking in terms of Pre-Pocket Change Theory...
If you're reading this, I think you should come over and read a Dozen or so of my Older Posts...
I have at least 360 posts that take a Peek at my Theory from different angles and points of view...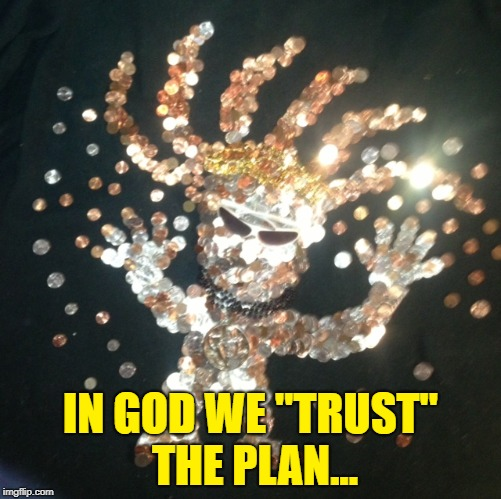 The Basis of my P.C. Theory can be found in Article 1, Section 8 of the United States Constitution...
Congress has the Power to Coin Money and "regulate" the Value thereof...
That is the Foundation upon which a new U.S. Trade Dollar and the U.S. Crypto-Dollars and Decimal Cents shall be Built...
The Plan is to Remove and Replace all Federal Reserve Notes...
World Wide...
Money is a Tool to Measure Value...
It can be Paper U.S. Trade Dollars, Physical U.S. Coinage or U.S. Crypto-Dollars and Cents...
One Cent will have the same Purchasing Power as the soon to be removed Federal Reserve Note Dollar...
No one will lose Purchasing Power, due to the Reset of all U.S. Coinage...
Any Ledger Entries, Bonds, Savings and Loans and such, will all be Reset using the Reset Purchasing Power of all U.S. Coinage...
If you're currently earning 25 Dollars per hour, it will be Reset to 25 Cents per hour...
It's an "Everything of Value" reset...
If my Pocket Change Theory is correct, it will be a United States Monetary Reset, and the Biggest Transfer of Wealth the World has ever seen...
Feel free to comment, up-vote and resteem...
IN GOD WE "TRUST" THE PLAN...