Yup... I finally have some Silver to show off during one of these smack down events. A little bit of @pit-bullion poured silver does the body good for sure.
So while there are people out there with 10+ pieces of Pit's fine pours, I came to the game late. In fact, I almost missed the show entirely, since our favorite silver pouring dude has been out of commission for awhile. But thanks to his willingness to get me a special piece poured, and a little bit of good luck in shopping at @raybrockman's RCS sales, I have four pieces to share with you.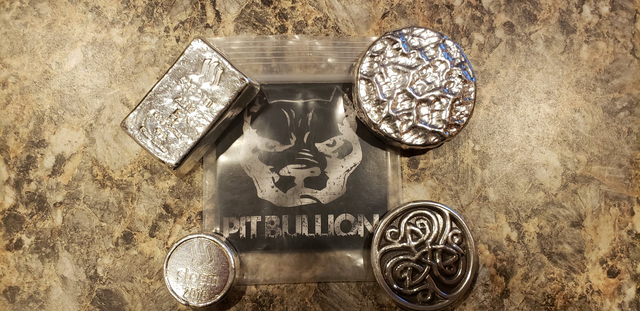 So what have we got here? Let's start with the first piece I acquired. I didn't even buy this piece from Pit. In fact, I've only bought one of the four directly from Pit. This first one was a contribution to the first #steemsilvergold Monster Raffle, Donated by @armshippie I picked up the 2018 Poured 1oz Steem Silver Round.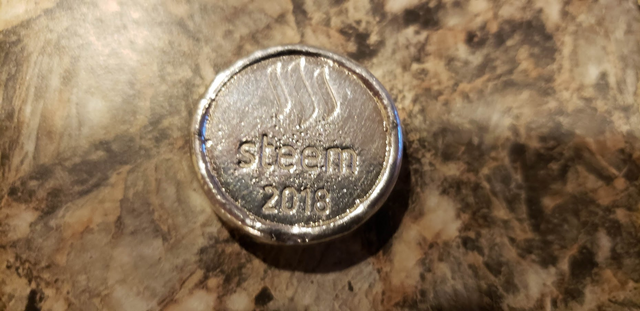 This is a terrific little slug of silver. Poured silver has so much character compared to coins. Each one has it's own imperfections that make it unique. I carried this piece around as my pocket silver for awhile, until I thought I had lost it, once I found it again it went back in my case for safe keeping.
After getting the 2018 Steem Round I found myself looking at what Pit had on offer, he came in to the SSG discord and was offering up a new Prototype Celtic Trivium. I'm awfully proud of my Celtic heritage, so I was anxious to get my hands on the piece. Unfortunately, I was about two minutes late on claiming the prototype, but Pitty offered to pour one for me. So Instead of a P on the back, I got #1. I'm good with that!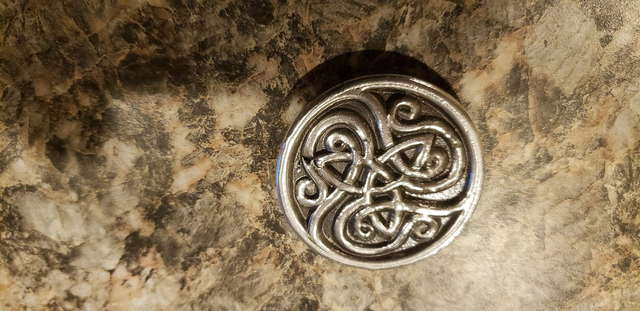 That's 2.2 ounces of awesome blackened silver action right there.
Finally, the ole RCS offered an opportunity to get my hands on a couple of pieces that I probably would never have had the opportunity to get otherwise.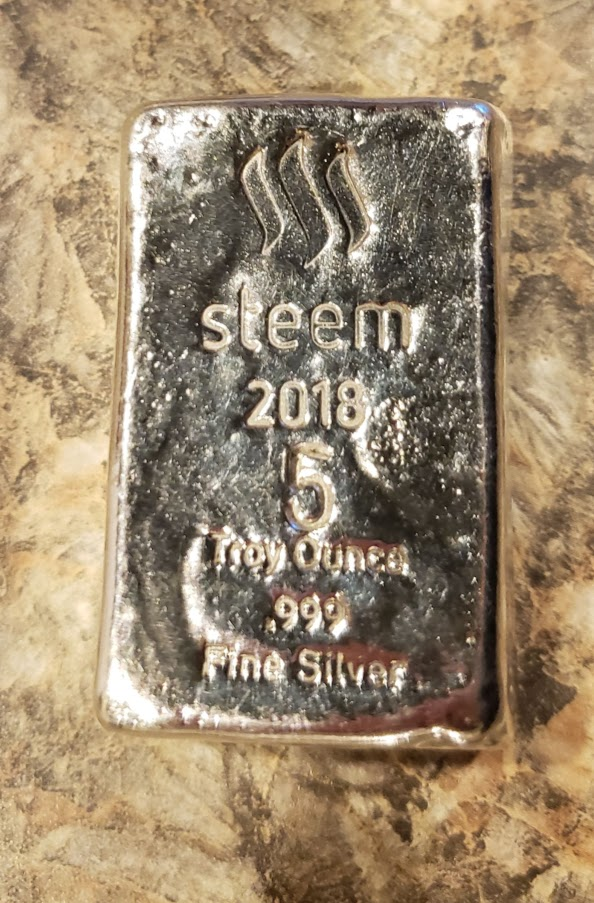 Another 2018 Steem pour. This one of the 5oz variety. This chunk of metal lets you know you are holding something significant. This particular bad boy is #2 of the 5oz pours Pit did for this year.
Finally, we have my Peppermint Patty...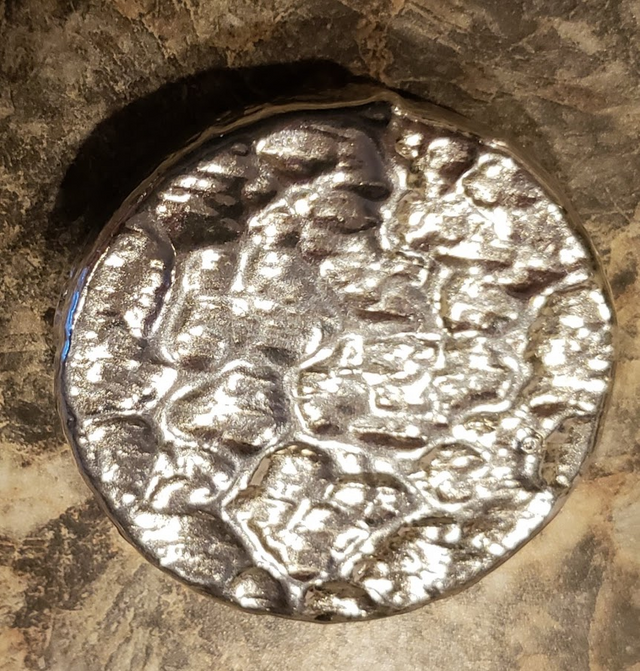 This right here is 4.8 oz of wood poured silver. Stamped as #6, I imagine all of these pieces are unique. I call it my peppermint patty as that is the way it feels in the hand. Like one of the small Peppermint Patties that people give out at Halloween. It's an awesome piece that I almost didn't buy, as it was part of the same sale as the 5oz Steem pour and I felt a little over committed on my payment, but it is an awesome addition to my stack.
So there you have it. 13 ounces of Pit-Bullion goodness. It may not be the biggest stack of his pours, but this stack is mine. And I love it and squeeze it and call it George. hahaha.