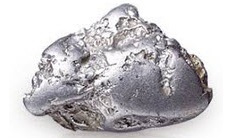 Source
Palladium is the unknown Precious Metal that is probably next in line behind Platinum. I had a look at Platinum yesterday and I think I talked myself out of investing in it, while many comments from other stackers started mentioning other Precious Metals that I know even less about. So today I thought I would have a quick look at Palladium, symbol Pd on the periodic table.
Price History

Source
Palladium is also currently cheaper than Gold but its recent price history is interesting in that it seems to be more closely correlated with the stock market and other commodities rather than Gold or other Precious Metals. We see here there is a big peak just after the dotcom peak in late 2000 with troughs corresponding to the subsequent lows in the S&P 500 in July 2002 and after the GFC in January 2009. It has been climbing alongside the S&P 500 ever since. It is currently sitting at record highs at $1,127.80 USD per ounce, alongside the record highs of the US Stockmarket. So it has been behaving more like a Commodity than a Precious Metal from a price perspective.
---
Products

Source 1
2
3
Palladium products can be hard to find. There are a few coins such as the Australian Palladium Emu that was only minted from 1995 to 1998 which can be so rare they will carry a hefty premium. The Canadian Mint has been minting Palladium Maple Leaf coins since 2005 and recently the US Mint has started minting a Palladium American Eagle. There are also some nice minted bars from Credit Suisse and Baird & Co.
---
Industrial Uses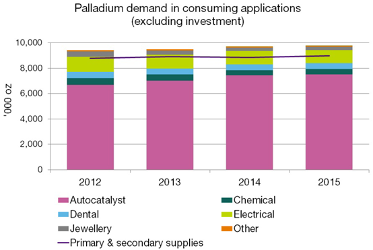 Source
Approximately 90% of Palladium demand comes from Industrial Usage which goes some way to explaining why it's Price History looks more like a Commodity and tracks the S&P500 rather than other Precious Metals like Gold. Very similar to Platinum in that a lot of this Industrial Usage is for manufacturing catalytic converters in vehicular emission control units. Also just like Platinum it has an array of medical uses, which is not that surprising since these Precious Metals have a lot of common properties. It is interesting that despite the significant similarities there is a divergence of price between Platinum and Palladium which might suggest the two metals are competing for Industrial Use in the Automotive Industry.
---
Paper Palladium

Source 1
2
Just like Platinum there are Allocated and Unallocated accumulation programs offered by Bullion Dealers. There are Exchange Traded Funds for Palladium available on most major stock exchanges. Mining companies with Palladium prospects can be hard to find and they usually have other metals in their portfolio. The biggest is probably Norilsk Nickel which accounts for 41% of global Palladium production but with such a broad range of base metals it can be near impossible to find a pure Palladium play in the mining sector. Sometimes it is possible to find ETFs which are made up of mining companies with a particular commodity focus, but I haven't been able to find one for Palladium.
---
Before researching this post I didn't know much about Palladium but I am finding myself intrigued by this Precious Metal. The idea of adding a something to my stack which has a correlation to the stock market is an interesting concept. I feel like I should be doing a bit more research into catalytic converters to see if I can figure out why there is a price divergence and whether Platinum is a better buy because it's undervalued, or whether Palladium has a better long-term future as an Industrial metal even with the impending electric car boom. That said, if I can find a Palladium Canadian Maple of American Eagle locally with a reasonably low premium I might grab one.
What do you think? Is Platinum or Palladium a better buy?
---


Images and Credits
http://www.westendcapitalmanagement.com
https://www.moneymetals.com
https://www.apmex.com
https://www.kjc-gold-silver-bullion.com.au
http://www.gold-eagle.com