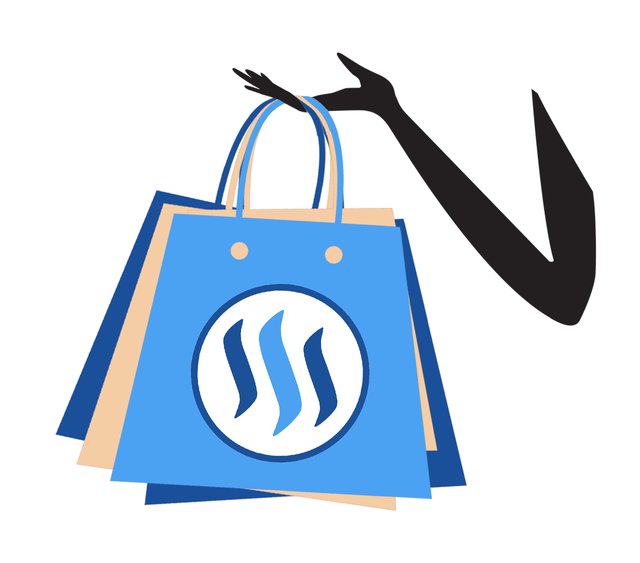 We all love simplicity right? That's why we at @steemshop have teamed up to bring you the simplest possible system to buy or sell anything using Steem or SBD.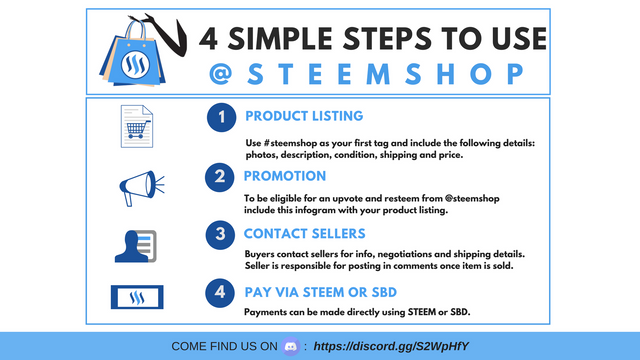 This infogram was kindly produced by @hungryhustle
The Team
Created by @samstonehill 16 months ago @steemshop aimed to keep this 'anything goes' marketplace on Steemit, permitting us to spend our STEEM & SBD earnings without having to leave the platform.
In the last 3 months the much needed team has arrived, giving this project renewed energy and wider world coverage:
@samstonehill (USA & Europe)
@kenistyles (USA, Europe & Asia)
@claudiaz (South America & Europe)
@hungryhustle (Asia)
The Community
Discord is now our main server for all things @steemshop where you will find buyers & sellers discussion groups, general chat & post promotion.
Discord link here.

The System
In order to keep this marketplace growing we have implemented a system of including the '4 simple steps' infogram with your product posts, using #steemshop as the first tag. In this way you will be eligible for an upvote & a resteem into @steemshop giving you that wider audience you seek.
The upvote & resteem service will remain FREE until the @steemshop account reaches 1000 followers.
Buyers contact sellers under their product posts and when the product is no longer available it is the seller's responsibility to indicate this in the comments.

The Guidelines
While you are free to advertise your products any way you like, by following our guidelines you will be more likely to connect with a buyer.
Make sure to include:
PHOTOS (multiple angles if it is a physical product)
DESCRIPTION (include as much info as possible)
CONDITION (is there anything you want to tell us about the condition?)
SHIPPING (what is your location & weight of product?)
PRICE (to avoid fluctuations in STEEM/SBD list your price in USD)
It is the responsibility of the buyer and seller to make the appropriate arrangements and honour them.

The Future
When @steemshop achieves over 1000 followers, we will introduce a fee of 0.1 SBD for the resteem service.
This will be increased by 0.1 SBD with every further 1000 followers, giving @steemshop greater voting power and the ability to give back to those who choose to advertise their products with us.
The Premium Service
Collectively the @steemshop team have over 10,000 followers and for a fee of 1 SBD you will be resteemed by all of us.
You will also gain entry into the weekly @steemshop 'magazine' which features selected products.

Other ways to be eligible for an upvote, resteem & more:
Always make sure to include the '4 simple steps' infogram with your posts and use #steemshop as the first tag.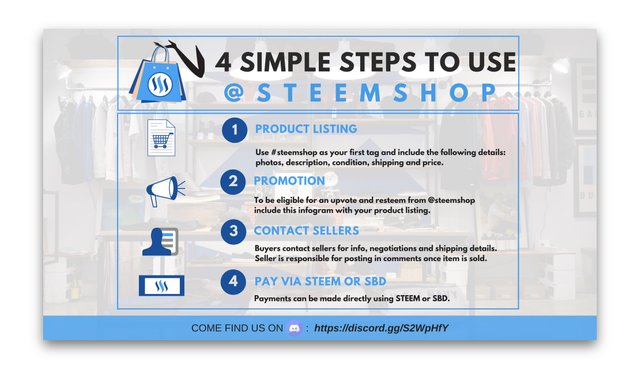 If you are looking for colourful and creative ways to spice up your posts with @steemshop branding you will find a zip file of goodies on Discord