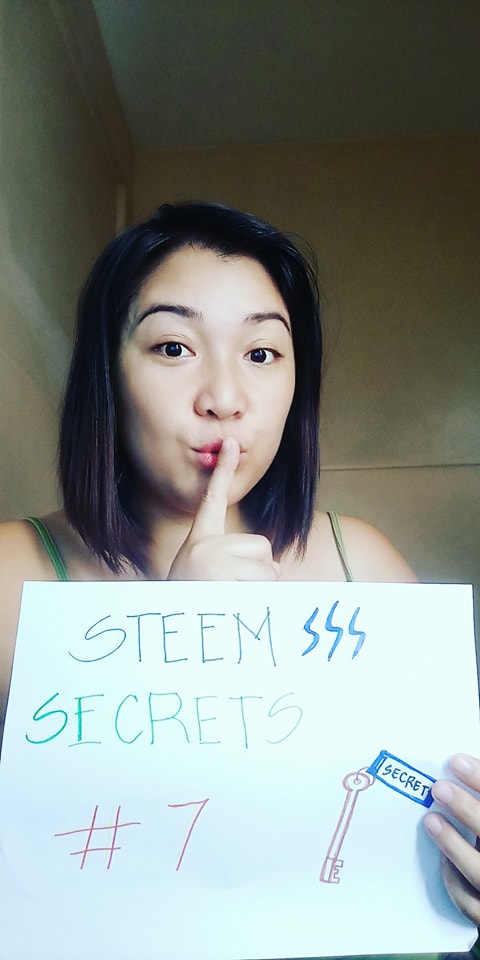 Good day Fellow Steemians!
Let me give you my testimony like I'm talking in front of you. Let's just imagine that we are in a big hall, and I'm standing in front of everyone who are ready to hear about what I am going to say and the person who is next to me is the person who never failed to give his full support to help everyone. I apologize for my English. 
Hello, I'm Rina, @zoeroces is my steemit name. A wife and mom of a beautiful 4 years old girl. I'm one of the steemians who was featured and became a part of #steemitsecrets. And yes, a lot of my fellow steemians are asking how I became a part of it.
When it was my first month in steemit, I never expected anything at all. I thought it would be just ordinary tasks online every day. Like I'm just going to make a blog and then post it. Until my friend told me that he will be adding me in some facebook messenger group chat. I agreed to him and yes, I met a lot of wonderful people. At first, they never noticed my presence; well I think that was normal because I was just new to their GC (group chat). Until days had past, I became comfortable talking, making jokes and laughing with them. In there, I discovered different kind of people but all of them are so generous and helpful. Some of them are artists, poets, good writers, photographers, singers and many more. I was able to join some of contests because of their help too. I felt like I instantly got a new family for just a month. I never expected that I will be enjoying everyone's company even if it's just online.
HOW I KNEW ABOUT @surpassinggoogle?
There's this first time that everyone was talking about someone. Someone they call a whale who never failed to support everyone. Someone with a steemit name @surpassinggoogle or Terry is his real name. But I never bother to ask more about him that time. Until he greeted everyone in GC, so I joined them. We were having a good time and laughing with him. I even asked him if who will be his valentine but he said he will not going to have one because he is too busy doing important things that even sleeping is impossible for him. I didn't bother to asked more so I just left it like that. But I left him a message saying thank you for being so supportive to all of us Filipino.
HOW I BECAME A PART OF STEEMSECRETS?
Well, it was February 14, valentine's day. I woke up in the morning and for me it was just an ordinary morning like I used to wake up. I grabbed my phone and checked my steemit account like I usually do and yes nothing really special. I sighed and just seated there for a minute when suddenly I heard my phone's notification sound. I grabbed and checked it. I was surprised when I saw that Sir Terry messaged me. I was so excited reading it. At first, I can't think of anything to reply to his message "are you free now?" I stopped for a second and then answered "how may I help you, Sir?" and never thought I will make him laugh when I asked him like that. Haha! He asked me to do a video of #steemsecrets and that's how I became a part of it.
WHEN MAKING THE VIDEO
I never had an idea about everything until I checked #steemsecrets and red some about it. That time it gave me knowledge so I agreed to him and tried to take my first step of recording the video. I was having a hard time doing it but since Sir Terry said that flaws are allowed, I took a deep breath and tried my very best to deliver the words. It actually took me 5 hours and 10 takes. There are moments too that I was laughing at how I pronounced some words but I never gave up to try again until I was satisfied about it. It was actually hard at first and I never liked looking at myself in a video talking, never before. But that time, it was different. I felt like I was doing it because I have a mission for humans to know something that will give changes on how they look at things and give them more knowledge about it. I felt so proud of myself that I've done something so special for @surpassinggoogle in return of his kindness not only to me but to everyone.
WHO IS @surpassinggoogle ANYWAY?
Well, for me @surpassinggoogle or Sir Terry Ajayi, is a man who doesn't know how to sleep. :P A man who is not selfish at all. I have never met a person like him. A person who can't say "No" to anybody as long as he can do it, he will. A person that willing to give all his time just to help everyone. He became my eye opener, actually. I even told him that I'm not good at somethings but he believes in me. While talking to him, I shed tears without me knowing it. Well, who thought someone will just popped up and say something like that.
Like I said in #steemsecrets, "sift even the apparently not-so-good to find good in it."
Although he doesn't know much about me, he believed that I have something that I haven't discovered yet. He believed that I am a strong woman that despite of my chubby figure, I'm still sexy inside. He made me believe that every human has their own ability to do something that they haven't discovered yet. He got this huge heart for everyone that you can't really even measure how big it is. He doesn't like to leave anyone behind. Like when everyone is walking in the middle of winter time and people are looking for shelter, he always make sure that everyone is safe while walking with him. I'm not sure if God sent him to help people, to make them realize that there are still people like Sir Terry, willing to give his all. I learned a lot from what I said in #steemsecrets that understanding is very important not only in steemit but even in the outside world. Because if you don't know how to understand humans you will never shine and you will never be the better person you wanted to be.
Once again, I'm Rina, my steemit name is @zoeroces and this is my testimony being a part of steemsecrets.
Have a blessed day everyone.
These are the list of #steemsecrets that everyone can read to give us more knowledge.
Steem Secrets #1 Delivered By @sunnylife
"You Are Whale To Me!"; This Is Where Your Steemit Journey Should Begin.
You know, while you eat yourself too much about how much you earn or how much you don't earn, "a whale" is likely unshaken because, "he is a whale". So you have to establish, that beyond the existence of things like steem power etc, you can still function because "you are a whale!"
"You are whale to me!".
Steem Secrets #2 Delivered By @ankarlie
"You Own Steem". We Take Steem To The Moon.
"if you own steem and you are here gidigbamly as owner, then why should steem fail?"
Steem Secrets #3 Delivered By @enjieneer
"Rewards" On Steemit Involve Way Bigger Things Than "Money". Abeg, Shine Your Eyes!
So don't let today slip emptily by!
Go back on steemit; incessantly "mine with your mind" in the midst reputable of reputable great minds; evolve in your substance and let's see if even "steem" will not seek you out.
and if steem doesn't seek you out, opportunities will!
Steem Secrets #4 Delivered By @gerel
Shake The Steem Blockchain With A Piece Of Awesome "YOU", For "There Was Life Before Steemit".
And what if you don't earn money today?
"No loss", because you were able to shine still and you know what? "There was life before steemit".
Steem Secrets #5 Delivered By @allerie00
Much Of The INTEL That You Will Need, To Attain "Steemit" Success, Lies In "History".
if you give additional value to the "beauty" of a "steemit" that you have now, then, to that, you add the "valid valuable illusion" that, "steemit" is the same as it was in the past and pretend that you had only "you" and "your very next steemit post" as your only arsenals to succeed, "you will attain more testimonial steemit success in the long run!"
Steem Secrets #6 Delivered By @itsjessamae
The Rarest INTEL About Steem Wallets. For Success Even On Steemit, "Respect" Is Involved.
Be whale inside-out.
Identify that being minnow is no stumbling block as "true influence" can be attained by virtue of "YOU".
"The idea is let everyone be whale to you because you are whale to me".
Steem Secrets #7 Delivered By @zoeroces
To Really Shine On Steemit, You Will Need To Be Slow About "Conclusions"
To really shine on steemit, you will need to understand "humans", involve some "history" and sift even the apparently not-so-good to find good in it; because overall, many things on steemit are subjective, because even in a community of reputable "humans", what you may not like; others may favor!
Steem Secrets #8 Delivered By @athenabree08
To Succeed On Steemit You Will Need A Lorry Load Of Foresight. See This Rare Intel!
Open your eyes! Shine your eyes! For, it is not about looking too much; "it is about how much you can see!
Steem Secrets #9 Delivered By @theree2389
On Steemit, There Is "Opportunity"; "The Tip Of The Opportunity" & "Lost Opportunity". Which Will You Have?
You can have already lost an entire "breakthrough opportunity", without ever knowing you did, within the space of one simple-looking conversation.
So, be slow about speaking.
Pace things out aright during conversations.
Steem Secrets #10 Delivered By @thereikiforest
On Steemit, There Are Bigger Things Than "Quality Of Content". Digest This & Your Posts Will Start Trending!
That your posts doesn't earn well, isn't a reflection of its quality.
Comparisons thus, can help you improve, but don't compare just content.
If you are to compare at all, compare "value" but since you have no real measure of this "value"; keep in mind that there are bigger things than content and value;
"YOU!"
I took a video of me singing "Thanks to you" by Tyler Collins to dedicate to everyone specially to Sir Terry. Thank you so much and God bless
Please support @surpassinggoogle as a witness by voting him at https://steemit.com/~witnesses and type in "steemgigs" at the first search box.
If you want to give him witness voting decisions on your behalf, visit https://steemit.com/~witnesses again and type in "surpassinggoogle" in the second box as a proxy.
Please like @teardrops on Facebook and Twitter:
• https://www.facebook.com/teardropstokens/ •
• https://twitter.com/teardropstokens •
Thank you so much for my families too,
#steemitachievers, #steemph, #steemitdavao #sa-radio #untalented and #steemunity