How to convert your STEEM without KYC? Use SteemScan!
Do you remember Blockctrades? You could trade there STEEM for various cryptocurrencies without any registration process or KYC. While STEEM is not supported on its web app, there was a need for some kind of a solution.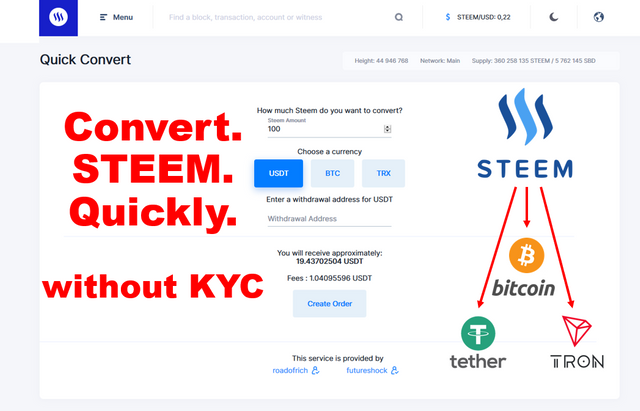 I am really glad that SteemScan came with that. I already tried and it's super easy. And it works!
Converting STEEM easily and quickly
I tried it already twice, but just with a small sum. As some of here below mentioned possibilities of conversion. In the second time, for some reason, the transfer was canceled (wrong memo of the transaction), but the funds were 100% returned, so that is good to know for the credibility of the SteemScan. I wouldn´t be happy if my funds were frozen somewhere in between blockchains.
Bitcoin
Bitcoin is the king of crypto and I am glad that there is a possibility to use BTC. Some people have just bitcoin besides STEEM, so for them, it is a great chance to get it.
But for BTC, the fee is quite large and it even doesn't make sense to convert small sums. But for big amounts, BTC is a great thing, because it is still one of the most secured blockchains. And BTC is in all crypto exchanges if you desire to trade it.
USDT
USDT is not that good for very small sums. But still, you got USDT without KYC from your Steem account and that counts. I tried this possibility and it worked well.
The advantage of USDT is that it is also used in many crypto exchanges. My USDT transactions went through within a few minutes, which is not bad.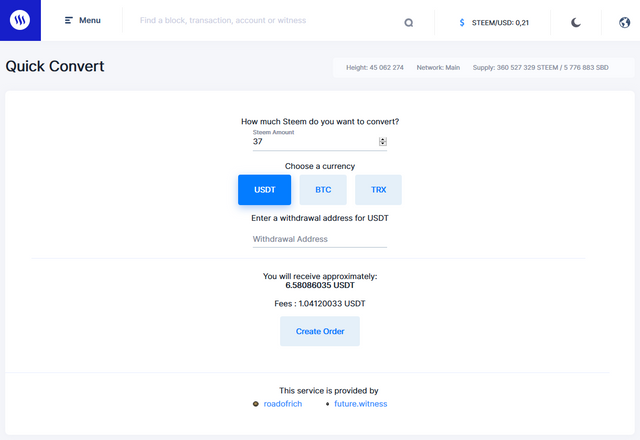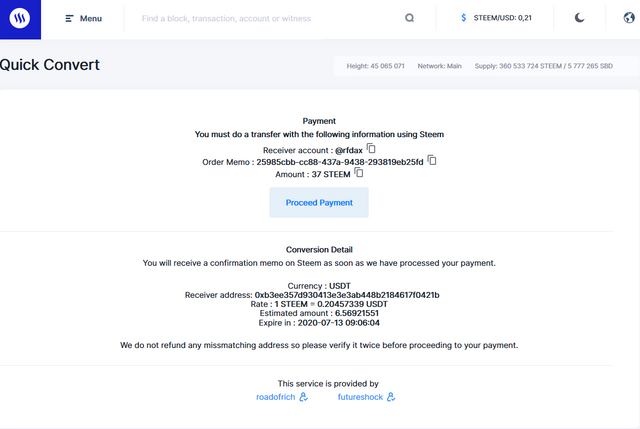 Tron
TRX worked well, with a low fee, without KYC or any registration process. TRX is the best for small amounts. But the disadvantage could be that TRX compared to BTC is not used in all the exchanges and crypto-wallets.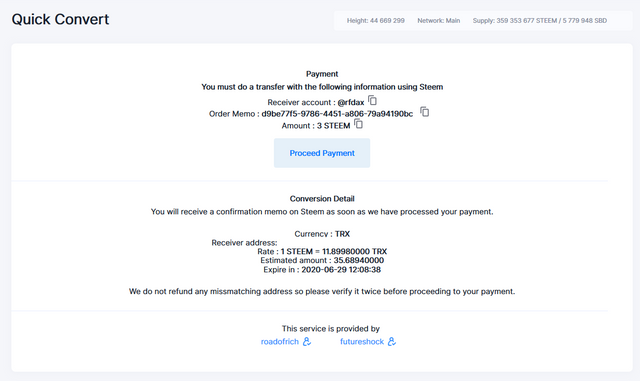 KYC free
Every time, you send your passport copy or sensitive data to some crypto-space, you feel uncomfortable. You have a reason. There are leaked data all around the internet, IDs, credit card numbers, email credentials, photos of users, and many others.
Sometimes you just want to feel confident at least a little bit more than usual. And there are services, which don't require KYC and AML processes still.
SteemScan is one of them. This is one of the big advantages I can see in this space.
User friendly frontend
When using difficult and long loading web pages and services, you feel annoyed sometimes. Also, websites, where you need to search a lot before you actually act.
With SteemScan, the conversion process is super easy!
Dark mode? No problem. Yes, some people love dark modes and it also saves your screen and your eyes at the same time. The option of the dark mode is very welcomed nowadays. Good job there SteemScan!
Conclusion
SteemScan seems to be a solid choice for you to convert STEEM to other cryptocurrencies. As I already mentioned several times in this article, the no-need of KYC is the biggest advantage in my eyes. Variability of cryptos you can use is good for everyone, so you can pick the one which fits you best.
I am not sure if the fixed fee is a good solution because of the BTC sending, but I understand why it is. There are advantages and disadvantages to this option. But certainly, fixed fees are making this tool an excellent option for larger Steem accounts.
When you have a small account or you just want to transfer a few pennies, just use different cryptocurrency, like Tron for example.
I would love to see more currencies added of course, but as I understand, this is just a beginning and few more will come. I would suggest those with low fees so it makes economical sense for the traders. So ALGO, ADA, XRP, EOS, and maybe Litecoin.
Also, if USDT could have a possibility to use Tron TRC20 or Algorand USDT, that would make even USDT much cheaper for smaller amounts I would say.
I look forward to seeing the SteemScan project grow.