[SteemPunks] Important notice about Genesis Mint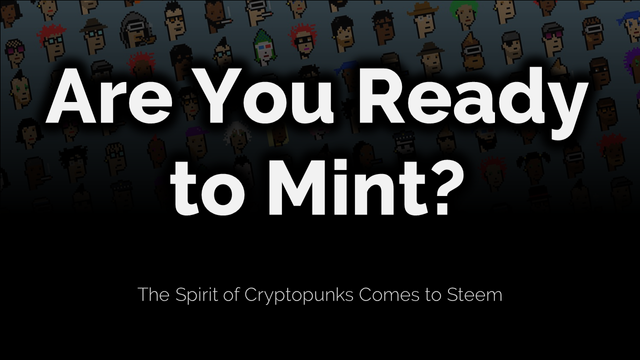 Hello Punks👋 Before launching SteemPunks, we would like to inform you about important thing that users need to know as follow.
Previous Post about SteemPunks
✔️ [SteemPunks] The 1st Generative NFTs are coming to Steem!
✔️ [SteemPunks] FAQs and Rarity information Disclosure
✔️ [SteemPunks] Official website release! (Genesis Mint D-1)
General Info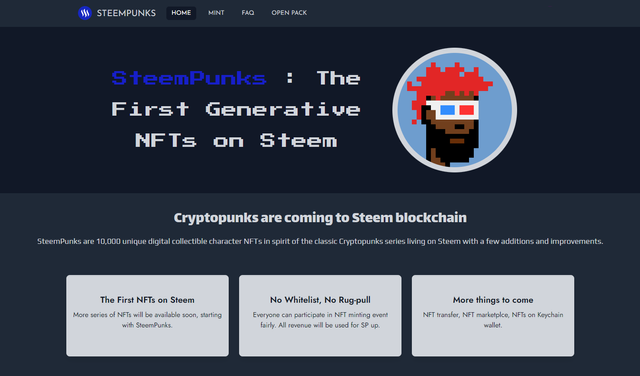 Website : https://www.steempunks.xyz/mint

Wen sir? : Today(Mar, 17) 21:00 KST (12:00 UTC+9)

Pack allocation : 1st round 100 packs / 2nd round 300 packs / 3rd round 500 packs

Price per round : 1st round 300 STEEM / 2nd round 400 STEEM / 3rd round 500 STEEM

Essentials : Steem Keychain (Chrome extension or Mobile app)
⚠️ The method of logging in by entering the PRIVATE KEY directly is not supported
✔️ How to install Steem Keychain?
Important notes regarding the start time of each round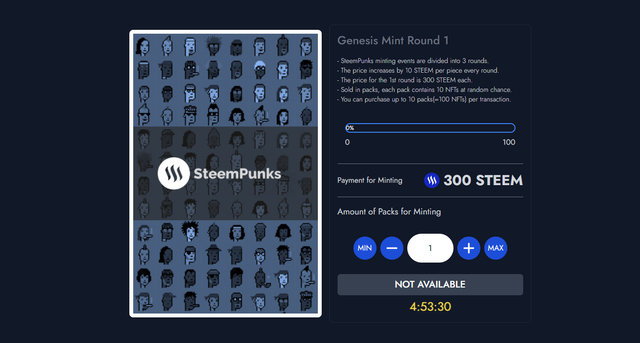 We have added a time on minting page to avoid confusion.
📢 You guys can check the time remaining until the start time for each round.
📢 The page currently set to [NOT AVAILABLE] becomes active as soon as the start time comes(no need to refresh).
📢 Each round starts 20 MIN AFTER the end of the previous round.
If the allotted qty for 1st round is sold out, the timer will be activated after the sale ends.

When all timers run out, the button for mint will become active again.

📢 Whether or not minting was successful can be checked in the History tab at the bottom of the screen after about 3 to 5 min after confirming the transaction. (page refresh is required)
How to Open Packs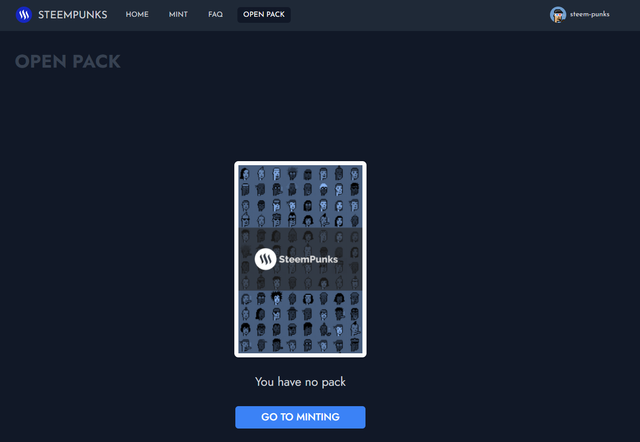 Open pack fuction will be activated after 2nd round ends.

If the pack purchase is successful, the quantity purchased will appear on the https://www.steempunks.xyz/openpack page.

Even if the purchase was successful in the 1st round, please wait til the end of 2nd round.

After opening the pack, you can check it in MY NFTS tab that appears when you click your account in the upper right corner.

Initially, you can check the SteemPunks you own on the MY NFTS page, and only the transfer function to other account is supported.

@steem-punks' voting support start by calculating the rarity and number of cards you have even if you don't set it up after opening the pack.

However, please note that voting is supported only for accounts with 10 or more cards.