Trading Journal #22: Gold's breakdown
Important Notes:
I update the zones of my tradingview charts every morning.
I make daily zones (green boxes) and 1h zones (blue boxes).
I am a scalp to swing trader. I often look at the following timeframes: 15m, 1H, 4H, 1D.
I only observe/trade one Forex pair: XAUUSD (Gold vs US Dollar).
I journal both my losing and winning trades.
I don't claim myself as a guru. I am still working on refining my strategy. Thus, whatever you read here shouldn't be taken as a piece of financial advice.
Note: A zone is a premium price area in which no one wants to give up the price. Zones usually serve as strong areas of support and resistance. Therefore, the price is expected to move from one zone to another.
If you notice, I've been posting lesser trading journals lately. Aside from being busy, I also made fewer trades than usual. I am slowly shifting my trades from scalping to swing trading. And I think it's a good thing. Swing trading gives me lesser stress and lesser time to monitor.
Now, let me go back to my previous trade:
Gold vs. US Dollar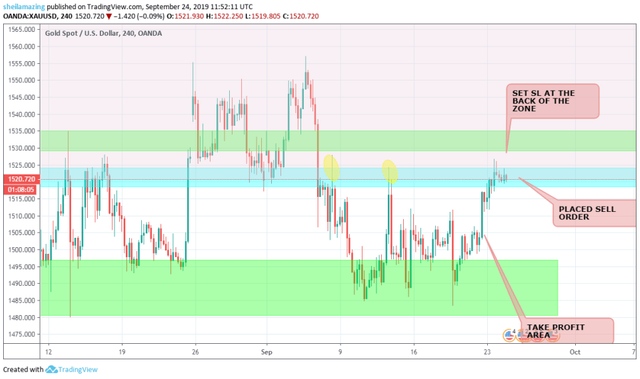 XAUUSD on 4H timeframe
I noticed that the price tried to push above so I adjusted my stop-loss price at the back of the daily zone (green box). As expected, the price was rejected on this zone. It broke down, creating a head and shoulder pattern. It eventually hit my target price.

Right now, I have a floating trade for XU. I went short after seeing that it broke another daily zone.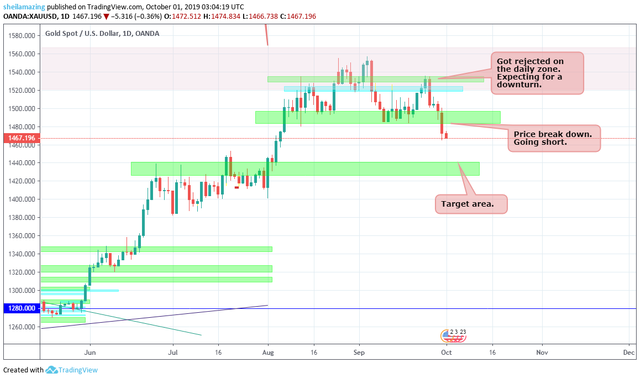 XAUUSD on the daily timeframe
As you can see, the price just broke down. Since price always moves from one zone to another, I expect it to move to the next daily zone (green box). My trade is still floating (went short of course) and if the price will retrace upwards, I will put another SELL order. I set my stop-loss price at the back of the previous daily zone.
PS: The reasons why I am having this online journal can be found here:
Officially Documenting My Trading Journal Online
---
Posted from my blog with SteemPress : [https://pinayteenvestor.com]
---