Una oruga colorida y peluda tomaba un baño de sol, sobre una cama de hojas secas.
A colorful and hairy caterpillar took a sunbath, on a bed of dry leaves.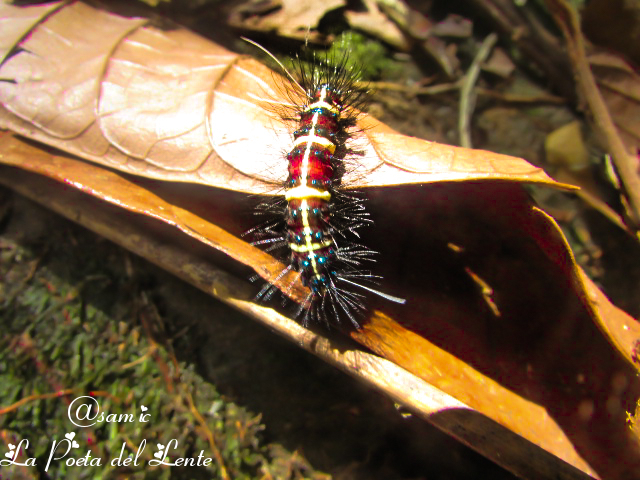 Parecía que ella estaba teniendo un grandioso día.
It seemed like she was having a great day.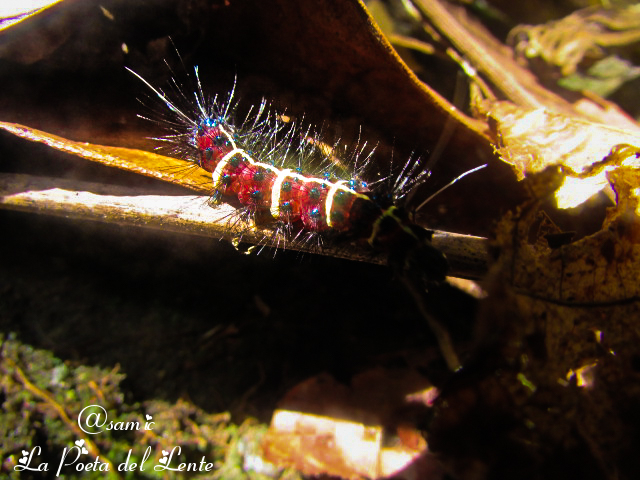 Avanzaba pacíficamente entre ramas y  troncos.
She moved peacefully between branches and trunks.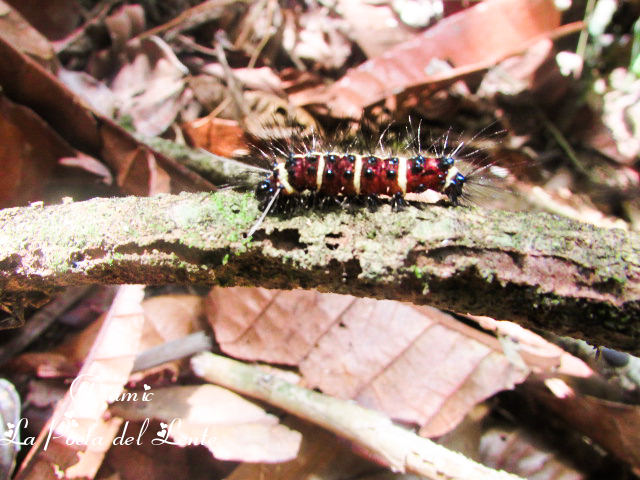 De pronto un perro la olfateó. Ahora perro y oruga iban en dirección el uno al otro... Un chico despavorido  y con voz angustiada  llamó al perro, pero su esfuerzo  fue inútil. Entonces,  sin pensarlo,  tomó una rama seca y lanzó con fuerza la oruga... La pobre oruga quedó mareada y al borde del precipicio. Suddenly a dog sniffed her.
Now dog and caterpillar were going towards each other ... A terrified boy with an anguished voice called the dog, but his effort was useless. Then, without thinking, took a dry branch and forcefully launched the caterpillar... The poor caterpillar was dizzy and on the edge of the precipice.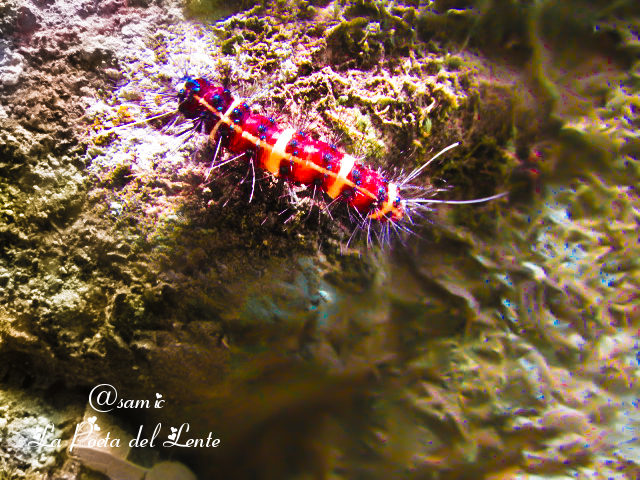 Abajo la esperaba el río.
Down the river waited for her.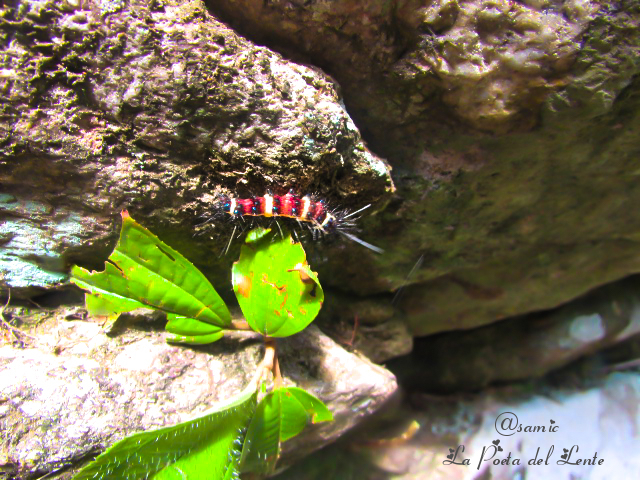 El chico, aun en shock,  corrió hacía  la oruga, y sin pensarlo,  la empujó al precipicio. Luego le habló  a su perro con tono enfadado y  protector, intentaba  hacerle entender que la oruga era peligrosa.  
The boy, still in shock, ran and without thinking, pushed the caterpillar to the precipice. Then he spoke to his dog with an angry  and protective tone. He tried to make him understand that the caterpillar was dangerous.
Una mujer, con voz de pesar le dijo  al chico : -Pobre oruga, ella  estaba disfrutando en su hogar,  tú y el perro son visitantes. En situación de lucha o escapa, tu tienes  manos y pies,  ella tiene chuzos y sustancias con la misma función,  esto no te hace malo a ti ni a ella.   Hiciste bien en apartarla del perro,  pero...era necesario empujarla  al precipicio cuando ya no ofrecía ninguna amenaza?
A woman, in a voice of regret, said to the boy: -Poor caterpillar, she was enjoying at home, you and the dog are visitors. In situation of fight or escapes, you have hands and feet, she has punch and substances with the same function, this does not make you or her bad. You did well to remove her from the dog, but ... was it necessary to push her to the precipice when she no longer offered any threat?
---
El chico rápidamente interiorizó el mensaje, buscó la oruga  en el  trayecto del río y desde arriba  le tiró un salvavidas.

The boy quickly internalized the message, looked for the caterpillar in the course of the river and from above he threw a life-saving branch.





¿Qué piensas acerca de esta historia? ¿Luchar o escapar?

¿What do you think about this story?  ¿Fight or escape?

---
Desde mi pupilógrafo a mis neuronas cardíacas, transmitiendo para ti. Texto y fotografía de mi autoría.
From my pupilógrafo to my cardiac neurons, transmitting for you. Text and photography of my authorship.
---
Fotos tomadas con cámara canon power shot SX 400 ISS en una tarde veraniega a la orilla del río, en Florencia Caquetá Colombia.
Photos taken with camera: canon power shot SX 400 ISS on a summer afternoon at the riverside, in Florencia Caquetá Colombia.
---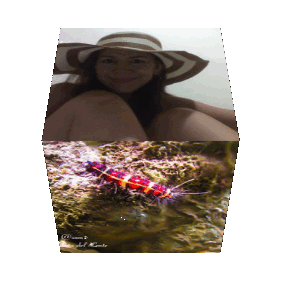 ---
Posted from my blog with SteemPress : http://samic.vornix.blog/2018/09/05/la-oruga-luchar-o-escapar-the-caterpillar-fight-or-escape/
---