It'll be rubbish. It only has a 5.5 on IMDB!' my husband says. He's ready to dismiss the film I've chosen for Friday night all out, based upon this all hallowed rating. I look at him pointedly. I'll have to explain it again slowly, just so he understands, and he'll get irritated for treating him like an idiot. '5.5. It'll be crap'.
Here we go. Darling. It's a science fiction film. That's a selective audience, right? So alot of people won't like it because they simply don't 'get' science fiction in the way we do, so won't give it a higher rating. Now remember we agreed that anything above a 6 is probably entertaining, especially on a Friday night when we are half brain dead with lower expectations? Plus, we like that actor. And that reviewer I trust - he said it's worth watching too. So let's bump it up by, say, 1? Give it a go? Let's not base our prejudgement on other people's judgements. Hubby knows he will lose an argument when it comes to sci-fi and zombie films. Most of the time he's smart enough to not get in my way. And the verdict? Yeah, it was more of a 6.5 - I don't know why people rated it so low. I'm right. Again.
The upshot of this is ratings are arbitary. They're guesswork. And even if some alogorithm or formula might make them fairly accurate, there are far too many other factors involved that that can make said rating innacccurate. I'm never going to love a 5 star luxury hotel because I don't like 5 star luxury hotels - they lack personality. I'm never going to eat at a 5 star burger cafe because it doesn't matter what others thing - I don't like burger cafes.
And I hate lists too that rank things from highest to lowest. How can YOUR favourite numer one travel destination be mine? I hate lists of '5 Best Things to Do Whilst in...'. How could you possibly presume that they'll be what I really want to do? Okay okay, I can concede it's a guide and I should take it as such, but sheesh. You just make me want to ignore it in stubborn protest. Don't tell me what to like - I'll figure it out ALL BY MYSELF.
And don't say she is pretty than... or he is smarter than... just.... stop!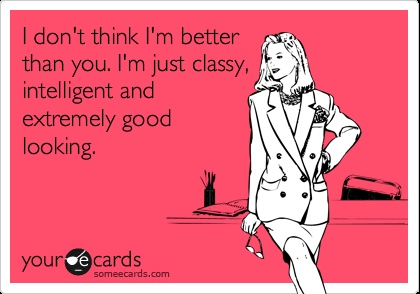 This logic applies to reputations on Steemit also. Please don't tell me that
@soandso
is amazing just BECAUSE he has a 73 rep and please don't suck up to him in your comments just because of that - 73 rep people write shit posts too, sometimes. Or often.
Whilst last week I waxed lyricals about uppers on this platform, one thing that bugs me is the reputation score. If there's someone on Steemit with a 70 reputation whose values or subject matter I disagree with, I'm not going to follow them and upvote their posts and obsequiously comment because they have a 70 reputation. And I'm certainly not going to ignore the 25 reputation newbie because they are beneath me in some arbitrary reputation scoring algorithm that still doesn't make sense to me. I'm going to follow my own subjective scoring, ticking boxes on my internal clipboard:
Is their content genuine and engaging?

Are they good writers?

Does the subject matter interest me?

Do they respond to my comments, or have they commented on my blog?

Are they nice people?

I'm sure we all have some kind of system for rating someone that falls far outside the ratings system on Steemit.

I'm debating whether to continue delegating to Steem-UA for this reason. There was some hype over it a while back because it offered a different kind of rating system that professed to be more fair. It's easy to buy bidbots, you see, or use other tricks to up your rating, and isn't therefore a genuine marker of superiority.

For 25SP, I get a comment on my posts twice a week. For my post on chickens, which I thought was suprisingly successful, getting quite a few comments from people who seemed to genuinely enjoy it (thanks for writing that, Strawbum!) I got the following information on where my post stood in the grander scheme of things:




I have begun to realise that whilst I enjoy this data, I don't actually track how I am going day to day or week to week. I don't even really know what this means. Is #50 good? Is 1623 good? I don't know. I'm not sure I even care. I know I'm doing well if I have lots of genuine votes from people who comment on my post or resteem it OR it meets some mark of my own, some internal standard that judges my own writing good or bad or somewhere in between. So when they say people are following me, and appreciate my work, and have good user engagement - I kinda know those things already, and don't need a score evaluation or indeed a score to validate me.

I'm wondering if anyone else pays attention to these rankings on Steem UA. No offence to the team - I commend them for trying something different. Since it's inception, this ranking has changed nothing about my steem experience. In fact, it makes me feel kinda icky in the way competition can - like porn can make you feel good and feel dirty and wrong at the same time (not that I'd know, of course). Even the word 'rankings' kinda riles me - 'rank' is off course about hierarchy, which I disagree with politically, but it also means something disagreeable as in a rank smell or a deficiency - rank coffee, rank stupidity.

I've never been one to be impressed with labels or with famous people. I tend to blink and say 'who?' or 'so what?'. It drives my husband crazy. 'But he was on that show! And he earns millions!' and I'm just not impressed. Big numbers don't impress me. He'll throw a big number at me - i.e it was 3456677 kilometres LONG! - and I'll just shrug. Whatever. Maybe it's a deficit in me. But I don't think so.

We are all the same. We all love. We all desire. We all suffer. Don't throw numbers at me - open up your heart and bare your true self, the one that's full of love and light behind all those judgements and labels and superficial things that say 'I am this' and 'you are that'.

I'm happy following my own ranking system. I won't let you know - I won't say you are my numero uno, or your post is number 76 out of the 100 posts I read this week. Or maybe I will - I can gush like that. But I'm not going to fawn over you JUST BECAUSE your reputation is 71, or ignore you because you are only a 31.

Anyone seen a good zombie or sci-fi film lately?

---

---

@naturalmedicine II Discord Invite II #naturalmedicine


Website | @homesteaderscoop | Discord Community




---

Posted from my blog with SteemPress : http://www.riverflowings.com/?p=281

---