Summer is fading and Autumn is definitely in the air. The ornamental apple is the dead giveaway, even if the air might not be telling given our unusual heat wave. It's leaves are turning colour as if in loud protest, and littering the path. It's pretty much clean up time - time for green tomato chutney, to thankfully harvest the last of the zucchinis, to test the hops to see if they're dry enough to pick yet. It's all part of the seasonal change and whilst it's kinda bittersweet, I'm eager for what the new season will bring, least of all a chance to let the soil rest a little and be rejuvenated with green crops and manure.
It's a good time to contemplate plant medicines as I think about the @naturalmedicinechallenge which asks us to investigate three plants - elecampane, basil and plantain! Check out the challenge here - let's learn some stuff! There's 25 steem worth of prizes on offer for the best posts - truly great inspiration for writing!
Basil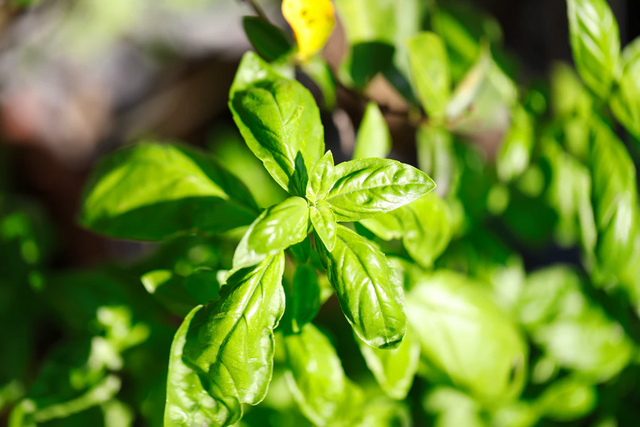 A man taking basil from a woman will love her always - Thomas More
One thing I am super sad to see go is basil. I've had a brilliant season of basil this year - I've realised I can't ever grow it in the ground, but if I grow it in wicking beds, the insects seem to leave it alone and it just adores the water plus protection from the sides of the beds. Basil is actually a natural insect repellent, but, if you live in Australia, you know that's it's not so easy keeping mozzies and blowies away with a few basil plants. I was also reading that it has traditional uses as a snake repellent and for snake bites, but I have struggled to find firm literature on this. If I get bitten by a snake, I doubt very much I'm going to rub a basil leaf on it. Half a gallon of basil essential oil and calling an ambulance whilst contemplating my own death, maybe.
I was talking to my son the other day and we were saying about the merits of using basil in dishes we'd not normally use it. Since I've had so much of it, I've been using it in nearly everything - including this sloe gin berry daquiri on a 39 degree day (a few shreds blended with a shot of sloe gin, ice, berries and lemon juice) and a stir fry of tempeh, tamari, eggplant, chilli and shallots, with cucumber on the side. Basil is meant to be good for lifting your mood - it certainly does that for me, whether it's the ingested oils or just the gorgeous smell. If you'd like to read more about it as a natural medicine, read
this study
or
@zen-art
's fabulous response to the challenge
here
. Can't wait to read more posts about this amazing herb!
Plantain
There's over 200 varieties of plantain and a multitude of uses for what, for many, is a common garden weed. I feel as if my research so far can not possibly touch all the amazing medical qualities of this incredible plant, and I'm excited about making a tincture or balm from it.
However, for this post, I thought I'd give you this recipe for my version of this 'life changing loaf' - it's a recipe that has gone around my work place as everyone raves about it as a good alternative to bread. What has this got to do with plantain, you ask? Well, as I just realised, it contains psyllium, a dietary fibre that comes from a variety within the plantain genus. I'm not sure why I've never thought of where psyllium comes from - it's something we just have in our pantry. Sometimes common ingredients we question the least!
Psyllium husk (the ground up flower heads of Psyllium Ovata) are albuminous, which means that their properties resemble albumin - commonly, in egg white, helping bind ingredients together. It's also a mucilage, which means a thick, gluey substance. This means it'll bind together ingredients really well. We adopted psyllium as my man's always had IBS related problems, although now we've learnt that too much might be a bad thing for FODMAP sufferers, like him. If you suffer from IBS, you might want to read this study. However, still, psyllium:
helps slow the movement of food through the gut, helping us feel fuller for longer
acts like a sponge to attract fluid and soften stools so the waste moves through easier
helps stabilise blood sugar in diabetes
helps lower bad chlorestrol levels.
helps with regular bowel habits.
High Protein Vegan Seedy Loaf
1/2 cup each of sunflower and pepita seeds
½ cup flax seeds
½ cup almonds or pecans
1½ cups rolled oats or equivalent
2 tbsp chia seeds
4 tbsp psyllium seed husks
1 tsp himalayan salt
1 tbsp maple syrup or rice syrup
3 tbsp melted coconut oil
1½ cups water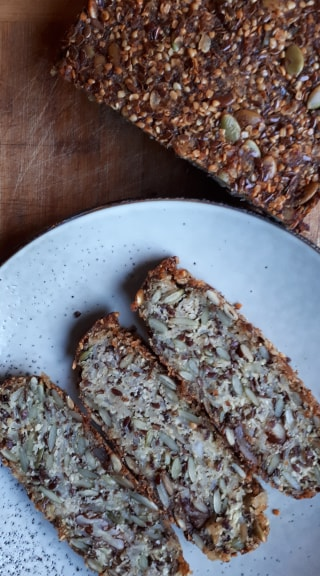 Mix all ingredients together until everything is super soaked and the dough is super thick. Smooth out the top and let sit for the day or overnight (two hours at least). It's easier to check that it's ready if you use a silicon loaf pan because the bread will keep it's shape even if you pull the sides away from the loaf. However, it works fine if you use baking paper too, as I did.
Preheat oven to 175°C, then bake for 20 minutes. Take it out of the loaf pan and bake for another 30 - 40 minutes, until it's done (hollow when tapped). Cool completely before slicing.
I didn't actually have any oats for this particular loaf, so I exchanged them for 1/2 cup of rice flakes, 1/2 cup of hemp seeds, and 1/2 cup of coconut flour. I didn't have chia seeds either, so I omitted them, and substituted olive oil as I didn't have that either! So it's a pretty forgiving recipe. I also doubled the maple syrup, and it tasted perfect.
It definitely fills you up - I attest to that - however, that might have something to do with the fact that I ate about a third of a loaf for breakfast. It's seriously, seriously moreish.
Elecampane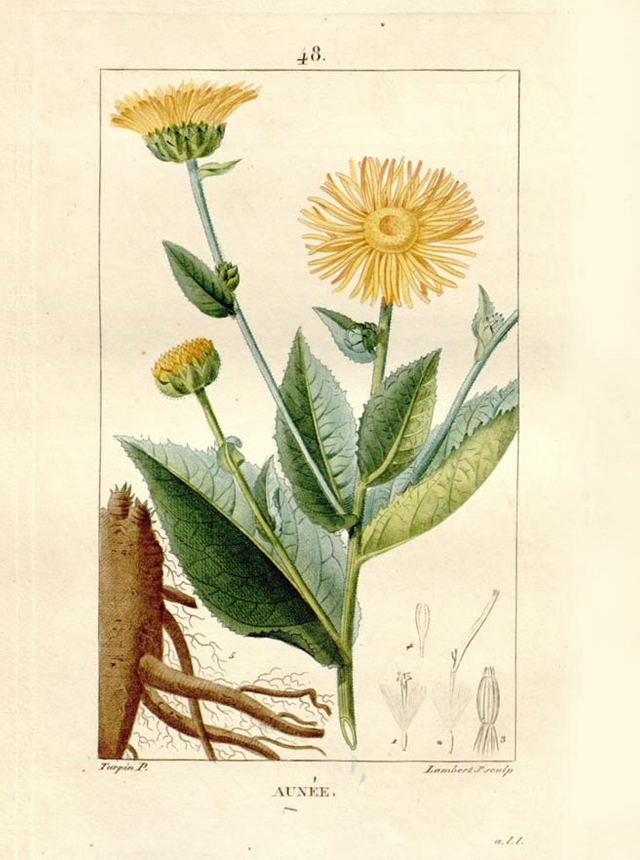 The last plant medicine I'm contemplating as I excitedly read the entries to the Natural Medicine challenge is elecampane. It's not a plant that I am familiar with, and I intend to plant it at the end of Winter. Stupidly, I got excited about it and ordered it without even considering we're at the end of summer and it might not be a good time to plant it!
I'd love to hear from anyone who has experience using this as a lung tonic. I've been asthmatic my whole life and can't get by without an oral steroid preventative, no matter how much I try. I was reading that asthmatics who take oral steroids are 6 times more likely to suffer a heart attack, and with a family history now of heart attacks, that's making me a little paranoid. Elecampane seems high on the herbal medicine list for the lungs, so I'm keen to grow it and see how it goes. I'd love to hear from @metametheus here too, as I know it's been used in chinese medicine. I've seen it on the back of the ingredients for herbal cough syrups too.
Let no day pass without eating some roots of Elecampane to help digestion, expel melancholy and cause mirth - Pliny
Whilst the Natural Medicine team all agreed on plantain, it was me that threw in elecampane - I wanted to study it more and see if Steemians knew much about growing it and using it as a plant medicine. If you've got experience with this, please write a post in response to the challenge, which you can find here - there's 25 Steem on offer for entries. You can write about one herb, two or even all three.
One of the things I love about the Natural Community is that we don't have to be experts, just be willing to enquire and share and experiment, so that we empower ourselves and keep old wisdoms alive. The plant kingdom is just such a spectacular resource for us - feeling grateful and amazed as I write this post!
Have you used psyllium for cooking?
What are your favourite basil recipes?
Have you ever used elecampane?
---
---