Jackfruit Taco Salad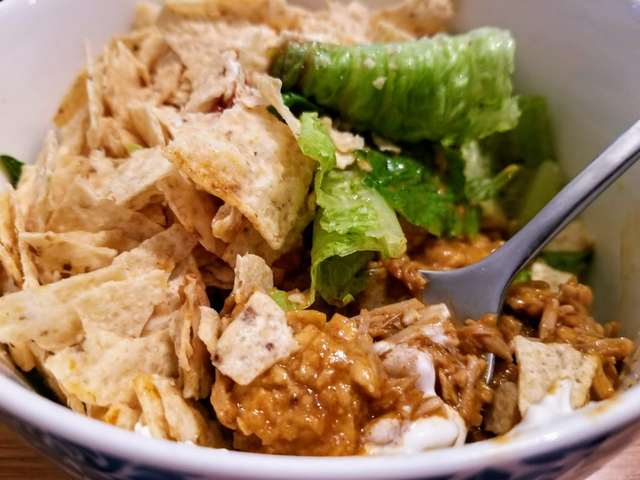 ---
I was recently introduced to jackfruit by a friend, @hobotang, I met at a recent Steemit meetup in the N. Georgia Mountains. Although I had heard of jackfruit and was fascinated by the multitude of culinary possibilities it possessed, I had never actually encountered an opportunity to try any firsthand. Hobotang prepared a jackfruit barbecue and he likes to make it SPICY! lol Even though it was packed with a bit more heat than I normally like to eat, the extra spices and heat actually brought out the more subtle complexities hidden within the "meat" of the jackfruit. I fell in love with it and since trying his dish, I have experimented with a few of my own. The first one I tried on my own was a jackfruit barbecue baked potato that was extremely tasty. The next dish was using jackfruit in a version of stuffed peppers, also a big hit at home. That brings us to the topic of this post - Jackfruit Taco Salad.
Here are the ingredients you will need to prepare this dish:
2 cans of Jackfruit
3 packs of taco seasoning
4 cups of water
whatever taco toppings you prefer
---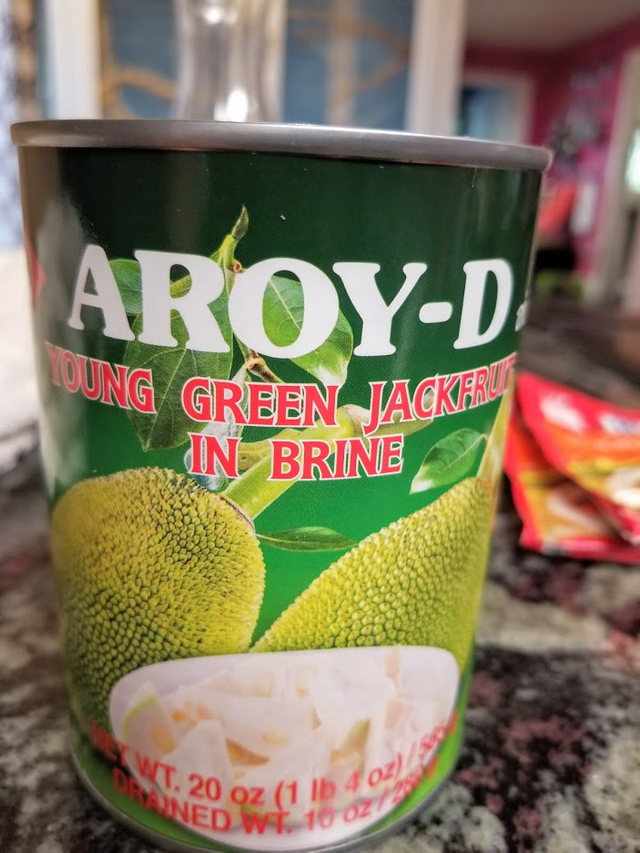 ---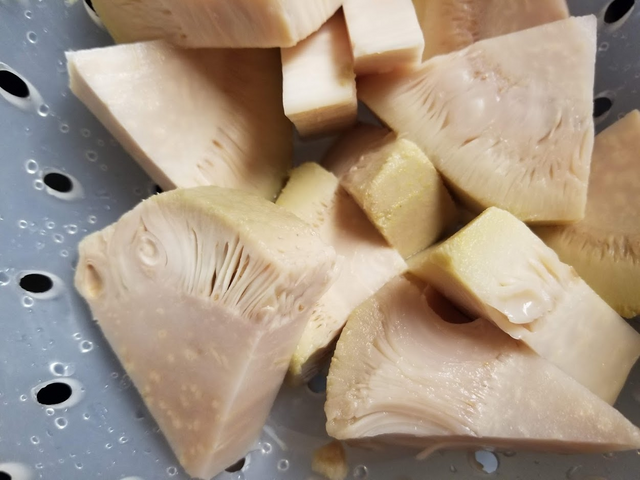 ---
Make sure that you buy the jackfruit that has been canned in brine not syrup....trust me on this..lol. The first step is to open the cans of jackfruit and drain them in a colander and rinse them with cool water to remove the brine. Next, you must "tear" the jackfruit meat from the wide end of the wedges and discard the core and seed beads you come across. I then added the jackfruit to a deep skillet or frying pan and added two packs of taco seasoning on medium heat. I have noticed that it takes considerably more seasoning to season an amount of jackfruit as compared to the same volume of meat.
---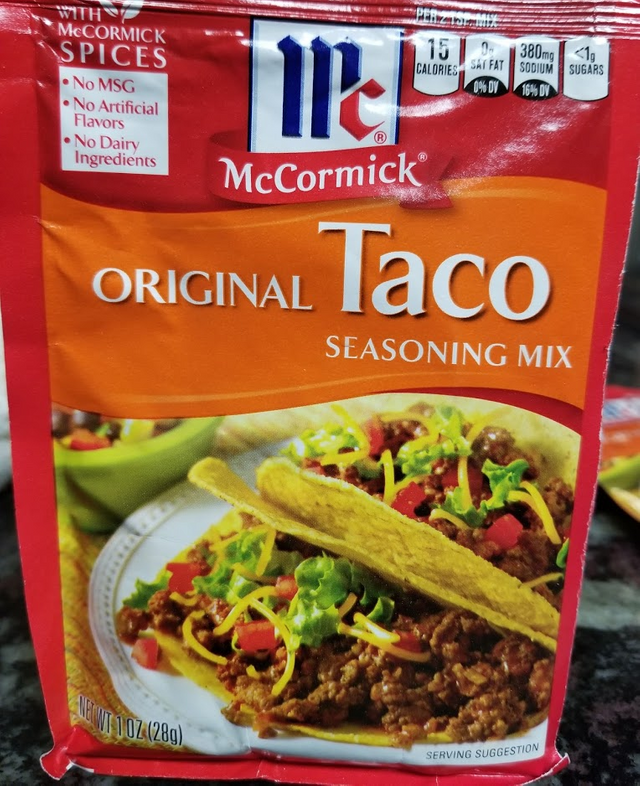 ---
Once the pan is heated up and the jackfruit and taco seasoning thoroughly mixed, I added the 4 cups of water and covered the pan with a lid. The jackfruit needs about 45 minutes of cooking to reach the desired tenderness and consistency. I would suggest keeping a close eye on it while cooking and reducing the liquid in case you need to add more water to keep it from burning or drying out too much. Once there is about 15 to 20 minutes left on the jackfruit cook time, add the last pack of taco seasoning and stir well. Leave the lid off and continue to cool the remaining time and until the taco filling is the desired moisture and consistency( I prefer a bit more dry tacos).
---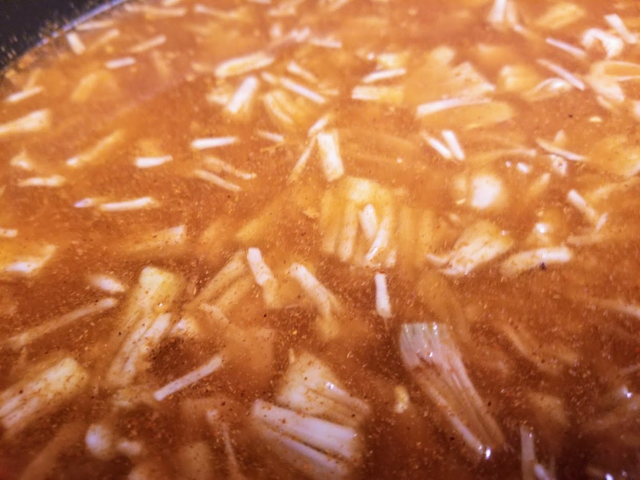 ---
Once the time has finished I reduce the heat to low so that it remains hot while I am preparing my bowl with the rest of the goodies. I added a bottom layer of crushed tortilla shells, then a layer of the jackfruit mixture. I then topped it off with sharp cheddar cheese, chunky salsa, lettuce, and sour cream. To me, it is much better served hot so that the cheese gets good and gooey and the cool lettuce and sour cream have something to play their flavors against.
---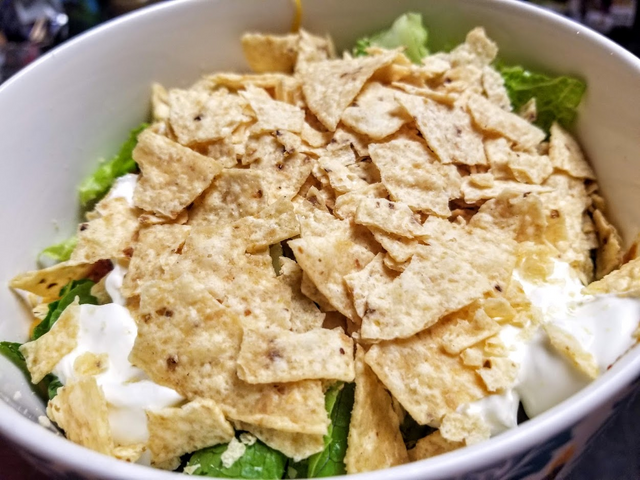 ---
I'm not saying that it tasted just like tacos from Juarez, but it is a nice substitute to red meat if you are looking for something like that. My wife and I absolutely loved them and it was devoured in record time!! What do you think? Have you ever tried jackfruit? Do you have any suggestions on how to make this better? Let me know in the comments!
Originally posted on my Weku profile at this link.
---
Posted from my blog with SteemPress : http://papacrusher.vornix.blog/2018/10/25/jackfruit-taco-salad/
---
---
All photos and videos are my own creation unless otherwise noted.


Join us @steemitbloggers
Animation By @zord189


---
All That Is Gold Does Not Glitter,
Not All Those Who Wander Are Lost
-Tolkien