"La ceremonia del té requiere años de práctica y aprendizaje... con todo, el conjunto de este arte, en cuanto a sus detalles, no significa más que hacer y servir una taza de té. El asunto supremamente importante es que dicho acto debe realizarse de la manera más perfecta, más educada, más graciosa y más encantadora posible."
Lafcadio Hearn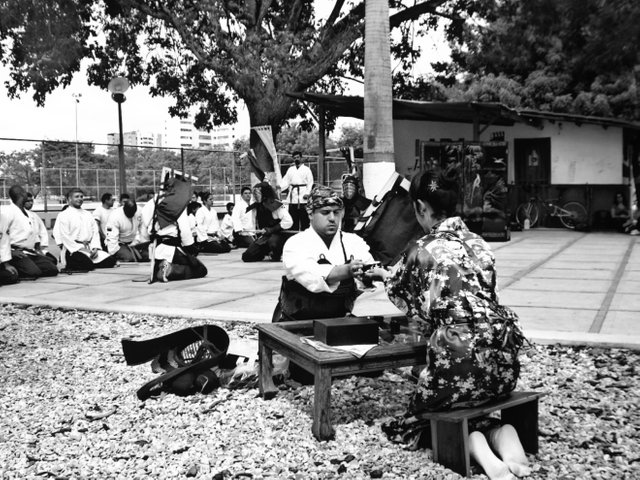 Ceremonia del Té
Una Ceremonia del Té es una forma ritual de preparar y servir el té que se practica dentro de las culturas asiáticas, particularmente, en China, Japón, Corea, Taiwan y Vietnam, y constituye toda una actividad cultural que da origen a la preparación ceremonial y la presentación del brebaje, que se ofrece usualmente a un reducido número de invitados en un entorno tranquilo. La forma en la que se realiza, o el arte de su realización, es llamada la Ceremonia del Té, siendo la de origen japonés la más conocida, y es una manifestación de la historia y cultura tradicional de ese remoto país.
Esta fotografía que tomara un domingo de diciembre del año 2015, tenía como objetivo honrar o rendir tributo a un guerrero Samurai que alcanzaba el grado de maestro o Sensei, dentro de una actividad del Aikijutsu Clan Takeda Okinawa Venezuela, una escuela de artes marciales ubicada en la ciudad de Barquisimeto, dedicada a la enseñanza y práctica de la disciplina japonesa conocida como Aikijutsu, que fuese desarrollado por el Maestro o Sensei Sokaku Takeda entre finales del Siglo XIX y la primera mitad del Siglo XX.
En esta oportunidad, la pareja del guerrero, ataviada con el tradicional kimono prepara y le ofrece una taza de té a su amado en señal de respeto y admiración por el logro alcanzado, para posteriormente, el nuevo Sensei en señal de agradecimiento, repite la ceremonia, preparando y ofreciéndole una taza de té al Maestro del Maestro o Shidoshi, el cual es el miembro de mayor jerarquía del clan.
La fotografía original tomada a color, y que forma parte de una colección más amplia, la modificaría con las herramientas que proporciona el editor de imágenes PicsArt. En esta oportunidad, y como es usual en mis publicaciones anteriores, utilicé una superposición de filtros, comenzando con un filtro del tipo HDR (High Dynamic Range) con la finalidad de ampliar los tonos de la imagen original, y posteriormente un filtro sencillo de Blanco & Negro.

A Tea Ceremony is a ritual way of preparing and serving tea that is practiced within Asian cultures, particularly in China, Japan, Korea, Taiwan and Vietnam, and constitutes a cultural activity that gives rise to the preparation ceremonial and the presentation of the concoction, which is usually offered to a small number of guests in a quiet environment. The way in which it is performed, or the art of its realization, is called the Tea Ceremony, being the one of Japanese origin the best known, and is a manifestation of the history and traditional culture of that remote country.
This photograph, taken on a Sunday in December 2015, was intended to honor or pay tribute to a warrior Samurai who reached the rank of master or Sensei, within an activity of Aikijutsu Clan Takeda Okinawa Venezuela, a martial arts school located in the city of Barquisimeto, dedicated to the teaching and practice of the Japanese discipline known as Aikijutsu, which was developed by the Master or Sensei Sokaku Takeda between the end of the 19th century and the first half of the 20th century.
On this occasion, the warrior couple, dressed in the traditional kimono prepares and offers a cup of tea to their beloved as a sign of respect and admiration for the achievement achieved, for later, the new Sensei in thanks , repeat the ceremony, preparing and offering a cup of tea to the Master Teacher or Shidoshi, who is the senior member of the clan.
The original photograph taken in color, and part of a larger collection, would be modified with the tools provided by the image editor PicsArt. On this occasion, and as usual in my previous publications, I used an overlay of filters, starting with a filter of the type HDR (High Dynamic Range) in order to expand the tones of the original image, and then a simple White filter & Black.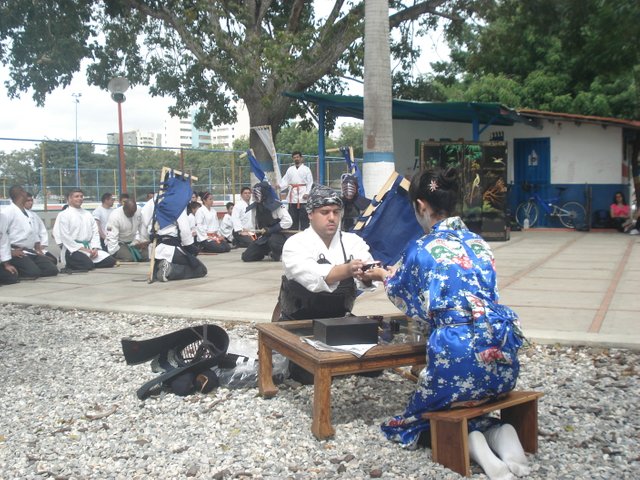 This is my entry for the #monomad challenge. This is an initiative of @monochromes. I hope you enjoy it.
Esta es mi participación para el desafío #monomad. Esta es una iniciativa de @monochromes. Espero que lo disfruten.