Fuente
 
A couple of months ago I stopped playing in orchestras here in Venezuela. I quitted up on a stable job, because with a single publication here at Steemit I could earn what I got with a month of hard work. However, that was not the main reason why I quit my job, the main reason was: For health.
Many will not believe that someone who plays an instrument is exposed to injuries as much as a high-performance athlete, but that's the way it is. Maybe we do not raise huge amounts of weight, nor run from one side to another by a huge field, but we are sitting for many, many hours, subjected to enormous amounts of stress and emotional pressure while we make extremely complex movements over and over again, thousands of times throughout a rehearsal ... or rehearsals...
I played in an important orchestra in the Caracas city. Belonged to the line of the first violins, I worked from Monday to Friday from 2:00 pm to 6:00 pm, and one day between Saturday and Sunday was the concert (that before it there was a rehearsal too). The rest of the time of the day was supposed to be dedicated to studying the assigned repertoire, however, the economic need was such that I was forced to accept the invitation of another orchestra that rehearsed in the morning. So the schedule was as follows: from 8:00 AM to 6:00 PM, violin, violin and more violin.
The pains did not wait, even with just a job my body began to suffer. First it was the lower back, a weak but constant pain caused by the long hours on a chair, was assenting to my being without warning. Then the cervical area began to ache, my trapezius and the sternocleidomastoids began to contract, generating terrible pain that made the execution even more uncomfortable. Finally, the pain in the left elbow came. That's when I decided to stop.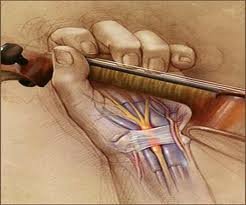 Fuente
I have a fairly close traumatic experience with respect to musicians' injuries. My boyfriend @miguelvargas, suffers from one for almost 2 years, I have lived how it has cost him to recover, I have been able to celebrate each of his advances, and I can tell you with foundation that there is nothing more terrible for a musician than an injury Take away the possibility of doing what you love most.
Miguel was reminding me to be very careful since my pains began, when these became considerable, I went to the management of the orchestra to request rest and start my rehabilitation with the team of physiotherapists that the entity owns. However, due to massive resignations (caused by the massive and forced exile that my country suffers) the orchestra could not afford a violin less; so they rejected my rest, they sent me to rehabilitation, but what progressed at noon on the healthbed, I lost it in the afternoon during the rehearsal.
I had to make the decision to quit my job, but it was not easy. Entering that orchestra cost me many hours of study and effort, besides ... it's the place where I love being in spite of everything. In the end, I had to choose to protect my health and my pocket, while leaving my dreams on stand-by for an indefinite time.
---
This personal story that I tell you today, is the introduction to a series of publications on the correct study for musicians. Series that seeks to raise awareness and educate many musicians who make life in the steem blockchain, so that they take care of their bodies and treat them as they deserve it.
I would greatly appreciate your joining me in that path of education and anecdotes that will make me and you grow.


Fuente
Hace un par de meses que dejé de tocar en orquestas acá en Venezuela. Renuncié a un trabajo estable, porque con una sola publicación acá en Steemit podía ganar lo que conseguía con un mes de arduo trabajo. Sin embargo, esa no fue la razón principal por la cual renuncié a mi trabajo, la razón principal fue: Por salud.
Muchos no creerán que alguien que toca un instrumento esta expuesto a lesiones tanto como un deportista de alto rendimiento, pero es así. Tal vez no levantemos enormes cantidades de peso, ni corramos de un lado a otro por un campo enorme, pero si estamos sentados durante muchas, muchas horas, sometidos a cantidades de stress y presión emocional enormes mientras hacemos movimientos sumamente complejos una y otra vez, miles de veces a lo largo de un ensayo... o varios...
Yo tocaba en una orquesta importante de la ciudad de Caracas. Pertenecía a la fila de los primeros violines, trabajaba de lunes a viernes de 2:00 pm a 6:00 pm, y un día entre sábado y domingo era el concierto (que antes de él había ensayo también). El resto del tiempo del día se supone que debía ser dedicado a estudiar el repertorio asignado, sin embargo, la necesidad económica era tal, que me veía obligada a aceptar la invitación de otra orquesta que ensayaba en la mañana. Así que el horario era el siguiente: de 8:00 AM a 6:00 pm, violín, violín y más violín.
Los dolores no se hicieron esperar, incluso con solo un trabajo mi cuerpo empezaba a resentirse. Primero fue la espalda baja, un débil pero constante dolor causado por las largas horas sobre una silla, fue asentuandose en mi ser sin aviso previo. Luego empezó a doler la zona cervical, mis trapecios y los esternocleidomastoideos empezaban a contracturarse generándome dolores terribles que incomodaban aún más la ejecución. Finalmente, llegó el dolor en el codo izquierdo. Ahí fue cuando decidí detenerme.
Tengo una experiencia traumática bastante cercana con respecto a las lesiones de músicos. Mi novio @miguelvargas, sufre de una desde hace casi 2 años, he vivido cómo le ha costado recuperarse, he podido celebrar cada uno de sus avances, y les puedo decir con fundamento que no hay cosa más terrible para un músico que una lesión le arrebate la posibilidad de hacer lo que más ama.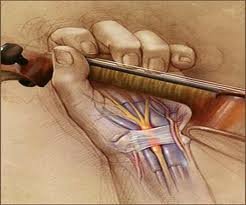 Fuente
Miguel estuvo recordándome que tenga mucho cuidado desde que empezaron mis dolores, cuando éstos se hicieron considerables, me dirigí a la gerencia de la orquesta para solicitar reposos y empezar mi rehabilitación con el equipo de fisioterapeutas que posee la entidad. Sin embargo, debido a las renuncias masivas (causadas por el exilio masivo y forzosa que sufre mi país) la orquesta no podía permitirse un violín menos; así que ellos rechazaban mis reposos, me enviaban a rehabilitación, pero lo que avanzaba al mediodía en la camilla, lo perdía en la tarde durante el ensayo.
Tuve que tomar la decisión de dejar mi trabajo, pero no fue nada fácil. Entrar en esa orquesta me costó muchas horas de estudio y esfuerzo, además... es el lugar donde amo estar a pesar de todo. Al final, tuve que elegir el proteger mi salud y mi bolsillo, mientras dejaba mis sueños en stand-by durante un tiempo indefinido.
---
Este relato personal que les cuento hoy a ustedes, es la introducción a una serie de publicaciones sobre el correcto estudio para los músicos. Serie que busca conscientizar y educar a muchos músicos que hacen vida en la cadena, para que ellos cuiden de sus cuerpos y los traten como se lo merecen.
Agradeceré enormemente que me acompañen en ese camino de educación y de anécdotas que nos hará crecer tanto a mí como a ustedes.
---
Posted from my blog with SteemPress : http://miguelvargas.org/musica/ulog-musical-injuries-ulog-lesiones-musicales/
---