Hi, I am a huge fan of Handcreams. I have tried millions of hand care products and still eager to discover the new one. I would like to share some really fine products, so today I will introduce one of my on-go hand cream: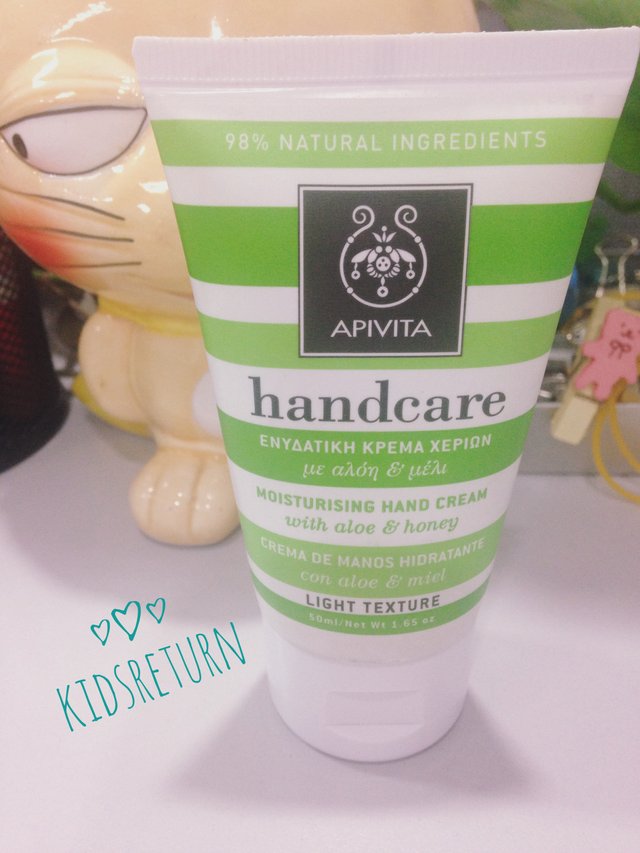 APIVITA moisturizing hand cream with aloe & honey, light texture, 50ml
It is made of 98% natural ingredients, after dermatologically tested and without parabens, phthalates, propylene glycol, silicones, mineral oil and ethanolamines. It helps moisturize skin while nourishing and strengthening the nails. Thanks to its light non-greasy texture it is easily absorbed, leaving hands soft and supple.
It will be expired in 12 months after opening.
Ingredients:
Aqua
水
‧溶剂
Panthenol
维生素原B5, 维他命原B5,
‧抗静电
‧保湿
Cetearyl Alcohol
棕榈醇, 鲸蜡硬脂醇
‧表面剂
‧黏度控制
‧乳化剂
Glycerin
甘油, 丙三醇
‧溶剂
‧保湿
Propanediol Dicaprylate
丙二醇二辛酸酯
‧溶剂
‧柔润剂
Butyrospermum Parkii Butter
乳油木果脂, 雪亚脂,
‧保湿
‧油性滋润
‧柔润剂
Glyceryl Stearate
甘油硬脂酸, 硬脂酸甘油酯,
‧柔润剂
‧乳化剂
Theobroma Cacao Seed Butter
可可脂, 可哥籽脂
‧色料
‧柔润剂
Honey
蜂蜜
Propolis Extract
蜂胶萃取
Olea Europaea Fruit Oil
橄榄油, 橄榄果油,
‧溶剂
‧香料
‧油性滋润
‧柔润剂
Sodium PCA
咯烷酮羧酸钠, 钠羟基皮酪烷酮,
‧抗静电
‧保湿
Sodium cetearyl sulfate
鲸蜡硬脂醇硫酸酯钠盐, 鲸蜡硬脂醇硫酸酯钠
‧表面剂
Persea gratissima oil
酪梨油, 酪梨,
‧保湿
‧油性滋润
Phytosterols
植物醇, 植物甾醇类
Hamamelis virginiana
金缕梅, 金镂梅,
‧镇静消炎
‧抗氧化
‧收敛
Aloe Barbadensis Leaf Juice Powder
库拉索芦荟叶汁粉
Biotin
生物素, 维生素H,
Pelargonium Graveolens Flower Oil
香叶天竺葵花油
Rosa Damascena Flower Oil
突厥蔷薇花油
Phenoxyethanol
苯氧乙醇, 苯氧基乙醇,
‧防腐剂
Tocopheryl Acetate
醋酸盐维他命E, 醋酸生育酚酯,
‧保湿
‧抗氧化
Disodium EDTA
乙二胺四乙基二钠, 乙酸乙二胺二钠
Benzoic Acid
安息香酸, 苯甲酸
‧防腐剂
Tocopherol
生育醇, 生育酚,
‧抗氧化
Butylene Glycol
丁二醇,
‧溶剂
‧保湿
Dehydroacetic Acid
脱氢醋酸, 去水醋酸,
‧防腐剂
Parfum
香料, 香水,
‧香料
Hexyl Cinnamal
己基肉桂醛, 己基桂醛
‧香料
Limonene
柠檬油精, 柑橘皮粹取
‧溶剂
‧香料
Linalool
芳樟醇, 沈香醇
‧香料
Citral
柠檬醛
‧香料

---
Posted from my blog with SteemPress : https://kidsreturn.000webhostapp.com/2018/09/introducing-my-favourate-hand-creams-%e2%91%a0
---