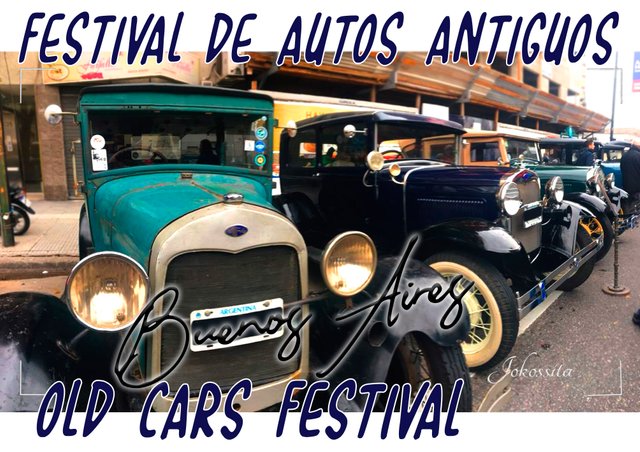 English Inside

Buenos Aires - Argentina
Esta ciudad llena de diversidad tiene una cantidad asombrosa de festivales que suceden mientras el mundo gira, simplemente estos festivales NO PARAN. Todo el tiempo hay eventos, de dia, de noche, para lluvia, para sol, y así van entre una y otra cosa. Por suerte tuve la dicha de disfrutar una exposición de Autos Antiguos y Tranvías históricos en un hermoso dia soleado en Buenos Aires; Mi hermano @cire me acompañó e hizo las veces de fotógrafo.
Todo el evento inició debido a que La Asociación Amigos del Tranvía cumplia su 42° Aniversario, y de allí contactaron con otras organizaciones de Autos coleccionables e históricos para así tener un domingo perfecto.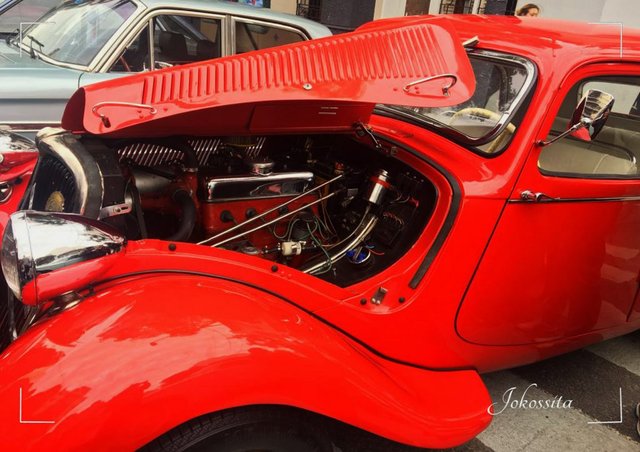 This city full of diversity have so many festivals that happen when the world is moving, they just happen every single day they don't stop!! Every time there are like tons of new festivals, for the day for the night for the rain for the sun and they keep it going and going between one thing and another. Lucky me I was able to enjoy one of it, the Old Cars and historic tram exposition in a sunny and beautiful day in Bs As. My brother @cire was with me and he was my photographer.
All the event started because the Asociation Friends of the Tram was celebrating their 42 Aniversary and from there they contacted others organizations of Collectable Cars and historical so that way this would be a perfect sunday.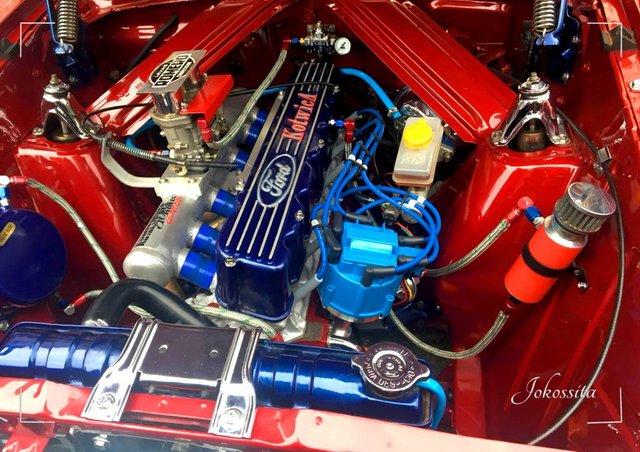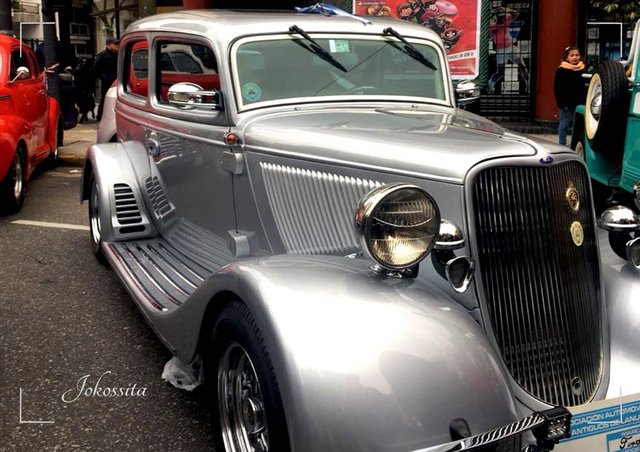 Hot Rods
Uno de los que mas me gusto en toda la exposición fue un Ford Sedán de dos puertas del 33' cuyo dueño era un señor de lo más amable y que se notaba a leguas el amor que le tenía a ese automóvil. Aquí estoy a su lado, me tenía fascinada pero, debo admitirlo un tanto triste ya que estaba enviandole simultáneamente estas fotografías a mi papá, sigue en Venezuela y desearía con todo mi ser que hubiera podido venir a Argentina conmigo y disfrutar estas cosas. Se que lo amaría tanto como yo.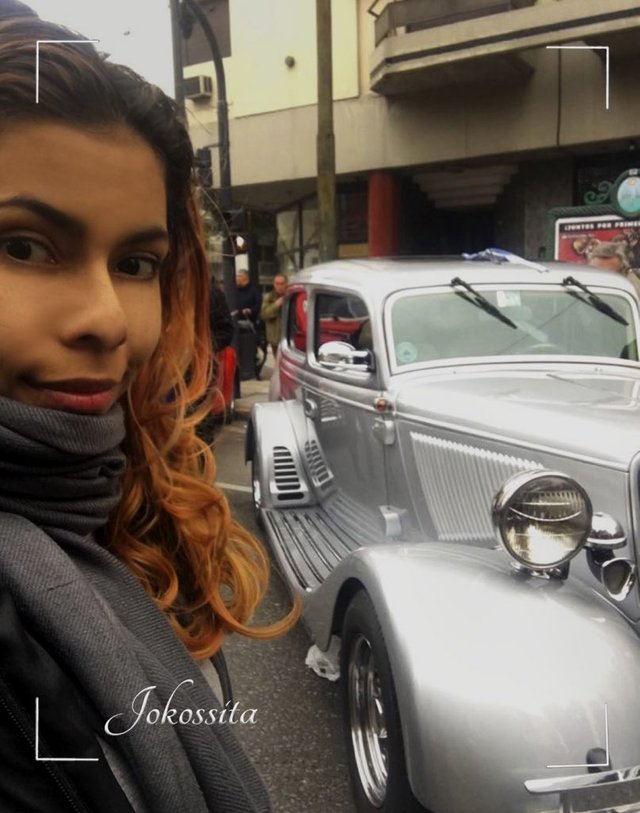 One of the cars I love the most in the whole exposition was a Ford Sedan of Two doors of the 33' his owner was a sir super nice and I could tell that he really love that car.
Here I'm next the Ford I was totally fascinated but I have to admit that I was a bit sad because I was sending all this photographs simultaneously to my dad, he still is in Venezuela and I wish with all my heart that I could bring him here to Argentina with me and to enjoy all this things.
I know he would love it as much as I.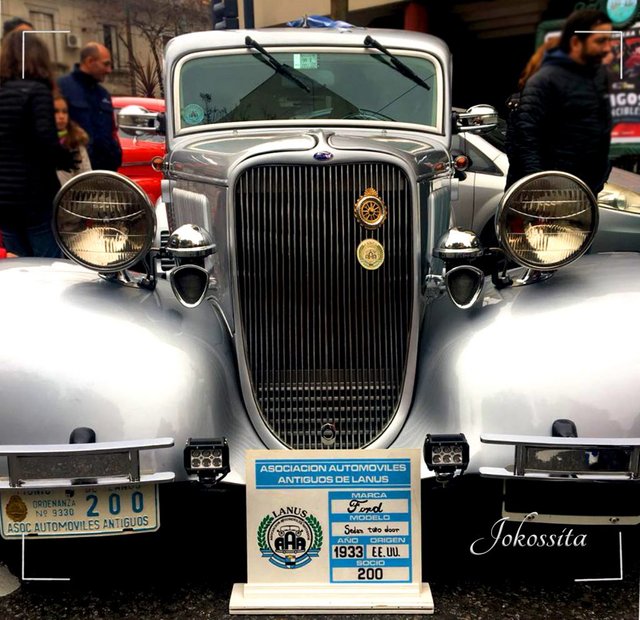 First Fords
Another great Ford was this one, black and golden that took the heart of everyone in the festival, it was totally functional indeed you have to make line to take a photograph, to the ones who see the Disney movie Cars this is like a Stanley, but longer. One of the most ingenious things that I could notice in the car was the horn, a megaphone system that used a pear gum and a trumpet as a sound multiplier.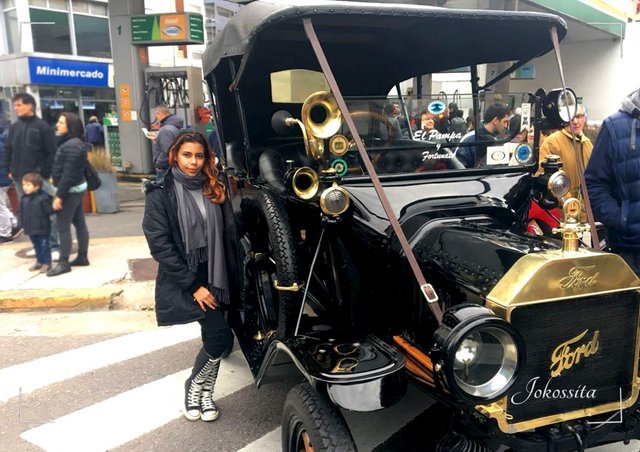 Otro Ford genial es este negro y dorado que se robó el corazón de todos, estaba totalmente funcional, de hecho tenias que hacer fila para tomarte la fotografía, para los que vieron Cars este era un Stanley un poco más largo. Una de las cosas más ingeniosas que pude notar en el automóvil fue la corneta, un sistema de bocina con una goma de pera que tenía un multiplicador de sonido en forma de trompeta.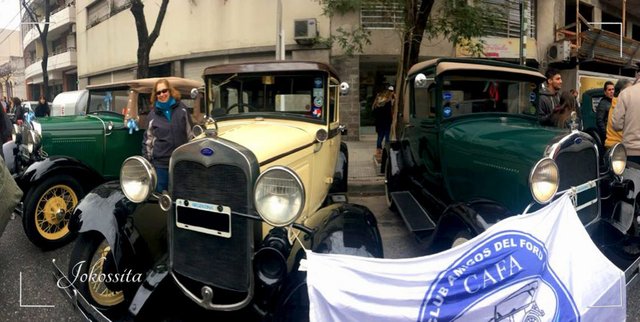 Era una vista genial, había familias enteras disfrutando de esos automóviles. Los más antiguos tenían colores pasteles o el típico verde oscuro de ese estilo. Me encanto ver el sistema que usaban para los descapotables en su época, y lo mejor de todo fue un Ford de 1907; El color que más resaltaba en la exposición era el color rojo, no se porque pero en Argentina ese color es muy popular, desde los automóviles hasta la ropa es roja, lo más hermoso fue la unión que tenía la Asociación de Amigos del Ford y el amor que tenían esos chicos que les acompañaban sostenían conversaciones por largo rato de uno u otro automóvil que yo ciertamente no pude seguir porque mi conocimiento de estos automóviles es poco, aunque me propuse leer y aprender sobre ellos.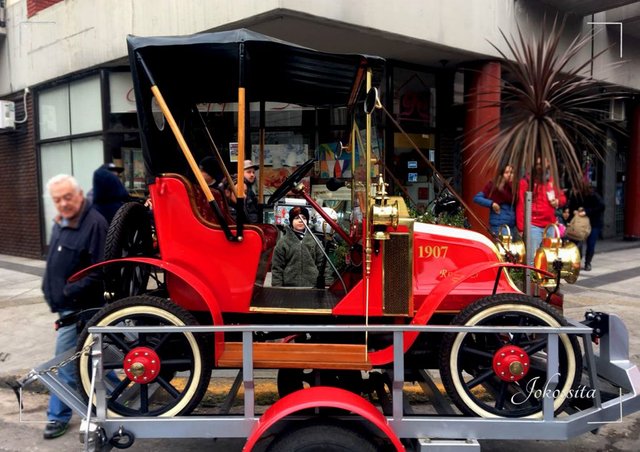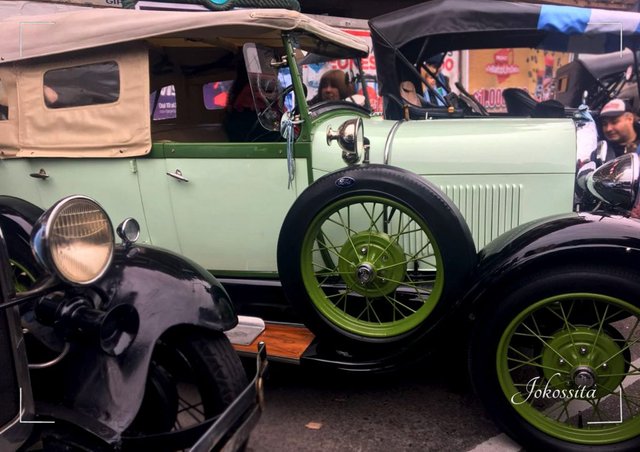 It was a amazing view, there were entire families enjoying of this cars. The older ones have pastel colors or the typical dark green of that style. I loved to see the system they used with the convertibles in that time, and the best of all was a 1907 Ford; The color that was most stand out was the Red Color, I don't know why but here in Argentina that color is so popular, from the cars to the cloths. The most beautiful was the union that the Association of Ford Friends was the love that those kids have and the conversations they were having so deep for so long of one car or another that I certainly couldn't follow because my knowledge is little, but I proposed to myself to read and learn about it.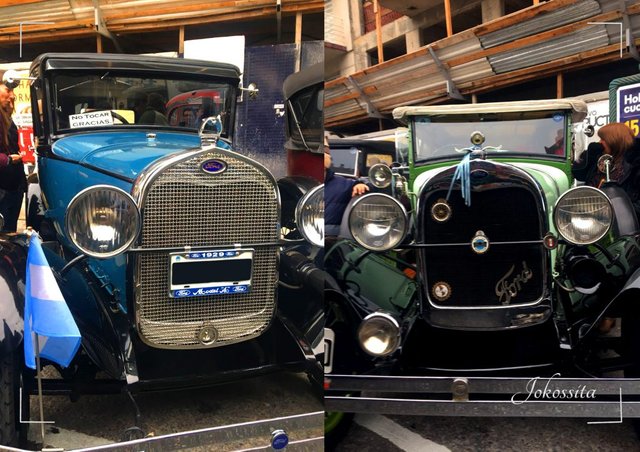 Una de las cosas que lamenté fue que esos automóviles estuvieran apagados, desee escuchar el motor de algunos, muchos de los dueños optaron por abrir el capó y mostrar esas máquinas que tenían escondidas.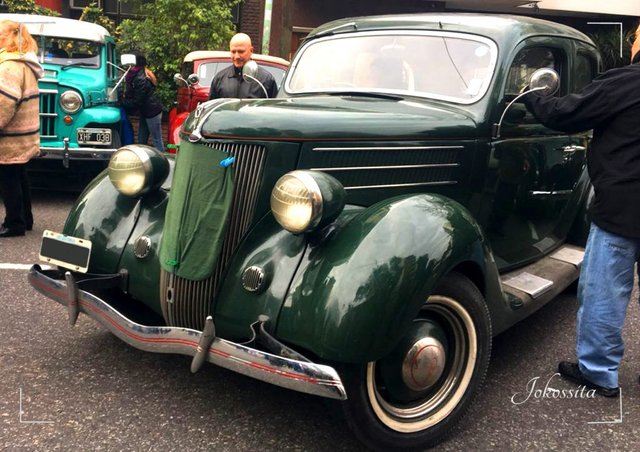 One of the things that I really didn't like was that all the cars were turn off I really was wishing to hear some motors, lucky me that some owners opened the hood to show off the engine.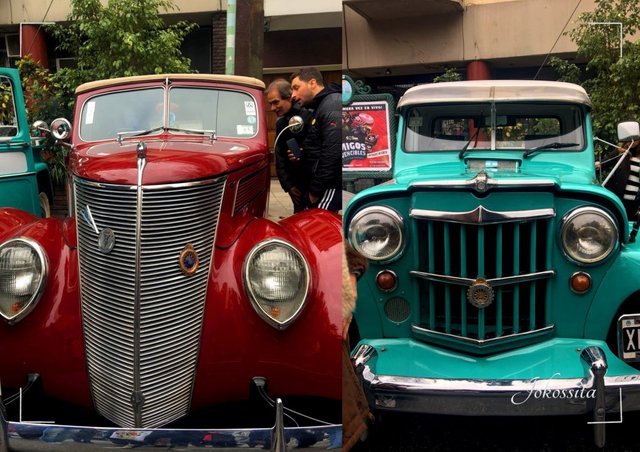 Modern Cars
No solamente habían autos antiguos también había desde un Torino hasta un automóvil exótico que reconocí solo por haber salido en un episodio de "joyas sobre ruedas" (Gracias papá) apenas si podia entrar en esas miniaturas pero no tome tantas fotografias de automoviles modernos porque se me acababa el tiempo y necesitaba ir a otro festival que estaba simultaneamente y tambien era algo genial que no podia perderme.
There were not only old cars also Modern Cars from a Torino to exotic cars that I recognized just for an episode of "Wheeler Dealers" (Thanks Dad) I barely could enter on those mini cars but I didn't took as many photographs of modern cars because I needed to go to another Festival that was happening simultaneously and it was something really cool too that I could't loos the opportunity to go.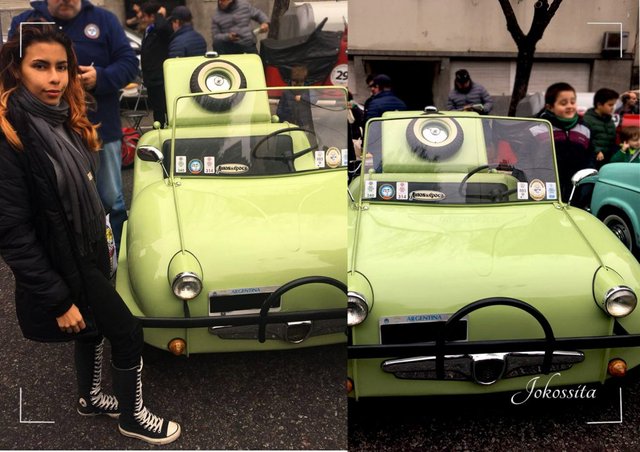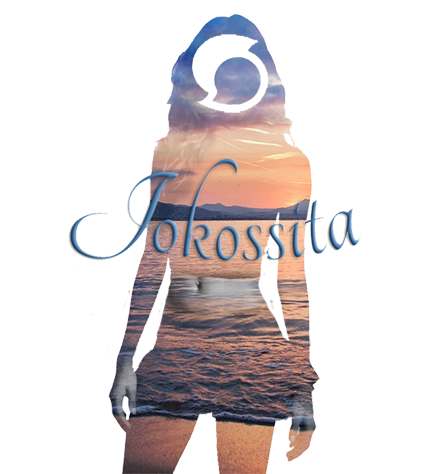 ---
Posted from my blog with SteemPress : http://jokossita.rockdio.org/2018/07/26/festival-de-autos-antiguos-en-bs-as-old-cars-festival-in-bs-as-photoshoot/
---