Safeguard Your Info Whether It's Online or Offline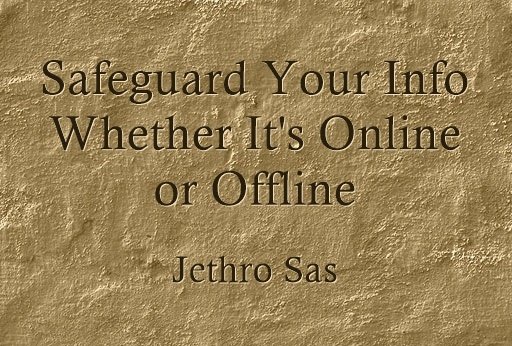 Don't just post or recklessly include confidential data in your post. In today's generation, it is easy to divulge any kinds of info especially through online. Posting online is just a click away.
Let's also not forget through offline. We tend to say and reveal from our tongue our personal and sensitive secrets to whoever we talk with. It is important to keep it to yourself even if you know the person whom you confide your secrets with. Just remember that once you share it with others, it is no longer a secret. And there's a chance that it will scatter like a wildfire.
Learn to protect and safeguard your info whether it's online or offline. Also, don't just send any kind of data like in a form of texts or images in messenger or even in email because we don't even know if the owner or employees working for that company has/have access to everything we send/share.
Anyway, before I end this post, you should also never click the link you receive in your email. Some legitimate websites sent you an email but take note, other people take advantage of it and claim that they are for real. They're scammers and dupers who are there to steal your information after you click on the associated link/s. You'll get surprised and never suspect the site since its look is similar to the original and legitimate one. This way of stealing your info is called phishing. The website will ask for your personal info like password, credit card details, just to name a few.
In order to avoid it, you should double or triple check the URL of the site and verify if it is valid. Also, check if there's a lock icon prior to it and if the background is green. These are safety measures that you should do whenever you encounter emails. Besides, legitimate companies do not ask for anything personal in emails.
I hope these tips would help you. Please let me know if you encounter any of these things. Also, always remember to secure and safeguard your info. Thanks.
---
Posted from my blog with SteemPress : https://www.jethrosas.com/2019/10/safeguard-your-info-whether-its-online-or-offline.html
---