| | | |
| --- | --- | --- |
| Current city(所在城市) | 吉隆坡 | Kuala Lumpur |
| Weather (天气) | 阴 28度 | Cloudy 28'C |
| Exercise (运动展示) | 体能耐力操 | Endurance interval training |
| Focus(注重部分) | 全身/下半身 | Whole body/lower body |
Prolog 前言
Workout routine rebooted since last week. Over the weekend was all about walking and running at the park. I was doing some serious walking on Saturday, and then decided I will try to run on Sunday morning since I got good result on Saturday evening walk. I knew I'm going to suffer knee pain if I run, but I decided to test water see how far have I recovered from serious uric acid issue. It seems, some improvement compare to last time. After yesterday 5km run, I am still very capable to walk up the stairs other than minor clicking sound on the knee cap. According to some friends, those are not supposed to happen if I'm perfectly healthy. I am considering to take some supplement to help up with the knee issue. Any one can recommendation?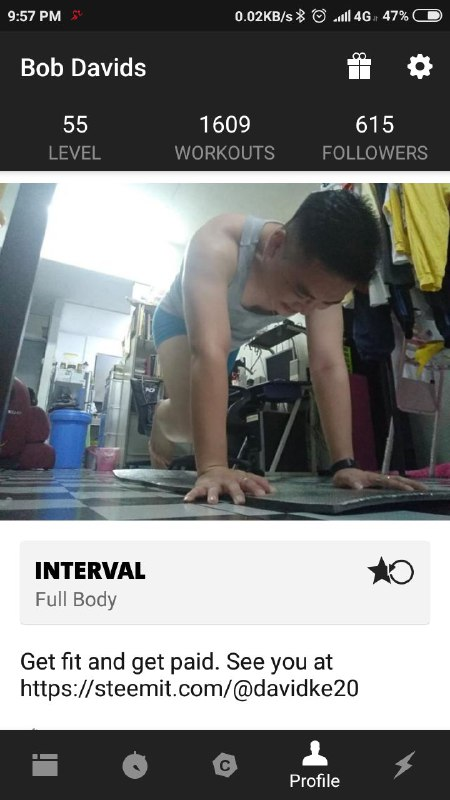 从上个星期开始,我又再继续记录我的运动日记了。不过,周末我都在散步和跑步。话说,上个周六出去散步时已经觉得自己身体状况已经比以前好多了,走起来健步如飞,所以直接决定了星期天要跑步了。虽然明知道跑了膝盖会疼,但是丑妇终须见家翁还是要牛刀小试一下看看自己身体状况已经到了那个程度。经过昨天的五公里跑步挑战以后,今天还能上楼梯算是一大跃进了!目前走了或上楼梯时,膝盖的菠萝盖会有一些嘀嗒声响,听朋友说不应该会这样的。有可能是胶质没了,正在考虑有买一些营养回来补充。大家有没意见或者推荐?

Workout 运动
Today's workout routine is mostly bodyweight, easy but high repetition interval training. Most of these actions are relying on body movement and muscle flexing to complete. These including leg raise, burpees, sprawls, climbers, high knees and so on. Took time about half an hour. It wasn't too tough, but the high reps really driving me nuts. Having said that, I believe hungry is the culprit that rushes me to finish workout very quickly. Aglio Olio with Baked salmon by ex-girlfriend. Specially thank her for being supportive.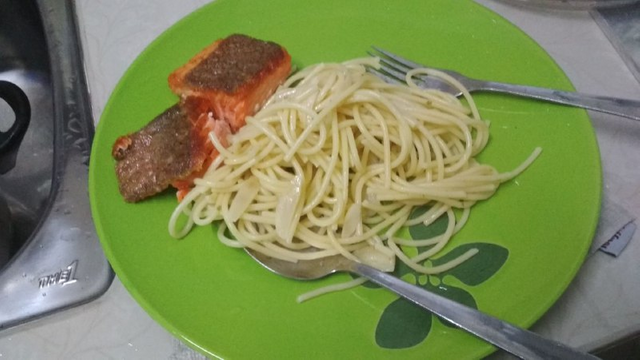 今天的运动都围绕在一些多次重复的体能运动,都是靠体重和肌肉伸展来完成动作的。当中有波比,雀鸟跳弹,原地跑步,爬山者,抬腿等等。一搞下去就半个小时,说辛苦还可以,不过确实饿了。谢谢旧情人准备的三文鱼意粉晚餐。
---
I would like to thank all my friends and family who has been supporting me. Feel free to leave me feedback by clicking below yellow banner.
> 谢谢大家一直以来的支持和对我疼爱有加。如果方便,请你点击下图到我的个人资料网页为我留言请我吃星星哈。

CREATE YOUR OWN @REVIEWME PROFILE TO START EARNING CREDIBILITY STARSFROM THE COMMUNITY! CREATING YOUR PROFILE IS EASY! JUST FOLLOW THE STEPS HERE ☜(ˆ▿ˆc)
---
Posted from my blog with SteemPress : http://davidke20.vornix.blog/2019/03/18/cn-sport-workout-diary-episode129-%e8%bf%90%e5%8a%a8%e7%b3%bb%e5%88%97%e7%ac%ac%e4%b8%80%e7%99%be%e4%ba%8c%e5%8d%81%e4%b9%9d%e6%9c%9f/
---