Visit Prague's Finest Palace
Obecní Dum, Prague's Municipal House, Offers Something for Everyone
The name of Prague's Obecní Dum, Municipal House, hardly does justice to this resplendent palace of the people, Prague's foremost example of art nouveau architecture.
Obecní Dum, Prague's Municipal House, is more romantically known as the Palace of the People, and this is a fitting title for a building that abounds in architectural diversity providing a cultural experience for all tastes.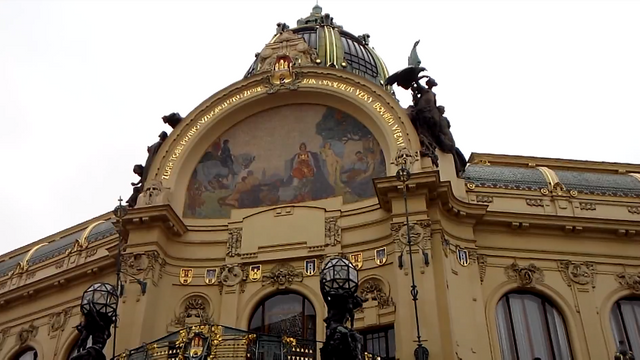 Extravagant Exterior
The sumptuously decorated, pale ochre facade and glazed copper dome of Prague's Municipal House contrast with the sombre stonework of surrounding buildings. Architects Antonín Balšánek (1865-1921) and Osvald Polívka (1859-1931) were responsible for Municipal House's design and so many of Prague's foremost art nouveau artists and sculptors collaborated on its embellishment. The portal gives a foretaste of the delights to come, with filigree metalwork, jewel-like encrustations, allegorical figures, and a mosaic, the
Apotheosis of Prague
, by Karel Špillar (1871-1939). The gilt inscription around it is from 'Hail to Thee, Prague!' a poem by Svatopluk Cech (1846-1908).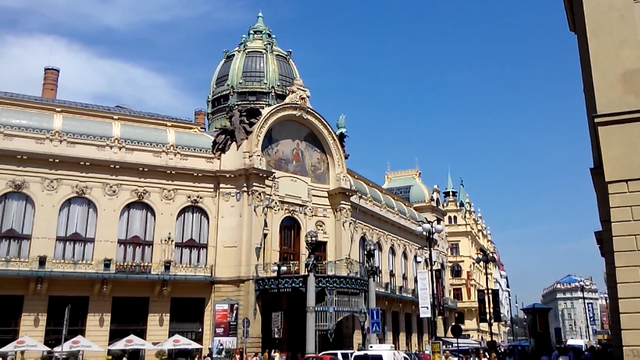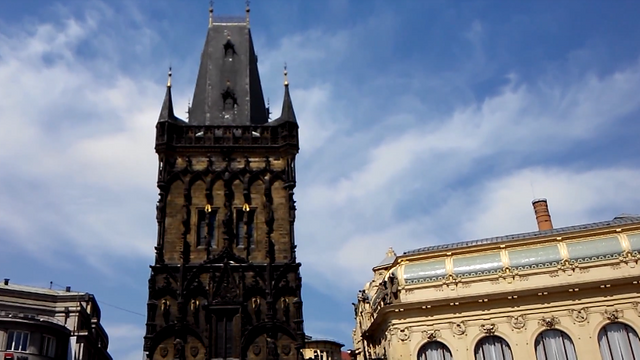 Inside Municipal House


Even the most hurried visitor should sit for a while in the sumptuous surroundings of Municipal House's cafe and absorb the atmosphere of the classic Prague coffee house of long ago. A meal in the refined Francouska restaurace is one of Prague's best gastronomic experiences, while music lovers can attend a concert in the Smetana Hall, the home of the Prague Symphony Orchestra. It is here that the Prague Spring music festival is launched, with a rousing performance of Smetana's
Má vlast
(My Home). The designers of Prague's Municipal House's paid great attention to its functional spaces and fittings, and it's worth admiring such features as stairways, elevators and even the cloakroom.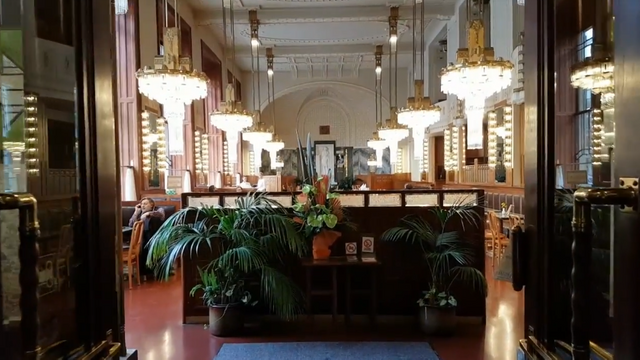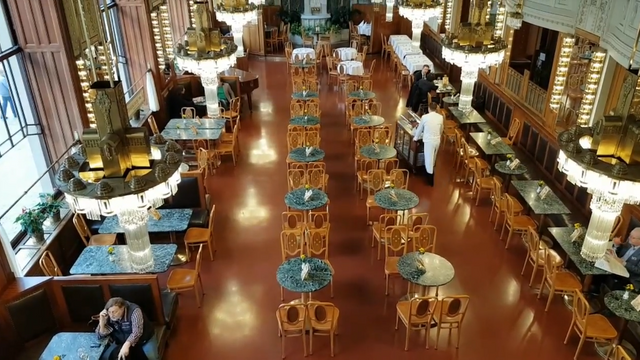 History
By the end of the 19th century it had become obvious that Prague needed a multi-purpose building that would also express its now predominantly Czech character. It also served to remind Prague's German community that they could no longer regard this part of Prague as exclusively theirs. The architects were commissioned in 1903, and Prague's Palace of the People was completed in 1911. The building's role as Prague's municipal symbol was confirmed on 28 October 1918, when Czechoslovakia's independence from Austria-Hungary was proclaimed here. By the 1980s, the Palace of the People's beauty had become faded and in 1997 it emerged in lavishly restored glory from a reconstruction process that had lasted three years.
In terms of cultural interest, Prague's Municipal House excels, and this not difficult to see from the large crowds it attracts. It contains numerous art nouveau features, including a stunning art nouveau stained glass window in the cafe, and these can all be admired at close-quarters. This can be very rewarding once you've negotiated your way through the crowds!
Municipal House is located at Námestí Republicky 5, Staré Mesto, Prague 1. Opening times are 10-7 daily and entry is free, although donations are welcome.